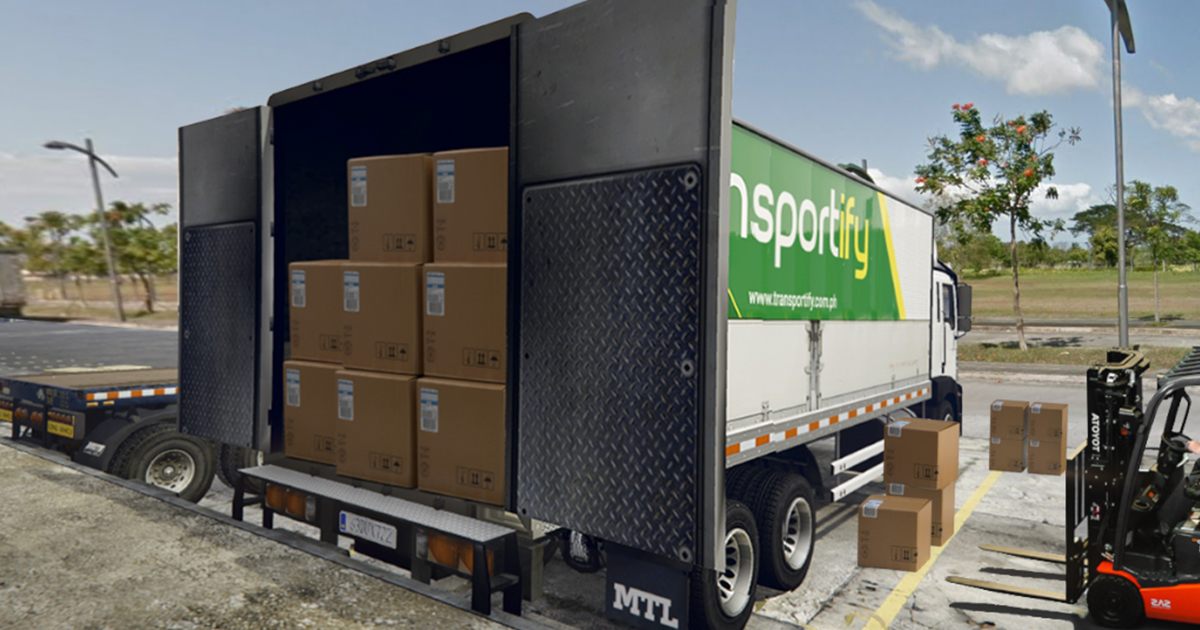 Freight forwarding exists because the process of moving goods is an incredibly complicated area. As such, some LTL trucking companies offer a freight forwarding service to take care of the intricate and overwhelming logistics operations for those who don't have the time to do it themselves. Transportify, an app-based trucking company, can fulfill all your delivery requirements. Get a price quote now.
The Philippine logistics industry is an important sector of our economy. Being an archipelago, the need to move goods and products across long distances and bodies of water is always a concern for businesses. To avoid logistical problems, freight forwarding and LTL trucking companies have resorted to technology-based solutions in order to fulfill demand. This can be seen in how these companies use a mobile apps. The app is used to get bookings and is a medium to optimize routes and facilitate easy communication between the driver, customer service agent, and customer.
What Are Innovations in Recent Years That Will Affect LTL Trucking?
Freight forwarding can be time-consuming, especially for smaller company owners who ship in low quantities via less than truckload. Each company has its own set of shipping concerns and obstacles that it will undoubtedly encounter. Many of these entrepreneurs would rather delegate the task of shipping logistics to specialists so they may concentrate on product making. With numerous innovations in logistics, it is easier for businesses to solve their logistical challenges.
The most recent innovation in logistics and trucking are:
E-commerce fulfillment system
Over the last decade, we've seen the decline of brick-and-mortar retail and an exponential increase in e-commerce. With e-commerce spending growing rapidly every year, consumer habits have evolved. The rise of online selling has revolutionized the LTL freight business, necessitating fast delivery and efficient inventory management to succeed.
This trend of selling online is growing at a breakneck speed, with Shopee and Lazada leading the charge and other retail giants scrambling to keep up. Businesses that rely on LTL shipping services to grow their business are rushing to expand online sales.
Mobile and Web Applications
Freight carriers increasingly turn to electronic shipping documentation and mobile app development to streamline operations.
Within the LTL sector, mobile app pools will continue to develop as demands for optimization and automation rise. Experts predict that as cloud-based services become more popular, the number of applications using cloud-based technology will rise dramatically. These applications will assist you in reducing stress and prevent headaches from developing further. Smart transportation technologies will give shippers the data they need to make smart business decisions regarding LTL trucking.
Most common app features that will make deliveries easier are:
shipment tracking
route optimizations
flexible payment options
automated dispatching
On-demand FTL and LTL trucking services
Shippers can connect directly with carriers through the availability of on-demand trucking, eliminating the middleman freight broker. These technological advancements will have the following effects:
Allow for fast driver match regardless of where a shipment is kept, reducing downtime.
Transmit orders and payments across borders faster by eliminating the need to spend hours on phone calls and paper documentation to schedule a freight procedure, allowing you to get things done more quickly.
Overall, speed up the process of delivery.
Benefits of Freight Forwarding Digitization to Businesses
A reduced margin of error: Humans make mistakes; the software rarely does. By using an app to get bookings, you can be assured that it is recorded and communicated properly to the drivers. In this way, delivery bookings are not forgotten.
Multichannel sales: A faster, easier, cheaper, and more effective way of developing business relationships. Some freight forwarding companies like Transportify offer a Corporate Account for those businesses that regularly need delivery services.
Added value: Many new companies are bringing exciting "game-changing" technological advancements to the industry, adding further value to their business and the Philippine logistics industry. This added value often translates to more efficient services, which means delivering more with less effort.
Build stronger customer relationships: A digital platform makes it easier for freight forwarding companies to engage with their audience, build loyalty, and inspire trust among users. The digital platform also allows questions and clarifications to be answered right away.
Lead the way: The future has always been about innovation, and those who are prepared to embrace change are the ones that will be leading the way. Transportify, a leading company in the app-based trucking sector, continually upgrades its services in order to serve clients better.
Enhanced customer experience: A digitized company can offer more services, with streamlined quoting & invoicing, among other helpful, automated processes. Digitized trucking companies like Transportify can even customize their services to fit your delivery requirements.
How Does Digital Technology Affect the Philippine Logistics Industry?
Several logistics service providers are in tight competition in today's Philippine logistics industry, LTL trucking companies and freight forwarding services are developing innovative strategies when it comes to providing an end-to-end service. Before we jump into the digitization of freight forwarding logistics services, let's first define precisely what freight forwarding services are. Many people get mixed up with FLT and LTL.
For a quick reference, here's the difference between the LTL and FTL services of Transportify:

Freight forwarding is the arranging of storage and shipping of merchandise on behalf of shippers. The service typically involves tracking inland transportation, preparing shipping, import & export documents, warehousing, booking cargo space, negotiating freight prices, freight consolidation, insurance, and making insurance claims. Depending on the company, however, some offer additional services.
At Transportify, we offer a freight service for both FTL and LTL.  This includes the option of having multiple drop-off points, a 10-wheeler wing-van rental, and more. However, for this article, we're going to focus on freight forwarding and the benefits of its digitization.
Benefits of Transitioning To Technology-based Solutions
Because LTL trucking companies in the Philippine logistics industry tend to perform as a broker for various logistics services, handling the contracts and relationships between providers, it is important to utilize digital technology to upgrade and transform their business. Logistics service providers and LTL freight and trucking companies can streamline their operations if they shift to technology-based solutions.
Clients will also benefit greatly when a trucking company shifts to a technology-based solution. It will be very convenient for them to make bookings since all they need to do is access the app via smartphone or desktop. They can do so any time of the day. Another benefit of using an app is that it facilitates communication and makes things transparent. For example, a client can immediately discuss any questions and concerns with customer service personnel during the booking. In terms of transparency, an app can show the location of the delivery driver in real-time by using GPS (Global Positioning System) technology.
Customers Can Understand Logistics Expenses
As mentioned earlier, transparency is a major benefit of using app-based LTL trucking companies. This makes it easier for clients to immediately see an itemized list of the services they chose and how much they cost them. In doing so, customers can effectively budget their expenses with the piece of mind that the amount they see in the app is what they will pay for. An innovative and fully-digitized logistics service provider like Transportify can give business owners a quick quotation for any logistics service.
Transportify Can Optimize Routes with The Help of Digital Technology
Automation, machine learning, and AI make it easier for LTL trucking companies and logistics service providers like Transportify, to provide excellent customer satisfaction in a cost-effective and fast manner.
This integrated combination of digital technologies enables logistics providers like Transportify to excel and become the game-changer in today's Philippine logistics industry. Moreover, Transportify, as one of the leading logistics service providers in the industry, can give faster shipping and minimize end-to-end delays in the supply chain. Customers can be able to receive their products and goods faster while boosting their competitiveness with competitors.
Adapting and moving to a more centralized and updated digital logistics platform doesn't need to be complicated. Choosing Transportify as your logistics service provider in today's Philippines logistics industry can give you more excellent value and efficiency, helping your business win customers. Because you provide an integrated and innovative end-to-end service, you will have a competitive advantage against your competitors.
Conclusion
Technological advancements have always been about making life more comfortable. These advancements are especially important in the Philippine logistics and trucking industry because it supports numerous businesses.
These technological advancements are usually in the form of an app-based trucking company like Transportify. Using Transportify, you can make bookings and deliver them anywhere in Luzon using your smartphone or laptop. This gives both business owners and clients convenience because of the numerous features offered by the app.
Download the Transportify app by scanning the QR code or clicking the buttons below.
| | | |
| --- | --- | --- |
| | or | |
Frequently Asked Questions:
What is an example of a disruption in the Philippine Logistics Industry?
📦 An on-demand delivery app is a good example of a disruption in the Philippine logistics industry. This application allows customers to manage deliveries using a mobile device or a computer. It gives people more visibility and an easier access to effectively manage logistics. Transportify is an example of an on-demand delivery app where you can book a truck for your shipping needs. Rates and shipping fees are also provided on the app based on your chosen vehicle and desired shipping destination.
How can I know if an LTL trucking shipment has been completed in the application?
📦 Through the on-demand delivery app, you will receive a notification saying that your shipment has arrived on its destination in real-time. This will ensure that bookers and recipient will be able to get notified if their deliveries have been completed safely.