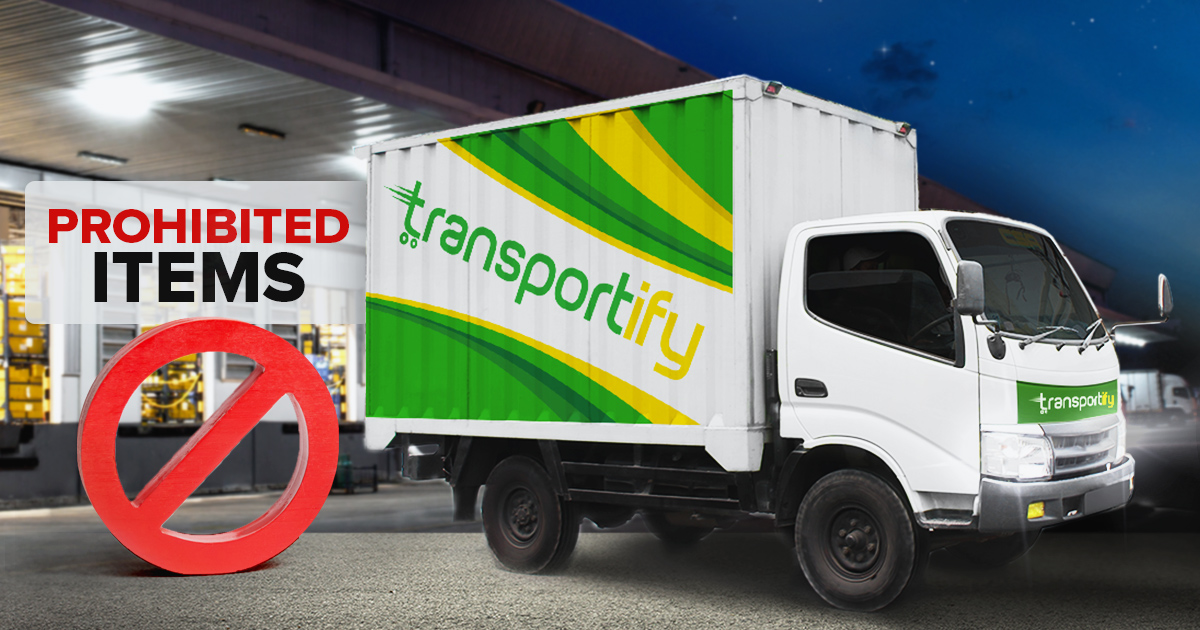 Our customers' wishes are our command, and we will try to do everything we can to fulfill their delivery requests booked through the Transportify on-demand freight and cargo delivery app. But as a delivery company in the Philippines, Transportify must also follow the local rules and regulations on logistics and take responsibility for keeping our driver partners' lives and other customers' valuables safe.
So for everyone's knowledge and safety, here is a list of prohibited items on freight and cargo delivery app like Transportify:
1Live animals
Transporting live animals might be dangerous to both the driver partner and the animal. Moreover, transporting live animals for livestock like poultry and pigs require a different type of delivery vehicle.
2Explosives
Explosives such as bombs and dynamites are hazardous items. Unexpected circumstances during shipping of explosives might damage the Transportify freight delivery vehicle and the other packages booked by other customers.
3Gases and fuels
Transporting flammable gases and fuels like LPG tanks could endanger the vehicle and the driver, mainly because our delivery vehicles are not made for transporting flammable fuels, unlike gasoline trucks.
4Environmental and human waste
As we use our vehicles for food delivery services, transporting environmental and human waste like household, town, or city garbage would be very unhygienic and unsafe. Transporting garbage might contaminate Transportify delivery vehicles.
5Biological substances
Urine samples, stool samples, blood samples, and saliva samples could risk delivery vehicle contamination even if they are in sealed containers.
6Human remains
Transportify does not accept delivery requests involving human ashes, bones, and corpses as shipping such items require a different kind of expertise and authority.
7Illegal drugs
It is important to note that Transportify refuses to have any involvement in delivering and transporting cocaine, meth crystals, and other illegal drugs. Our company does not tolerate the smuggling of illegal drugs.
Other Prohibited Items on Freight & Cargo Delivery App
Besides the points mentioned above, there are more things you cannot ship through Transportify's freight and cargo delivery app. Other prohibited items include the following:
8Other possible contaminants
Besides the biological substances from humans, the freight and cargo delivery app cannot transport items like soil, sand, and coral samples. They also cannot transport any bacteria or fungi sample contained in Petri dishes, which may jostle around during transit and may contaminate the vehicle. While Transportify's vehicles are equipped with an air conditioning unit for temperature-sensitive items and ample space for fragile items—these samples are better off with professionals.
Anything with contaminants could compromise the safety of the driver, and the cleanliness of the vehicle is not permitted if you feel like your package trends the line between, please consult our customer service line if your package falls under the prohibited items list.
9Protected wildlife and biodiversity
Transportify cannot ship or carry protected species, dead or alive. Giant clams, freshwater crocodiles, and the Philippine forest turtle are some examples of species that might be transported illegally for decorative or alleged medicinal properties. Protected species, in any form, are prohibited items that cannot be carried much less be distributed. The conservation of these animals hinges on not being able to be sold in the market. For a full list of the Philippines protected species, please consult the Department of Environment and Natural Resources (DENR).
10Precious metals and semi-precious stones
Transportify also cannot transport raw materials such as precious metals/ bullions and semi-precious stones in bulk. Transportify has ample space for freight deliveries you can see the table below to get an idea about the capacity of the vehicles:
Fleet
Price starts at
Size
10w  Wing Van
P7,500
L: 32 ft x W: 7.8 ft x H: 7.8 ft
Long Pickup Truck
P4,850
L: 18 ft x W: 6 ft x H: Open
6w Fwd Truck
P4,850
L: 18 ft x W: 6 ft x H: 7 ft
Mini Dump Truck
P1,500 (Metro Manila)
P1,200 (Other areas)
L: 10 ft x W: 6 ft x H: Open

Closed Van
P1,800 (Metro Manila)
P1,450 (Other Areas)

+ P300
L: 10 ft x W: 6 ft x H: 6 ft

with extra space (6W)
L: 14 ft x W: 6 ft x H: 6 ft


Pickup Truck
P1,800(Metro Manila)
P1,450 (Other Areas)

+P400

L: 10 ft x W: 6 ft x H: Open

with extra space

L: 14 ft x W: 6 ft x H: Open

L300/Van
P430 (Metro Manila)
P330 (Other Areas)
L: 7 ft x W: 4 ft x H: 4 ft

Economy
P120 (Metro Manila)
P90 (Other Areas)

+P20

L: 3.5 ft x W: 2 ft x H: 2.5 ft

with extra space (SUV/MPV)

L: 5 ft x W: 3.2 ft x H: 2.8 ft
Despite being capable, the freight and cargo delivery app also does not have the authorization to transport such goods. Thus the bulk transportation of precious metals/ bullion and semi-precious stones are prohibited items for Transportify. Besides being prohibited items for unauthorized groups, Transportify does not have a security detail to ensure the safety of these items and for our personnel.
11Cash/Legal tender
Legal tender, local and foreign, are also not allowed to be transported over the freight and cargo delivery app. As mentioned above, Transportify does not have a security detail that can provide the protection and security of the cash and the driver. To deliver legal tender without the right authorization and security would compromise the safety of the delivery and the driver. When sending cash/legal tender across the country, please consider other conventional forms such as banks and other wire transfer institutions.
12Counterfeit goods and merchandise
Despite the prevalence of counterfeit goods in the streets, they are not allowed in the Philippines. As a freight and cargo delivery app, Transportify has the responsibility to uphold the law regarding the items transported. Counterfeit or fake goods in the form of dry goods such as bags, shoes, and clothes to cosmetics such as makeup, skincare, and body care are prohibited items.
13Unregistered medicine
Besides illegal drugs, counterfeit medication or unregistered medicine are also prohibited items from transporting on the freight and cargo delivery app since it is not allowed to distributed. Transportify encourages the public, its clients, and their customers to be aware of the source of pharmaceutical and personal care products.
Points for clarification
Transportify's freight and cargo delivery app is also a popular house moving (lipat bahay) choice. For house moving, they can transport pet items like cages, drinking bowls, and litter boxes. However, they cannot transport a pet. This rule covers all pets, from dogs to fishes. Even if the shots are complete and the pet is crate-trained, it is not possible to transport live animals. Transportify mainly deals with things, inanimate objects. It would be not very easy to guarantee the care of a living animal while in transit. When it comes to moving houses, your pet is better off traveling with you instead of the truck or van.
Similarly, your LPG gas container or small butane/propane stoves that are common in households are also on the prohibited items list. Spare gas cans for your car are also prohibited, any flammable item is not allowed. When moving houses, detach your LPG gas container from the stove, and transport the gas container separately. Do the same with spare gas cans. Make sure you keep the cap/lid on tight and enforce the seal with tape. Please keep all your flammable items in one box and ensure that it does not come into contact with any spark or open flame. In case of emergencies, you do not want to have flammable gas traveling with the rest of your items. These items should be transported separately with constant supervision.
The majority of the prohibited items from the freight and cargo delivery app for business are in line with the Philippines' laws and regulations. These laws were established for the wellbeing of the country's economy, biodiversity, and public interest. The rest of the prohibited items list is in place for the personal health and safety of Tranportify's employees. These rules are also in place to ensure the quality of service and care we provide you. We hope you understand and enjoy using our freight and cargo delivery app for your delivery needs.
If you have further questions about our policies regarding items that the Transportify freight and cargo delivery app refuses to deliver, our customer service representative will be glad to answer your questions.
Frequently Asked Questions:
How do I choose the best cargo delivery app?
? The best cargo delivery app can vary depending on your needs and what service fits for you. LBC can offer the best services for parcel and overseas delivery. Grab Express is best used for the immediate delivery of small to medium items. While Transportify provides the best service for bigger vehicles like closed vans and wing vans. Large and bulky packages can now be delivered on the same day with Transportify.
How do I send a freight package if I need them badly?
? Standard delivery services have their restrictions to protect all parties involved. For freight packages that are deemed to be prohibited, you will need specific permits that will allow you to travel with these items. Some things will also need specialized equipment to ensure that it is protected. While some items need to be supervised by an expert.