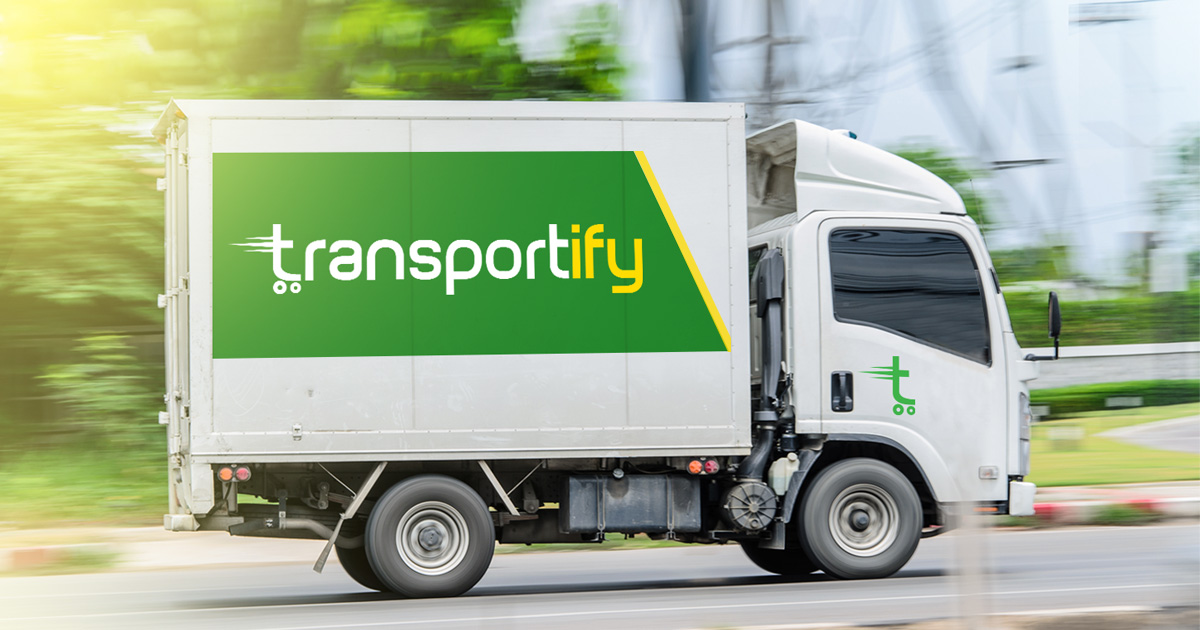 Logistics is essential when it comes to businesses. It affects the inflow of supplies and materials and the outflow of products to your customers. If the nature of your business is primarily making deliveries and sending products to customers, then all the more reason to find the best logistics company for your business who can meet your trucking services Philippines needs.
Would you believe that the perfect logistics provider that's fit for most businesses is from an app? That's right, Transportify's trucking services Philippines is an on-demand app that provides same-day delivery and logistics services. You can scan the QR code or click any of the buttons to download Transportify now! Below is the table for the estimated prices of provincial delivery:
Vehicle Type
Dimensions/
Weight Limits
Base Price


(Metro Manila)

Base Price


(Outside Metro Manila)

Base Price


(Visayas/Mindanao)

Wing Van 

32 to 40 x 7.8 x 7.8 ft




12000kg to 28000kg

7500 PHP

6500 PHP

6500 PHP

6w Fwd Truck

18 x 6 x 7 ft




7000kg

4850 PHP

4850 PHP

4850 PHP

Closed Van

10 to 14 x 6 x 6 ft




2000kg to 4000kg

1800 PHP

1450 PHP

1450 PHP

Open Truck

10 to 21 x 6 ft x open




2000kg and 7000kg

2300 PHP

1950 PHP

N/A

L300/Van

8 x 4.5 x 4.5 ft




1000kg

430 PHP

330 PHP

310 PHP

Small Pickup

5 x 5 ft x open




1000kg

310 PHP

250 PHP

220 PHP

Light Van

5.5 x 3.8 x 3.8 ft




600kg

250 PHP

192 PHP

225 PHP

MPV/SUV

5 x 3.2 x 2.8 ft




200kg

160 PHP

130 PHP

140 PHP

Sedan

3.5 x 2 x 2.5 ft




200kg

140 PHP

110 PHP

120 PHP
If you're not using Transportify yet, Assess your current situation—is your current logistics company fit for your business? Are they providing everything your business needs? Check the list below to find out what makes a reliable logistics company in the Philippines.
So how do you know if a logistics company is fit for your business?
They should be able to do express delivery. In this day and age, people usually look for express delivery services.
They should have reliable drivers. Excellent delivery service is not just about speed – It is about the reliability of the driver as well.
They should have transparent pricing. You want an honest and reliable delivery service for your business with no hidden charges.
They should have a wide range of fleets. Various delivery vehicles mean you have more vehicle choices when it comes to sending your goods to customers.
They should provide a reliable tracking system. A useful track-and-trace feature will be beneficial to your business.
They should have a Business Program. A good business program specially designed for entrepreneurs' needs will be a big help to business growth.
Evaluating your current logistics company is important as they serve a great purpose for your business. If you have assessed them and learned that they could not live up to the standards of your business, then you should find a new logistics company in the Philippines—one that is fast, reliable, and understanding of the needs of your business.
What Are The Advantages of Hiring Provincial Delivery Trucking Services Philippines for Business?
As a business owner, you're probably aware of the economic impact of outsourcing your brand's logistics needs, especially for provincial delivery services to a reliable third-party logistics company. However, if you're not familiar with or you're not yet considering hiring a 3PL provider, then this is the perfect time to rethink and reevaluate your business needs.
There are tons of trucking services Philippines providers who can provide outstanding provincial delivery needs for different kinds of businesses. These 3PL companies can mostly offer a wide variety of advantages that many companies are becoming wise to, resulting in continuous growth in the third-party logistics sector.
Still undecided?
Business owners in the Philippines have a lot of things on their minds. Operating a company comes with different kinds of responsibilities. Thus, it is crucial to have a partner that can help your business with other aspects, especially when it comes to provincial delivery and trucking services Philippines.
Outsourcing a trucking services Philippines provider is an effective way of helping your business flow and your employees focus on one process at a time, which can help grow one's company. That is why more businesses tend to outsource transportation services that can manage their cargo freight shipments.
Effective Business Strategy
An effective business strategy represents a set of decisions that aim to achieve your business objectives. Logistics companies that provide trucking services Philippines depend upon the needed equipment to operate. Thus, it minimizes the responsibilities of business owners. Aside from these factors, there are tons of reasons why hiring an extended haul service provider is an effective business strategy for most companies these days.
A trucking services in the Philippines provider only uses high-quality and updated vehicles. Thus, they ensure that all shipments are safe and will reach their intended destination on time and undamaged since these businesses' sole purpose is to conduct regular maintenance for their equipment. That's why you don't need to worry about the vehicle; logistic companies maintain all of their trucks required for provincial delivery services.
Moreover, trucking services Philippines providers ensure the quality of their services. Because they value their reputation and the satisfaction of their customers, you can expect the appropriate and correct handling of your cargo. All personnel and drivers are well-trained, well-mannered, licensed, and experienced.
Here at Transportify, as Manila's no.1 trucking services Philippines provider, we only hire trustworthy, reliable, and excellent drivers who can provide exceptional customer service to our clients. Moreover, we also value our customer's business reputation; that's why we only offer the best provincial delivery services as possible.
Value in Business Growth
Besides being an effective business strategy, outsourcing provincial delivery and trucking services for your business also provides professional customer services. Business owners and individuals can relax, knowing that the staff can handle and manage unexpected incidents during the transit.
The client can also rely more on personalized provincial delivery services that are suitable for their specific needs. Besides, not all deliveries need the same services. Some businesses may need smaller trucks, such as closed vans and L300, while others require bigger ones, like trailer trucks and 10-wheelers. A trucking services Philippines provider can provide several vehicles for different kinds of delivery needs.
Outsourcing your delivery and trucking services to the province's needs can be an excellent method to improve your business process. Because at some point, you need to divide some critical tasks to focus on the growth of your business. Usually, the first sector you need to delegate is the transport section, as there are tons of trucking services Philippines providers out there, like Transportify, who can provide all of your transport needs.
When you're ready to outsource, you should only trust a logistics company that already has a proven track record. Fret no more even big companies outsource their provincial delivery needs to ensure smooth and outstanding operations.
Cost-Effective
You can't deny that part of every business process is transporting materials such as goods, supplies, etc. Whether used for manufacturing, materials needed in the construction site, or finished products to be delivered in stores, you will always need trucks. As a business owner, if you have vehicles, you'll require parking spaces, mechanics, drivers, etc. Because of this, your expenses will grow bigger, which can affect your business income.
By outsourcing provincial delivery trucking services to an experienced logistics company like Transportify, you don't need to buy a new truck or hire new employees.
Additional Benefits
One of the best things about hiring a logistics company like Transportify for your business needs is the responsibility they put into handling shipments. Whatever kind of merchandise you have, they will treat it with utmost care because any possible damage that may be incurred will cost them money and, of course, their reputation.
So you'll get added insurance that any mishaps won't be able to burden your business. Here at Transportify, we provide insurance to our customers. Call our customer service to know more about the details.
You can also get other benefits if you have developed a good business relationship with your chosen delivery service provider. In other cases, discounts can be given by the logistics company that can help to reduce the price of your products. In return, it assists current customers to be loyal to your company. Besides, word of mouth is a powerful method of free marketing, which can help to increase your sales.
So what are you waiting for? Download the Transportify app now!
| | | |
| --- | --- | --- |
| | or | |
Frequently Asked Questions:
What are trucking services in the Philippines good for the provincial delivery?
🚚 Companies typically have their fleet of trucks that will make their deliveries for them, especially for the Metro areas. For smaller businesses with the same needs, there is a solution that does not involve spending too much on trucking service. Services by Transportify can be the bridge between businesses in Luzon, Visayas, and Mindanao. This is the most accessible trucking service you can find for the provincial delivery. Its accessibility has revolutionized the way people and businesses hire their trucks. This makes delivery more comfortable and a service they can depend on any day.
What are the available fixed price route delivery services of Transportify?
🚚 Transportify can deliver from any point in Luzon, Cebu, Panay, Negros, and Davao for inland delivery This kind of service is known as the Transportify fixed price route delivery. There are important cities that have a flexible price when delivering from the service points. These cities are often business hubs that connect sources to retailers or manufacturers. The Fixed Price Route is a known feature used by businesses that are frequent users of larger vehicles like the Closed Vans and Wing Vans.