The Metropolitan Manila Development Authority Truck Ban Ordinance restricts large trucks, including 10-wheeler wing vans from driving in certain roads in Metro Manila from 6:00 AM to 10:00 AM and from 5:00 PM to 10:00 PM. every day except Sundays and Holidays. For deliveries within Makati and Paranaque, the MMDA implements a shorter truck ban schedule from 6:00 AM to 9:00 AM and 4:00 PM up to 8:00 PM.
Areas where road restriction is implemented are as follows: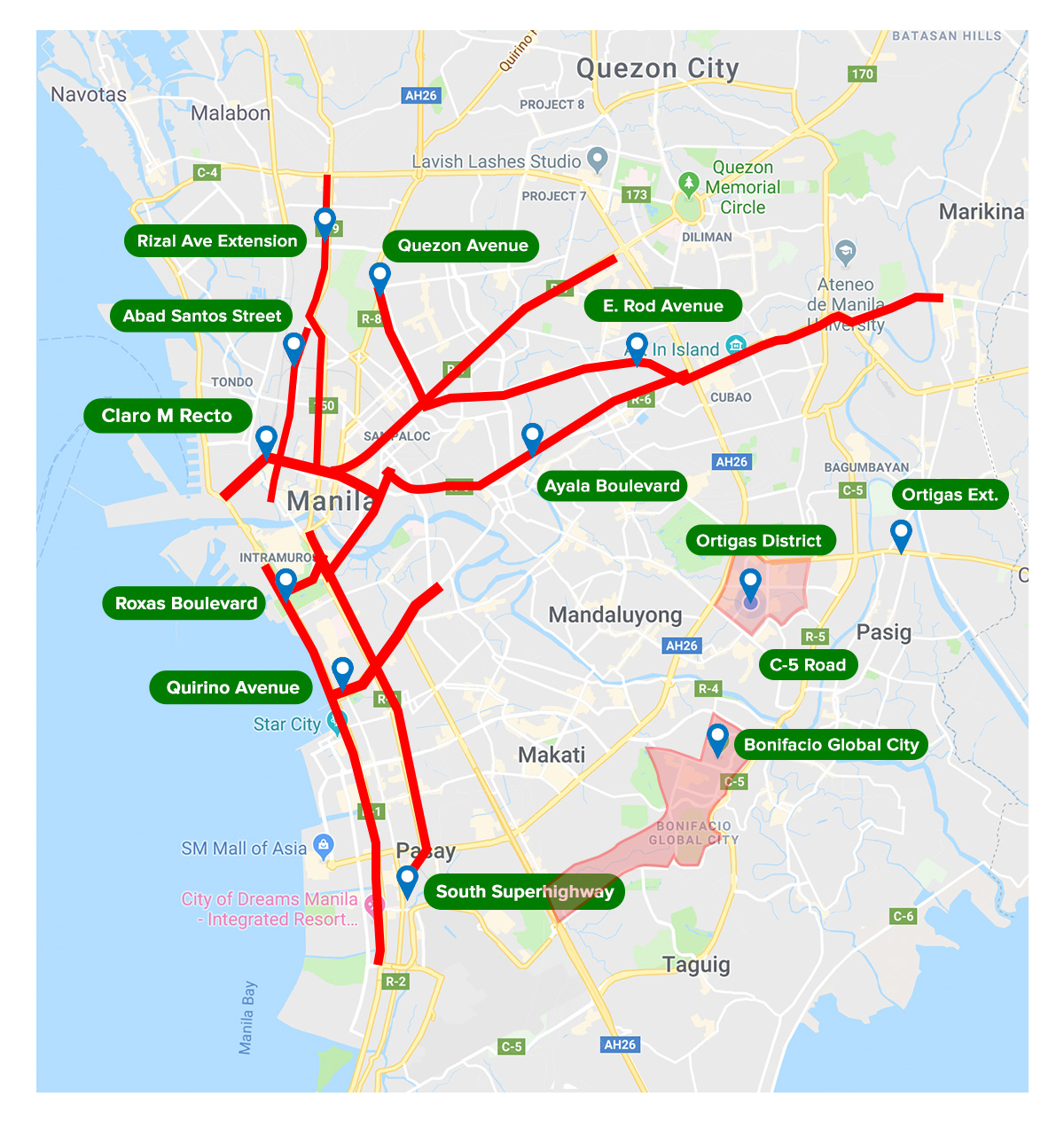 Restricted Roads
España St. through Quezon Ave. from Echague St. to the intersection of West and South Ave.
Claro M. Recto Ave. from Legarda St. to Del Pan St.
President Quirino Ave. from South Superhighway to Roxas Blvd.
P. Burgos St. through Ayala Blvd., Legarda St., Magsaysay Blvd. and Aurora Blvd., from Roxas Blvd. to Boston St.
E. Rodriguez Ave. through Bonifacio Ave. from Welcome Rotonda to Shoe Ave.
South Superhighway through Nagtahan Bridge and Alfonso Mendoza St. from EDSA to Dimasalang St.
Taft Ave. through Quirino Ave. from Redemptorist St. to Plaza Lawton, to include McArthur, Quezon and Jones Bridges
Bonifacio Drive through Roxas Blvd. and NAIA Road to Aduana St. to the Ninoy Aquino International Airport
Rizal Ave. through Rizal Ave. Extension from Carriedo St. to the Bonifacio Monument
Reina Regente St. through Abad Santos St. from Regina Regente Bridge to Rizal Ave. Extension
Makati District Business
Ortigas Business District, Pasig City
Bonifacio Global City, Taguig City
When arranging bookings involving big trucks, please be mindful of these time restrictions. If you must transport your goods on these roads in Metro Manila during these restricted hours, you may book L300 or vans instead.
For more information, contact our 24/7 Customer Service via live chat or call our hotline at (02) 317-3800.
Please refer to the MMDA website for alternative routes and full details about the Truck Ban Ordinance.