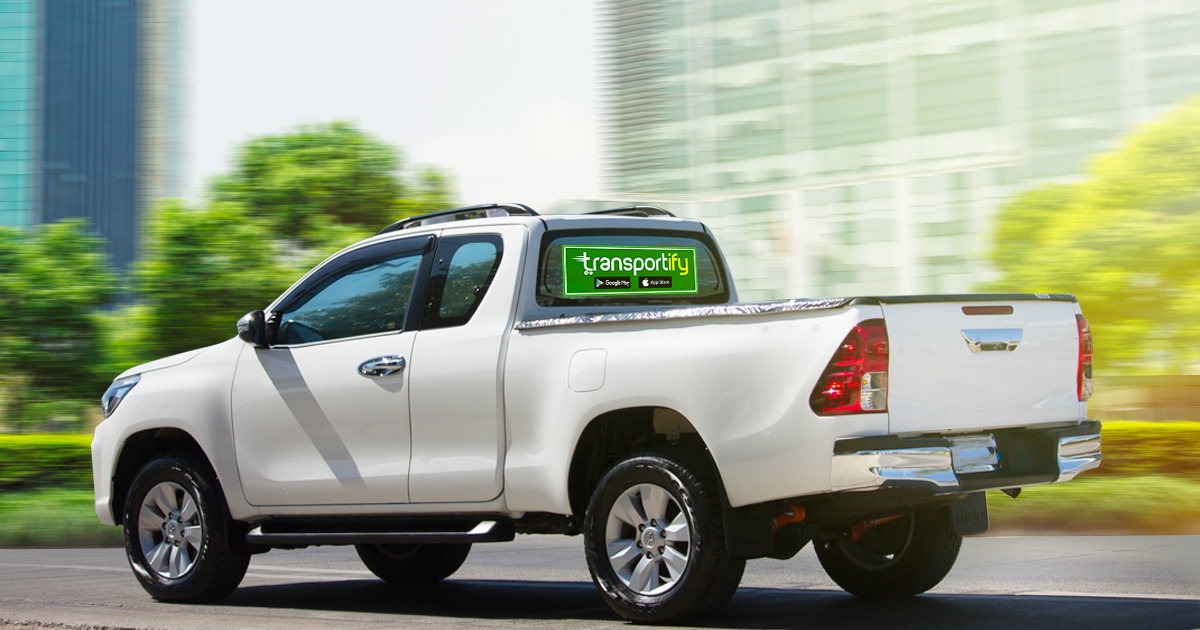 Small Pickup is ideal for delivering items with a higher height that will not fit in an L300 or Van. Schedule your deliveries 30  minutes before the pick-up time or up to two weeks in advance.
Price 
The price includes the standard service, driver fee, vehicle use, fuel, and loading/unloading by the driver. Parking and tolls are extra and will be subject to reimbursement. Approved reimbursements are added and itemized in your monthly invoice for business customers.
| Service Area | Base Price | + Per KM |
| --- | --- | --- |
| Metro Manila | 310 PHP | 27 PHP |
| Visayas and Mindanao | 220 PHP | 23 PHP |
Dimensions

Service Inclusion
Get these full-service logistics solutions when you book a Small Pickup class vehicle using the Transportify app.
Driver
Fuel
Loading/Unloading
Live Support 24/7
App Features
You can also take advantage of our app's smart features to track your deliveries in real-time, optimize your routes to save more, or use our in-app customer & driver chat. To know more about the standard service of small pickup vehicles, you may click HERE.
Extra Services
Extra Services
Standard Price
Extra Helper
200 PHP

(1st and 2nd drop off)


50 PHP

(3rd to 10th drop off)


FREE

(11th to 15th drop off)

Special Help
60 PHP

(1st and 2nd drop off)


30 PHP

(3rd to 10th drop off)


20 PHP

(11th to 15th drop off)

Customer Staff
Free


Max of 2 staff

Pay Your Driver Directly Using GCash
Free
Require Transportify ID Badge
Tarpaulin Cover
Free
Safety Shoes
Push Cart
30 PHP
Reflectorized Vest

20 PHP

Tip for Driver
50 PHP increments
Document Printing
Proof of Delivery (POD)
| # of Drop-Offs | Price |
| --- | --- |
| 1st - 3rd drop-off | 80 PHP |
| 4th - 10th drop-off | 160 PHP |
| 10th - 15th drop-off | 200 PHP |
Check our price quote or book a delivery now!