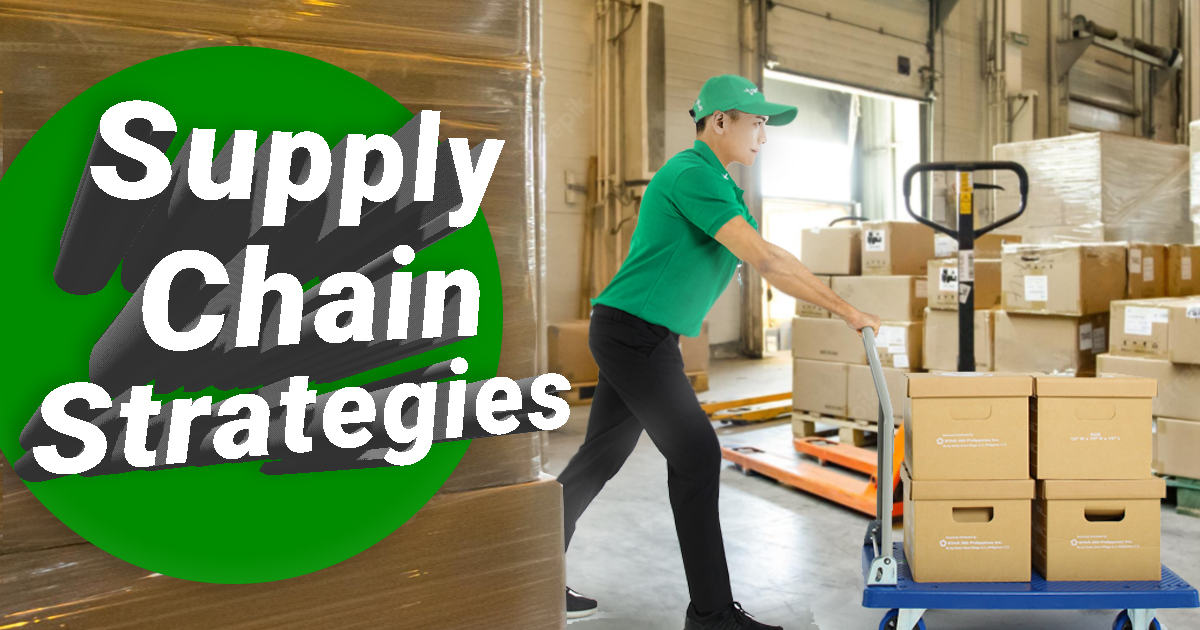 According to the 2021 Logistics Bureau poll, 61% of the companies who took part didn't have successful supply chain strategies. Organizations will often claim that they understand the significance of innovative shipping solutions. It appears that supply chain strategies optimization is now more feasible for businesses than ever.
It is thanks to recent logistics developments, technology trends, and technological improvements like automated robots. They have created a significant impact on innovative shipping solutions. Yet, despite having access to increasing cutting-edge technology, your supply chain strategy is still crucial to your success. With that, every company needs a strong supply chain strategy. But selecting the best one to guide your company's operations is much harder than it first appears.
Before beginning their careers, all logistic experts studied the foundational concepts of supply chain strategies. It is a wonderful place to start. It provides you with the innovative shipping solutions you need to construct. Every organization needs to manage its supply chain. Any business' success depends on its ability to comprehend the models and what they are meant to do. Although some contend there are 4, supply chain strategies models are divided into six categories even though they all share the same objectives. They depend on the same supply chain elements. These six models will be examined, and key aspects of each model will be discussed.
What Are The Types of Supply Chain Strategies?
Although there are six supply chain strategies models, they may all be divided into one of two groups. Either efficiency or responsiveness are the model's primary goals. Although efficiency and responsiveness are components of all supply chains, supply chain strategies might have a major focus on either.
The company's needs will determine which model will work best. When comparing the different supply chain strategies model types, some factors determine which one will provide the help that a company can rely on:
The organization of the particular sector
The promise of value that the company makes
Management's primary goal
Each model has certain attributes that can help achieve the objectives of innovative shipping solutions. These are the 6 supply chain strategies models:
1Continuous Flow Models
In instances of great demand with little variation, the continuous flow model of supply offers stability. It is helpful for producers who produce the same commodities. It is one of the oldest supply chain models and is excellent for manufacturing commodities.
2Fast Chain Models
The fast chain model is perfect for businesses that produce popular goods with brief lifecycles. It works well for a company that needs to switch out products and release them before the trend ends. This model can be altered.
3Efficient Chain Models
The efficient chain model works best for companies in competitive marketplaces where end-to-end efficiency is the primary goal.
4Custom Configured Models
The emphasis of the custom-configured models is on giving particular customizations during assembly and production. It is a type of hybrid between the agile approach and the continuous flow paradigm.
5Agile Model
This supply chain management technique is excellent for companies dealing with special order items. It is a concept that focuses on the supply chain's capacity to ramp up in some circumstances while remaining stable in others.
6Flexible Model
Businesses can meet strong demand peaks and control protracted periods of low-volume movement thanks to the flexible model. It is simple to turn on and off.
What Are Tips for Keeping a Successful Supply Chain Logistics?
Put Automated Inventory Control in Place
Barcode and RFID technology have made inventory management simpler than ever. But only around half of the small businesses use an automated logistics and inventory management system. By ensuring you always have enough inventory on hand to meet demand, automated inventory control will help you maintain a healthy turnover ratio. It aims to do it without incurring excessive holding costs that might degrade and go out of style. Additionally, it avoids accounting errors and safeguards inventory against an employee or outsider theft. This is a regrettable but common problem for every business.
Choose a Supply Chain Model That Works for Your Company
Since no two businesses are comparable in every way, neither is their supply chain. While many organizations prefer to operate as possible, others place a premium on efficiency. These two classifications correspond to six generic supply chain models: oriented to efficiency and oriented to responsiveness. Your company model will determine what model you need and where to focus your efforts. This is to avoid wasting liquid funds on supply chain window dressing.
Concentrate on Key Competencies and Discover What May Be Outsourced
The 85% of organizations that outsource some aspect of supply chain operations can attest that some duties are better left to specialist suppliers rather than in-house workers. To get a better deal, decide which duties you can handle alone and which ones you should delegate to others.
Here are trucks you can outsource from Transportify:
Vehicle Type
Dimensions/
Weight Limits
Base Price


(Metro Manila)

Base Price


(Outside Metro Manila)

Base Price


(Visayas/Mindanao)

Wing Van 

32 to 40 x 7.8 x 7.8 ft




12000kg to 28000kg

7500 PHP

6500 PHP

6500 PHP

6w Fwd Truck

18 x 6 x 7 ft




7000kg

4850 PHP

4850 PHP

4850 PHP
Closed Van

10 to 14 x 6 x 6 ft




2000kg to 4000kg

1800 PHP

1450 PHP

1450 PHP

Open Truck

10 to 21 x 6 ft x open




2000kg and 7000kg

2300 PHP

1950 PHP

N/A

Mini Dump Truck

10 x 6 ft x open




2000kg

1500 PHP

1200 PHP

N/A

L300/Van

8 x 4.5 x 4.5 ft




1000kg

430 PHP

330 PHP

310 PHP

Small Pickup

5 x 5 ft x open




1000kg

310 PHP

250 PHP

220 PHP

Light Van

5.5 x 3.8 x 3.8 ft




600kg

250 PHP

192 PHP

225 PHP

MPV/SUV

5 x 3.2 x 2.8 ft




200kg

160 PHP

130 PHP

140 PHP

Sedan

3.5 x 2 x 2.5 ft




200kg

140 PHP

110 PHP

120 PHP
Put a Focus on Sustainability
Customers today are more aware of product provenance. They often want to make sure they buy goods with a good history. Targeting supply chain sustainability is more important than ever. To raise consumer happiness, sustainability creates competitive advantages that negatively affect profits.
Greater Use of Your Resources
Fixed assets, such as vehicles, equipment, and buildings, are items of real estate bought for long-term usage and used to generate income. When you invest in fixed assets, you'll want to use them as much as possible. If you examine how your resources are used, you might discover more affordable ways to carry out your supply chain.
SEE ALSO
Key Takeaways
Now that you know the five strategies for reducing shipping costs, it's time to implement them. As a supply chain manager, you have much control over your company's shipping spending. You can reduce costs without compromising quality or customer service by being proactive and innovative.
Here are the key takeaways from this article:
Review your current shipping contracts and rates regularly.
Negotiate with carriers for better rates.
Use technology to automate and streamline your shipping processes.
Consider alternative shipping methods, such as drop shipping or third-party logistics providers.
Educate your employees on best practices for packing and shipping orders.
Following these tips can reduce your company's shipping costs without sacrificing quality or customer service. Implement these strategies today to start saving tomorrow.
| | | |
| --- | --- | --- |
| | or | |
Frequently Asked Questions:
Why is it important to cut costs in supply chain management?
🚚 Supply chain management is a field that is always looking for ways to cut costs and improve efficiencies. In today's business environment, companies are under pressure to do more with less, and supply chain management is no exception. One of the most effective ways to reduce costs in supply chain management is by implementing innovative shipping solutions. Several different shipping options available can help reduce costs in supply chain management. One option is to use intermodal transportation, which involves multiple modes of transportation (such as rail, truck, and ship) to move goods from point A to point B. This type of transportation can be more efficient and cost-effective than just one mode.
How can businesses know when their supply chain strategy is not working?
🚚 In today's business landscape, the answer is increasingly difficult to discern. With globalization and the rise of e-commerce, the supply chain has become more complex than ever before. Businesses must be able to quickly adapt to changes in customer demand, supplier availability, and shipping options. There are a number of signs that indicate when a company's shipping strategy is no longer efficient or effective. First, if a company consistently pays high shipping prices, it may be time to reevaluate its carrier contracts. Second, if transit times are lengthening or orders are being delayed, it could indicate issues further down the supply chain. Finally, if customer satisfaction is slipping, it may be time to consider alternative shipping methods or carriers.