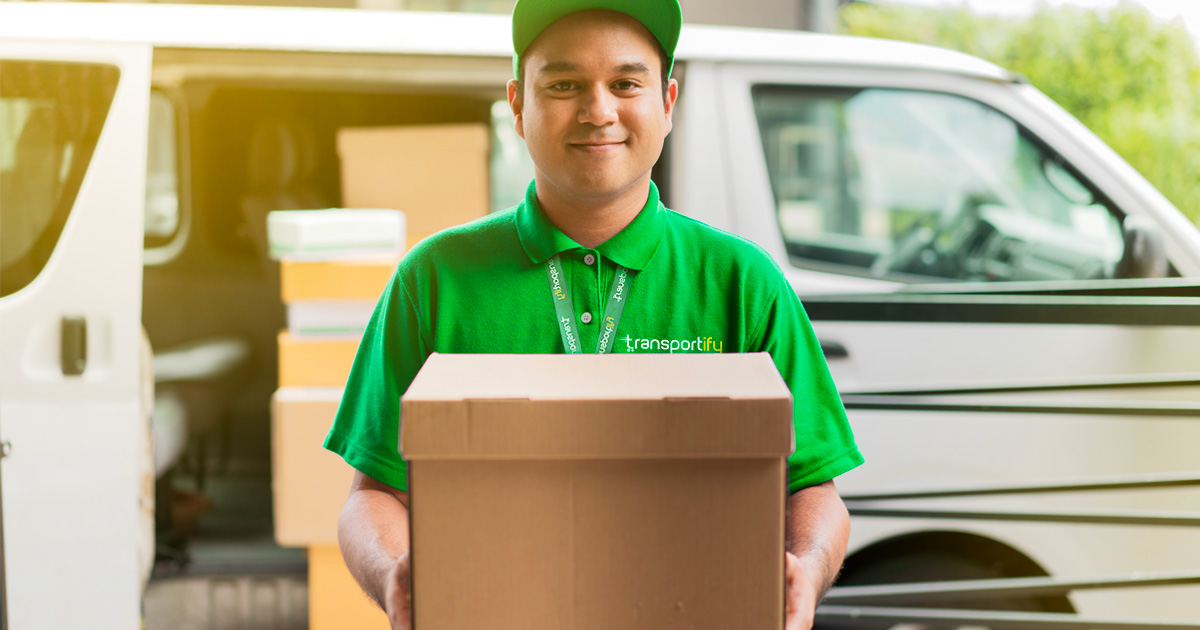 Are you in need of a reliable logistics company to take care of your 2023 last-mile deliveries? Then Transportify is the company for you. We are a long-established logistics company with a wealth of experience in our field. We take leaps and bounds in the last mile delivery arena, delivering the highest standard of service to our clients.
We prioritize the quality of service available for our individual customers and client businesses. This is to let them know that their last-mile deliveries are being handled well by our Transportify driver-partners. As we move forward with the article, we will see the importance of last mile deliveries and how Transportify is the best cargo van provider to help you manage your 2023 last mile delivery needs.
What is Last Mile Delivery?
As the name suggests, last mile delivery is the final stage of a logistics cycle. Once your goods and products have left the warehouse and factory, they are hauled across the country or overseas to the intended destination. Of course, lugging a 10 wheeler wing van around to each of your customer's homes is not going to be an efficient way of completing the journey. Thus, we use a cargo van to complete the "last mile" to make faster and more effective deliveries.
If you need assistance getting your goods from point A to point B as quickly and efficiently as possible, Transportify would love to take care of your logistics needs. We have the best last mile delivery service to cater to different business requirements. Our vehicles are tailor-fit to meet our customers' expectations and offer cost-effective solutions to help them improve their operations. If you are wondering about our available last mile vehicles, you may refer to the table below:
Vehicle Type
Dimensions/
Weight Limits
Base Price


(Metro Manila)

Base Price


(Outside Metro Manila)

Base Price


(Visayas/Mindanao)

Wing Van 

32 to 40 x 7.8 x 7.8 ft




12000kg to 28000kg

7500 PHP

6500 PHP

6500 PHP

6w Fwd Truck

18 x 6 x 7 ft




7000kg

4850 PHP

4850 PHP

4850 PHP

Closed Van

10 to 14 x 6 x 6 ft




2000kg to 4000kg

1800 PHP

1450 PHP

1450 PHP

Open Truck

10 to 21 x 6 ft x open




2000kg and 7000kg

2300 PHP

1950 PHP

N/A

L300/Van

8 x 4.5 x 4.5 ft




1000kg

430 PHP

330 PHP

310 PHP

Small Pickup

5 x 5 ft x open




1000kg

310 PHP

250 PHP

220 PHP

Light Van

5.5 x 3.8 x 3.8 ft




600kg

250 PHP

192 PHP

225 PHP

MPV/SUV

5 x 3.2 x 2.8 ft




200kg

160 PHP

130 PHP

140 PHP

Sedan

3.5 x 2 x 2.5 ft




200kg

140 PHP

110 PHP

120 PHP
Always remember that last mile logistics has a direct interaction with your customers. Choose the right partner for logistics to improve your market performance.
Why is Last Mile Logistics So Important?
Last mile logistics is incredibly important and should be handled without delay. 10-wheeler trucks are efficient enough at hauling large deliveries of goods across the country but dispersing the goods to the various recipients' addresses is a task that requires greater speed and mobility.
With cargo vans, individual drivers can pick up many orders from different locations and then make deliveries in a designated area. This, when aided with GPS software that figures out the smartest and fastest route possible, can allow you to make your deliveries in record time.
But it's not just about making those deliveries in a good time, but having a friendly face making those deliveries. The cargo van delivery drivers at Transportify are exceptionally well trained when it comes to driving and loading/unloading goods appropriately and in professionalism and presentation. If you are worried about third-party logistics (3PL) representing your brand, don't be. Transportify takes your image very seriously.
In the Philippines, companies are getting very serious in handling their fleet for last mile logistics. More businesses, especially with e-commerce and online selling platforms prefer to choose the best and most reliable partner for their last mile delivery needs. This is because they rely mostly on their partner cargo van delivery providers to give the best experience for last mile logistics to their customers.
Rural areas in the country tend to have slower delivery processes in terms of last mile logistics compared to major cities. That is why more logistics providers are rushing to give the most reliable and cost-effective delivery solution to avoid delays to different destinations in the Philippines.
Why Choose Transportify for Your Logistics Needs?
With so many third-party logistics companies on the market, it can be difficult to separate the great from the inequitable. Rather than blab on about why we are the best, we will simply list out a number of the key benefits that make our last mile delivery app services superior.
1We can save you money
Having a fleet of cargo vans at your disposal, along with professional delivery drivers, means that you don't have to invest any money in delivery vehicles or staff of your own. You can simply rely on a third-party with the existing infrastructure and let them handle everything for you. Transportify rates offer as much as 40% savings for last mile delivery. You'll get the best quality logistics business service at a very affordable price.
2We can save you time
One of the main benefits of working with Transportify is our ability to make fast deliveries, particularly in the last mile. Again, this is due to our awesome smart-routing GPS software that updates our cargo van drivers in real time. We get the fastest and more reliable routes to achieve faster delivery for our customers and client businesses.
3You can keep track of your orders
Using the Transportify app, you can see where your cargo van deliveries are in real-time with a user-friendly tracking system. This is handy if you have urgent deliveries and testy customers who like to be kept in the loop. We provide real-time data to our customers on the status of their cargo van deliveries. You can easily update your customers with ETAs of their products at the comfort of your devices.
4Maintained vehicles
All of our vehicles are meticulously maintained to ensure that we never have any issues when out on the road. Not only is this something that you will never have to worry about (not having to manage a fleet of your own), but you also get the added benefit of never needing to worry about late deliveries due to mechanical failure.
Apart from that, we have established various screening processes in accepting cargo vans for deliveries. We only choose the right vehicle model for our customer's delivery needs.
5Insured deliveries
When dealing with Transportify, you will be pleased to know that your goods will be protected under our insurance policy. This means that you will be compensated in the unlikely event that something should get damaged in transit. Our insurance can cover as much as P3 million for every delivery booking powered by OONA Insurance Philippines. Your goods are indeed safe with Transportify!
There are so many things that we can do to assist you. We also offer other logistics services like same-day delivery, express cargo shipping services, and large scale deliveries for individual customers and businesses. You may also explore the existing business program of Transportify for interested parties who want to ease the burden in managing their last mile deliveries. It includes a lot of benefits that will surely help you in your operations.
If you'd like to find out more about how we can take your logistics woes and provide you with a wholesome service that will leave you feeling satisfied, please do not hesitate to contact us. You may also explore our blogs to know more about our company and other services that we offer to the market.
We will absolutely take care of everything for you to relax in the knowledge that you are in safe hands. When it comes to logistics, Transportify always delivers.
Frequently Asked Questions:
How does a reliable last mile delivery help improve the business image?
🚚 Since last mile delivery directly interacts with customers, a reliable service delivery improves customer satisfaction, which will then translate into having a good business image in the market. That is why your company or business needs to evaluate and decide to choose the best and cost-effective logistics solution provider to handle your direct-to-customer deliveries.
Who is the best logistics provider for cargo van in the Philippines?
🚚 It boils down to the needs of your business. Cargo van logistics partners come with different specializations in logistics. Companies like Transportify are focused on doing bulk deliveries and provincial deliveries for their existing fleet. They have a large service area that covers any destination in mainland Luzon, Cebu, and Davao. So if your business wants to expand with the current market, you may try using the Transportify delivery app.