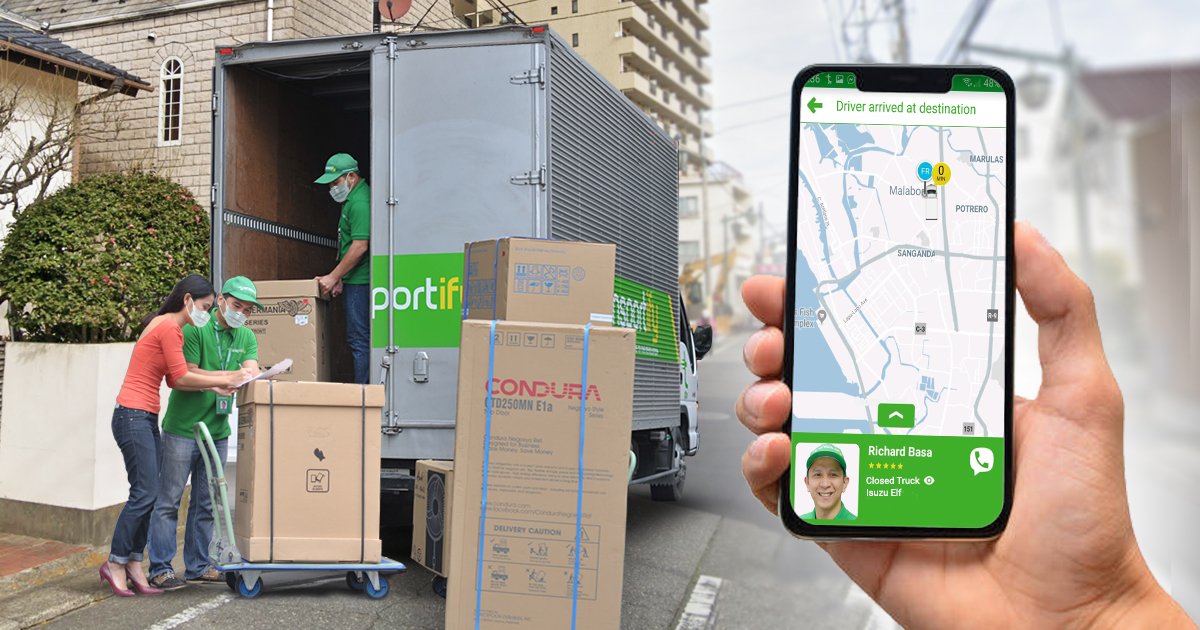 In today's world, technology has disrupted much of our daily operations. For example, a businessman can be based in Manila but still have regular real-time meetings with his managers in the Visayas or Mindanao thanks to advancements in communications technology in the form of online video calls. In the field of cargo deliveries, a logistics app is the disruptor of the traditional means of moving goods. Now, people can use the app to make a delivery booking and get access to helpful features such as tracking express delivery. This particular feature is essential for the transportation of large and expensive goods, such as the delivery of appliances.
Ease of Online Shopping for Appliances
Nowadays, consumers have pivoted from the traditional way of shopping for items to buying goods online. This is seen in the rise of online selling platforms, such as Lazada and Shopee, in the Philippines. Consumers now prefer to buy items online, from shoes to grocery items. Even electronic gadgets such as smartphones and laptops are purchased in online stores and sent to the consumer's home using a logistics app. In fact, an article from iPrice Group, an e-commerce company, shows that Filipinos buy more electronic goods over apparel products online.
These online purchases also include large and expensive items, such as home and office appliances. Consumers in the Philippines used to go to appliance stores to look for what they needed, whether a new air conditioner or an LED television. However, as many people prefer to stay and shop in the comfort of their homes, appliance retail has become popular in online selling platforms. Consumers can just check out the photos, specifications, and reviews of their desired appliance item on those online selling websites, enter their payment and delivery details, and then just wait for a delivery truck to reach their place.
Ease of getting a Logistics App for your Appliance Delivery
Many consumers prefer this new way of acquiring appliances because it is a lot more convenient. For example, most online selling platforms provide flexible payment options such as paying via credit/debit card, GCash, or bank transfer. This new way of shopping, on the other hand, presents a significant challenge for appliance business owners. The main reason for this is that they must quickly fulfill multiple orders across a wide service area. And to this problem, Transportify offers a solution. Read on to learn the benefits of partnering with a logistics app for delivery of appliances operations.
The table below shows the vehicles of Transportify fit for delivery of appliances operations. The diversity of the vehicles from a sedan to a 10w Wing Van show that Transportify can accommodate deliveries of both small and large appliance items.
Vehicle Type
Dimensions/
Weight Limits
Base Price
(Metro Manila)
Base Price
(Outside Metro Manila)
Base Price
(Visayas/Mindanao)
Wing Van 
32 to 40 x 7.8 x 7.8 ft
12000kg to 28000kg
7500 PHP
6500 PHP
6500 PHP
6w Fwd Truck
18 x 6 x 7 ft
7000kg
4850 PHP
4850 PHP
4850 PHP
Closed Van
10 to 14 x 6 x 6 ft
2000kg to 4000kg
1800 PHP
1450 PHP
1450 PHP
Open Truck
10 to 21 x 6 ft x open
2000kg and 7000kg
2300 PHP
1950 PHP
N/A
Mini Dump Truck
10 x 6 ft x open
2000kg
1500 PHP
1200 PHP
N/A
L300/Van
8 x 4.5 x 4.5 ft
1000kg
430 PHP
330 PHP
310 PHP
Small Pickup
5 x 5 ft x open
1000kg
310 PHP
250 PHP
220 PHP
Light Van
5.5 x 3.8 x 3.8 ft
600kg
250 PHP
192 PHP
225 PHP
MPV/SUV
5 x 3.2 x 2.8 ft
200kg
160 PHP
130 PHP
140 PHP
Sedan
3.5 x 2 x 2.5 ft
200kg
140 PHP
110 PHP
120 PHP
SEE ALSO
Why Use a Logistics App for the Delivery of Appliances?
Get access to in-app features
As we have mentioned earlier, advancements in technology have had positive impacts on day-to-day service operations. In the case of a logistics app, there are many features designed to give clients a superior delivery experience. In Transportify, the fact that it is an on-demand logistics platform that can service anywhere in Luzon and Cebu at any time is already a great feature. However, there are more interesting app features.
First of all, the tracking express delivery feature which allows customers to monitor their bookings in real-time is used extensively by many customers. Because it shows the accurate location of the driver as well as the estimated time of arrival, customers can correctly anticipate and prepare for the driver's arrival. This is important especially in the business setting because not knowing when the driver will arrive will cause a disruption in the operations of a company.
For example, the delivery of an appliance booking request was created at 9 am in the morning but the driver arrived at 7 pm in the appliance store because of a serious traffic jam. In that case, the appliance company's promise of same-day delivery to the client can not be fulfilled which would give them a bad reputation. However, if there was a tracking express delivery feature, the owner would have seen the situation of the driver and would have contacted customer service to work out a solution. This is just one of many examples that showcase the importance of the tracking express delivery feature.
Other important features of the Transportify app are the 24/7 customer service function and the chat with driver capability. In the course of a delivery booking, there may be unexpected situations that would affect the delivery. In such scenarios, the best course of action would be to chat with a member of Transportify's 24/7 customer service personnel in order to work out a solution. Lastly, having the ability to chat with the driver on the app is necessary as it is often used to relay urgent information between the customer and driver.
Create delivery requests at any time and from anywhere in mainland Luzon and Cebu
In the appliance selling business, especially if you have an online platform, consumers go shopping at any time of the day. Although most customers would probably walk into your store in the day time, one should expect heavy online traffic at night, when people are back home from work and want to check out the latest television unit or refrigerator.
After deciding to purchase the product, the ball is now passed to the retailer to fulfill the delivery promptly. This will be a big challenge if the business owner does delivery of appliances on its own and without support from a third-party logistics company. It is inevitable that there would be some delivery orders with destinations in faraway places such as from Manila to Baguio City. In such cases, delivery of appliances would be a bottleneck to the company which would lead to delays in the logistics process and would result in a negative customer experience.
Fortunately, a logistics app such as Transportify has a solution to these problems. By using the Transportify app on your mobile device or laptop computer, you can create a delivery booking at any time of the day and from anywhere in Luzon and Cebu. This would enable a company to reach customers across a wide area, such as from Laguna to Tarlac. By outsourcing the logistics operations to a cargo logistics app in the Philippines, the appliance company can focus more on sales and marketing and worry less about the delivery operations.
But what if the appliance company already has its own in-house fleet of delivery vehicles? No problem, it can still use Transportify. There is no minimum maintaining balance or other similar obligations in Transportify. Since it is an on-demand logistics app, you just have to pay for each delivery booking you create. This model is especially helpful during peak seasons where there is high demand. In those cases, having your own in-house trucking fleet may not be enough to attend to all the delivery requests which is why using a logistics app is a great way to augment the trucking delivery requirements of the company.
Get access to a wide range of delivery vehicles
Having the right type of delivery vehicle is essential if a company wants to be able to fulfill all of its logistics needs. And it is quite expensive for a company to procure multiple delivery vehicles and maintain them. That is why many businesses choose to use a delivery service provider like Transportify for their logistics needs.
Transportify has a diverse fleet of vehicles. It has sedans and L300 vans for small cargo and is usually used for last-mile delivery operations. The sedan is mostly used to transport small office equipment items like computer monitors, printers, laptops, etc. It can also be used to move small window-type aircon units. The L300 is used for office chairs and small tables but they can also fit appliance items such as split type aircon units, and television sets.
In case the delivery of appliances involves multiple large and heavy items, then the closed van or 6w Forward truck would be the best option. These vehicles can carry loads up to 7 tons which makes them the right vehicles for transferring multiple appliance products such as from the warehouse to a distribution center. Because they have a closed body, they can protect the appliance products from the elements while in transit. These vehicle types are often used for appliances such as the 1-ton aircon.
Open trucks are also used for the delivery of appliances operations. Transportify open trucks are always equipped with "trapal" cover in order to shield the items from the rain while in transit. These delivery vehicles can also carry furniture items such as large wardrobes, cabinets, and entire dinner table sets.
Lastly, the 10 wheeler wing van is the largest vehicle of Transportify. These trucks are usually used to bring appliances from the seaports to the warehouse. They can carry up to 15 tons which makes them capable of moving multiple large appliances such as aircon, refrigerators, TV sets, and gas range.
Download the app now by scanning the QR code below or by clicking on the buttons.
| | | |
| --- | --- | --- |
| | or | |
Frequently Asked Questions:
Why is tracking express delivery an important innovation in logistics?
📱 The tracking express delivery feature is an important innovation because it facilitates real-time monitoring of the progress of the delivery. This is important for the dispatcher or client because this would allow them to adjust operations in order to accommodate the arrival of the driver at their location.
How do I optimize my delivery of appliances?
📱 There are many ways to optimize the delivery of appliance items. One way would be to plan out delivery routes effectively and try to exhaust the entire space of a delivery truck. Another way of optimizing the overall logistics operations of your company is to use a logistics app platform like Transportify for all delivery needs.
What are the industries that benefit from logistics apps?
📱 Almost all industries can benefit from the services of logistics apps. The eCommerce industry uses logistics apps to fulfill last-mile deliveries to clients. Many fast-moving consumer goods (FMCG) use a logistics app to augment their in-house fleet of delivery trucks. Lastly, those in the appliance and furniture business use logistics apps to transport the ordered goods of their clients from the store to the client's home.