MANILA, PHILIPPINES – 2020 was a challenging year for everyone. It literally started with a bang, a volcanic eruption from Taal Volcano, then the COVID-19 pandemic, which necessitated the ECQ lockdowns. Towards the end of the year, we had two typhoons in November that hit our country when we were vulnerable. According to the Philippine Statistics Authority in their report last January 2021, the Philippine economy closed in 2020 with a 9.5% decline in Gross Domestic Product, which is considered the first contraction since 1998.
Many businesses were affected very adversely by COVID-19. "The year 2020 will be remembered as the most difficult year in our lives," a statement during an online briefing session from Acting Secretary of the National Economic Development Authority (NEDA) Karl Chua.
Transportify was also negatively affected during the ECQ lockdown, experiencing significant decreases in logistics requirements from its corporate accounts that sold most of its products in malls. "The Transportify team was lucky because of initial preparations to work from home even before ECQ lockdown preemptively. This decision enabled the team to react to opportunities to recover business and more importantly, to provide assistance and logistics support where help was needed," says Paulo Bengson, the Country Director of Transportify Philippines.
The International Finance Corporation of the World Bank Group described logistics as one of the critical services needed to remain online during the pandemic. "At a time when many logistics support from local providers chose to stop operations due to uncertainty of passage through checkpoints, Transportify had confidence in the authorities' guarantee that goods/cargo would be allowed to pass." a statement from Kelvin Caro, Senior Operations Manager of Transportify Philippines.
Many organizations and individuals depended on Transportify's logistics support to transport PPEs, medical equipment, or bicycles to help health workers travel. In turn, Transportify provided discount code subsidies to organizations that were also helping alleviate the problems brought about by the pandemic. The Office of the Vice President was among the first to get the support of Transportify Philippines to combat the spread of COVID-19. Our company provided logistics support in transporting hospital aid to various medical institutions in Metro Manila and nearby areas. Alaga Kay Juan belongs to the roster of organizations that partnered with Transportify to bring hospital aid to multiple hospitals, such as Marikina Valley Medical Center.
The use of Transportify's logistics support for sudden emergencies is quite common. During the height of the lockdown in Metro Manila, the City Government of Pasig approached Transportify to get logistics support in distributing essential goods to households within the city.
Trucks operating on Transportify are also often booked to deliver large amounts of relief goods to provinces in Luzon. In addition to this, Transportify also regularly conducts its relief trucking logistics support operations on its own account.  Some relief good logistics support operations that were performed in 2020 include areas such as Bicol Region, Isabela and Cagayan.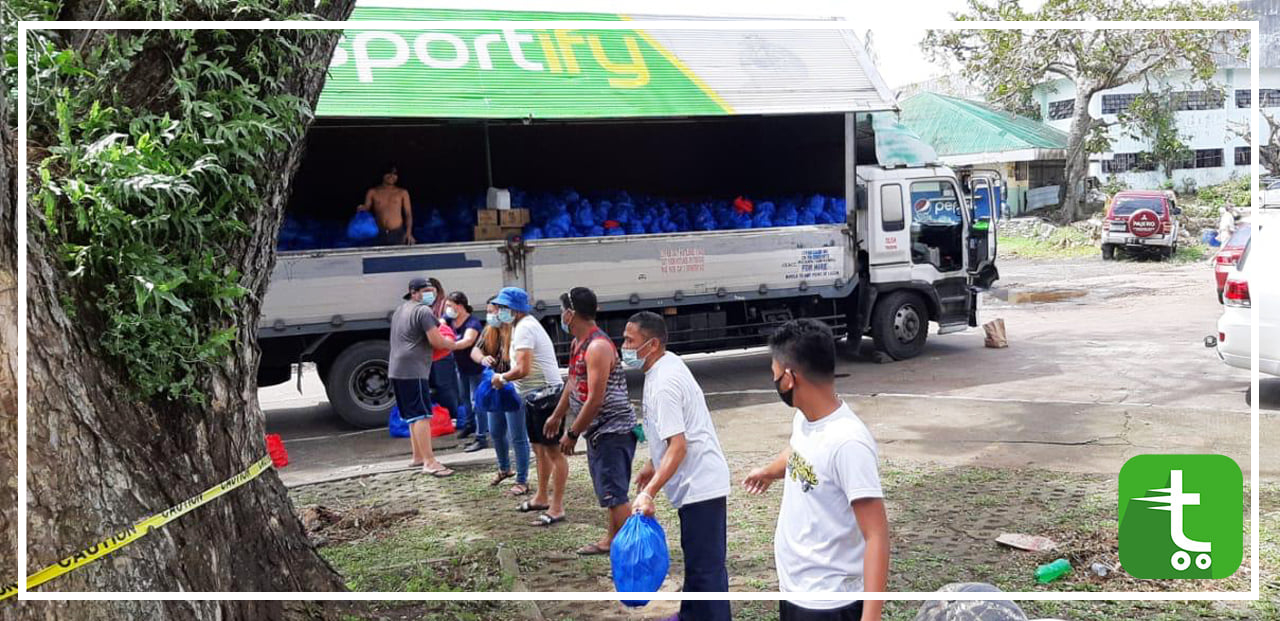 This image was taken from the relief good operations in the Bicol Region conducted by the Office of the Vice President, where Transportify provided logistics support last November 2020.
Looking back at 2020, the Transportify team considers itself lucky to have been prepared but is most proud of being online to prioritize service for relief purposes. Let us all look forward to 2021 being the year of recovery for our country, and more businesses will get back on their feet so our economy can stabilize again.
✉️ Contact Media
Elijah Gabalda
Media Department
elijah.gabalda@transportify.com.ph
? About Transportify
Transportify operates the largest app-based marketplace logistics platform for delivery vans and trucks in Southeast Asia with operations in Indonesia, Thailand and the Philippines. In other countries, the company is known as "Deliveree".
To know more about Transportify, visit www.transportify.com.ph.
Frequently Asked Questions:
How did Transportify manage the sudden change in the market?
? The first few months of the pandemic became a challenge to the company. The restrictions in most areas brought a decline in business performance which most companies also experienced. With modern technology and innovative solutions from our team, we became more ready to face the new normal in logistics. During the pandemic, the business model of Transportify focused on maximizing partnerships with businesses and providing logistics support to essential goods transported to various locations within our service area. By doing this, we fulfill our social responsibility and at the same time commit to our goals for the business.
What steps did Transportify take to combat the spread of COVID-19 in their business operations?
? Even before the lockdown, there were initial preparations on shifting to work from home setup preemptively. Only essential teams were allowed to work in the office to support business operations. Transportify also adopted strict implementation of minimum health standards on deliveries, including face masks and face shields mandated by the government. On-boarding of new drivers shifted online using video presentations to minimize the risk of getting COVID-19.
###