MANILA, PHILIPPINES – Transportify, the country's largest app-based logistics platform is now available in Cebu. In the last few years, the company has gone from launching in Metro Manila to being widely available and popular all over Luzon. Now, the logical next frontier is Cebu.
Transportify's head of Cebu options, Ariel Santiago, reveals that "we [Transportify] have been successful in operating and growing in Luzon, even during the pandemic, delivering for businesses and individuals. Cebu is the logical next step because the need for on-demand logistics is similar and because our existing customers want us to support them in more areas around the Philippines."
Cebu businesses will benefit from the flexibility and reliability of a well-managed platform like Transportify. With Transportify, businesses in Cebu can expect new logistics capabilities that come from the following natural strengths of platform-based logistics:
Transportify accredited and actively managed drivers
Live GPS tracking from pickup to every destination
Commercial goods insurance for businesses
24/7 live service center support
Affordable and transparent prices (with savings of 30-40%)
Customers can expect a wide range of vehicles delivery vehicles (delivery vans and trucks) Transportify, most of which are already familiar to its current customers. The following vehicles are available: sedans, MPVs/SUVs, delivery vans (L300/Van), and many types and sizes of trucks.
Cebu's Growing Economy Amidst the Pandemic
Even before the pandemic, the performance of Cebu's economy has performed exceptionally. In 2019 according to the Philippine Statistics Authority, Central Visayas grew 6.2 percent. Cebu's continued growth is driven by BPO, tourism, manufacturing, and real estate.
Despite the pandemic, Cebu remains resilient. For example, the BPOs in Cebu have adopted more flexible work-from-home arrangements to increase safety. Another example would be all the infrastructure projects that still continue to make good progress.
Santiago says "our company views this resilience as an opportunity. In Cebu, we are most commonly used for moving items related to supporting work-from-home operations of companies and for items related to construction or finishings. Our customers enjoy the technology that our app brings and the affordable logistics prices."
The company is optimistic about the growth prospects of Cebu. The city continues to manage the pandemic with active vaccine rollout and enforcement of health protocols. And despite the pandemic, the city's infrastructure projects are being completed. The Cebu-Cordova Link Expressway is expected to be finished, linking Cebu City to Mactan.
With much optimism about the region's future, Transportify aims to take part and support business recovery from the pandemic. Therefore, in addition to offering the standard on-demand delivery capabilities, Transportify also has interisland trucking services from Cebu to other nearby provinces such as Negros, Panay, Leyte, Samar, Dumagete and Boracay.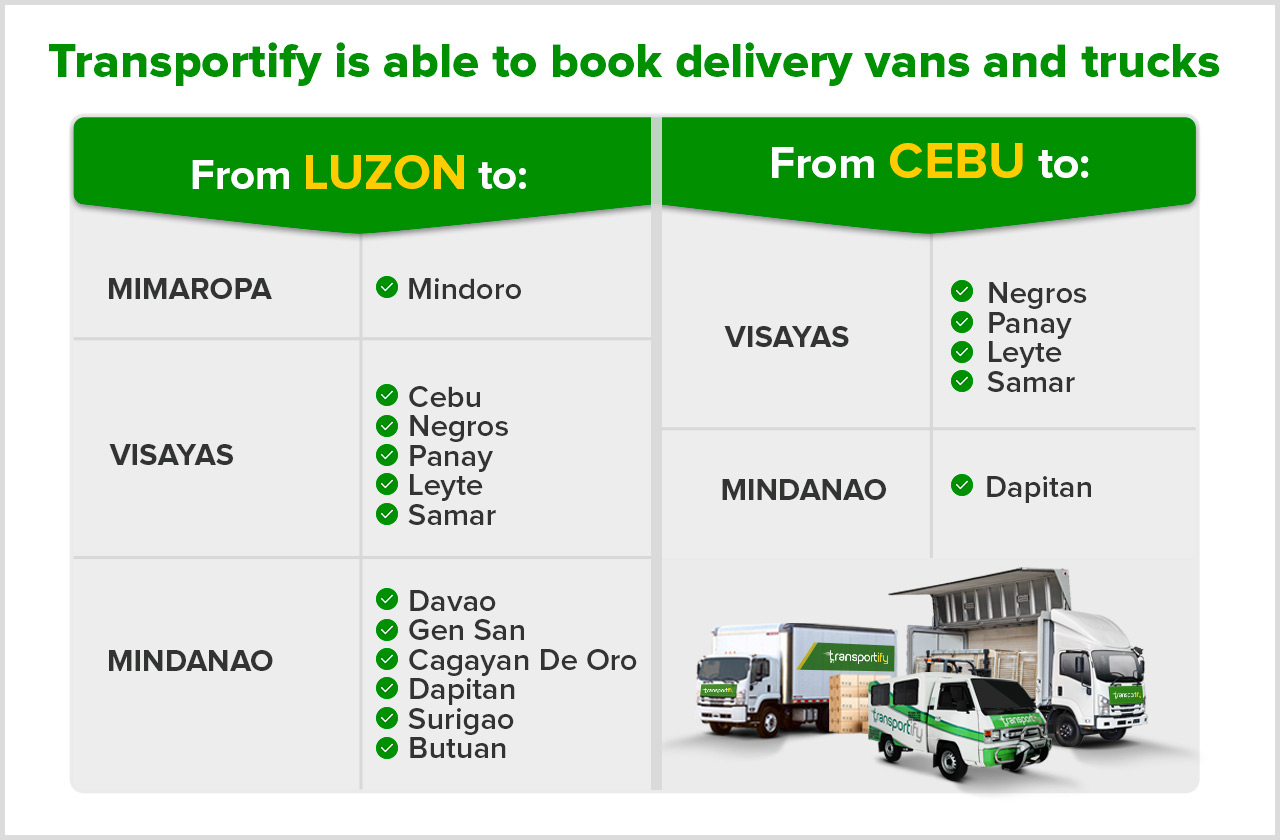 ✉️ Contact Media
Jean Olaje
Media Department
jean.olaje@transportify.com.ph
? About Transportify
Transportify operates the largest app-based marketplace logistics platform for delivery vans and trucks in Southeast Asia with operations in Indonesia, Thailand and the Philippines. In other countries, the company is known as "Deliveree".
To know more about Transportify, visit www.transportify.com.ph.
READ MORE:
Frequently Asked Questions:
How much lead time is needed for Cebu delivery service?
☀️ Same with their operations in mainland Luzon. Transportify will allow you to book via Immediate, Scheduled, and Full Day. If you need sedans and delivery vans within an hour or less, you may book under the Immediate time type. Transportify is ready to match you with a driver any time because they operate 24/7.
Does Transportify deliver outside Metro Cebu?
☀️ Yes. The whole island of Cebu is part of Transportify's Cebu Service Area. If you need delivery service from Metro Cebu going to nearby cities or vice versa, you can count that Transportify can fulfill it for you.
###