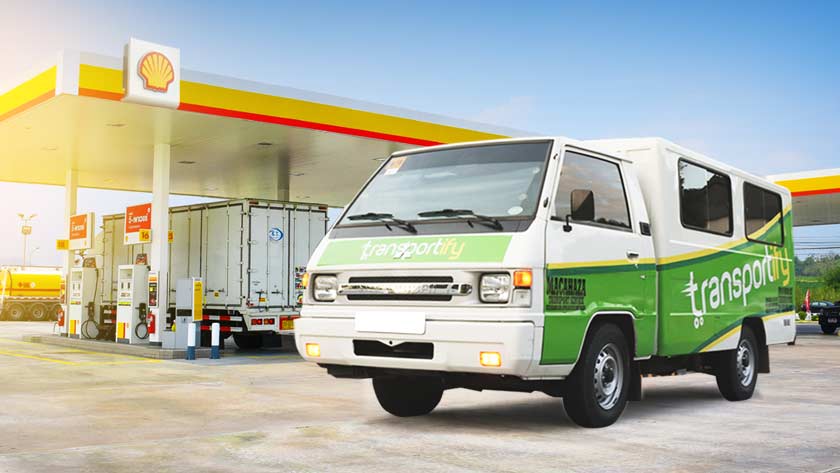 MANILA, PHILIPPINES – Transportify Philippines has partnered with Shell Philippines to provide its drivers and operators with fuel Shell discounts up to the equivalent of 2.67 PHP per liter for diesel and 2.87 PHP per liter for gas, more than twice the normal discount that can be received from the conventional loyalty cards. Transportify drivers and operators are given a Shell Partner Card which they can load with fuel credits using their wallet balance on their driver app and use those credits for fuel purchases at Shell gas stations.

Discounts are awarded immediately to drivers and operators in the form of additional fuel credits on top of the original amount loaded from their driver app wallet.
Big Savings with Fuel Shell Discounts offered to Transportify Drivers and Operators
Pay from
Driver App
Receive in
Shell Partner Card
Equivalent Diesel
Savings (at 54PHP/L)
Equivalent Gas
Savings (at 58PHP/L)
₱500
₱515
1.57PHP / Liter
1.69PHP / Liter
₱1,000
₱1,040
2.08PHP / Liter
2.23PHP / Liter
₱1,500
₱1,565
2.24PHP / Liter
2.41PHP / Liter
₱2,000
₱2,090
2.33PHP / Liter
2.50PHP / Liter
₱2,500
₱2,620
2.47PHP / Liter
2.66PHP / Liter
₱5,000
₱5,260
2.67PHP / Liter
2.87PHP / Liter
The benefits for Transportify drivers go beyond simple discounts. Drivers are now able to better fund their main operating expense, fuel. Transportify is primarily a B2B platform and, as such, many business customers opt to pay in methods other than direct cash to drivers. In these cases, drivers receive their payments weekly. With this fuel program, drivers are able to convert their future payments from Transportify for fuel in order to fund their biggest operational expense and receive it at a discounted rate at the same time. Transportify will also be running regular fuel incentives including Shell discounts for drivers and operators who are very active on the platform.
The partnership with Shell is mainly to support Transportify's expansion throughout Luzon by granting Shell discounts. Transportify launched in the Philippines in 2016, starting in Manila and surrounding provinces. Now Transportify is fully operational in Pampanga and all its drivers and operators are able to deliver to any point in Luzon from those main service areas. They are also able to service key cities in Luzon for a fixed price. These cities include Baguio, Lipa, Cabanatuan, Tarlac, San Pablo, Lucena, Subic, Batangas City, Dagupan City, and more to come. The partnership with Shell is a logical choice for them given the company's rapid expansion. Shell has enough scale to serve their drivers and operators as they continue their expansion throughout the country.
Drivers and operators may claim their Shell Partner Cards at Transportify's offices in Ortigas, Balintawak, and Alabang during normal business hours after they have completed at least 5 bookings. Upon pickup, Transportify drivers and operators will further receive a free 100PHP in fuel to encourage them to avail of the discount cards. Details can be found in the FAQ section of their Driver App.
✉️ Contact Media
Chelsea Remedios
Marketing Department
🚛 About Transportify
Transportify operates the largest app-based marketplace logistics platform for delivery vans and trucks in Southeast Asia with operations in Indonesia, Thailand and the Philippines. In other countries, the company is known as "Deliveree".
To know more about Transportify, visit www.transportify.com.ph.