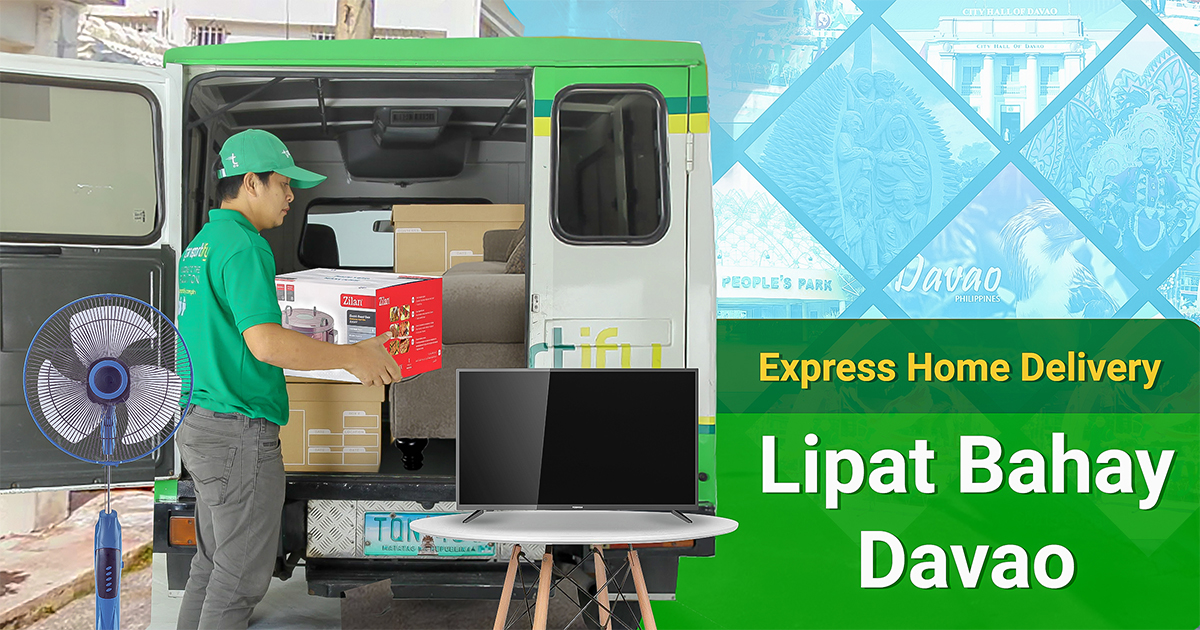 Gone are the days when lipat bahay is considered a dreadful process. With the availability of a truck rental app like Transportify, lipat bahay can be done with minimal effort from your side. Since the internet and the use of mobile applications are already integrated into our lifestyle, getting services through a few clicks is becoming the trend. Imagine the convenience of using a truck for lipat bahay service booked through an app where there is no need to stress about safety, insurance, timely delivery, fuel, and driver throughout the whole process. Transportify is here to elevate your experience with truck for lipat bahay Davao service.
How Can Transportify Help With Your Lipat Bahay?
Lipat bahay can be a time-consuming and expensive process. Since a bulk of your budget will be allocated to the transport of your goods, you need to take time in researching companies who can provide you with an end-to-end truck for lipat bahay service at a price point that matches your budget. As a customer, you need to be critical in identifying the weaknesses and strengths of these companies to gain better knowledge of their services.
Transportify is one of the Philippines' leading logistics companies, offering lipat bahay services throughout mainland Luzon and Cebu. Davaoeños can now enjoy the same high level of service for lipat bahay Davao on the island of Mindanao. Here's how Transportify can assist you:
WE WILL PROVIDE
Door to door pick up and drop off
Loading and unloading for up to 15 locations
Safe transport monitored by a 24/7 customer service team
GPS tracking via the app during the delivery
WE CANNOT PROVIDE
Assemble and pack your item/s
Give materials for any sort of packaging

Shorter and faster process
Transportify serves up on its commitment to providing express home delivery. To proceed with your lipat bahay Davao via Transportify, you will need the app as your primary tool. Simply input your pick-up time, date, and location, and your booking will be matched with one of our drivers. The app provides flexible time types to meet the specific needs of customers. If you need a vehicle within an hour or two, you can select Immediate, whereas if you need to plan your lipat bahay, you can set a schedule in the app up to two weeks in advance.
Here is the list of Transportify's standard vehicle that is ready to serve you in Davao:
Vehicle Type
Dimension &
Weight Capacity
Base Price


(Visayas/Mindanao)

Wing Van 

32 to 40 x 7.8 x 7.8 ft




12000kg to 15000kg

6500 PHP

6w Fwd Truck

18 x 6 x 7 ft




7000kg

4850 PHP

Closed Van

10 to 14 x 6 x 6 ft




2000kg to 4000kg

1450 PHP

L300/Van

8 x 4.5 x 4.5 ft




1000kg

310 PHP

Small Pickup

5 x 5 ft x open




1000kg

220 PHP

Light Van

5.5 x 3.8 x 3.8 ft




600kg

225 PHP

MPV/SUV

5 x 3.2 x 2.8 ft




200kg

140 PHP

Sedan

3.5 x 2 x 2.5 ft




200kg

120 PHP
SEE ALSO:
Affordable rate that fits your budget
Because we base the pricing solely on your overall distance, vehicle booked, and extra services, if any,  Transportify can offer affordable pricing for lipat bahay Davao. We are cost-effective since we allow our customers to customize their service as they see fit. You have complete control over your service.
On time pickup and delivery
As a provider of express home delivery, we encourage our drivers to serve with utmost professionalism. We make certain that your pickup is on time because we value your trust and time. To make this possible, we have established a dependable monitoring system to alert you when your driver arrives. Our 24/7 customer service is always available to assist you with any of your booking concerns.
Helpful inclusive services
When you hire a truck for lipat bahay through Transportify, you may save money. The cost of any vehicle booked on Transportify includes a driver, fuel, loading and unloading. GPS tracking, chat with your driver, and route optimization is also included with no hidden charges. Transportify also has goods insurance for every booking, which means your items are insured and secured once they are transported. Despite being affordable, Transportify sees to it that customers always experience a top-level service.
You can ask our assistance 24/7
When it comes to express home delivery or delivery in general, customers will undoubtedly have concerns regarding the booking, either questions or complaints. To ensure that our clients are properly assisted, our customer service is available 24 hours a day, 7 days a week. Our customer service support is one of the most popular benefits enjoyed by our consumers. For your concerns, you may always contact or communicate with Transportify's hotlines.
Advantages of Using An Express Home Delivery Service
Express home delivery services are popular because it has many advantages. It will save your time and effort and improve the process of your lipat bahay process. Express home delivery service is the best option for you if:
1You want to save your time and effort
Express home delivery is a service that allows customers to have their booking completed in just one day. This saves time and effort because you do not need to wait for days or weeks just for your lipat bahay to be over. If you are organizing a lipat bahay Davao activity, it will be less expensive if you choose a logistics provider who can offer the right vehicle at your preferred time. To make sure that your items would fit, you need to carefully assess the cargo capacity of the vehicles and identify if the space is enough.
2You are following a tight schedule for your lipat bahay Davao
An express home delivery service is a good alternative if you have already planned your move from Davao City to another place. You can book the vehicle that fits what you need, and it will be delivered on time. With an express home delivery service, you can avoid last minute stress because these companies are committed to giving customers punctual services throughout their booking.
Hassle Free Lipat Bahay From A Trusted Provider
Today, Transportify has over 2 million active accounts on its platform. This figure demonstrates how trustworthy and recommended our on demand truck rental app is not just to individuals, but also to businesses. If you are looking for a truck for lipat bahay Davao, Transportify is here to help with end-to-end logistics service at any time or place in the city. We aspire to improve your lipat bahay journey by elevating the experience and making it hassle free.
Transportify's truck rental app does not just serve the needs of individuals in Davao City. Transportify's on demand mobile and web application can help businesses meet national demands by delivering from Cebu and Metro Manila to other islands in Visayas and Mindanao via interisland trucking service.
| | | |
| --- | --- | --- |
| | or | |
Frequently Asked Questions:
What are the available payment methods when I book for lipat bahay Davao?
🚚 Transportify both accepts cash and cashless payments. We value your convenience, which is why we allow payment via credit/debit card, bank transfers, and GCash transfers. Pick the most accessible payment method for your transaction and relieve yourself of the stress of limited payment methods. In case you prefer to pay cash, you can indicate in the app at which location you would want to pay, either at the pickup or drop off.
Can I schedule an express home delivery in Transportify?
🚚 Yes. Transportify allows customers to book up to two weeks in advance. If you are certain about your pick up time and date, you can create your booking through the mobile or web app anytime. Even if your booking is days or even weeks ahead, the Transportify app can assign you with a driver as soon as you have your booking placed.
How can I identify the right truck for lipat bahay for my items?
🚚 Transportify provides a clear reference on the cargo size and dimensions of its available vehicle in Davao that you can see in the app. In case you are having a hard time identifying, you can always seek assistance from our customer service. They will be glad to assist you when a need arises.