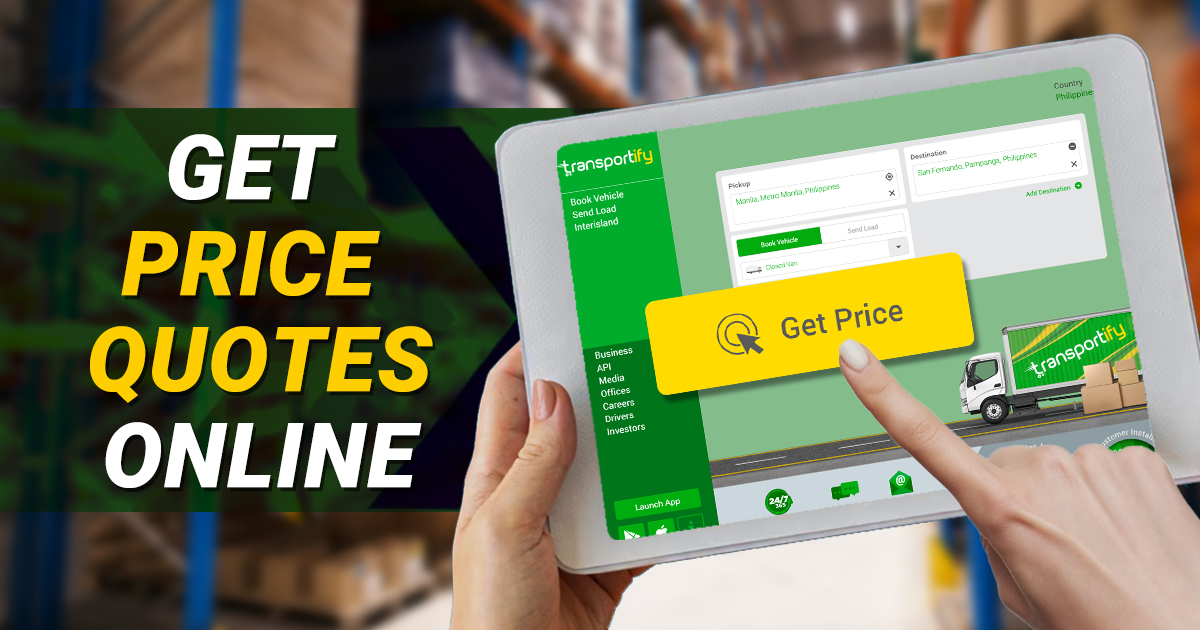 With technological advances in logistical solutions, instant freight, and trucking quotes are now available in the Philippines. Gone are the days when having to wait days to get pricing estimates! If you're looking for an effective and economical way to transport your goods, this article is here to help you.
Get a sample quote from our Prize Wizard below:
We'll cover what a freight quote entails, the necessary data, and the most efficient and cost-effective strategies for shipping items that will minimize any supply chain difficulties while optimizing efficiency in your business operations.
Through this process, businesses can dive deeply into the pricing of different vendors and ultimately decide which one meets their criteria. As a result, instant freight and trucking quotes streamline business in the Philippines, enabling businesses to save time, money, and energy while guaranteeing goods arrive securely at their targeted destination on schedule.
What Is a Trucking Quote?
A trucking quote estimates the cost of transporting goods with a commercial truck. It typically includes details such as pickup and delivery locations, type of cargo, weight, size, number of items, the timeline for pickup and delivery, loading and unloading fees, insurance costs, and other additional services.
When requesting a trucking quote online, you will need to provide information about the shipment, such as its size, weight (including the weight of the pallet), destination, or type of commodities you are shipping.
Transportify is one of the country's leading modern logistics companies, offering quick price quotes that you can get from our website in just a few clicks.
SEE ALSO:
What Information Must You Provide for a Trucking Quote?
Ensure you provide your customers with an accurate quote, including the size and kind of freight, where it's coming from and going to, its contents, weight, and any extra features. The more detailed the information is, the more accurate it will be to avoid complications in the long run.
Why Should Businesses Get Trucking Quotes?
Obtaining trucking quotes online is beneficial for businesses for many reasons:
Compare Prices and Services
First, getting a quote allows businesses to compare prices and services from different providers to ensure they get the best deal. This can help businesses save money on their shipping costs. Trucking quotes differ from Requests for Quotations (RFQs) in that RFQs may require assessments and approvals, but trucking quotes are generally available online for instant information.
Accuracy
Second, freight quotes give businesses an accurate estimate of the cost of shipping their goods.
Improved Budgeting
By comparing, you will better manage your budgets and ensure they get the best value for your money. Instant quotes also allow businesses to plan and anticipate potential trucking costs and adjust their expenses accordingly.
What Services Are Usually Requested in Trucking Quotes?
FTL (Full Truckload)
For most businesses, FTL or full truckload shipment is the best option as it involves renting a whole truck. Thus, you will need a full truckload freight quote that is very accurate. FTL shipping offers many advantages, but you must also be aware of the various factors affecting your freight cost. These range from fuel prices, market values, length of haul, and other considerations, so it's vital to understand how these items can influence your FTL quote for efficient delivery.
Vehicle Type
Dimensions/
Weight Limits
Base Price
(Metro Manila)
Base Price
(Outside Metro Manila)
Base Price
(Visayas/Mindanao)
Wing Van 
32 to 40 x 7.8 x 7.8 ft
12000kg to 28000kg
7500 PHP
6500 PHP
6500 PHP
6w Fwd Truck
18 x 6 x 7 ft
7000kg
4850 PHP
4850 PHP
4850 PHP
Closed Van
10 to 14 x 6 x 6 ft
2000kg to 4000kg
1800 PHP
1450 PHP
1450 PHP
Open Truck
10 to 21 x 6 ft x open
2000kg and 7000kg
2300 PHP
1950 PHP
N/A
Mini Dump Truck
10 x 6 ft x open
2000kg
1500 PHP
1200 PHP
N/A
L300/Van
8 x 4.5 x 4.5 ft
1000kg
430 PHP
330 PHP
310 PHP
Small Pickup
5 x 5 ft x open
1000kg
310 PHP
250 PHP
220 PHP
Light Van
5.5 x 3.8 x 3.8 ft
600kg
250 PHP
192 PHP
225 PHP
MPV/SUV
5 x 3.2 x 2.8 ft
200kg
160 PHP
130 PHP
140 PHP
Sedan
3.5 x 2 x 2.5 ft
200kg
140 PHP
110 PHP
120 PHP
LTL (Less than Truckload)
LTL cargo shipping is catered to smaller shipments ranging from 150 to 20 000 pounds. It focuses on filling a single truck with multiple shipments from many clients heading to the same destination.
You can use an LTL freight quote calculator to calculate freight density, which considers the volume, and space the item takes about its weight. To get an accurate rate for shipping, be aware of the freight density and any extras added (such as labor, fuel, or equipment). Choosing the right service provider for your goods is essential, and Transportify is the perfect choice for safe and secure shipping.
Pallet Shipping
A pallet is a strong material such as metal, plastic, or wood used for wrapping freight and goods.
The cost to ship items on a pallet by a certain carrier can be determined by obtaining a pallet shipping quote. The weight, size, and quantity of pallets, as well as the travel distance, are all taken into consideration. Therefore, when requesting a quote for shipment, including the necessary details such as the origin and destination address, pallet type, weight, dimensions, and any special requirements is crucial.
If you require extra protection for delicate items or need to expedite the shipment process, Less Than Truckload Shipping might be the ideal option.
Freight Forwarder Trucking Quote
Freight forwarding companies provide a variety of transport methods, like ocean freight, road, and rail, but they need to transport the shipments themselves. If you're seeking a secure shipping route,Transportify is the top freight forwarder company in the Philippines, sending your items straight from the manufacturer to the final destination.
Our services include:
Customized solutions for your business
Real-time tracking through GPS systems
User/driver chat feature
By using the advanced freight forwarding logistics of Transportify, businesses can quickly and cost-effectively ship goods with transparent pricing quotes.
Trucking Quotes Calculators
Freight rate quote calculators are an invaluable tool for businesses in the Philippines that need to ship goods. These calculators allow companies to quickly and easily compare different freight options and get instant shipment quotes. Using a trucking rate calculator, businesses can save time and money by finding the best available rates for their specific needs.
Conclusion
If your business requires to move large loads of cargo, then a Full truckload shipment is better, but if you are a small business, then choosing an LTL shipment is probably the best way to save money. Ultimately, select the best option for your business and get an instant quote for freight and trucking services.
The best way to get an instant freight and trucking quote is to be as detailed as possible, and if you still need clarification, Transportify will gladly assist you further.
Whether a one-time shipment or a long-term contract, we have the right solution for all your needs. So get started today by getting an instant quote from us – fill out the online form and let us take care of the rest!
| | | |
| --- | --- | --- |
| | or | |
Frequently Asked Questions:
How to get trucking quotes online?
🚚 With the increased demand for goods shipped across the country, truck drivers are in high demand. With the ability to get trucking quotes online, it's always been challenging to find reliable companies quickly. Be sure to accurately describe what you need to be shipped, including size and weight requirements.
Why is it important to get trucking quotes first before choosing a logistics partner?
🚚 Getting commercial trucking quotes is a key step when finding the right logistics partner for your business needs. Trucking quotes can provide critical insights into the various costs associated with shipping goods and services, helping you to ensure that you are making an informed decision. By comparing different prices, you can better understand which quote is the most cost-effective way to move your products. Furthermore, quotes can help you determine which logistics partner has the most experience and expertise in a particular field and which company offers the best customer service. By obtaining multiple trucking quotes before selecting a logistics partner, businesses can be sure that they are making an informed decision based on all of the available information. This can save time, money, and stress in the long run.