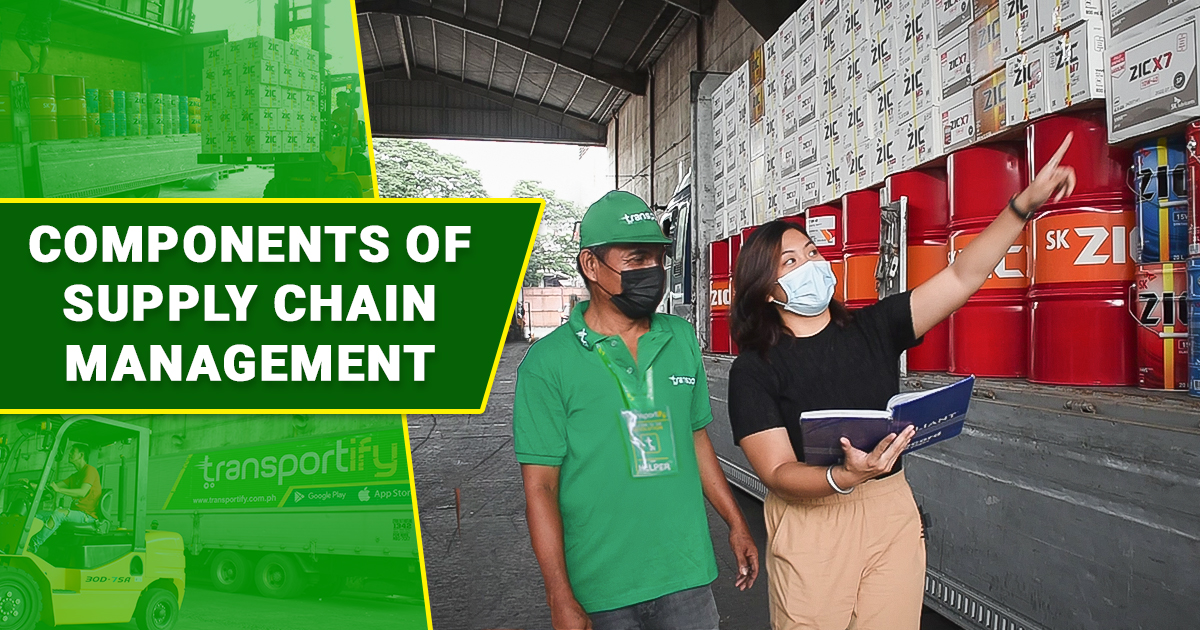 Supply chain management is a critical component of any successful business. It involves coordinating and optimizing processes, resources, and strategies to ensure efficient flow and delivery of goods from supplier to customer. Supply chains can be quite complex, involving multiple players such as suppliers, transport providers, distributors, manufacturers, retailers, government agencies, and more. To effectively manage the complex, it is important to know the components of supply chain management. Read on to learn more!
When Did The Use Of Supply Chain Management Started?
Supply chain management (SCM) oversees the flow of goods and services from supplier to customer. In a typical supply chain, raw materials are sourced from suppliers and then transformed into finished products by manufacturers. The finished products are then distributed to retailers, who sell them to consumers. SCM encompasses everything from planning and production to warehousing and logistics. The main goal of SCM is to ensure that finished products are delivered to customers promptly and efficiently.
SCM is a relatively new field that emerged in the early 1990s. However, it has quickly become essential for businesses that want to remain competitive in today's global marketplace. With the help of SCM, businesses can streamline their operations and cut costs while still providing quality products and services to their customers.
Different Components of Supply Chain Management
Although it may seem daunting, managing the supply chain can be broken down into five sections, which we will explore in more depth below.
Planning
A company's procurement team must decide whether to produce finished products or buy raw materials from other sources. If the company is instead purchasing ready-made products, another question that managers must answer is where these products will come from – from local, regional, or international sources.
There are many factors to consider when answering these questions. The most important are the initial cost of investment and the ongoing cost of production or procurement. Other considerations include quality, speed, and availability.
The best way to make these decisions is by conducting a cost-benefit analysis. This will help the company understand the cost of production or procurement and the potential benefits that could be gained by producing items in-house or outsourcing to another supplier.
Sourcing
After the first component is complete, the next step involves sourcing. This part of the process is crucial as it can save a lot of money.
Selecting the perfect vendor who provides an excellent price, can deliver your required volume promptly, and is reliable is key to successful business sourcing. If you choose an incompetent supplier, it will negatively impact every other operation in your supply chain. Therefore, this process requires you not only to find vendors but also to evaluate and qualify them.
Inventory
Although it might sound strange, examining how purchasing and supply chain management changed in 2020 can teach us a lot. Most importantly, we can learn that having several suppliers is key to maintaining a steady inventory. For example, when supplier A has an issue with their shipment, we can easily turn to supplier B to keep our stock levels up.
2020 has been a trying year for many businesses, especially those that did not have the right supplies. According to RetailNext, 28% of surveyed businesses ran out of key items and had to go without or renegotiate contracts. Managing inventory levels and ensuring that manufacturing schedules align with consumer demand is both a skill and an art.
Production and Transportation
The next important components of supply chain management are production, warehouse, and transportation. To maintain efficient operations, it is crucial for organizations to regularly check if they are producing the appropriate amount of products that meet quality expectations. In addition, this component also includes storage in warehouses and how the products will be transported from those locations to stores. The importance of transportation in the supply chain is often looked into last, but managers should realize how goods should move first before the actual procurement.
Vehicle Type
Dimensions/
Weight Limits
Base Price


(Metro Manila)

Base Price


(Outside Metro Manila)

Base Price


(Visayas/Mindanao)

Wing Van 

32 to 40 x 7.8 x 7.8 ft




12000kg to 28000kg

7500 PHP

6500 PHP

6500 PHP

6w Fwd Truck

18 x 6 x 7 ft




7000kg

4850 PHP

4850 PHP

4850 PHP
Closed Van

10 to 14 x 6 x 6 ft




2000kg to 4000kg

1800 PHP

1450 PHP

1450 PHP

Open Truck

10 to 21 x 6 ft x open




2000kg and 7000kg

2300 PHP

1950 PHP

N/A

Mini Dump Truck

10 x 6 ft x open




2000kg

1500 PHP

1200 PHP

N/A

L300/Van

8 x 4.5 x 4.5 ft




1000kg

430 PHP

330 PHP

310 PHP

Small Pickup

5 x 5 ft x open




1000kg

310 PHP

250 PHP

220 PHP

Light Van

5.5 x 3.8 x 3.8 ft




600kg

250 PHP

192 PHP

225 PHP

MPV/SUV

5 x 3.2 x 2.8 ft




200kg

160 PHP

130 PHP

140 PHP

Sedan

3.5 x 2 x 2.5 ft




200kg

140 PHP

110 PHP

120 PHP
Return Policy
What do you do when a customer returns a faulty product? What is the protocol for handling such an incident? The final component of the supply chain, 'Return of Goods,' answers these questions. Because customer satisfaction is one of our highest priorities, we have a clear protocol for our return process. The quicker your return process for faulty products, the happier your customers will be.
Examples of Successful Supply Chain Management Implementations in Different Industries
Supply chain management is the process of coordinating the flow of goods and materials from suppliers to customers. It can help businesses to improve efficiency, reduce costs, and increase customer satisfaction. There are many notable examples of successful supply chain management implementations worldwide.
Toyota has long been known in the automotive industry for its efficient production system, which relies on Just-In-Time delivery of parts and components from suppliers.
In the retail sector, Walmart has developed an extensive supply chain network that provides customers with a wide range of products at low prices.
And in the high-tech industry, Apple has used innovative supply chain management practices to become the world's most valuable company. These examples illustrate the importance of supply chain management for businesses of all types.
The Importance of Collaboration Among All Members of the Supply Chain
The supply chain is a complex system that brings together many players, each with expertise and perspective. All members must work together collaboratively for the supply chain to function effectively. Supply chain members can better understand the big picture and identify potential improvements by sharing information and ideas.
Collaboration is essential to the success of the supply chain, and all members should be aware of its importance. When everyone works towards the same goal, the entire supply chain can run more smoothly and efficiently. Furthermore, this can help build trust and respect, creating a more positive working environment for everyone involved.
If you think your business would have difficulty making these components collaborate, consider the help from experts. Outsource logistics help and services so you can achieve the desired outcome. According to a Gartner survey, 74% of logistics leaders anticipate an increase in their outsourcing logistics budget over the next two years.
SEE ALSO
The Future of Supply Chain Management and Its Impact on Businesses Worldwide
In the coming years, businesses worldwide will increasingly need to focus on supply chain management to stay competitive. With globalization and the growth of international trade, the movement of goods has become more complex than ever before.
As a result, managing the flow of materials, information, and finances have become critical to any business's success. While this may seem daunting, many emerging technologies can help.
Blockchain-based systems can track the movement of goods and ensure that all parties have up-to-date information.
Supply chain managers can use data analytics to optimize supply chains and identify potential problems before they cause disruptions.
By investing in these and other cutting-edge technologies, businesses will be well-positioned to meet the challenges of tomorrow's supply chains. Supply chain management is a critical aspect of any business that seeks to be successful in today's competitive marketplace.
The future of supply chains and technology looks even more promising, with continued technological advances and increased collaboration among supply chain members. Businesses that can adapt and embrace these changes will be well-positioned for success in the years ahead.
Frequently Asked Questions:
What are the components of supply chain management?
🚚 The components of supply chain management are planning, sourcing, inventory, transportation & warehousing, and returns. Planning involves determining which products are needed when needed. Sourcing is about obtaining the necessary components for production. Inventory management relates to managing stock levels across locations, ensuring adequate supply yet not too much that produces unnecessary costs or the need for storage space. Transportation & Warehousing involves physically moving components and materials across suppliers and customers. Returns are any components returned to suppliers or customers due to defects or customer dissatisfaction.
Why is it important to know the components of supply chain management?
🚚 Supply chain management is essential to any business, and understanding its components can help businesses ensure that goods and services are distributed efficiently. Knowing the components of supply chain management allows companies to identify opportunities for improvement, develop strategies to reduce costs, and maximize customer value.