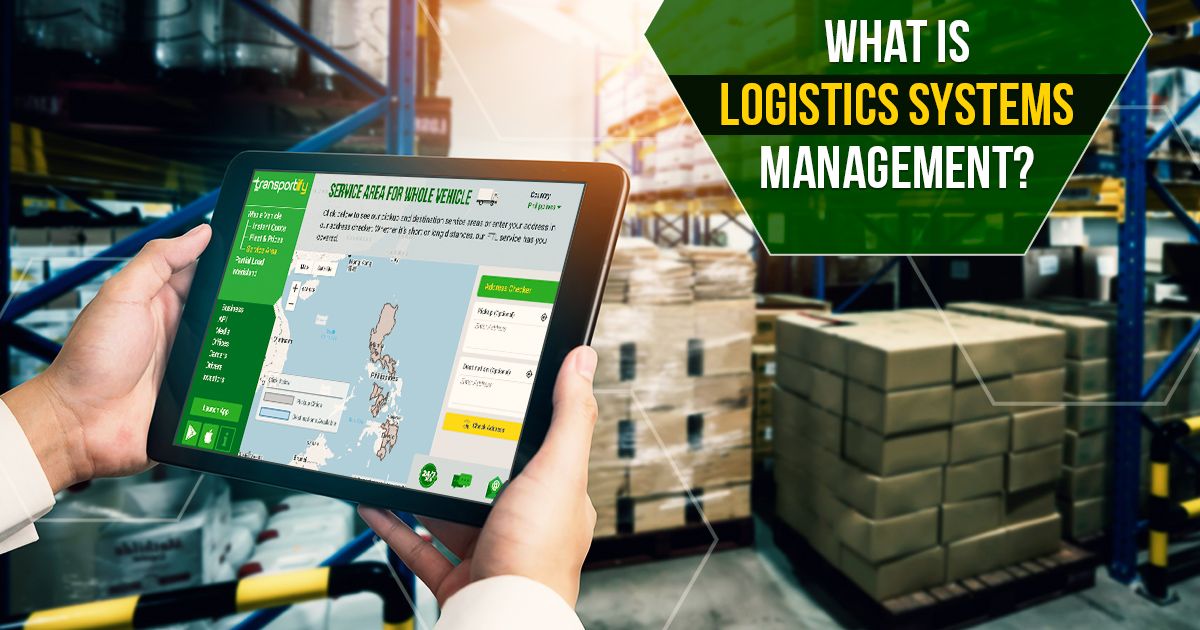 Logistics is one of the key drivers of economic growth in the Philippines. The definition of "logistics systems management" is not straightforward. It includes a broad range of services related to many areas, including shipping, warehousing, and cargo distribution. This is because it alludes to a bigger picture of a supply chain. In the Philippines, logistics is crucial since it allows for the transportation of goods and products.
The economy would collapse without it. So, it is crucial to reshaping logistics management in the Philippines for this industry to benefit the nation. This article will provide several important functions to give you a thorough knowledge of the subject.
How Is Logistics Systems Management Defined?
Logistics operates in two directions: forward and backward. When we refer to logistics systems management, we mean forward movement. It includes accepting and processing orders and reviewing and setting up inventory. It also involves picking and packing items, dispatching them, and choosing a transportation route to deliver them to a customer.
On the other hand, any processes, including managing erroneous or broken shipments, fixing things, and reusing or recycling, are considered reverse-direction operations.
Businesses use logistics systems management, a mix of software tools that optimize all operations. It involves placing an order to deliver it to a customer's door, to manage these activities in a digital environment. Introducing and integrating logistics systems management into your company can be done in a variety of ways:
You can create, get, and handle logistics systems management software.
Matthew York, a SAP analyst of sales and distribution, logistics systems management, logistics execution, and warehouse management modules, explains the advantages of outsourcing all logistics systems management needs to a third-party logistics (3PL) provider. "Using a 3PL allows you to introduce new processes, devices, and software quickly without having to teach your personnel," York explains.
A logistics systems management is a collection of software tools designed to optimize all phases of corporate operations. As a result, processing orders, managing inventory, and conveying orders to consumers will be more efficient. If required, return orders with the use of a logistics systems management.
An efficient logistics systems management will help your company by providing clients with speedy, high-quality, and accurate service. It will ensure that it will enhance their experience. Additionally, it will improve your supply chain visibility, assist in cost savings, and streamline your logistics plan.
How Can Logistics Management System Add More Value to Your Overall Service?
Logistics systems management is practiced all over the world. Yet, we're still learning and attempting to handle it. Logistics remains one of the most dynamic and difficult operational areas of supply chain management or SCM.
The many duties necessary to deliver the items to the clients at the appropriate time are included in logistics systems management. Which is necessary to grasp the definition of logistics at its most fundamental level. Let's see the importance and functions of logistics systems management below:
Warehousing
Most of the time, it is clear that the manufacturing of commodities occurs before their consumption. In other words, commodities are produced, moved, stored, sold through channel partners, and finally consumed. As a result, the cycles of production and consumption are not coordinated.
The organization must hold the goods until they are ready to be sold. Storage of goods aids businesses in overcoming variations in quantity and timing requirements, ensuring that the products are accessible at the right time for customers. Organizations consider the warehousing role in this area.
Inventory Control
Maintaining enough inventory or stocks to meet client needs is part of inventory management. However, there is a trade-off between keeping an excessive amount of inventory and too little. With insufficient inventory, there is a chance that the company won't have the desired products available when the consumer wants them. But, having an excessive amount of stock causes stock obsolescence. Besides having expensive inventory carrying costs. As a result, a careful balance must be struck between the two factors.
Just-in-time logistics systems allow the organization to carry goods for as little as 3 to 5 days of operations. As a result, many organizations today have decreased their inventory-carrying expenses. Instead of staying in the warehouse for a lengthy time, new goods arrive on time. Yet, this approach necessitates precise forecasting besides quick, frequent, and flexible supply schedules.
Transportation
This is another crucial component of the role of marketing logistics. The customer's pleasure is affected by the transportation carrier's selection. It also dictates the product's delivery performance and its condition upon arrival. The primary transportation options are available to organizations for shipping goods. They are as follows: road, rail, air, and water.
Vehicle Type
Dimensions/
Weight Limits
Base Price


(Metro Manila)

Base Price


(Outside Metro Manila)

Base Price


(Visayas/Mindanao)

Wing Van 

32 to 40 x 7.8 x 7.8 ft




12000kg to 28000kg

7500 PHP

6500 PHP

6500 PHP

6w Fwd Truck

18 x 6 x 7 ft




7000kg

4850 PHP

4850 PHP

4850 PHP

Closed Van

10 to 14 x 6 x 6 ft




2000kg to 4000kg

1800 PHP

1450 PHP

1450 PHP

Open Truck

10 to 21 x 6 ft x open




2000kg and 7000kg

2300 PHP

1950 PHP

N/A

L300/Van

8 x 4.5 x 4.5 ft




1000kg

430 PHP

330 PHP

310 PHP

Small Pickup

5 x 5 ft x open




1000kg

310 PHP

250 PHP

220 PHP

Light Van

5.5 x 3.8 x 3.8 ft




600kg

250 PHP

192 PHP

225 PHP

MPV/SUV

5 x 3.2 x 2.8 ft




200kg

160 PHP

130 PHP

140 PHP

Sedan

3.5 x 2 x 2.5 ft




200kg

140 PHP

110 PHP

120 PHP
Information Management for Logistics
A crucial component of logistics management is information. It consists of emails, phone calls, and even electronic data interchange (EDI). This computerized movement of data between organizations is just one of the ways that information can be communicated and handled. The company is connected to its suppliers via computer networks. It allows the supplier to check for changes in the organization's inventory levels. To know what to do before restocking the shelves. For their clients' orders and deliveries, many organizations use their suppliers. These systems are called Continuous Inventory Replenishment Systems or Vendor Managed Inventory (VMI) Systems.
SEE ALSO:
What Is the Importance of Analytics in Logistics?
Analytics is critical in logistics for many reasons.
Analytics can help improve the accuracy of demand forecasting. It is essential for optimizing inventory levels and ensuring that goods are available when and where they are needed.
Analytics can identify inefficiencies and bottlenecks in the supply chain.
Analytics may guide logistics managers in making better decisions regarding pricing, route planning, and other aspects that affect the bottom line.
By evaluating historical data, analytics can provide insights into future industry patterns and demands.
There's no one-size-fits-all answer to this question. The best way to integrate analytics into your logistics systems will vary depending on the specific needs of your business. However, some tips on how to get started include identifying which data points are most important to track and then designing algorithms or reports that can help you make better decisions based on that data.
You may also want to consider investing in a data management platform to help collect, cleanse, and organize your data for analysis. Once you understand your data well, you can start using it to improve your forecasting, optimize your route planning, and make other strategic decisions that can help streamline your logistics operations.
| | | |
| --- | --- | --- |
| | or | |
Frequently Asked Questions:
What is the importance of logistics systems management?
🚚 Logistics systems management is important for many reasons. First, logistics systems help to ensure that goods and materials are delivered to the correct location in a timely fashion. This is important for businesses because it helps to keep production moving smoothly and prevents disruptions that can lead to lost revenue. Additionally, logistics systems help businesses track inventory levels and keep costs down by ensuring that materials are only purchased when needed. Finally, logistics systems can help businesses respond quickly to changes in customer demand or fluctuations in the market. With a well-managed logistics system, businesses can be better prepared to deal with these challenges and maintain a competitive edge.
What is the definition of logistics systems management?
🚚 Logistics systems management is organizing and coordinating the transportation and storage of goods and materials to meet the needs of businesses and consumers. It includes planning, designing, and controlling the flow of resources through the supply chain. There are various types of logistics systems management, each with its advantages and disadvantages. The most common type is third-party logistics (3PL), which uses outside suppliers to provide transportation and storage services. This can be advantageous because it allows businesses to focus on their core competencies while leaving the logistics to experts. However, it can also be more expensive and less flexible than other options. Another type of logistics system is inbound logistics, which manages the flow of inputs into a company.