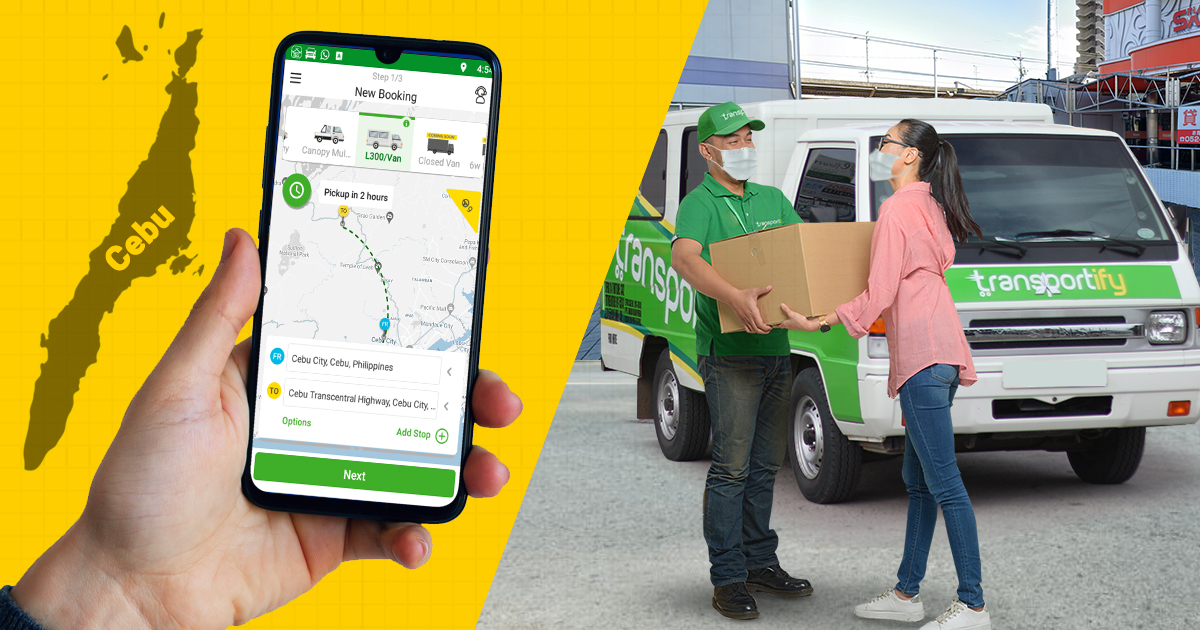 A fast and affordable logistics operation is needed by many business owners and individuals to be able to deliver goods to clients across a wide area. And in order to address that need, an affordable logistics app is what Cebuanos must use to be able to move their goods promptly and efficiently across the entire province.
The table below shows the different vehicles available for use via the Transportify app in Cebu.
Vehicle Type
Dimension &
Weight Capacity
Base Price
(Visayas/Mindanao)
Wing Van 
32 to 40 x 7.8 x 7.8 ft
12000kg to 15000kg
6500 PHP
6w Fwd Truck
18 x 6 x 7 ft
7000kg
4850 PHP
Closed Van
10 to 14 x 6 x 6 ft
2000kg to 4000kg
1450 PHP
L300/Van
8 x 4.5 x 4.5 ft
1000kg
310 PHP
Small Pickup
5 x 5 ft x open
1000kg
220 PHP
Light Van
5.5 x 3.8 x 3.8 ft
600kg
225 PHP
MPV/SUV
5 x 3.2 x 2.8 ft
200kg
140 PHP
Sedan
3.5 x 2 x 2.5 ft
200kg
120 PHP
What are the Advantages of Using an Express Delivery App in Cebu?
Book deliveries at any time and from anywhere in Cebu
Because Cebu is such a large market with a huge population, the rise and fall of demand are crucial. Business owners must be able to take action immediately when there is a shift in consumer demand. For example, the Christmas season brings a lot of consumer demand which translates to having a lot of deliveries, whether first mile, mid-mile, or last-mile logistics. And there are also periods in the year, such as the rainy season, wherein demand is low, which means that there are not too many deliveries happening at that time.
The capability to book deliveries at any time and from anywhere would also be advantageous to an individual business owner or a small and medium-sized enterprise (SME). This would enable you to offer a same-day delivery service to your customers after they have purchased your product. In effect, this would increase the reputation of your business and attract more customers to your doors.
Wide range of vehicle types
Logistics operations are a complex combination of transporting goods, from the source up to the warehouse and then from the warehouse to a distribution or shopping center. In each of these stages, a different vehicle type is being used in order to fulfill the logistics requirements.
Having access to a wide range of delivery vehicles via an express delivery app like Transportify will surely take your business to the next level. With Transportify, you would have a logistics provider that can fulfill your logistics needs from transporting goods from the supplier up to distributing them to the doorsteps of your customers.
Real-time delivery tracking and 24/7 customer service
With the Transportify app, the customer can monitor the progress of the delivery in real-time thanks to the GPS technology that enables this feature. Customers can also share this information with the recipient of the goods in order to prepare for the driver's arrival. This also comes with the ability to communicate with the driver in real-time.
Aside from the real-time tracking feature of Transportify, the app also offers 24/7 customer service support. This feature allows the customer to communicate with a member of the customer service team when it comes to questions or concerns regarding the booking.