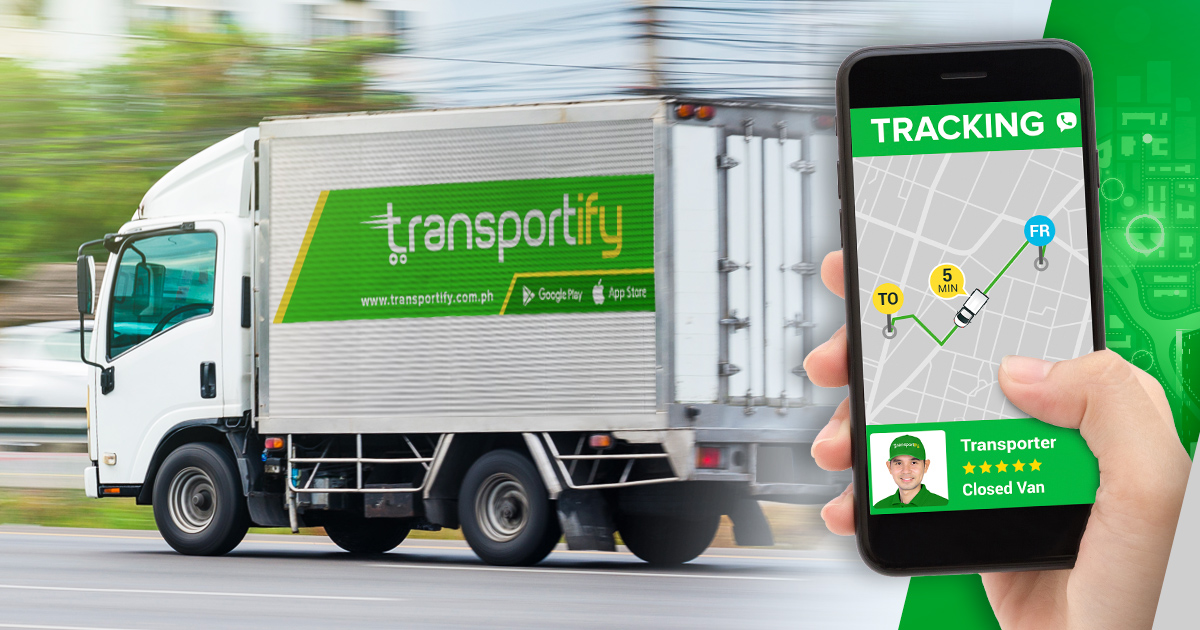 Logistics apps are becoming more and more popular for businesses in recent years. Apps like Transporitfy allow customers to track their shipments, plan routes, and keep up with the latest trend in the logistics industry. Learn how can Transportify make tracking easier for you in this article.
One of the most significant features that logistics apps offer is a tracking system for delivery. Tracking systems provide valuable information on where your shipment is at any given moment during transit so you can know when it will arrive at its destination.
Transportify's primary objective with this article is to provide insight into the common features of a logistics app with a tracking system for delivery. Let this be your guide if you are looking for the best logistics provider for your needs. Aside from fast logistics service, it is also important to consider other service features, such as customer service, price point, and, of course, a tracking system for delivery. Here are points we intend to discuss in this article:
What Are The Benefits of Using Logistics Apps with Tracking Systems for Delivery?
Logistics apps with tracking system for delivery are beneficial to businesses, especially in e-commerce. E-commerce companies usually use third party logistics services to manage and fulfill their day-to-day delivery to customers. The use of tracking technology enables them to provide better customer service and increase brand loyalty by allowing customers to track their deliveries in real-time.
This way everything runs more smoothly without unnecessary stress on both parties during transportation, plus customers feel cared about when they get updates constantly while waiting for their orders. An effective tracking system allows a logistics operation to re-integrate its daily procedures, enhance the customer experience, and eliminate redundant activities while still functioning swiftly and successfully. Tracking technologies allow us to give professional delivery to our customers while also improving operational management and customer satisfaction.
One of the upsides of using a tracking system for delivery is that you can customize it to meet the needs of the business at different points throughout the delivery process. Some of the most common features are as follows:
Route Optimization
One of the important features of logistics apps is to optimize the routes based on your destinations. The efficiency of logistics apps may be demonstrated by their ability to optimize routes. By optimizing routes, logistics apps can help businesses save up to 80% of their planning time while at the same time avoiding extra delivery costs. It is critical to plan the most fuel-efficient and quickest route possible to minimize field employee time and ensure customers receive their products on time.
Visibility
Logistics apps with a tracking system for delivery give clients more insight. With real-time visibility, customers may have complete knowledge of the pickups and deliveries. They can readily detect the position of the driver, allowing them to forecast delivery times and communicate with the appropriate individuals about it. Customers are more inclined to buy from companies that provide tracking information. This feature also improves consumer confidence by letting them know their shipments are traveling from one location to another.
The tracking capabilities of Transportify is available for all of its vehicles from sedans up to 10 wheeler vans. Here is the complete list of Transportify's diverse range of vehicles:
Vehicle Type
Dimensions/
Weight Limits
Base Price


(Metro Manila)

Base Price


(Outside Metro Manila)

Base Price


(Visayas/Mindanao)

Wing Van 

32 to 40 x 7.8 x 7.8 ft




12000kg to 28000kg

7500 PHP

6500 PHP

6500 PHP

6w Fwd Truck

18 x 6 x 7 ft




7000kg

4850 PHP

4850 PHP

4850 PHP

Closed Van

10 to 14 x 6 x 6 ft




2000kg to 4000kg

1800 PHP

1450 PHP

1450 PHP

Open Truck

10 to 21 x 6 ft x open




2000kg and 7000kg

2300 PHP

1950 PHP

N/A

L300/Van

8 x 4.5 x 4.5 ft




1000kg

430 PHP

330 PHP

310 PHP

Small Pickup

5 x 5 ft x open




1000kg

310 PHP

250 PHP

220 PHP

Light Van

5.5 x 3.8 x 3.8 ft




600kg

250 PHP

192 PHP

225 PHP

MPV/SUV

5 x 3.2 x 2.8 ft




200kg

160 PHP

130 PHP

140 PHP

Sedan

3.5 x 2 x 2.5 ft




200kg

140 PHP

110 PHP

120 PHP
SEE ALSO:
Delivery status updates
Customers and recipients should be notified of delivery's arrival. Usually, updates are sent through messages when the driver is already in proximity to the destination. Such a feature is beneficial for both customers and recipients since it automatically updates the recipient based on the real-time estimated time of arrival of the truck. It informs the recipients of the amount of time they have to prepare.
Good logistics apps also do not neglect the importance of proper tagging of booking to avoid confusion for both parties. If the booking is currently in progress, it should be properly identified in the app. This is especially important for dispatchers and logistics managers who need to track deliveries from start to finish.
Vehicle parameters
It would be useful to have a delivery tracking system that not only provides the expected arrival time but also real-time information on where the vehicle goes. Visibility on the vehicle parameters is essential information for customers to check if the driver is taking the correct routes to their destination. It automatically updates the time, location, and speed of movement for users every few seconds. It also allows clients to view a route on a map with markers for locations passed through during transit, so they can get more information about how long their products will take to arrive.
Digital proof of delivery
After the package has been delivered, you will be sent an electronic receipt as proof of delivery. This will allow you to document that the delivery has been completed, which you may even use to show future or potential customers how quickly and effectively your company delivers orders. It allows you to send an electronic receipt, which contains the signature and time/date stamp upon delivery. This will give your customers peace of mind knowing that their shipments are being handled properly by their intended company or individual.
Digital proof of delivery documentation can be used as evidence in the event where a customer claims they never received it or help insurance disputes as well as prevent fraud cases from occurring. In short, this technology becomes very helpful because it provides both parties with transparency throughout the process while maintaining accountability at every level along the way.
Conclusion
An effective tracking system for delivery not only helps businesses grow but also creates a loyal customer base. As a business owner, you must be aware of these recent logistics advancements in today's digital world to remain competitive. Using the fastest courier is not enough, you also need an effective delivery tracking system to provide customers with real-time updates on what's going on with their package at every step of the way.
How Can Transportify Help?
Transportify is one of the Philippines' leading technology-driven logistics apps, delivering to anywhere on mainland Luzon and Cebu. Their app elevates customers' experience because they provide benefits that are bound to make deliveries easier. Transportify can help you gain customer trust through its high-level service for same day delivery, less than truckload service, and interisland trucking. They provide 24-hour customer service, in-app driver chat, insurance coverage for all bookings, and an app that allows you to manage and plan bookings because every timestamp is recorded. Moreover, they have a GPS tracking system on the app that is updated regularly to provide customers with real-time location information. If you want more information about their services, you send an email to business@transportify.com.ph.
| | | |
| --- | --- | --- |
| | or | |
Are there logistics apps available on both mobile and web?
📱 Yes. Logistics apps today are often available on both devices of mobile and web. This is to give flexibility in case the logistics manager is working from an office, he/she can easily check bookings while working in front of a computer. In case that you need to monitor bookings while on the go, using logistics apps via a mobile device is your best option.
How can I tell if a logistics app has a good and effective tracking system for delivery?
📱 A logistics app has an effective tracking system for delivery if it shows real-time information. No one wants to receive misinformation that is why a working delivery tracking system is helpful. Aside from real-time visibility, a logistics app with a good tracking system for delivery is prompt with updates about booking arrivals and delay, if there is any.