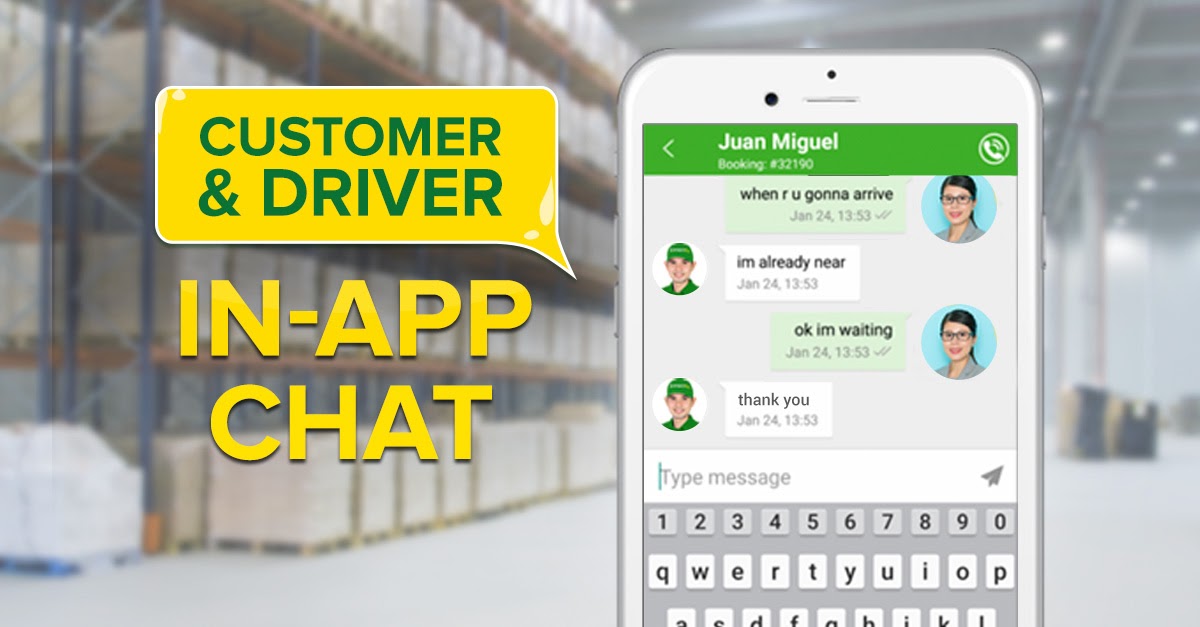 As Manila's smartest logistics provider, Transportify App continues to create and add improvements not only to our web and mobile application but also to the services we offer. We are proud to announce another addition to our user-experience enhancements: the new Customer & Driver In-App Chat feature!
What is Customer & Driver In-App Chat feature?
The new Customer & Driver In-App Chat feature allows customers and Transportify delivery driver partners to chat in real-time. Before, only the customer service chat is available for both users and drivers. Back then, if the user needs to ask the driver something, the user has to contact the customer service so the customer service could then ask the driver and vice versa. Now, both the user and driver have direct contact with each other, making communication between the two—faster and the transaction smoother than before.
How It Works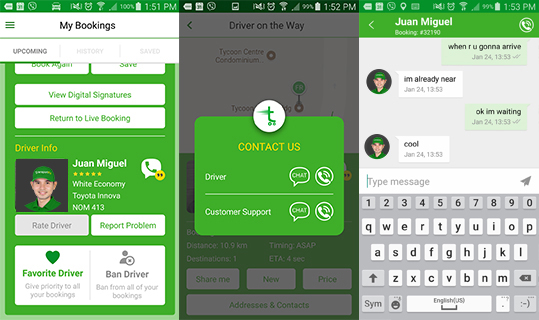 How can users chat with delivery driver partners in real-time? Easy! For mobile app users, you can find the Customer & Driver Chat button under your upcoming bookings where you can see the driver's info. There, you will see a phone icon inside a dialogue balloon beside the driver's picture. For web apps, you can see the Driver Chat button on the lower left-hand corner of your computer screen. Just click the button, and a chat box will pop up where you can send chat messages directly to your assigned driver-partner. With the Customer & Driver Chat button, you can track and trace your package in another way, aside from using the Transportify GPS tracking feature.
User App and Driver App Updates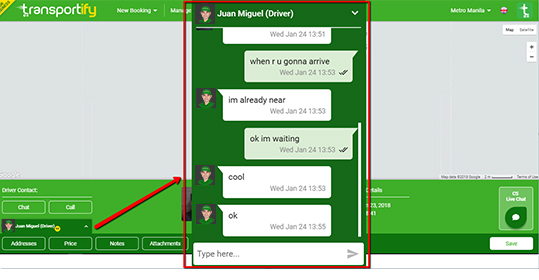 To use the Customer & Driver In-App Chat in your Transportify web and mobile app for delivery service, you have to download the application update. The Customer & Driver Chat button will be visible in your Transportify web and mobile app after you download the application update. When you click this button, you will find the option to send a chat message to the driver or the customer service representative. You can also directly call either the driver or the customer service representative. We retained the customer service chat and call options so users can still ask inquiries that are not within the driver's job or knowledge.
Booking with Transportify is now even more convenient and more seamless! To enjoy the Customer & Driver in-app chat feature, download the Transportify App update now!
What makes it different from previous set-ups?
In the past, third-party logistics providers relied on communicating through telephone and cellphone calls. There is a lot of back and forth between the 3PL and the client, and the employees in between relaying the information from one head to another.
For SMEs that don't have conventional business hours, they lose communication access with the cargo logistics driver. In the previous set-up, many points of weaknesses impede the services from running on optimal levels. SMEs that lack manpower or have unconventional hours are left vulnerable.
Transportify's approach to cargo logistics is to be an extension of your SME. Whatever needs to be done for the best interest of the SMEs are the steps Transportify takes. The in-app chat allows the client to have easy access to the drivers, without the middleman. The chat record can be used as a reference when your employees change shifts. When your employees are updated and informed about delivery details, the business can proceed as usual. There is no messy pass-the-message game in the office. The in-app chat cleans up the process.
It also cleans up the number of contacts that you have on hand. You don't need to jot down the new cellphone number of every new delivery driver, or contact customer support just to have access to who is taking care of your delivery. It is challenging to stay on top of those numbers when you are a small to medium enterprise that has a lot of business deliveries. The in-app chat feature connects you to your delivery driver partner per job and segregated neatly for your convenience. Transportify's cargo logistics still have contact numbers and hotlines, but it is nowhere near the amount other cargo logistics companies have, and you don't need to access them on a day-to-day basis.
How does the In-App Chat Feature revolutionizes Cargo Logistics?
Besides providing a new channel to contact your delivery driver and streamline cargo logistics by taking away the unnecessary communication blocks, the chat feature can be used to defend or attack a given problem. From a defense or preventive stance, the chat feature allows you to relay all your concerns for a given delivery. It can be to provide handling instructions, further information about the recipient, or advice about tricky locations and terrain. The more your delivery driver partners know about what the package needs, the better they work. For long distance cargo deliveries, this in-app chat briefing is an excellent way to remind them about important notes on their long trip.
On the attack or active stance, it can be used to solve cargo logistics problems as they happen. Fixed price route cargo deliveries present a lot of unknown factors, given the length of the distance and time duration. The longer the package is on the road, the more likely it is to encounter issues, to get an idea of how these fixed price route cargo deliveries go consult the table below:
Vehicle Type
Cargo Dimension
Capacity
Price Starts At
Economy
(Sedan/Hatchback)
L: 3.5 ft
W: 2 ft
H: 2.5 ft

200 kg

₱120

Economy Extra Space
(SUV/MPV)
L: 5 ft
W: 3.2 ft
H: 2.8 ft

300 kg

₱140

L300/Van

L: 7 ft
W: 4 ft
H: 4 ft

1000 kg

₱430


Pickup Truck

L: 10 ft
W: 6 ft
H: Open

2000 kg

₱1800

Pickup Truck Extra Space

L: 14 ft
W: 6 ft
H: Open

2000 kg

₱2200

Closed Van
 (4W)
L: 10 ft
W: 6 ft
H: 6 ft

2000 kg

₱1800

Closed Van Extra Space
(6W)
L: 14 ft
W: 6 ft
H: 6 ft

2000 kg

₱2100

Long Pickup Truck

L: 18 ft
W: 6 ft
H: Open
7000 kg

₱4850

10w Wing Van

L: 32 ft
W: 7.8 ft
H: 7.8 ft

15000 kg

₱7500

Mini Dump Truck
L: 10 ft
W: 6 ft
H: Open

3500 kg

₱1500

6w Fwd Truck

L: 18 ft
W: 6 ft
H: 7 ft
7000 kg

₱4850
Transportify, as a cargo delivery service, aims to train drivers to be professionals. Still, in the unexpected event of an emergency or problem on the road, the in-app chat feature can be a way to stay on top of those setbacks. The same way you can prompt your delivery drivers, they can come forward with their concerns and problems. Being updated about the good, the bad, and the ugly gives you time to forward the same information to your customers or formulate a back-up plan. This level of courtesy and foresight may be defining elements of your brand image.
If there are no issues with the delivery, the chat feature makes sure you are always informed. Information is power, and you can use it to regularly update the arrival of your delivery or answer any customer query promptly. Again, these are qualities that contribute to your brand image and foster your customer's trust and satisfaction.
How does this help the delivery team?
The delivery team briefs the best they can be about the specifics of every cargo logistics assignment. However, if you are a new client, the delivery team does not have enough information to provide the best service they can provide. Transparency and communication do not only create a more efficient system, but it also empowers the drivers with information that they can use to better cater to the job order.
Quick access to information is not only beneficial to the client. On the delivery driver's part, being able to contact the client immediately though the in-app chat feature also means they can quickly act when something goes wrong—be it for permission, confirmation, or instruction. The in-app chat feature can also be a way for them to feel secure in knowing that they are doing the job right in times of doubt since there is a reference for them to consult for changes.
Cargo logistics is all about moving things in the best way possible. There is no better way to do that than make sure the channels between the client and driver are clear. The in-app chat feature may not be new to us, given its presence in social media apps and other similar services. However, on a cargo logistics front, this is revolutionizing feature that benefits those who have things that are always on the go.
Downloading or updating the app is a quick and straightforward move to improve your cargo logistics service from Transportify. The in-app chat feature, along with the other updates, were added to ensure maximum efficiency and transparency. The chat does not only serve as a way to communicate but can be a record you can refer to in case of misunderstandings.
Frequently Asked Questions:
How does the in-app chat feature work?
?During deliveries, it is common that either customer or driver would need to communicate with each other. With Transportify's in-app chat feature, they can now chat with each other while on the app. There's no need to use SMS, messenger, or other chat apps. 
What is cargo logistics?
? Cargo is referred to goods carried by a large vehicle, like a plane, ship, train, or truck. And logistics can be defined as a general business where cargo is moved from one place to another. Companies like Transportify use their app technology to allow individuals and business to move their items. Individuals usually use them for lipat bahay or house moving, while business typically needs their services for moving big bulky cargo items.