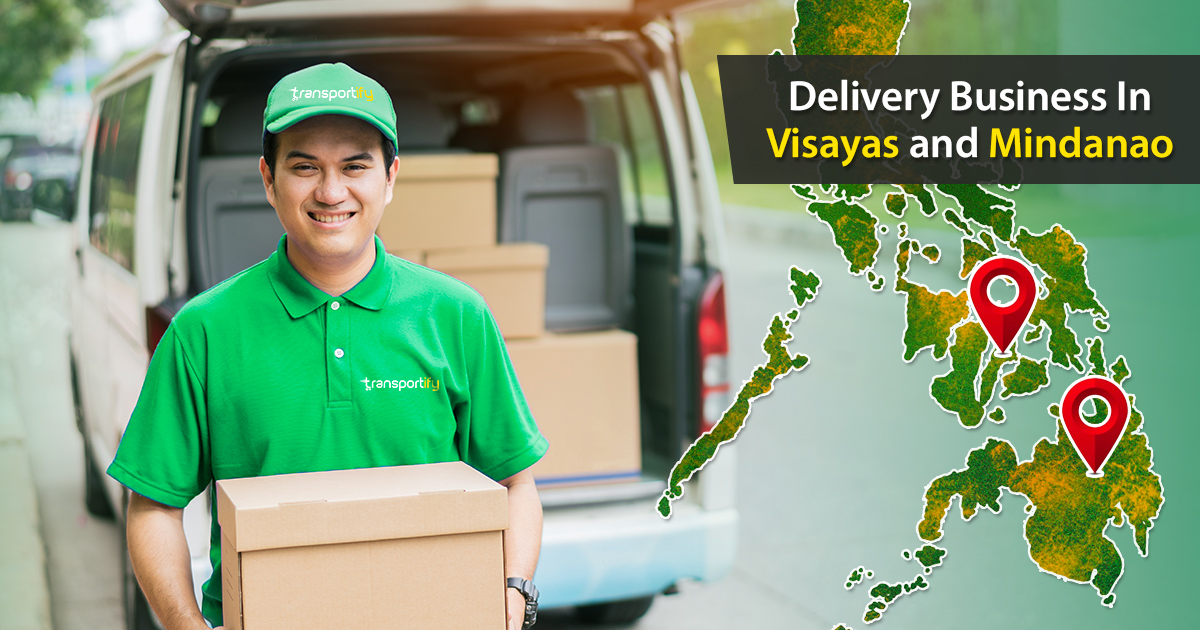 The movement of goods from one place to another is part of our everyday lives, which is why the demand for delivery keeps on increasing year by year. From business deliveries to individual cargo transportation, Transportify can handle it all. As a result, delivery business opportunities are abundant in the Philippine archipelago, especially Visayas and Mindanao. Learn how you, delivery drivers in Visayas and Mindanao may use Transportify to access these delivery business opportunities.
In this article, we will talk about the following important information interested driver applicants should know:
What Are the Delivery Business Opportunities You Can Access via Transportify App?
Visayas and Mindanao have highly developed economies like Cebu and Davao. Businesses from these regions and cities are diverse from Business Process Outsourcing (BPO), food and beverages, appliance centers, bakeries, furniture making, manufacturing, and agriculture. There are many opportunities for delivery business drivers for outbound and inbound logistics.
Some of the bookings delivery driver applicants can expect from Transportify:
Business Process Outsourcing (BPO)
The majority of the things this company transports are work-from-home items like laptops and other gadgets. Typical deliveries destinations from these BPO companies are office branches to employees residential.
Food and Beverages
Deliveries for this business are often bulkier and heavier since food and beverages are fast moving consumer goods. Thus its demand in the market is high. Deliveries can be regular and common destinations would be stores and warehouses.
Bakeries
Artisan bakeries and local commercial bakeries are everywhere in Visayas and Mindanao. Since these businesses are small-scale, they deliver to customers from bakeshops. Doing this type of delivery is lighter compared to other types.
Furniture Delivery
Cebu is a well-known furniture powerhouse in the Visayan Region. The size and weight of furniture vary, though most small cars can manage it occasionally. Canopy Multicab, L300, and Closed Van are ideal for the task most of the time.
Accepted Vehicles in Visayas and Mindanao
Transportify accepts a wide selection of vehicles for bookings in Visayas and Mindanao. Here is a complete list that we accept in these regions.

Vehicle Class
Accepted Make and Models
Vehicle Class
Accepted Make and Models

Sedan/MPV
- Hatchbacks
- MPVs/SUVs
Year model is 2004 or newer

L300/Van

- Mitsubishi L300FB (All variants)




- Kia K2700




- Hyundai H100




- Isuzu NHR


- Foton Tornado
- Urvan (all Variants)
- Hiace (all Variants)
- Starex
- Transvan
- View Traveller
- Golden Dragon Vans
Year model is 2004 or newer


Canopy Multicab
- Every
- Da63T
Year model is 2004 or newer


Closed Van (4W or 6W)

- All 4-wheel and 6-wheel light commercial trucks with Closed Van body


Year model is 2004 or newer

6w Fwd Truck
- All 6-wheel light commercial trucks with 18 feet in length and has 7 tons capacity
You may contact us to know more.

10W Wing Van
- Trucks with 32 feet in length and has 15 tons capacity
You may contact us to know more.
Sedan at MPV/SUV: Under this category are small vehicles like sedans, hatchbacks, MPVs, and SUVs. This is the most popular vehicle type for small things or goods delivery. This vehicle type is a go-to for immediate deliveries.
L300/Van: This category comprises vehicles like the Mitsubishi, Hyundai H100, and Urvan. Our business clients typically use this to transport bulkier items for FMCG goods.
Canopy Multicab: This is a unique vehicle that Transportify accepts to cater to bookings that need to transport cargo with odd height. Since it has an open height, it has more flexibility than L300.
We Also Accept Trucks Like:
Closed Van: The list below includes various commercial trucks, from 4-wheeler to 6-wheelers such as Elf and Canter. These vehicles are ideal for big truckload deliveries.
6w Fwd Truck: These are larger versions of closed vans that fit bulkier and larger items. These are used for merchandise and construction materials delivery because businesses utilize their cargo space.
10w Wheeler Wing Van: Transportify also takes trucks with a length of 32 feet and a capacity of 15 tons. Business customers frequently hire these vehicles to transport more oversized items from businesses and warehouses.
How Much Will Be My Profit?
We understand that it is important to know the possible earnings you can gain if you enroll your vehicle/s with Transportify. You may visit our Earning Estimator to help you assess which vehicle type would give you the most profit.
SEE ALSO:
Advantages of Being A Transporter
With guaranteed daily customers, drivers can count on making money every day or every week. Depending on the booking type you choose, payment may be different. Here are the following benefits you can expect as a Transportify driver:
1

Accept bookings based on your preference

Transportify has two types of bookings driver partners can accept. These are cash bookings and business bookings. The main difference is that in cash bookings, drivers can instantly get the payment from the customer, while business bookings are purely cashless. Drivers have the flexibility to choose which type is more convenient for them.
2

Run your delivery business with ease

Be your own boss with Transportify. Our platform is a logistics marketplace for our driver partners. The technology in our app can support you in managing and completing your deliveries smoothly. Since this will be like your own business, you have the flexibility to book with pick-up times that are only accessible and convenient to you.
3

We will do the marketing for you

You can gain access to profitable delivery business opportunities through our platform. You do not need to do the marketing of your trucking or delivery business because you can utilize the marketability of Transportify. However, keep in mind that aside from our market capabilities, you as a driver partner must excel in making a good impression on our consumers.
Here is How You Can Join
Starting your own trucking and delivery business is not a hassle at all. You need to accomplish steps and become our driver partners in Visayas and Mindanao.
Send your application
If you are an individual driver, you may sign up here.
If you have two vehicles or more, you may apply as a fleet partner here.
Complete the requirements
To progress with your application, you need to provide the following:
Driver's license (professional or non-professional);
Tax Identification Number (TIN);
NBI Clearance;
OR/CR or Sales Invoice;
Pictures of your vehicle (all sides: front, rear, and back view);
Photos of your vehicle's plate number or conduction sticker;
And an Android Smartphone – it is suggested to have an Android operating system with a version of 5.0 and up since Transportify's app works only on Android phones.
Finish the training
Aside from Transportify requirements submission, you must attend training to become a full-fledged Transporter for 2023. You'll be given an overview of the company, rules, and regulations, as well as the driver's protocols and various circumstances you might encounter during a booking.
Account Activation
Once you have passed the requirements and completed the training, wait for the coordination of our Training team to guide you with your account activation. After you've completed everything, you'll receive a Transporter starter kit with your uniform and other essential paperwork for your 2023 deliveries.
Once done, you are now ready to accept bookings and access Transportify's delivery business opportunities in Visayas and Mindanao.
| | | |
| --- | --- | --- |
| | or | |
Is it possible to work with Transportify just part-time?
⛟ Yes. You have complete control over your time with Transportify. You may accept when and where you want. You can have your day job and still enroll in Transportify. Remember to only accept bookings when you are free to avoid cancellations. If you plan to join Transportify full-time, you will still have the full liberty of choosing your bookings and their pick-up time. Transportify offers flexible delivery business opportunities to drivers in all of our service areas in the Philippines.
Can I visit the Transportify office in Visayas and Mindanao to apply?
⛟ As of the moment, we only process applications online. We encourage interested applicants to fill out the form to start their application. We accept sedans, L300, vans, canopy multicabs, and even trucks like closed vans, 6w fwd trucks, and 10 wheeler wing vans. For any questions about your application, you may always chat with our customer hotline. We are available every day 24/7 for your inquiries.