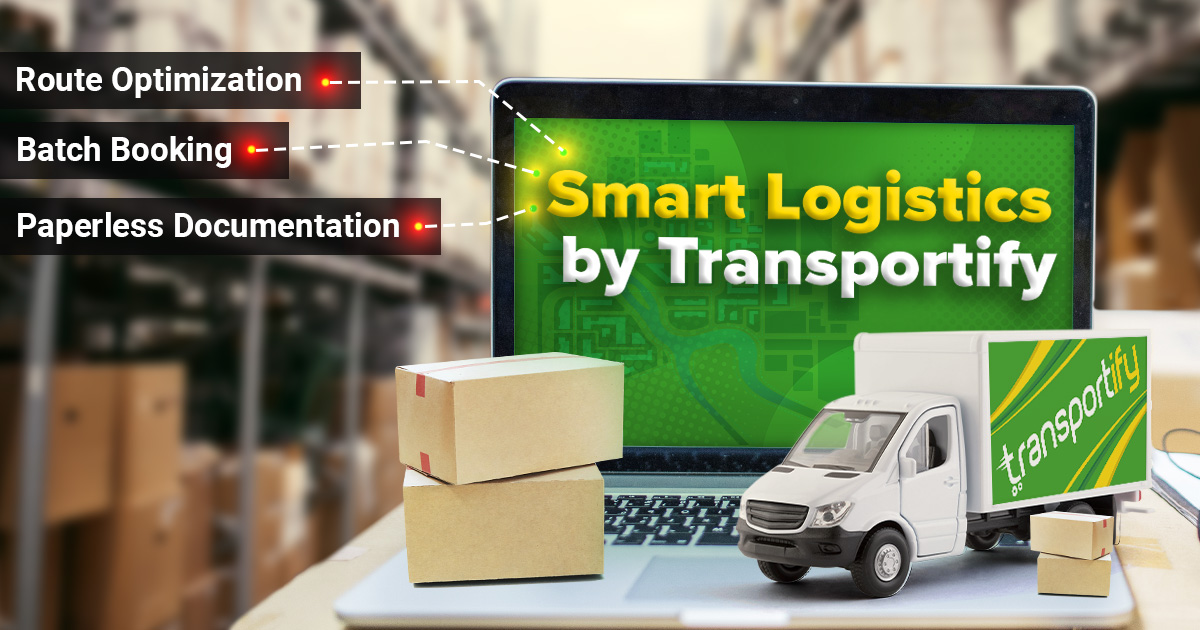 Logistics has always been an essential part of a business. It is the process that ensures that products and materials are delivered to their destination on time and in good condition. In recent years, the rise of delivery route planner apps has revolutionized the logistics industry. These apps have made it easier than ever for businesses to plan and optimize their deliveries. Transportify is one such app that specializes in smart logistics. Through our Smart Load Planner feature, we are able to help businesses save time and money while ensuring that their deliveries are handled efficiently and safely.
What Is A Route Planner App?
The development of route planning app technology has been a game-changer for the logistics industry. By allowing businesses to plan and optimize their delivery routes, these apps have helped to improve efficiency and reduce costs.
The features of a route planner app should include:
the ability to create and optimize routes
track driver location in real-time
manage orders and deliveries
provide customer support
An efficient delivery route planner app should also be able to handle multiple types of deliveries, including same-day, next-day, and scheduled deliveries. And it should have a user-friendly interface that is easy to use and navigate.
Here's are the common vehicles trucking companies offer through apps:
Vehicle Type
Dimensions/
Weight Limits
Base Price
(Metro Manila)
Base Price
(Outside Metro Manila)
Base Price
(Visayas/Mindanao)
Wing Van 
32 to 40 x 7.8 x 7.8 ft
12000kg to 28000kg
7500 PHP
6500 PHP
6500 PHP
6w Fwd Truck
18 x 6 x 7 ft
7000kg
4850 PHP
4850 PHP
4850 PHP
Closed Van
10 to 14 x 6 x 6 ft
2000kg to 4000kg
1800 PHP
1450 PHP
1450 PHP
Open Truck
10 to 21 x 6 ft x open
2000kg and 7000kg
2300 PHP
1950 PHP
N/A
L300/Van
8 x 4.5 x 4.5 ft
1000kg
430 PHP
330 PHP
310 PHP
Small Pickup
5 x 5 ft x open
1000kg
310 PHP
250 PHP
220 PHP
Light Van
5.5 x 3.8 x 3.8 ft
600kg
250 PHP
192 PHP
225 PHP
MPV/SUV
5 x 3.2 x 2.8 ft
200kg
160 PHP
130 PHP
140 PHP
Sedan
3.5 x 2 x 2.5 ft
200kg
140 PHP
110 PHP
120 PHP
Why Now Is the Time To Start Using a Delivery Route Planner?
When a company grows, it often requires leveraging the advantages of the route planner app to help them manage its fulfillment more efficiently and plan optimal routes faster.
It may be possible to manually route a few deliveries for a short period of time. As the amount of orders increases, manual route planning will become too complex and time-consuming, resulting in inefficient routes and revenue loss.
Following COVID-19, businesses must address a new essential element to consider when offering home delivery services, and that is the growing demand for contactless delivery choices. Contactless deliveries have been implemented between the customer and the delivery person to decrease the risk of spread during a coronavirus pandemic.
Route Planning App Are Excellent Tool for Paperless Documentation
Many businesses choose digital signatures as an alternative to the traditional signing of paper. Businesses were pushed to do it as the delivery process frequently necessitates producing proof of delivery or some other document.
The finest route planning apps give retailers all of the tools they need to transport items safely and effectively without the need for any human interaction. Deliveries are confirmed through the use of delivery management software, which permits drivers to snap photographs with their smartphone app. After that, the photograph is stored in order to establish proof of delivery. The customer's order ID and photo are linked using digital proof of delivery. In the delivery business, both big businesses and smaller companies now use route planner software to provide a safe and competitive service.
Problems That Delivery Route Planner Solves
What is the link between a moving company, a meal delivery service, and a laundry service company? Basically, the need to plan daily routes that include multiple stops. Unfortunately, many companies are unaware of how many routes optimization can improve their operational efficiency.
Time-Consuming Route Planning
The first and most obvious problem is the time it takes to plan routes manually. This is especially true if you have multiple vehicles and stops. You can plan multiple deliveries simultaneously using a routing guide tool that can make bookings easier for logistics managers or dispatchers. The app will find the shortest distance between all your stops and create an optimized route for each vehicle.
Inefficient Use of Resources
Another problem with manual route planning is that it often leads to inefficient use of resources. This includes both human resources (employees) and physical resources (vehicles). For example, you may end up sending two vehicles to make separate trips when one could have made both trips. This wastes fuel increases emissions and costs you more money.
With a delivery route planner, you can avoid these problems by inputting all the necessary information into the app. This includes the addresses of your stops and more. The app will then create optimized routes for each vehicle and provide you with a detailed plan.
Help Improve Customers Overall Experience
When you are able to effectively map out your delivery routes, you are also able to provide your customers with a better delivery experience. This is because you are able to avoid traffic congestion and areas that may be difficult for your driver to navigate. In addition, you can also plan your route in such a way that it minimizes the number of stops your driver has to make. This means that your customers will receive their deliveries in a timely manner and without any delays.
Overall, using a delivery route planner app can help improve your customers' experience by providing them with faster and more efficient deliveries. In turn, this can lead to higher customer satisfaction rates and repeat business.
SEE ALSO:
Transportify: Your Smart Delivery Route Planner App
Now that you know the benefits of using a delivery route planner, it's time to choose one for your business. Transportify is a leading provider of smart logistics solutions. We offer a wide range of features to help businesses optimize their operations.
One of our most innovative app features is Smart Load Planner. This tool helps businesses plan their daily routes more efficiently. With the Smart Load Planner, you can input all the necessary information and let the app do the work for you.
Here's how Transportify's Smart Load Planner works:
| Steps | Description |
| --- | --- |
| | STEP 1: Customer needs to upload an Excel file that has necessary booking details. (e.g. contact name, contact person, item length, item width, item height, item quantity) |
| | STEP 2: After uploading, the bundling engine will create bookings based on the list of orders in the Excel file. |
| | STEP 3: Bookings are treated as normal full truckload (FTL) and will be pushed to drivers after confirmation of customer. |
| | | |
| --- | --- | --- |
| | or | |
Frequently Asked Questions:
What is a delivery route planner app?
💻 A delivery route planner app is a tool that helps businesses plan efficient delivery routes. The app takes into account traffic, congestion, and other factors to create the best possible route for each vehicle. This can help save time and money by avoiding inefficient use of resources. In addition, it can also help improve customers' overall experience by providing faster and more efficient deliveries. If you are looking to improve your logistics operations, then a delivery route planner app may be a good solution for you. Transportify's Smart Load Planner is a great option that can help you optimize your delivery routes and save time and money.
How can smart logistics help in paperless delivery documentation?
💻 In the past, logistics documentation was done manually. This process is not only time-consuming but also prone to human error. With the route delivery planner app, all documentation can be done electronically. This not only saves time but also reduces errors. Smart logistics can also help in the real-time tracking of deliveries. In the past, it was difficult to track deliveries as they moved from one location to another. With smart logistics, all deliveries can be tracked in real-time. This helps businesses keep track of their inventory and ensures that orders are delivered on time.