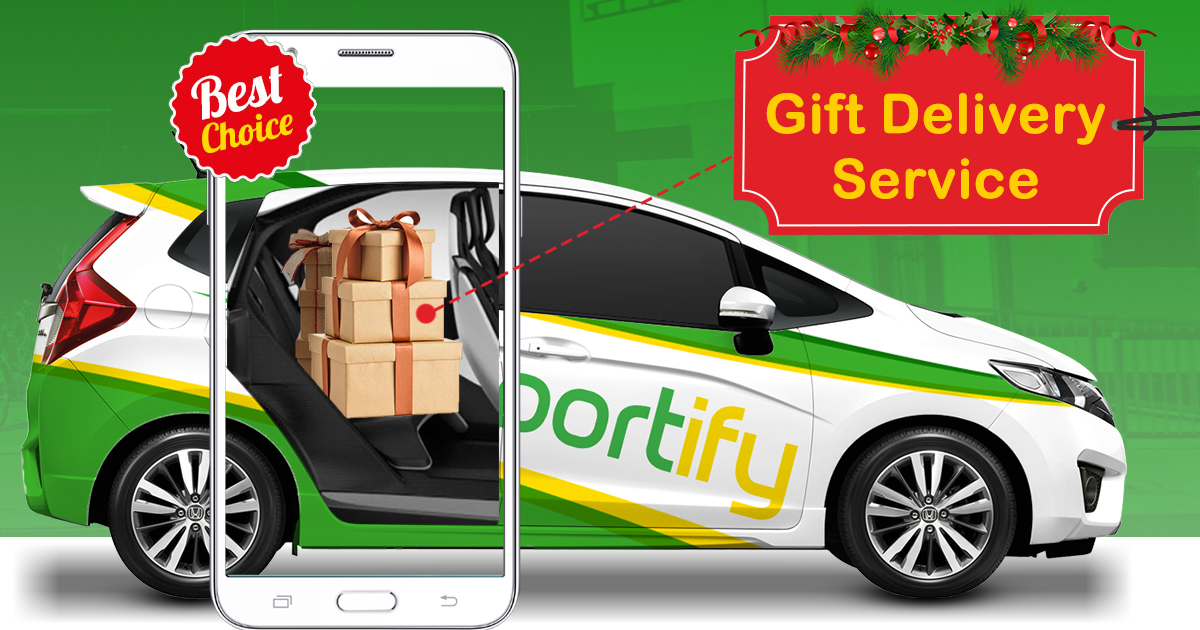 Delivering gifts and packages to family and friends is not an easy task for individuals to fulfill by themselves. There are many factors, such as the number of goods and the distance between drop-off points, that make this operation difficult. And if you are living in a big and bustling city like Davao, gift delivery services could be quite tedious to do on your own. That is why the best course of action is to use third-party delivery services in Davao like Transportify that can handle all your logistics needs.
In the Philippines, every day is always a good occasion to give gifts to family members and friends. Some of the instances are during important celebrations like Father's Day. However, during the last quarter of the year, gift delivery operations reach all-time highs. The reason for this is that the Christmas season brings with it the tradition of giving gifts to one another. It is no surprise that during this time of the year, many app-based logistics services find themselves with a lot of gift delivery service operations.
Gift delivery services are not only for individuals giving gifts to family members and friends. Large companies and even small businesses have a lot of gift delivery operations as well. These establishments give Christmas gifts to their employees and staff in the form of Noche Buena packages or other assorted items.
It is also a common practice for these companies to give special gifts to their customers as a way of thanking them for supporting the business. As a matter of fact, many companies see this as an important part of building a good relationship with their customers.
As we have discussed earlier, gift delivery services are widely used by businesses for a number of reasons. That explains why it is heavily utilized in major commercial centers such as Davao city. Because Davao city houses plenty of offices and other commercial spaces, it is no wonder that gift delivery services in Davao city are very popular. Besides serving individual clients, many third-party logistics companies like Transportify are capable of handling the gift delivery requirements of businesses.
The table below shows the list of Transportify vehicles that are available in Davao city.
Vehicle type
Cargo Dimension
Capacity
Vehicle Type
Cargo Dimension
Capacity
Economy (Sedan/Hatchback)
L: 3.5 ft x W: 2 ft x H: 2.5 ft

with extra space (SUV/MPV)


L: 5 ft x W: 3.2 ft x H: 2.8 ft



200 kg

300 kg
Canopy Multicab

L: 6ft ft x W:4 ft x H: 3.6 ft

700 kg

L300/Van

L: 8 ft x W: 4 ft x H: 4 ft

1000 kg

Closed Van

L: 10 ft x W: 6 ft x H: 6 ft

2000 kg

10w Wing Van

L: 32 ft x W: 7.8 ft x H: 7.8 ft

15000 kg
Why Use Gift Delivery Services in Davao City?
The "Crown Jewel of Mindanao," is a growing city with numerous business opportunities for both local and foreign investors. With a population of close to 2 million people, Davao city holds a large market and is easily one of the largest cities in the Philippines.
In terms of business opportunities, many investors are attracted to this growing economic hub in the south. In fact, many businessmen underscore the fact that it is very easy to do business in the city thanks to the Davao City Investment Promotion Center (DCIPC) that assists these investors.
Because Davao city houses many company offices and other similar establishments, it does not come as a surprise that gift delivery services are in high demand in this area. In the section below, we will talk about the advantages of using an on-demand logistics company like Trasportify for your gift delivery services in Davao City.
Get Access to 24/7 Delivery Operations from Anywhere in Davao
Gift delivery operations are not a simple task to execute. It requires planning and a lot of resource allocation. In fact, it is quite similar to last-mile logistics operations wherein goods are delivered straight to the homes of clients.
With these operational considerations to take into consideration, outsourcing the gift delivery activities to a third-party logistics provider is a good choice. And it is best to choose delivery services in Davao city that is capable of operating 24/7.
It used to be the case that companies must adjust to the operating hours of traditional logistics providers. This means that cut-off times must be met in order for the delivery request to be processed. It is also expected that there are no deliveries during the weekends. However, with the advent of app-based logistics companies, there are no more cut-off times to worry about. Transportify, an app-based gift delivery service provider, is open 24/7 throughout the year.
By having access to 24/7 logistics operations, individual clients and business customers do not have to worry about scheduling their deliveries within certain hours of the day. Transportify understands that a business has other operations to worry about which is why it allows users to make delivery booking requests at any time of the day. Furthermore, clients can also schedule their bookings up to two weeks in advance in order to better prepare for the delivery.
On top of that, Transportify can accommodate delivery services from anywhere in Davao city. With a land area of more than 2,000 square kilometers, Davao is a very large city which makes it difficult for individuals and businesses to carry out gift delivery services on their own. But with Transportify, gift delivery services in Davao city are made easy.
Enhanced Flexibility and Affordable Rates
One key factor to having effective gift delivery services in Davao city is to have the right vehicle type to use in the operation. This is crucial because not having the right vehicle for a certain type of delivery requirement is a difficult situation. For example, it would be quite absurd to use a 6 wheeler truck to transport your cakes to customers. With Transportify, you are assured of a variety of vehicle types that can handle your gift delivery needs for both same-day and scheduled requests.
Items such as cakes, pastry products, Noche Buena packages, and flowers are best transported inside a sedan. The compact size of the vehicle plus the protection it provides against the rain makes it the perfect choice for small item deliveries.
The L300 van is ideal for much larger items. If you plan to send appliances and gym equipment as a gift to family members or friends, the L300 van is the right choice for you. Considered as the "businessman's workhorse," the L300 van is a versatile vehicle that can serve plenty of logistics needs.
The canopy multicab, although a bit smaller than the L300 van, is another vehicle type with a lot of uses. It is widely used for transporting fresh fruits and vegetables and can also move plants. With the popularity of "plantitos" and "plantitas" all over the country, giving plants as a gift is slowly becoming the new norm. The canopy multicab is the perfect vehicle for such operations.
Download the app now and start delivering your gifts to family and friends.
| | | |
| --- | --- | --- |
| | or | |
Frequently Asked Questions:
Why are gift delivery operations important for businesses?
🚛 Gift delivery services are important for businesses because it is a channel for them to build their relationships with employees and customers. In many companies in the Philippines, it is a common practice to deliver items like Noche Buena packages to employees before Christmas day. It is also very common to deliver gifts to customers as a way of thanking them for their support.
What companies provide delivery services in Davao City?
🚛 There are still many traditional trucking companies in Davao that can accommodate delivery services. But when it comes to on-demand app-based delivery providers, Borzo is available and excels in handling parcel and small item deliveries with their motorbikes. However, for larger and bulkier deliveries, Transportify offers the sedan and L300 van for your logistics needs.