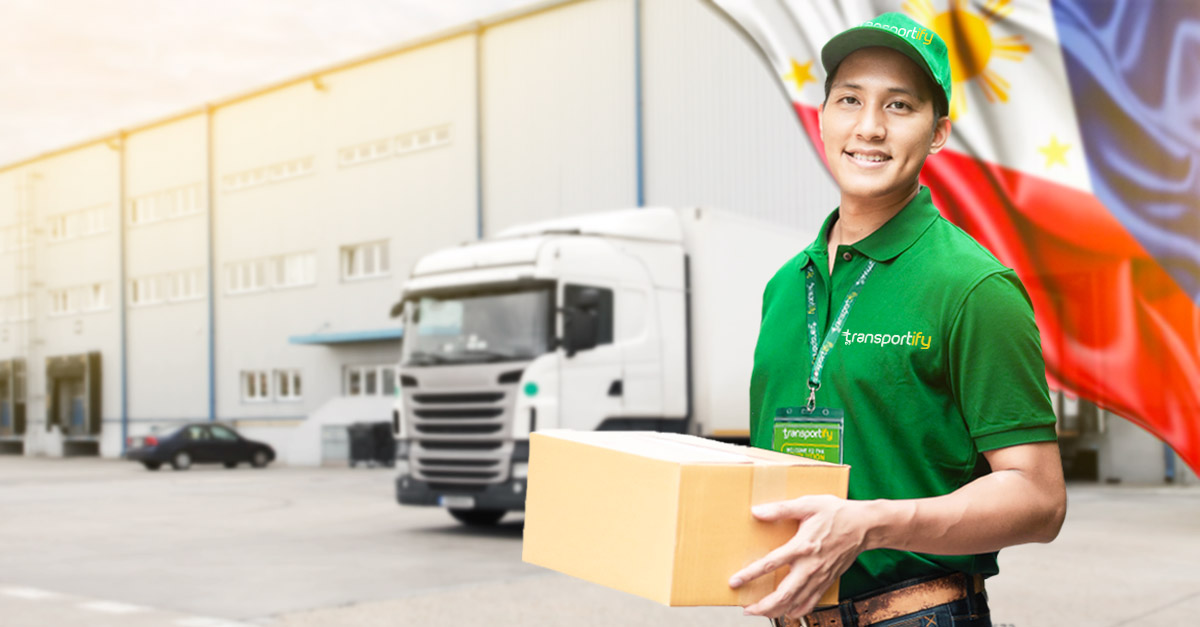 With the increasing demand from various business industries for logistics in the Philippines, Transportify continues to expand its service area. Transportify launched freight trucking delivery service in the Philippines at competitive prices compared to long-distance express courier prices.
The only app to offer affordable freight trucking delivery service in Luzon is a far more expanded service area than our competitors. How are we cheaper? Our freight trucking delivery service will only charge based on the vehicle type and location of the drop-off. Another reason is our low rates already include everything, from the toll, parking, gas, and even an extra helper to assist your loading/unloading when you book our closed van delivery truck. Try it now and pick up and deliver from and to any office or residential address, warehouse, container yard, or commercial space inside any of our covered service area to see our transparent fixed price so you wouldn't have to worry about any additional payments when transporting your goods.
You can view the table below to know all the current vehicle services and base price:
Column 1
Column 2
Column 3
Manila
Vehicle Type
Standard Rate
Full Day Rate

Economy

₱150




+ ₱20 Per KM

₱1,800

Economy Extra Space

₱175




+ ₱20 Per KM

₱1,850

L300/Van

₱450




+ ₱30 Per KM

₱2,800

Closed Van

₱1,900




+ ₱40 Per KM

₱6,000

Closed Van Extra Space

₱2,200




+ ₱40 Per KM

₱6,400

Pickup Truck

₱1,950 




+ ₱50 Per KM

₱6,000

Pickup Truck Extra Space

₱2,350 




+ ₱50 Per KM

₱6,400
Any of our vehicles including, economy, l300 / van, closed van, pickup trucks, and wing van, cover the mentioned service area to make long-distance freight trucking delivery much more flexible with plans to expand our available fleet of your trusted company for logistics in the Philippines.
You can check out our new updated services if you need assistance from freight trucking companies for logistics in the Philippines, specifically around Metro Manila and Pampanga. Our pricing for intracity delivery service has a different pricing matrix. You can learn more about it in the fleet & prices page and the whole covered service area. Transportify's delivery trucks and vans are ready to serve your logistics exclusively 24/7 without combining the cargo with other customers. Download now and schedule your delivery with us. If you find any difficulties, do not hesitate to contact our customer service via live chat in-app or email. Read our news to know more about why we're the most trusted app for logistics in the Philippines.
A complete package in the logistics industry
Trucking companies are not considered reasonable if they do not meet specific criteria. There are different factors to believe, but there are important ones that can make a service a complete package.
1Good service
Of course, this is probably the most significant factor that makes a business known. The right product means that it perfectly meets your customer's expectations. Or can also translate that your product is a perfect match for what your client is looking for. Services are also considered a commodity. Some services and products may even exceed expectations.
2Excellent customer service
There are times wherein customers will have inquiries about your product or services. And it is essential to communicate with your customers in real-time. Excellent customer service will listen and understand where the customer is coming from. Although the phrase "the customer is always right" may not apply to all types of industry. It will still last a favorable impression whenever customers are treated well. Communication is critical, and it is a significant factor in the Philippines.
3Efficient platform
In this era, logistics services are now accessible on the internet. All the information you need is available on their website. Both established and growing freight trucking companies should have platforms available online. If they don't, it means that they are not progressing well as compared to other freight trucking companies of logistics in the Philippines.
4On-time services
Time is crucial in logistics in the Philippines. Being too early or too late can disrupt the supply chain of your client. There are processes and systems in place to make production continuous and optimal.
Choosing among your ideal freight trucking company of logistics in the Philippines can be difficult. But you do not have to think that hard since Transportify is known as one of the best trucking companies in the Philippines. They all fall under the good qualities freight trucking companies should have. Logistics in the Philippines are only starting to develop while the country tries to keep up with the global economy. Our services are considered top-notched since we train our driver-partners carefully and make sure that they will exceed the expectations of customers. We also offer a variety of vehicles that can match your needs. Our customer service is available 24/7 to guide driver-partners in their deliveries and to answer customer queries. Our platform is very efficient and accessible, even if you haven't downloaded our app. Just visit our website and use our services. And we make sure our services will reach the destination on time. These are only some factors why Transportify is considered as one of the best among freight trucking companies of logistics in the Philippines.
Opportunities working with freight trucking companies
The Philippines has a lot of potential in the 22nd century. Mainly because of the growing population and the expanding of English-literate consumers and entrepreneurs around the world. At the same time, South East Asia is becoming more and more aggressive in development. The Philippines is just in time to keep up with the fast-developing world. Also, as it becomes easier for the country to connect, despite being an archipelago, below are some of the industries that can consider partnering with freight trucking companies.
Fresh produce
The increasing demand for fresh food and organically grown produce gives provinces the chance to sell their products nationwide. More and more people are demanding new products from sustainable farms resulting from higher spending power. Freight trucking companies can help this fresh produce reach their customers anywhere in the country. Thus, increasing the province's revenue, which can significantly help in decongesting the overpopulated cities.
E-commerce
A lot of companies are now moving digitally. This allows small businesses to reach their market, despite having a minimal budget. It is truly a fierce competition out there, and each has to do whatever they can to keep up. Freight trucking companies should look into small businesses as the processes they run with are not complicated yet. This is an excellent opportunity to support the market, even if it matures as both parties will grow and learn bits of things. Logistics in the Philippines plays a vital role in a transaction. And if freight trucking companies can guide these businesses, possibilities are endless.
These are just some of the industries that can find opportunities to grow with freight trucking companies. If not all, the majority, are in fact, in luck with the moving of logistics in digital. It is just a matter of commitment and effort. And there is no better way than to adapt to technology.
Transportify is the leading logistics provider for small and big businesses that operates in a powerful application that is easy to use.
Frequently Asked Questions:
How does freight trucking companies help my small business?
🧲 Trucking companies offer small business services that help them transport their goods. Since not every business can afford a fleet to support deliveries at the start, this is an excellent strategy to save cost, so that you may focus on growing your business. Transportify has its business program designed for small and big companies to provide them their trucking needs.
What are the points to consider when partnering with a freight trucking company?
🧲 Some trucking companies offer a business program that is designed for everyday use. This is perfect for businesses so that they won't have to worry about getting a truck every time they need one. Transportify's business program connects you to driver-partners so, you do not have to book every time you need one. Additionally, business program clients get additional perks to help their business transaction with Transportify. The perks include COD/POD, insurance, dedicated drivers, process mapping, and more.