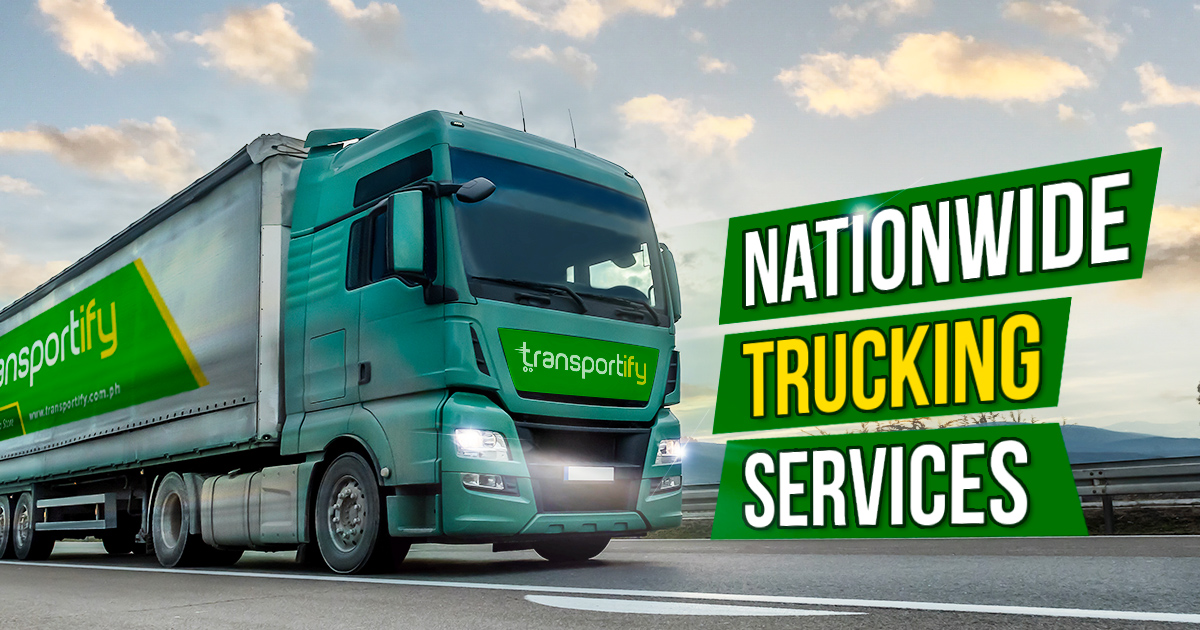 For many years interisland shipping in the Philippines was practically non-existent. In other words, of the 2,000 inhabited islands, very few people were able to get their hands on any deliveries at all due to the absence of nationwide trucking services. That all changed when interisland freight and shipping was introduced around 1982, which made it possible for businesses to do supply chain expansion. It was revolutionary, not only allowing the Philippine nationals who lived off the mainland more access to supplies, but it also made interisland trade a possibility. Today, Transportify is going to take it to the next level as we launch our nationwide interisland shipping services.
But, what is it about nationwide interisland shipping that is so valuable and how can your business benefit from this advancement? Read on if you'd like to find out more.
What Is The Importance of Interisland Shipping To Nationwide Trucking?
In the early days, having to ship something to one of the 2,000 inhabited islands off the Philippine mainland was incredibly expensive. This made it practically impossible for many of the people living on these islands as trade was already quite poor for them and thus they didn't have much wealth. However, today, as interisland has become much more efficient, these islanders are now able to order online and receive items with greater efficiency using nationwide trucking services.
The Transportify App
Using the Transportify app which is free to download you can place orders for delivery, no matter how large or small, and the nearest driver to your location can collect them and forward them on from there. In addition to that, you can track your delivery in real-time, as can the recipient, remaining up to date with accurate ETA's.
Using smart-routing software, the driver is updated as and when any traffic reports come in indicating where congestion might be building up and providing an alternative route. This makes the delivery process much more efficient, saving time and money, savings that we share with you and the customer.
But it gets better. Through the Transportify app, businesses can do supply chain expansion easier, because logistics companies like Transportify are open to delivering to more and more areas in the Philippines. So, how does it work?
Nationwide Trucking Services From Luzon or Cebu
The trucking industry is one of the most important sectors of the Philippine economy. It helps to move goods and materials throughout the country, which is critical for businesses for supply chain expansion. In Transportify, here are some of the popular routes of our nationwide trucking services from Luzon and Cebu:
SEE ALSO:
How Do Nationwide Trucking Services Help You With Supply Chain Expansion?
Expand your customer base: Rather than restricting your products and services to customers on the mainland, these changes that we are introducing will allow you to expand your customer base and offer your products and services to people all over the Philippines. Not only will this allow you to increase profits, but you can build your brand awareness and put your products in front of people who would have otherwise never been able to experience them.
Less of a headache for you: By simplifying the process and handling all of the logistics on your behalf, we are saving you a massive headache. Leave the complicated logistics to a trusted logistics company and simply place your orders for delivery. That way, you can dedicate your valuable time and resources to generating more business. It's as simple as that.
Easy tracking and tracing: Track your delivery driver in real-time and keep an eye on your order at every step along the supply chain with app-based nationwide trucking services. With greater visibility comes more transparency between you and your customers.
You can offer shorter delivery times: Before, if someone ordered a product on your website from a remote location, you will likely have notified them that there would be a significant wait while you received other orders to justify such a delivery. With Transportify you no longer need to worry about this.
You can send your goods out for delivery immediately and thus offer shorter delivery times for your customers. Not only will this encourage more people to place orders with you, but it will bolster trust and brand loyalty in return, particularly when those deliveries make it in excellent condition.
Maximize your transportation spend: When you use Transportify for nationwide shipping you can maximize your transportation spend significantly. This means that for everyone involved there is money to be saved. Additionally, these savings can contribute towards a greater profit margin and expand your business even further.
Help drive the Philippines forward: Being able to offer your products nationwide and to every inhabited island is a massive benefit. This will allow you to offer your amazing goods and services to people who would have otherwise missed out on the opportunity. This in turn brings the Philippines together, drives the country forward, and creates more opportunity and equality for all.
Easy integration: If you are quite set in your ways and you are used to the current system that your business uses for handling your current deliveries then the thought of switching things up can be daunting. Rest assured that switching to Transportify and allowing us to handle all of your logistical requirements is effortless.
Our application can be seamlessly integrated with your existing system and it is incredibly easy to use. This is done using an application programming interface (API). In essence, an API allows interaction between data, applications, and devices and can facilitate your connectivity with us. You don't have to change a thing, all you need to do is reap the rewards.
Dominate the Philippine Market in 2023
The last several years have been trying for all of us. Let 2023 be your year and start dominating the Philippine market with Transportify. If you wish to take your business to the next level and expand to Cebu, Davao, and other developed provinces and start outperforming all of your competitors, then streamlining the supply chain and expanding your customer base to nationwide and interisland is the way to do it.
If you think that this is something that you would like to explore further, then please do not hesitate to contact us today. One of our friendly agents will answer any questions that you might have and we can start taking you through the motions and getting the wheels turning.
| | | |
| --- | --- | --- |
| | or | |
Frequently Asked Questions:
Why is interisland trucking a more cost-effective means of transporting goods across the country?
🏝️ Nationwide trucking services and interisland transport are cost-efficient because it maximizes the cost for your business to reach a wider market. If your business is based in the metro and would want to do supply chain expansion to other islands in the Philippines like Cebu, Leyte, and Davao, it will be easier for you to do so with the help of an on-demand nationwide trucking provider.
Why is it important for businesses to have nationwide shipping in the Philippines?
🏝️ The ability to ship across the country demonstrates a company's competence. The more customers you have, the more money you can make. Especially if you're working in an archipelago country like the Philippines, where cities and regions are separated by vast stretches of water. The Philippines' economy has a number of powerhouse industries that are critical to its growth, and being able to transport its products to other islands is critical.