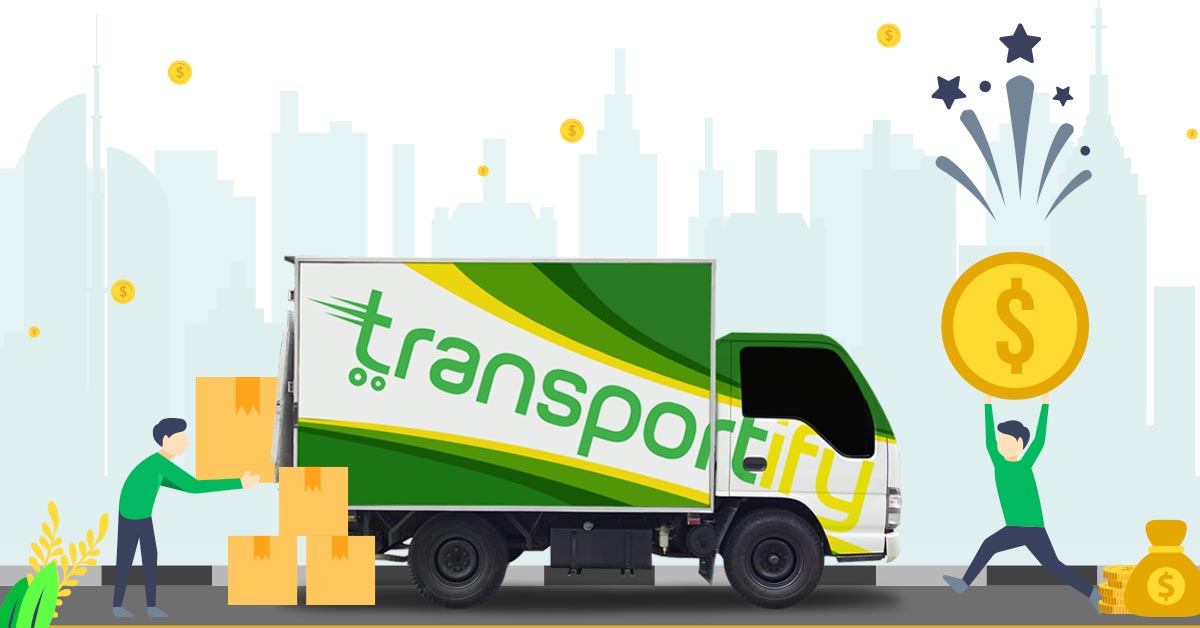 "Earn up to thousands with your delivery truck! Register now!", "Alamin kung paano kumita sa trucking business, apply na!"
Maybe you're familiar and have read these advertisements about trucking business a couple of times. These ads are widely posted across social media platforms, especially on Facebook. Promising a healthy business that you start to wonder, how does one earn so much with trucking business or by just delivering cargo?
It seems too good to be true, though it pays to scope the entire logistics industry for a rundown on what is to be expected when entering the trucking business. First off, let's have a closer look at our market trend. The Philippines market, as of 2020, has been consistently increasing with an average of +6.2% GDP on a per quarter basis since 2017. This growth has been guided through several factors, such as increased income, technology, and overall consumption. Over the years, it allowed new market players, especially SMEs, as well as in e-commerce, to play an increasing role in our demand.
With this, how does it affect fleets in the logistics industry? In general, increased demand propels and encourages stock volume, and faster delivery turn around. This creates new opportunities for smaller players to enter and take a share of the income within the trucking business. With enough demand, there's guaranteed income waiting in the logistics industry—one needs to optimize his operation to maximize profit.
How To Earn Through Logistics?
In any business, including trucking business, one can earn by either increasing sales/mark-up or being cost-efficient. Which brings us to the question, what are the common costs in the logistics industry?
Fuel
Wages and Allowances
Cellphone Load
Vehicle Maintenance
On the other hand, income will highly depend on how you position yourself. For this article, we will be discussing three types of logistics approach: 1) Traditional Logistics, 2) Modern Logistics, and 3) Tech-Logistics.
1Traditional Logistics
Traditional logistics tells us a very simple tale of the logistics industry, delivery fulfillment. Delivery in traditional logistics bids its strong point in being self-reliant. The main reason being is because most discussions with traditional logistics tend to be fixed. Some examples are: Shipment Type, Destinations, and Orders. Managing operations of traditional logistics is generally more straightforward and much easier to handle.
However, one problem with traditional logistics is that it's challenging to scale without the use of automation. Imagine having two trucks to start. As demand increases, you are forced to purchase more vehicles. But now, it becomes more difficult to keep tabs on your fleet, which reduces your efficiency. Other issues are the lack of ability to track delivery fleet in real-time, generate accurate ETAs, reduce risks and costs.
In today's time, traditional logistics can still work well in B2B (business-to-business), as communication tends to stay in smaller circles, and volume is fixed. Others target warehouse to warehouse deliveries for higher mileage deliveries and bigger pay.
2Modern Logistics
Modern Logistics helps eliminate risks by automating parts of the delivery process and or preparation. It combines various elements, such as transportation, warehousing, handling, distribution, processing, etc. With this, modern logistics achieves the requirements of customers fast, secure, and with lower costs.
Common examples of automation are:
Adding a GPS functionality for tracking locations.
Optimizing routes based on location and time.
This approach is more common now as it helps the logistics fleet scale in volume and take on more deliveries. As such, they are more able to take on erratic demand from individual customers. Perfect examples of this are LBC, 2GO, and JRS Express.
3Tech Logistics
As more and more turn to e-commerce for most shopping needs, a speedy fulfillment is no longer a benefit one would pay more to have– instead, it's become an expectation to every online shopping experience.
This has been a standard need time and, again, the primary motivation that gave rise to tech logistics players. Often, tech logistics companies provide fast, innovative, and cost-efficient solutions, which is their main goldmine. Take Amazon, for example, as they took air freight to another level with their Prime Air drone delivery.
Tech logistics often provide innovative solutions like these, though one doesn't always need groundbreaking launches like these in the logistics industry to stay profitable in a trucking business. For most, providing a better customer and driver experience makes a tech logistic company formidable in the industry.
Transportify is a tech-logistic company dedicated to bringing both customer and driver happiness in the logistics industry. The Singaporean based company started operating here in the Philippines back in 2016 and has scaled its business homing thousands of happy and earning drivers since then. If you are looking to get your trucking business earn in our growing economy this time, Transportify might be your best choice yet to enter the logistics industry.
Transportify is a tech-logistics company startup that is operating based on an app. This app presents a delivery marketplace wherein truckers are connected to customers that need delivery fulfillment, an easy start for your trucking business.
How Does Transportify Optimize Your Income?
Less Idle Time
A common problem in Traditional Logistics is that to start, you need to find your customers. With Transportify's built marketplace, drivers are enabled right away to be connected to a customer, on-demand. On a given day, a Trucker always on the lookout for a booking can do 1-2 deliveries per day.
Control Over Your Deliveries
Truckers have complete control over which delivery to choose. By choices, here are some of the filters drivers can choose when setting their delivery preferences:
Pick-up location – you may choose only to accept bookings that have the pick-up address near the location you indicated.
Drop-off location.
Delivery Schedules
Immediate delivery – wherein customers need your service ASAP!
Scheduled delivery – deliveries scheduled up to two weeks in advance.
Long-haul delivery – fixed pay delivery that requires you to move across regions.
Full-day delivery – fixed pay delivery that requires your service for a maximum of 10 hours.
Effectively, truckers are able to manage their routes more efficiently, thus making sure their time is maximized.
Entering The Revolution And Earning From It
This set up with the logistics industry is slowly becoming familiar within the Philippines. For Transportify, joining is relatively easy as they accept a wide array of vehicles. Below are the accepted vehicles and estimated earnings per month (assuming truckers are able to make 1-2 bookings per day).
| Vehicle Type | Monthly Income for Full-Time |
| --- | --- |
| Vehicle Type | Monthly Income for Full-Time |
| Sedan/MPV | ₱35,000 |
| L300/Van | ₱67,500 |
| Dropside Pickup Truck | ₱95,000 |
| Closed Van (4W or 6W) | ₱175,000 |
| 10W Wing Van | ₱282,000 |
The amounts above are gross booking value before commission deductions. For more accurate estimations, you can also calculate your driver earnings income with Transportify's earning estimator.
Minimize Administrative Work
With Transportify, truckers will worry less when it comes to administrative work. Transportify apart from it provides you with delivery bookings, will provide you with all the information and help you'll need for your bookings.
24/7 Live Customer Service Assistance
Scheduled on-time payments
Live tracking of driver's delivery (if owning multiple vehicles)
Tracking your delivery history
Efficient allocation of booking within the fleet
Wallet management
Conclusion: Can I Earn Well With My Trucking Business?
Definitely, yes. Our growing economy will influence demand and more transactions coming. In terms of earning, well, there's several approaches to choose from in the logistics industry. For new players that like to minimize administrative work and would like to focus on operational opportunities rather than looking for just customers, then Transportify would be a great platform to partner with.
Frequently Asked Questions:
What are the usual problems a trucking business encounters?
? The trucking business can be very profitable, but it is incredibly hard to maintain. Many truckers/operators try to get into the business every year and end up failing. This outcome usually happens to people who are great truckers but are not good at handling business. Knowing how to run and grow your trucking business takes more than knowing how to drive or choose a location. The most common problem a trucking business encounters is where to find their customer for regular loads since your truck is not useful if it's empty and doesn't generate earnings.
Aside from that, you should also take into account that trucking is a cash flow-intensive business. There will be cost for fuel consumption, fees from trucking requirements, and sometimes unnecessary cost from trucking repairs. That's why you need to have a regular customer to keep up with operation costs.
What are the other truck businesses you can start?
? Aside from logistics, truck owners/operators now venture to the growing business of food trucks. Among all franchises in the Philippines, food trucks are probably the most popular. Aside from being affordable, finding your target market is much easier with a food business.
But starting one, will not be that easy. Like any other business, you first need to write a well-prepared business plan. Research about your target market, check your competition, build an idea or concept, choose a good location, and mainly fund the cost for supply and equipment. Having an early plan will give you a better understanding of how long it will take your business to turn a profit and how you will sustain the business.