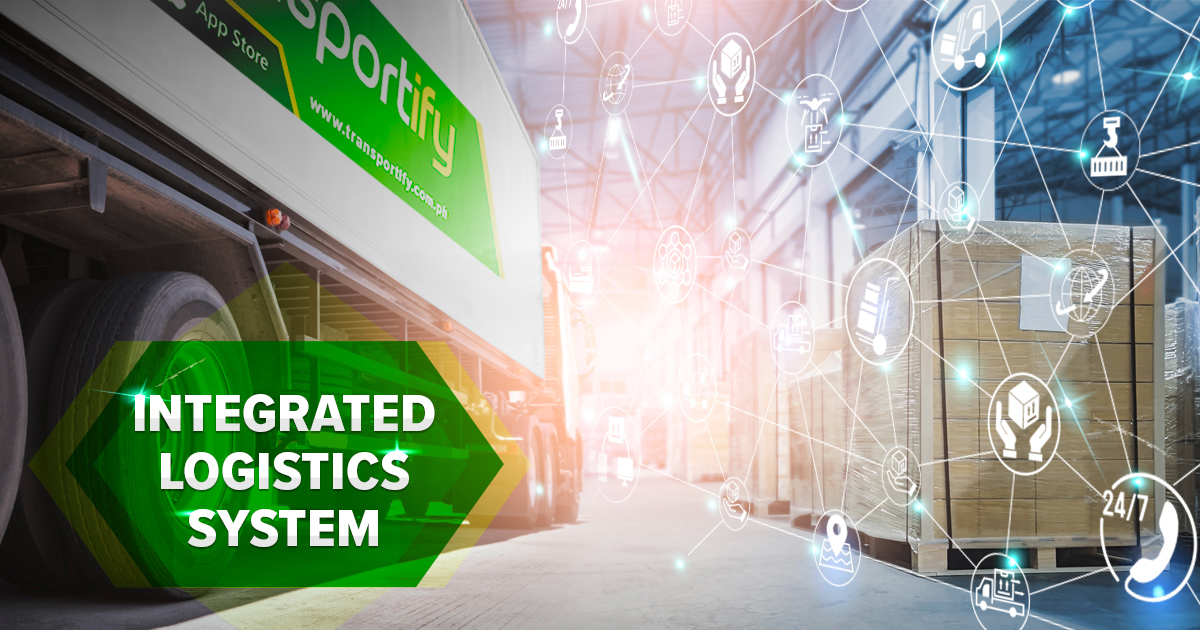 In recent years, "integrated logistics" has become more commonplace than "conventional logistics." The transportation of raw materials and completed goods from one location to another was an all too common understanding. However, logistics systems can no longer only focus on handling materials and goods. What does an integrated logistics system mean, then? Let's make an effort to explain this thorough examination. Let's look at the objectives of integrated logistics. Integration of information flow and the digital tools that support it is crucial for businesses and offers many benefits.
What Is an Integrated Logistics System?
Integrated logistics is a key strategy for providing flexible supply networks. Products, services, data, personnel, and organizational units are connected. The objective is to fulfill client orders as promptly as possible.
An integrated logistics system is a supply chain organization and business approach. Departments, procedures, resources, and flow are all coordinated. For them to all go in the same direction. Logistics management is an interdepartmental process since it involves every division inside a firm. They work together to ensure that things go much more smoothly, which speeds up the delivery of orders.
The idea of an integrated logistics system was developed in response to how the market has changed. Companies have been driven to hunt for formulas that optimize their operations, accelerate cycles, and reduce costs. It is because of the changes in demand and the emergence of competitors. An organization can have flexible, agile operations that enable it to react quickly and correctly to changing trends by coordinating department efforts.
As the industry evolves and calls for quicker and more efficient logistics, having a thorough understanding of the fundamental elements of an integrated logistics system is equally important. One must delve into the essential elements if they are to aid in process improvement.
Here are the top five elements of an integrated logistics system:
Planning: materials handling, warehousing, and storage
Utilization and packaging
Inventory management
Transportation
Control and knowledge
Recognizing how integrated logistics procedures and activities contribute to the supply chain is easy and effective when you know each logistics component. Let's take a look.
Planning: Materials Handling, Warehousing, and Storage
The market is erratic and vulnerable to supply and demand conflicts. Although the supply of commodities may remain the same, consumer demand does not. It is unpredictable since a variety of circumstances have a direct impact on it.
A constant and continuous supply of goods from the manufacturer to the consumer is made possible in large part by effective logistics management. To keep a healthy supply chain, excellent planning is critical. There may be an excess of commodities produced or an insufficient supply of goods during fluctuations in supply and demand. Warehouses and storage facilities play a vital role in these situations. To ensure the preservation and management of the commodities, efficient logistics planning becomes vital. It gives organization and synergy.
Planning is one of the most crucial aspects of logistics management. It is crucial for ensuring that the process's many components are coordinated and carried out. Mechanisms are developed, and procedures are to ensure prompt product delivery.
Utilization and Packaging
In the supply chain, the items and goods must be handled with care. Logistics management depends on the products being handled and stored correctly. There are a lot of studies required for product packaging. As part of the study and plan, it is important to consider how to store the items to maintain their quality and how to handle and process the package. To guarantee the customer has a great experience, the colors and logo are also quite important.
The packaging's design, shape, material, and even colors are considered to deliver the product to the proper hands in the best condition possible. When a product is being delivered from the manufacturer to the consumer or distributor, packaging protects it.
Inventory Management
Inventory is crucial to make sure that consumer demands are met and is tied to storage and warehousing. Controlling the flow of products entering and leaving warehouses is important. It chooses how much inventory needs to be kept on hand, where it should be kept, and how much. Inventory management involves estimating consumer demand for items using sales data, mathematical formulas, and statistical methods. The market fluctuates and can sometimes be unpredictable, as was already noted.
Transportation
A challenging and expensive aspect of logistics management and supply chain is transportation. It can account for 50% of the logistics expenditure. This puts pressure on businesses to find the quickest and most affordable method of getting items to customers and distributors. Transportation encompasses a variety of modes, including air travel, freight trains, road vehicles, and shipping.
Perishables don't go very far. But a lot of other commodities do, and they come from all over the world. Complicating things like tax laws, customs clearance, and payment options. Before the goods leave the warehouse, all of these need to be resolved.
Vehicle Type
Dimensions/
Weight Limits
Base Price
(Metro Manila)
Base Price
(Outside Metro Manila)
Base Price
(Visayas/Mindanao)
Wing Van 
32 to 40 x 7.8 x 7.8 ft
12000kg to 28000kg
7500 PHP
6500 PHP
6500 PHP
6w Fwd Truck
18 x 6 x 7 ft
7000kg
4850 PHP
4850 PHP
4850 PHP
Closed Van
10 to 14 x 6 x 6 ft
2000kg to 4000kg
1800 PHP
1450 PHP
1450 PHP
Open Truck
10 to 21 x 6 ft x open
2000kg and 7000kg
2300 PHP
1950 PHP
N/A
Mini Dump Truck
10 x 6 ft x open
2000kg
1500 PHP
1200 PHP
N/A
L300/Van
8 x 4.5 x 4.5 ft
1000kg
430 PHP
330 PHP
310 PHP
Small Pickup
5 x 5 ft x open
1000kg
310 PHP
250 PHP
220 PHP
Light Van
5.5 x 3.8 x 3.8 ft
600kg
250 PHP
192 PHP
225 PHP
MPV/SUV
5 x 3.2 x 2.8 ft
200kg
160 PHP
130 PHP
140 PHP
Sedan
3.5 x 2 x 2.5 ft
200kg
140 PHP
110 PHP
120 PHP
Control and Knowledge
Data in the future will drive the logistics sector. The information must flow freely to offer the consumer and manufacturers quick and accurate service. This must be done throughout the logistics management process. Information increases the effectiveness and performance of operations in a supply chain, from inventory flow to storage and transportation.
Information and control increase organizational effectiveness. It assists with both traditional management procedures. It also serves as a contemporary tool for accomplishing strategic objectives.
SEE ALSO:
What Are the Cons of Sticking To Conventional Logistics?
There are a few key disadvantages to consider when sticking to a traditional logistics system:
Inflexibility
Traditional logistics systems can be inflexible, meaning they cannot adapt to sudden changes in demand or supply. This can lead to significant disruptions in the supply chain.
However, an integrated logistics system is much more flexible. It is designed to be able to adapt to changes in demand and supply quickly and efficiently. This means that disruptions in the supply chain are minimized, and the system's overall efficiency is increased.
Inaccurate information
Traditional logistics systems often rely on manual processes, leading to data inaccuracies. This can lead to decision-making errors, significantly impacting the system's efficiency.
An integrated logistics system, on the other hand, uses automated processes. This means that data is accurate and up-to-date, which leads to more efficient decision-making. In addition, this type of system is less likely to be impacted by human error.
Lack of visibility
Traditional logistics systems can often be opaque, making tracking and monitoring data difficult. This can make it difficult to identify issues and problems within the system.
On the other hand, an integrated logistics system is designed to be transparent. This means that all data is visible and accessible. This makes tracking and monitoring data easy, leading to more efficient problem-solving.
These are just some of the advantages of an integrated logistics system. If you're looking to improve the efficiency of your logistics operations, then this type of system is worth considering.
| | | |
| --- | --- | --- |
| | or | |
Frequently Asked Questions:
What is an integrated logistics system?
🚚 An integrated logistics system is a complete and coordinated system that encompasses all aspects of logistics. This includes transportation and warehousing, inventory management, and customer service. An effective integrated logistics system can help businesses improve efficiency and competitiveness by reducing costs and improving customer satisfaction.
What are the components of integrated logistics?
🚚 An integrated logistics system has five key components. These are planning: materials handling, warehousing and storage, utilization and packaging, inventory management, transportation, and control and knowledge. Each of these five components is essential to an effective logistics operation. When all five work together, they provide a comprehensive view of the supply chain and allow for more informed decision-making.