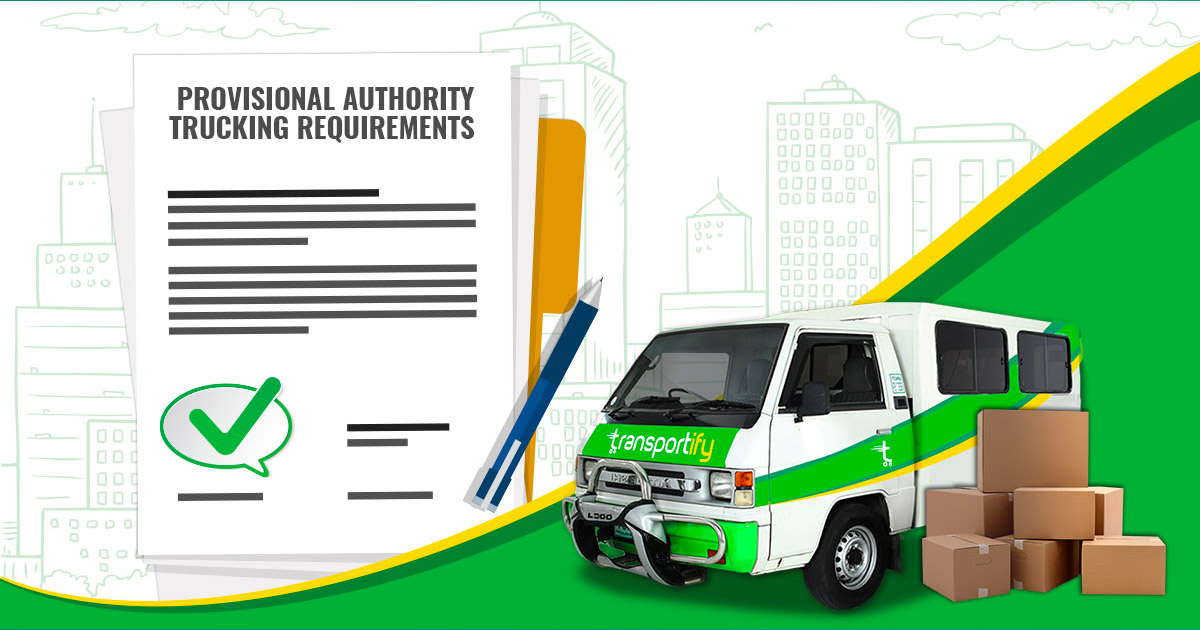 Also known as "PA," a Provisional Authority is a kind of permit that lets you operate in certain public activities similar to a Certificate of Public Convenience franchise, also known as "CPC."
Provisional Authority is a temporary trucking requirements permit to be able to operate in such activities as Truck-For-Hire. It is usually given as a permit while the applicant is waiting for his/her CPC to be processed. The validity of a Provisional Authority is only limited up to three months from the date of application files. It can only be renewed once (some special cases may overrule this), for another three months of usage upon request.
Provisional Authority Requirements
To obtain your PA, here are the following requirements you will be needing:
1OR/CR of the Vehicle
Original Receipt (OR) – Serves as proof that you were able to pay for the registration of the vehicle in LTFRB.
Certificate of Registration – This is where your vehicle's technical information. Such as the vehicle class, make and model, chassis and motor number, engine displacement, number of cylinders, gross weight of the vehicle, the net weight that can be loaded in the vehicle. It also includes the maximum number of passengers that can ride and the personal information of the owner, such as the complete name, and home address.
Both trucking requirements usually come in pairs. The Official Receipt (OR) being the blue one, and the Certificate of Registration (CR) as the yellow one.
2Government ID
Here are some examples of valid government ID for your trucking requirements:
Passport
Driver's License from Land Transportation Office
Senior Citizen ID
Social Security System Card (SSS)
Voter's ID – Commission on Elections(COMELEC)
Professional Regulatory Commission (PRC)
Overseas Workers Welfare Administration (OWWA)
Unified Multi-Purpose Identification (UMID)
Philippine Postal ID
Government Service Insurance System (GSIS)
3Proof of Garage
Everyone's aware of the traffic situation in the Philippines and how it's becoming worse in the last couple of years. One of the huge contributors to that is illegal parking. It's always a headache to a commuter whenever we encounter instances wherein Instead of having two or more lanes on each side of the road, and it usually ends up having one less, therefore making the streets more congested and causing more bottlenecks. This is a necessary trucking requirements to ensure to the government that the vehicle you're applying for has a proper and legal parking space.
There are two things that you'll need with the proof of garage trucking requirements.
The first one would be photos of the garage. Make sure to take clear images, and the parking slot is easy to identify by the checker of your application.
The second one is the supporting document that the garage belongs to you. Some examples of this one would be the land title documents, and if you're leasing your space, you can also provide the Lease Of Contract.
If you don't have your place or you intend to park the vehicle elsewhere, there's still a go around with it. In case you're living or doing business with any of your family members or relatives, you may use their garage for the photos along with the supporting documents mentioned earlier. Along with the said trucking requirements, you'll also be needing an additional notarized letter of authorization from your relative who has the right to the parking space.
4Department of Trade and Industry Permit (DTI)
As part of your trucking requirements, we would suggest you check the coverage of your permit to make sure that your application of the Provisional Authority runs smoothly.
The type of business in this permit should fall under either delivery services, hauling services, trucking services, or transport services.
Make sure that the coverage of the permit is National Scope. Take note that the Barangay, Municipal, Regional scope won't be accepted in your Provisional Authority application.
5Stencil
To complete your initial Provisional Authority trucking requirements, you need a stencil that can be acquired in the Land Transportation Office (LTO). Stenciling is a procedure wherein the motor vehicle's engine and its chassis number are obtained to make sure that these are registered to the specific vehicle. Also, an additional security measure applied by the land transportation office to make sure that the vehicles are obtained through legal means.
Once you complete all these requirements, you can apply for your Provisional Authority at LTFRB this 2022. Meanwhile, you may proceed with preparing your additional Certificate of Public Convenience trucking requirements.
After 30 working days, your Provisional Authority will be issued by LTFRB. For the time being, while your CPC trucking requirements are not yet processed, you can now start earning with Transportify.
Advantages You Can Maximize When You're with Transportify
Thousands of Customers
Transportify has thousands of daily bookings available for you this 2022. It is possible through our easy access applications in Play Store (for Android), App Store (for iOS), and even through our Web App that can be accessed through our website.
You can also sign up for a variety of vehicles as Transportify accepts a wide range of vehicle types for 2022 deliveries. You can check the approved vehicles in this table:
Vehicle Class
Accepted Make and Models
Vehicle Class
Accepted Make and Models

Sedan/MPV
- Hatchbacks
- MPVs/SUVs
Year model is 2004 or newer

L300/Van

- Mitsubishi L300FB (All variants)




- Kia K2700




- Hyundai H100




- Isuzu NHR


- Foton Tornado
- Urvan (all Variants)
- Hiace (all Variants)
- Starex
- Transvan
- View Traveller
- Golden Dragon Vans
Year model is 2004 or newer


Dropside Pickup Truck

- Isuzu Elf




- Isuzu NKR




- Foton Tornado


Year model is 2000 or newer

Closed Van (4W or 6W)

- All 4-wheel and 6-wheel light commercial trucks with Closed Van body


Year model is 2004 or newer

Long Pickup Truck

- All 6-wheel light commercial trucks with pickup body




- Gross-Vehicle-Weight (GVW) greater than 4.5 tons




- Minimum pickup body length = 18ft


You may contact us to know more.

6w Fwd Truck
- All 6-wheel light commercial trucks with 18 feet in length and has 7 tons capacity
You may contact us to know more.

10W Wing Van
- Trucks with 32 feet in length and has 15 tons capacity
You may contact us to know more.

Mini Dump Truck
- All 6 wheels and should have a payload capacity of 3.5 tons
- Year 2000 or newer

You may contact us to know more.

| | | |
| --- | --- | --- |
| | | |
Flexible Schedule
Be your own boss. Our platform allows you to receive different types of bookings that will compliment your time.
Immediate: This allows you to accept quick bookings.
Scheduled: These are bookings scheduled within the day or up to two weeks in advance.
Full-Day: There are times wherein a customer needs to bring items to different locations, and the time's uncertain. There's a fixed rate for this type of booking that lasts 10 hours.
Cash or Weekly Payment
Collections are usually problems that a lot of operators encounter when they're making transactions with some customers. Transportify aids this headache by assuring you that you will get your money weekly, or even right after a booking is completed this 2022.
We have two types of customers in Transportify. These are business and non-business customers. Business bookings are created by our customers that are signed up for our business program. They are billed monthly, and they don't pay any cash to the drivers. This means the driver will receive credits instead, and the total credits a driver accumulated during a week will be sent to them via G-cash weekly. Non-business customers create cash bookings. These types of customers pay in cash right after a booking is completed.
What are some advantages of the two types of customers? With cash bookings, you can immediately receive cash and use it for your own needs as soon as a booking gets completed. While with business bookings, you get more earnings since the commissions that Transportify gets is less compared to cash bookings.
If you're the type who wants to get cash immediately so you can already set it aside or use it for your personal use, then cash bookings would be great for you. On the other hand, if you're the type who can wait, and is open to delayed gratification, then taking business bookings is better since you get your earnings weekly. At the same time, you get more profits out of it since business bookings are more profitable in general.
There are a lot of other things to consider still that will vary based on your opinion. A lot of drivers opt for both types of booking, considering that the distance of delivery, pickup point, and drop off points are great ways to identify in optimizing your bookings. If our route is optimized, you can save more in fuel, and get more trips this 2022.
Favorite Driver Assignment
Get regular trips from a specific customer. This feature allows the customer to select drivers that have good relationships with them based on the previous transactions they've encountered. Being a favorite driver allows you first to receive when they request for a booking. If you are aiming for regular and trips from customers, you'll have to make sure that you practice professionalism along with consistency in every trip you have. Being a part of a favorite list can be advantageous to drivers since being familiar with the bookings means better performance to the driver, making them easier to manage. Having a good relationship with customers is always a good thing in the logistics industry.
Deliver To Any Point In Luzon
Transportify also offers trips anywhere in its Luzon service area. Trips like this are usually done through scheduled trips. If you're a driver who makes trips from provinces to Metro Manila, or you're planning to go back to your region, you can take advantage of this by getting scheduled fixed price route trips to any point in Luzon this 2022. Instead of going to provinces with you paying for the expenses, make the customers do it for you by accepting delivery trips. Just remember that this shouldn't be done with your family members, especially your wife, since the only person/s allowed to go with you on the trip would be your extra helper/s. We want to make our deliveries professional, and bringing your wife with you won't be a good impression on the customer.
Frequently Asked Questions:
What are the things you can do with your Provisional Authority?
🚚 A Provisional Authority acts like a temporary permit in doing operations in public activities like a Truck-For-Hire franchise. It is usually used while waiting for your Certificate of Public Convenience to be processed. Meanwhile, if you already have your Provisional Authority, you may now take the opportunity to earn more by taking bookings with Transportify by signing up on our platform.
What are the things you should expect when processing trucking requirements?
🚚 Doing business with your truck means you'll have to be prepared with the necessary documents needed for different types of applications, such as getting a franchise, business permits, and a lot more. We do suggest that you keep your documents stored and organized correctly. Prepare photocopies of the documents you have like your driver's license, OR/CR, or your vehicle records you were able to acquire during your application. Preparing will save you time in case a copy of a document is needed in your next use. Applying for permits means going through a lot of processes that are interconnected, so your patience is a must here. Overall, you can consider this as an investment. All businesses start somewhere, and you can start doing it by processing the requirements needed for your trucking business to reap the benefits later on.