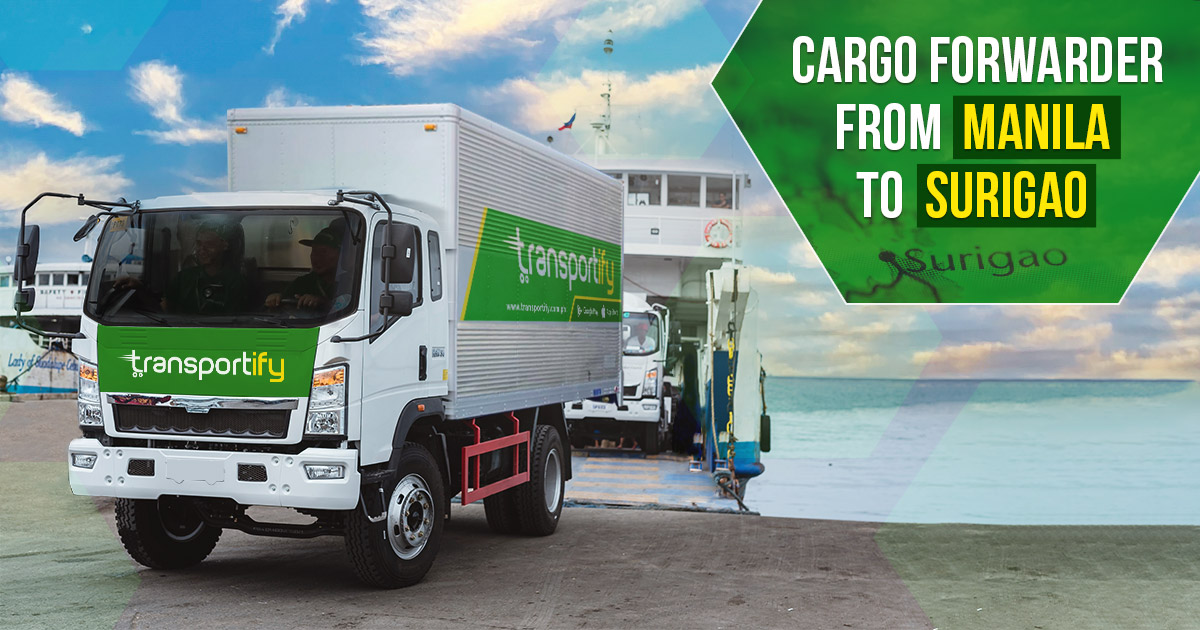 Are you a business looking for a reliable cargo forwarder for your interisland deliveries? Transporting goods from one island to another can be difficult and time-consuming. Such a task is especially challenging for businesses with no logistics department. It requires a lot of planning and coordination. Nevertheless, there is no certainty that your cargo will arrive at its destination on schedule and undamaged.
Working with the correct cargo forwarder Manila to Surigao can make interisland deliveries a seamless process. In this article, we will explore how Transportify's on-demand trucking service for companies and SMEs from Manila to Surigao makes it easy to get your goods where they need to go quickly and securely.
What Is A Cargo Forwarder?
Shipping goods from one place to another? Leave it up to the professionals! A cargo forwarder is a company that specializes in making sure your freight arrives exactly where you need it when you need it. Their services cover everything required for the logistics process, from organizing transportation to granting customs clearance. They are a middleman between shippers and carriers, offering support with these tasks:
Coordinating with suppliers to ensure timely pick-up of cargo
Arranging for the transportation of goods via the most cost-effective and efficient mode
Providing customs clearance and documentation
Tracking and monitoring the shipment until it reaches its destination
Providing real-time updates on the status of the cargo
Managing any unexpected issues that may arise during transit.
To summarize, cargo forwarders like Transportify deliver a full-service logistics solution to their customers.
The Manila to Surigao Route
The Manila to Surigao route is a popular cargo delivery route for businesses operating in the Philippines. The route connects the country's capital, Manila, to the port city of Surigao on the island of Mindanao. This route is essential for companies that depend on the transportation of goods between those two areas, granting them the capability to speedily and proficiently move their products from Mindanao to any other location.
Despite the Manila to Surigao route's convenience, freight forwarders encounter a few roadblocks. Here are some of them:
Lack of direct shipping lines
Shipping from Manila to Surigao can be quite a hassle without any direct trucking routes. It can be difficult to find the right trucking provider for cargo transportation between these two destinations. This often includes the need to transfer cargo between various modes of transportation like trucks, ferries, and barges. Multiple transfers is a time-consuming that can lead to costly delays.
Unpredictable weather conditions
This route passes through a region vulnerable to typhoons and storms, which can adversely impact shipping itineraries and cause harm to cargo.
Limited real-time tracking
For businesses to be able to keep track of their products at any moment, many cargo forwarders in this route require real-time tracking systems. This introduces a difficulty but is necessary for accurate and up-to-date information regarding the location of goods.
Documentation and customs clearance
Navigating customs and regulations can be taxing when traveling along a route that passes through diverse regions and islands.
How Cargo Forwarder Manila to Surigao Can Help?
Companies can obtain an array of logistics services for their interisland deliveries when they collaborate with a cargo forwarder like Transportify. By doing so, businesses can enjoy the following advantages:
Streamlined logistics process
By entrusting a cargo forwarder to take care of all the logistics, businesses can free up valuable resources and concentrate on their core activities. Such services include arranging for the transportation of goods, customs clearance, and thorough documentation.
Cost-effective solutions
By tapping into the vast network of cargo forwarders, businesses can reduce their expenses and source cost-effective solutions for quickly shipping goods to their destinations. Our experts can determine the most advantageous, economical route and mode of transportation to meet your individual requirements. We also partner with reliable logistics providers to ensure optimal results.
Flexible solutions
With their capacity for flexibility, cargo forwarders can adjust to the ever-evolving needs of businesses. They offer various solutions for cargo transportation, storage, and last-mile delivery.
Vehicle Type
Dimensions/
Weight Limits
Base Price
(Metro Manila)
Base Price
(Outside Metro Manila)
Base Price
(Visayas/Mindanao)
Wing Van 
32 to 40 x 7.8 x 7.8 ft
12000kg to 28000kg
7500 PHP
6500 PHP
6500 PHP
6w Fwd Truck
18 x 6 x 7 ft
7000kg
4850 PHP
4850 PHP
4850 PHP
Closed Van
10 to 14 x 6 x 6 ft
2000kg to 4000kg
1800 PHP
1450 PHP
1450 PHP
Open Truck
10 to 21 x 6 ft x open
2000kg and 7000kg
2300 PHP
1950 PHP
N/A
Mini Dump Truck
10 x 6 ft x open
2000kg
1500 PHP
1200 PHP
N/A
L300/Van
8 x 4.5 x 4.5 ft
1000kg
430 PHP
330 PHP
310 PHP
Small Pickup
5 x 5 ft x open
1000kg
310 PHP
250 PHP
220 PHP
Light Van
5.5 x 3.8 x 3.8 ft
600kg
250 PHP
192 PHP
225 PHP
MPV/SUV
5 x 3.2 x 2.8 ft
200kg
160 PHP
130 PHP
140 PHP
Sedan
3.5 x 2 x 2.5 ft
200kg
140 PHP
110 PHP
120 PHP
Expertise and experience
Cargo forwarders possess a knowledgeable team of logistics professionals and adept drivers who can safely manage the cargo and guarantee on-time delivery to its destination. Furthermore, they are knowledgeable of the various laws and processes surrounding different regions and islands, aiding businesses in maneuvering through the varied customs policies.
Pitfalls to Avoid When Hiring Cargo Forwarder Manila to Surigao
When hiring a cargo forwarder from Manila to Surigao, it's important to be aware of potential pitfalls to ensure a smooth and successful logistics experience. Otherwise, you might find that your shipment needs to be completed on time and money, which can lead to serious losses in time and money. Here are some common mistakes to avoid:
Not researching the cargo forwarder
You must do your due diligence and research the cargo forwarder you're considering hiring. Look for reviews and testimonials from other businesses, and check the cargo forwarder's credentials and certifications.
Not clearly communicating your needs and expectations
Make sure to communicate your needs and expectations to the cargo forwarder, including delivery timelines, special handling requirements, and other important details.
Not having a clear understanding of the costs
Ensure you understand the costs associated with the cargo forwarder's services, including any additional fees or surcharges.
Not having proper insurance coverage
Make sure that the cargo forwarder you hire has proper insurance coverage for your cargo. This will protect your goods in case of any damage or loss during transit.
Not having a real-time tracking system
Make sure that the cargo forwarder provides a real-time tracking system so that you can track your cargo's location and status at all times.
Not having a contingency plan
Ensure that the cargo forwarder has a contingency plan in case of unforeseen events or emergencies.
SEE ALSO
Need to Move Cargo Between Islands? Let Transportify Handle It For You!
Are you tired of dealing with the headaches and stress of moving cargo between islands? Then, let Transportify handle it for you. We are a premier interisland cargo forwarder specializing in transporting goods between different islands within the Philippines. Our on-demand interisland trucking service allows businesses to easily and efficiently transport their goods between islands without needing multiple carriers and modes of transportation.
With Transportify, you can say goodbye to logistics headaches. We provide end-to-end logistics solutions, including real-time tracking and experienced drivers. This allows you to know the location of your cargo at all times and have peace of mind knowing that your cargo is in good hands.
Don't let logistics hold you back. Instead, try Transportify's interisland trucking service today and experience the convenience of on-demand interisland trucking with real-time tracking, experienced drivers, and comprehensive interisland cargo services. With Transportify, you can have peace of mind knowing that your cargo is in good hands.
| | | |
| --- | --- | --- |
| | or | |
Frequently Asked Questions:
How can a cargo forwarder help with interisland cargo shipping?
🚚 A cargo forwarder can provide end-to-end logistics solutions for interisland deliveries, including reliable and efficient transportation, real-time tracking, customs clearance, documentation, handling unexpected issues, and providing cost-effective and flexible solutions.
What are some challenges that businesses may face with interisland cargo shipping?
🚚 Some challenges businesses may face with interisland cargo shipping include a lack of direct shipping lines, unpredictable weather conditions, limited real-time tracking, and difficulties with customs clearance and documentation.