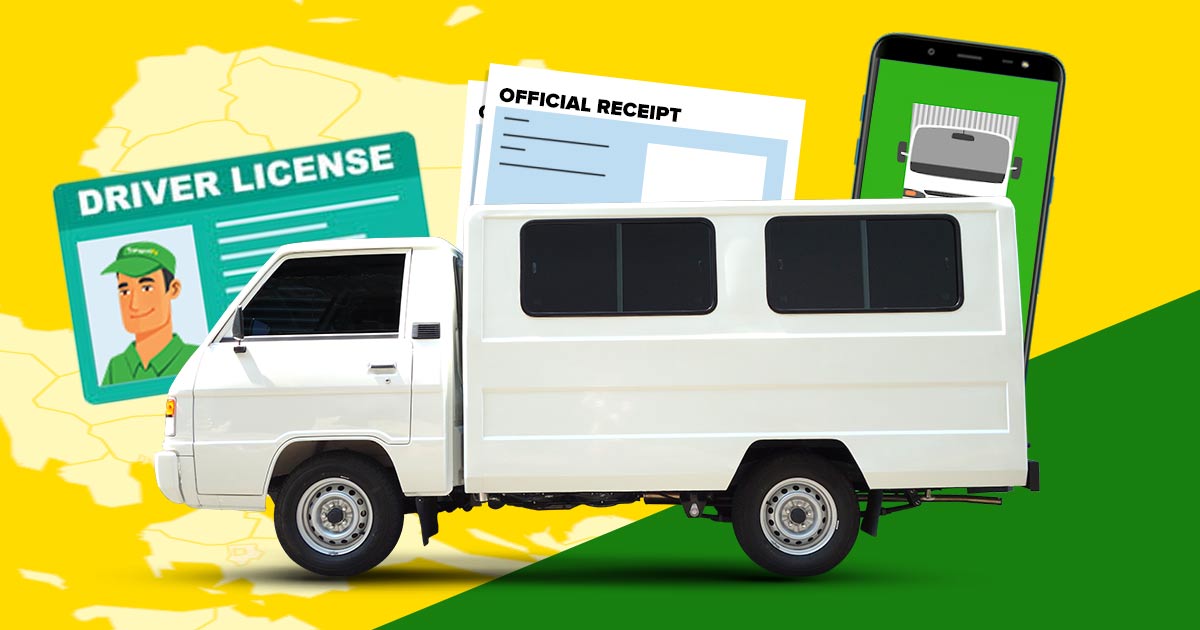 "Mabilis at madali lang akong nakapag-register, ang laki pa agad ng kita ko sa unang biyahe pa lang gamit 'yung isang L300 ko." – Mark Santos, Transporter since 2018
Transportify opens great opportunities for Filipinos to earn more and join in revolutionizing private car delivery jobs in the Philippines. Create your limitless possibilities, be your own boss, and turn your private car into a money-generating asset this 2022. Get started and know the needed Transportify requirements below.
Transportify Requirements for Driver Applicants
1.Driver's License
It's a must for Transportify driver partner applicants to submit all Transportify requirements before taking private car delivery jobs. First, your driver's license, both non-professional and professional driver's licenses are accepted as long as it has at least three months of validity. A driver's license is necessary with the nature of our service, and we need to ensure the client's packages are in good (driving) hands.
2.Tax Identification Number
To best comply with local legal requirements, you also need to provide your tax identification number (TIN), as proof of the legitimacy of your identity.
3.NBI Clearance
Similar to other companies, Transportify needs to validate the records of the people they hire. For us to do that, another Transportify requirements to submit is an original copy of the National Bureau of Investigation Clearance (a.k.a NBI Clearance). Applicants may submit their original NBI Clearance copy within four weeks upon activation to continue doing private car delivery jobs on the platform. Make sure of its validity period to to experience a smooth flow of application this 2022.
4.OR/CR or Sales Invoice
Enrolling your private car to the program requires certain supporting documents such as the vehicle's official receipt (OR) and/or certificate of registration (CR) for proof of ownership of the vehicle. If the car is brand new and has no OR and/or CR yet, the vehicle sales invoice will do.
5.Cash Deposit
Registration when attending the seminar is free of charge. But for you to get your private car activated, you must prepare an amount of 500Php. 150PHP for your GCash Kit and 350PHP for your Initial Top Up that directs to your driver wallet.
6.Government ID
As part of Transportify requirements, driver applicants must also submit a government-issued identification card. Transportify requires its driver applicants to provide any of the following IDs in addition to the required driver's license, TIN, and NBI Clearance, before performing private car delivery jobs on the platform.
Passport
PRC ID
Police Clearance
Postal ID
Voter's ID
Barangay Certification
GSIS e-Card
SSS Card
OWWA ID
OFW ID
Seaman's Book
GOCC ID (AFP ID, HDMF ID, UMID ID)
NCWDP ID
DSWD ID
IBP ID
MARINA ID
Senior Citizen Card
Company ID (Issued by entity supervised by BSP/SEC/IC)
Student ID signed by the principal or head of school
7.Android Smartphone
Of course, having a smartphone is part of basic Transportify requirements on starting your private car delivery jobs. And to ensure that the Transportify driver mobile app will be compatible with your device, we require smartphones with an Android operating system with a version of 5.0 and up.
8.Accepted Vehicles
Transportify accepted vehicles consist of all major make or models of sedans, hatchbacks, and SUVs/MPVs with the 2004 year model or newer under the economy category. We also accept FB type vehicles like L300FB, H100, Kia K2700, NHR, and Foton Tornado. Van type vehicles such as HiAce, Grandia, Urvan are also qualified.
For larger vehicles, a new vehicle class is added to fulfill the needs of our customer's private car delivery jobs. Pick-up trucks are now qualified to make deliveries with Transportify. Apart from pick-up trucks, all 4-wheel and 6-wheel light commercial trucks that are 2004 year model or newer and with a Closed Van body are accepted.
In handling larger deliveries, the 10-wheel Wing Van trucks are also qualified to enroll in the platform to get private car delivery jobs.
Onboarding Process
Transportify makes everything easy with its recruitment process this 2022. You can apply and get onboarded the same day. Once your Transportify requirement is complete, you may proceed on getting activated and start earning as a Transporter. To be prepared, get familiarized with our process below.
Before visiting a Transportify office, all Transportify requirements should be with you. Don't forget that the Android phone that you're going to bring should have a sufficient battery charge and has a stable internet connection access via mobile data. You'll be using it a lot, especially on your onboarding process.
1Registration
On the chosen onboarding location, an attendance link will be provided by a training coordinator to verify your attendance using your mobile phone. This step will be a prerequisite for your activation process. It will also serve as proof that you attended the onboarding process.
You may visit any Transportify offices now.
Office Address
Training Schedule
Office Address
Training Schedule
Head Office (Pasig)
10F Tycoon Center, Pearl Drive,
Ortigas, Pasig City
**Monday - Saturday
9 AM - 5 PM
Alabang Office (South)
4F Unit 4015, Ayala Malls South Park
National Road, Brgy. Alabang, Muntinlupa
**Monday - Saturday
9 AM - 5 PM
Quezon City Office (North)
Ayala Malls Cloverleaf, Level 5 Parking Area
Bonifacio Street, Quezon City
**Monday - Saturday
9 AM - 5 PM
** Due to the government-imposed lockdowns, office training is temporarily unavailable. Driver onboarding is currently being held online.
2Driver Partner Training Seminar
To become a full-fledged Transporter for 2022, aside from Transportify requirements submission, you are also required to attend intensive training as a preparation for your upcoming private car delivery jobs. You'll get an orientation about the company, rules and regulations, driver protocols, and different scenarios you might encounter during a booking. Other valuable information that you must understand as a Transportify driver will be discussed during the seminar. After that, there will be room for you to clarify the details you are uncertain about private car delivery jobs in the question and answer portion. Don't miss this opportunity to deepen your knowledge about the platform. We will gladly answer questions that will help you be more equipped when you start doing your first delivery job.
3Examination
To fully accomplish all Transportify requirements, we want to ensure to our customers that all drivers we have in our platform are well rounded. A Transporter should fully understand how to operate, deal with specific scenarios, and deliver nothing short of perfect customer service. To put your mind at ease, questions in the examination are well-discussed in both the seminar and the Q&A portion. This exam will be our basis on how prepared you are to take bookings on the platform.
4Account Activation
The last step is quite simple. You'll have to submit now the Transportify requirements you gathered to the training coordinators so they can proceed on activating your driver account in the driver application. Once done, you'll get a Transporter starter kit along with the uniform and other necessary documents for your 2022 deliveries.
Once your account is activated, you are now ready to go and accept private car delivery jobs with Transportify!
Know The Perks of Being a Transporter
Be your own boss
With Transportify, you're the one who handles your time. Get bookings anytime, and to any location you want. There are different types of bookings, such as immediate, scheduled, and full-day.
Maximize your vehicle
You're probably much aware of how much your private car depreciates yearly and how it becomes a liability to you when you're not getting much from it. With Transportify, you now have the chance to turn your private car into a money-generating asset.
Higher Pay
The more bookings you complete, the more profit you take home. This platform doesn't only offer you part-time delivery jobs. If you have more time in your hands this 2022, then this can be an opportunity for you to go full time and earn as much as you can.
Frequently Asked Questions:
Where to find private car delivery jobs in the Philippines?
🚚 Numerous delivery jobs are available on different online platforms like the Facebook marketplace, Carousell previously known as OLX, and many others. If you have a private car, you can post or advertise your vehicle online. In most cases, customers may find the need to simply rent your car. While some of the online platforms come for free, if you want better results, you will need to pay more. There are other ways to do this. Transportify is one of the companies that offers this opportunity for those wanting to utilize their private vehicles for delivery jobs. They provide delivery jobs that can suit your needs, flexible hours of work, weekly payout, and great incentives.
How much can you earn from online delivery jobs?
🚚 Earnings depend on how frequently you accept deliveries and what type of vehicle you use. The larger the vehicle and the more commercialized, the more you can earn. For Transportify, delivery drivers can earn as much as ₱70,000 for the Economy vehicle class while the L300/Van drivers can take home up to ₱170,000 per month. Vehicles under the Closed Van category can make up to ₱220,000 monthly, varying on your monthly activity.