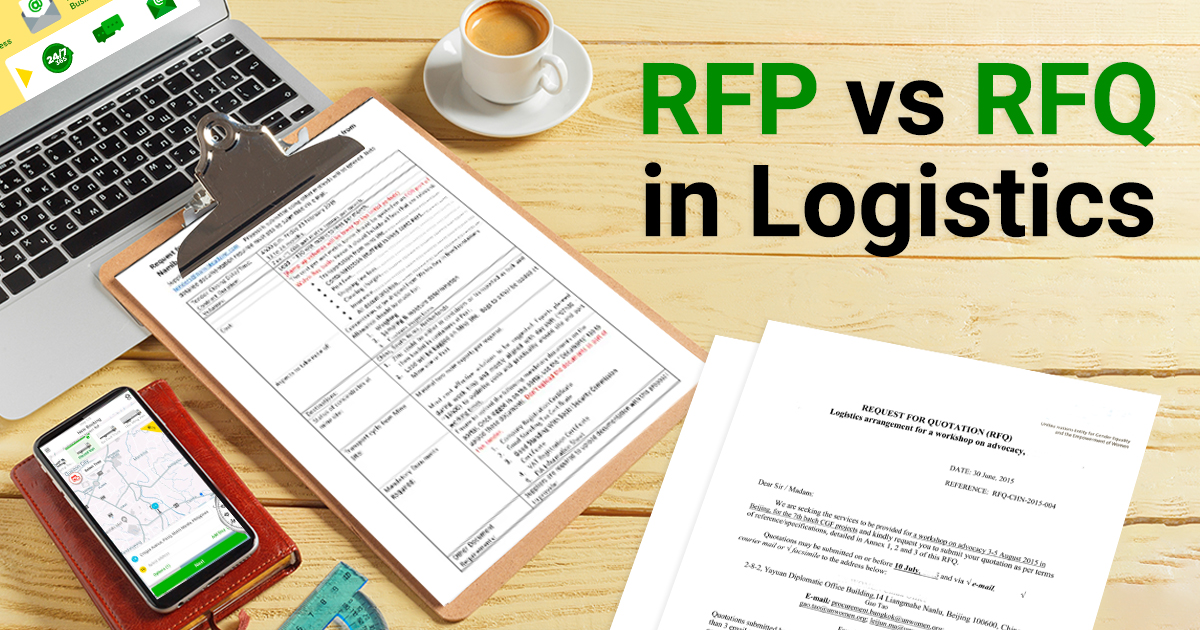 Do you feel overwhelmed trying to figure out the difference between a request for proposal (RFP) and a request for quotation (RFQ) in logistics? You're not alone. Every day, countless business owners grapple with this seemingly simple question — only to be left feeling more confused than when they started. Read this article by Transportify to better understand the two processes.
In logistics and trucking operations, RFPs and RFQs are tools used for different purposes. Knowing how they differ is essential if you want your transportation operation to run smoothly without wasting time or money. In this article, we'll explore the key differences between an RFP and RFQ in logistics so that you can make informed decisions about which is right for your business needs.
What Is an RFP, and How Does It Differ From an RFQ?
If you want to manage your logistics and trucking operation effectively, understanding the difference between a request for proposal and a request for quotation in logistics is essential. Both are necessary tools to help you achieve your business goals, but they have different uses.
Definition of a Request for Proposal (RFP)
A Request for Proposal (RFP) is an official document that a business or organization uses to request bids from potential suppliers and vendors when they are looking to acquire goods, services, or solutions. This type of request is most frequently used in the logistics and transportation industry, as companies may need to obtain the services of third-party vendors for their freight and delivery needs. An RFP in logistics allows potential vendors to submit a detailed bid outlining their service offering, price structure, timeline, and other pertinent information that can help the issuing company determine who can offer them the best deal.
The RFP process begins with the issuing company outlining its needs, specifications, and requirements in detail. This includes any relevant background information such as desired metrics for performance measurement, timelines for completion of tasks or delivery of goods, types of materials or products needed, and other essential details that will help vendors decide if they can meet the request. The issuing company will then create a document known as an RFP, which will contain all the necessary information to receive bids from vendors. This document must be carefully crafted to capture all the required details while remaining concise enough so that vendors can easily understand it.
Definition of a Request for Quotation (RFQ)
A Request for Quotation (RFQ) is a formal document issued by a company when they want to purchase goods or services. This document is often sent out to multiple vendors to solicit competitive bids and will include detailed specifications about the products or services the buyer needs. The request for quotation in logistics outlines the project's scope, delivery deadline, quality requirements, payment terms, and other pertinent information. Vendors must respond to the RFQ by providing a quotation detailing their offer and associated costs.
The purpose of an RFQ is for the buyer to evaluate vendors based on their service capabilities and quotes to choose the best vendor for their specific needs. By obtaining multiple quotes from different vendors, buyers can compare prices and any additional services that may be provided.
An RFQ in logistics allows buyers to negotiate with vendors to find the best deal possible. The requestor can also use this opportunity to assess a vendor's understanding of customer satisfaction by requiring that vendors provide feedback regarding customer service or product quality ratings from previous clients.
The Key Differences Between an RFP and an RFQ
The RFP and RFQ are procurement tools used in logistics and trucking operations. An RFP in logistics is a more detailed request with greater scope, while an RFQ is more narrowly focused on specific elements. While both involve a vendor selection process, the main difference is in the evaluation criteria used to select the best bidder for a given job.
In an RFP in logistics, the requestor will provide detailed information about what they are looking for from vendors, including services offered, price structure, a timeline of completion, and other essential specifications concerning their needs.
This allows the requestor to evaluate better potential vendors' abilities to meet their specific needs. Evaluating multiple bids is also more accessible in this format as more details are available on comparing prospective vendors.
A request for quotation in logistics is much more straightforward and narrower in scope than a request for proposal. It focuses on specific services or products that need to be acquired or provided by a vendor and outlines any related requirements.
As such, it only sometimes involves evaluating multiple bids or providing detailed information about what is needed from vendors. Instead, the requestor will provide basic information about what they are looking for and ask potential vendors to submit their price quotes for consideration.
Both RFPs and RFQs can be used successfully in logistical operations; however, each has its advantages depending on particular situations.
Advantages of Using RFPs and RFQs in Logistics
Knowing the advantages of using RFPs and RFQs in logistics can help trucking and logistics operations make the most of their resources. RFPs and RFQs both offer effectiveness in streamlining your logistics operations. Below are some advantages:
1Opportunity to Reach Out to Multiple Providers
Request for proposal in logistics allows businesses to reach out to multiple providers to find the best possible supplier for their needs. This will enable them to compare and contrast prices, terms and conditions, delivery times, and other essential factors for making an informed decision.
2Save Your Time
Help logistics companies save time as they don't have to source each item individually. Instead, they will receive all the information they need from a single source, thus eliminating the need for extensive searching and researching.
3Effective Way of Price Comparison
Provide businesses with an effective way of comparing pricing structures between different vendors and selecting the one that best meets their requirements. With this process, companies can ensure they get the most cost-effective and efficient solution available on the market.
4Getting the Chance to Know the Suppliers First Hand
It allows businesses to form a relationship with suppliers before making any commitments. This means that potential suppliers can be evaluated on their customer service skills and level of professionalism before any contracts are signed. Ultimately, this helps companies select a provider who will satisfy them in the long run.
5Ability to Control Business Cost
Using RFP enables businesses to control spending by setting strict parameters around quality standards of products or services being procured and eliminating unnecessary costs through increased competition among vendors.
6Effectively Assessing Market Pricing Without Additional Cost
A Request for Quotation in logistics is an ideal way for logistics companies to quickly assess market pricing levels without investing too much time in researching individual suppliers. By sending out an RFQ, logistics companies can obtain real-time cost estimates from multiple providers to select the most suitable offer based on price alone.
7Ability to Request Specific Quotations
RFQ in logistics allows logistics companies to request specific quotations from certain vendors only if they know they will meet their requirements or have worked with them before and have been satisfied with their services. This makes it easier for a company to narrow down its selection process rather than wasting time going through numerous quotations that differ from what they need or want.
8Chance to Get to Know Vendors
RFQ in logistics gives smaller vendors a chance to prove themselves as capable suppliers without having too many additional costs, such as submitting full proposals or investing heavily in marketing campaigns.
Get A Quotation/Proposal From Transportify For Your Trucking Needs
Strategically plan your year by partnering with reliable suppliers wherever you need them. Transportify is a free logistics app that individuals and businesses can enjoy. But if you are a business and planning to invest more in better logistics operations, you can partner with Transportify under a business account so that we can share more exclusive benefits with these accounts.
Business Program
Services
Program Features
Live Support

Open 24/7

Prepay

Available

Postpay with Monthly Invoicing

Available

Destinations

A total of 16 destinations can be added in every booking

COD/POD
COD + POD
2.50% of invoice
Min of 80 PHP
(Flat Fee/Booking)
POD Only
80 PHP for ≤ 3 destinations
160 PHP for ≤ 10 destinations
200 PHP for ≤ 15 destinations
Insurance and Warranty

Up to 3 million PHP coverage from OONA Insurance

Nationwide Service Area

Available




Interisland and Same Day Trucking in Luzon, Visayas, and Mindanao

Business Web Dashboard

Team Account Management Customized Reports
In conclusion, RFP and RFQ in logistics are essential for trucking or logistics operations. Depending on the situation, either can be used to source the best suppliers efficiently and cost-effectively.
It is crucial to understand when each should be applied to get the most out of your resources and select the most suitable provider for your needs. With this information in mind, you can now make an informed decision and use RFPs or RFQs to their fullest potential.
| | | |
| --- | --- | --- |
| | or | |
Frequently Asked Questions:
What is the meaning of RFP in trucking and logistics?
🚚 RFP in logistics (request for proposal in logistics) in trucking and logistics stands for Request For Proposal. It is a document companies use to outline the scope of work available and any specifications or criteria potential suppliers or subcontractors must meet.
How important is RFQ to companies?
🚚 An RFQ in logistics (request for quotation in logistics) is essential to trucking and logistics operations companies, as it allows them to obtain cost estimates from multiple vendors to select the most suitable offer. RFQ in logistics (request for quotation in logistics) provides a way for businesses to evaluate potential suppliers based on their customer service skills and professionalism before any contracts are signed, enabling them to form relationships with suppliers before making commitments.