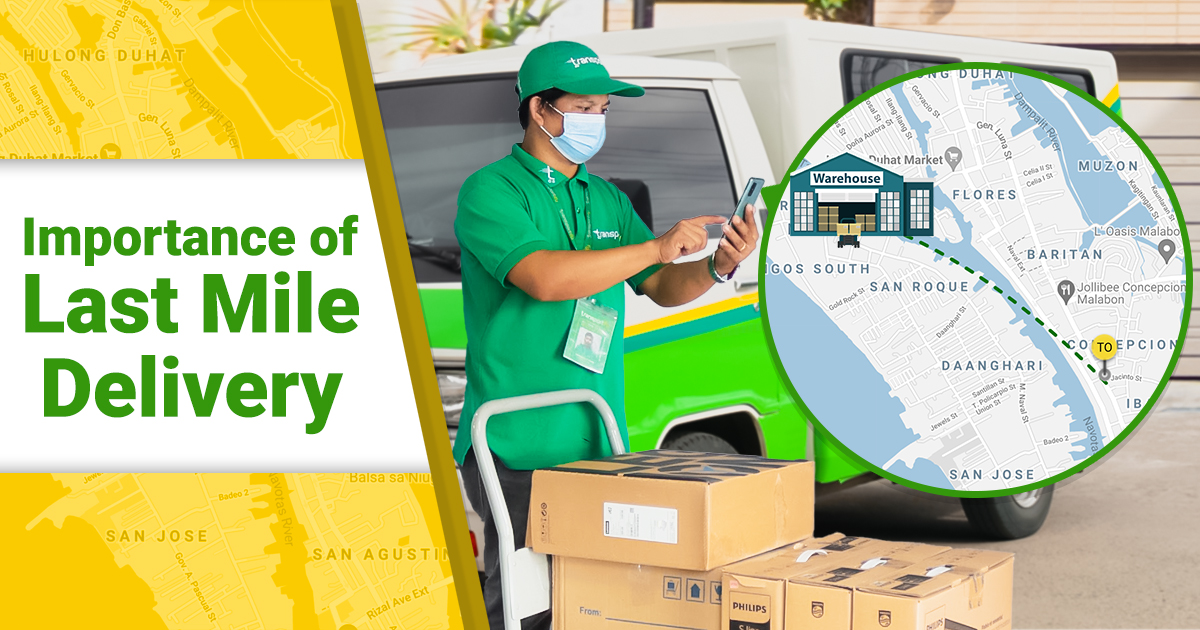 What is last mile delivery? You may have heard the term before as it plays a vital role in e-commerce and logistics, but why is it so important in the supply chain? In this article, we will define what last mile delivery is and the biggest challenges that come with it. Transportify can help you optimize this vital aspect of your supply chain operations to promote vigorous growth and future success.
What Is Last Mile Delivery?
Last mile delivery simply refers to the final leg of the delivery process in supply chain operations. However, it's much more complicated than it sounds. This is the process that takes place from the distribution center/warehouse to the customer's doorstep. It sounds easy enough in theory, but as it happens, last mile delivery is one of the most challenging and expensive aspects of supply chain operations.
What Is the Primary Goal of Last Mile Delivery?
The aim is to get the product to the consumer as quickly and for as little money as possible. Hence, last mile delivery is regarded as the most crucial aspect of logistics and supply chain industries. Moreover, last mile delivery plays a vital role in customer happiness, making it all the more important to get right.
If done correctly, you can save a significant amount of time and money, thus making your business far more effective, lucrative, and respected. However, if you fail to crack the process, it can spell disaster for your business and its longevity.
Not to be confused with first mile delivery, last mile delivery services are far more complicated. This is because it involves taking multiple products to a wide variety of different addresses. In a bustling metropolis with heavy traffic congestion on the roads, this can become more time-consuming and expensive.
But it's not all doom and gloom. Read on, and we will highlight how Transportify can help you tackle the challenges faced.
Why Is Last Mile Delivery Such an Important Aspect of Supply Chain Operations?
Now that we have more of an idea of last mile delivery, why is it so important? As mentioned earlier, last mile delivery is arguably the most crucial aspect of supply chain operations. However, the vital nature of last mile delivery has grown even more significant in recent years due to the rise of technology, specifically e-commerce. Twenty years ago, brick-and-mortar stores reigned supreme. Today, it's all about e-commerce stores dominating the digital space.
Indeed, online transactions have been possible for quite some time, but shipments on products often take weeks. Today, however, no customer in their right mind is prepared to wait that long, not unless it was a bespoke item being made from scratch.
The fact is, today, people anticipate same-day delivery, and some even want to get their hands on the products even sooner. As e-commerce sales continue to rise each year, so do the expectations of customers who rely on speedy and accurate delivery.
Here are the usual light delivery vehicles used by businesses to fastly fulfill last mile deliveries within and outside the metro:
Vehicle Type
Base Price


(Metro Manila)

Base Price


(Everywhere Else in Luzon)

Base Price


(Visayas/Mindanao)

L300/Van


7 x 7 x 4 ft




1000kg

430 PHP
330 PHP
310 PHP
Small Pickup


5 x 5 ft x open




1000kg

310 PHP
250 PHP
220 PHP
Light Van


5.5 x 3.8 x 3.8 ft




600kg

250 PHP
192 PHP
225 PHP
MPV/SUV


5 x 3.2 x 2.8 ft




300kg

160 PHP
130 PHP
140 PHP
Sedan


3.5 x 2 x 2.5 ft




200kg

140 PHP
90 PHP
100 PHP
The speed, quality, and precision of delivery reflects customer service
Last mile delivery refers to one of the final moments when a company will interact with its customer. At that moment, as a business owner, you need to deliver on your promise. If your delivery is bad, it can often result in a poor review or an entirely lost customer.
Today, customers are increasingly more demanding. As a result, companies desperately looking for new and innovative ways to add value to that crucial delivery moment.
Why Is Last Mile Delivery Challenging?
So, why is last mile delivery so challenging? What is it about taking a product from the distribution centers/warehouses to the customer's doorstep that is so difficult?
Visibility is limited
One of the biggest difficulties with last mile delivery is the serious lack of visibility over the years. This is caused by most fleet owners operating in nations with a disorganized logistics sector. But it goes beyond that. Tracking a package can be practically impossible without the proper technology in place.
That said, what can we do to help you tackle this challenge and turn it into an advantage?
At Transportify, we use GPS tracking software. This is delivered via a free application that you can download to your smartphone or access via a desktop browser. This app allows the customer to track their package in real-time and see precisely where the driver is at any given time. Having greater visibility can greatly benefit both the customer and the delivery driver as well.
The last mile is expensive
The last mile isn't cheap. In fact, last mile delivery accounts for 53% of the overall delivery costs. That number is staggering, particularly when considering that the last mile is typically the shortest part of the product's journey.
This is because the infrastructure required to deliver to the last mile is made up of many costly components:
Shipping companies paying for depots
Vehicle fleets
IT software and support
Back-end systems
Wages for delivery drivers
Fuel
In addition to that, if the delivery fails the first time for whatever reason (likely the customer not being home to receive the package), then the cost doubles. As such, you end up paying to return the product to the distribution center and deliver it all over again.
This is another reason why having greater visibility with the GPS tracking application, as mentioned above, can be helpful. Customers can receive notifications when the package is en route and will be able to schedule their day around the anticipated delivery.
When you give the customer and driver more visibility, there are lower chances of failed deliveries. Thus, saving you money and the customer any unnecessary disappointment.
SEE ALSO
Optimizing the Route
Another challenge that comes with last mile delivery is optimizing the route itself. Ensuring the optimal efficiency of your driver's delivery routes is essential and can be transformative for your business. Transportify has found the perfect way to overcome this obstacle by using smart-routing software, which updates automatically.
In essence, if a driver is out on the road trying to make the last mile delivery and a traffic accident occurs ahead of them, without smart-routing software, they will have no idea what they are driving toward. This might cause the driver to end up stuck in a traffic jam.
However, with smart-routing software, drivers can have their routes updated on the fly, considering traffic accidents, congestion, and even changes to weather conditions. This means that they will always be on the move, rarely find themselves stuck in traffic, and always find the fastest possible route to their intended destination.
With adequately optimized routing, not only can you significantly cut back on delays, but you will also cut down on fuel costs. Everyone wins.
Customers want more delivery options
Another challenge with last mile delivery is that customers want more delivery options. They want to be able to choose where they can pick up a package if delivery is not the preferred option or if indeed they may not be at home to receive it.
People also expect to be able to reschedule their delivery date and times if they aren't home at the right time. Everything should be convenient to the customer, which can be costly and time-consuming. Of course, all of these options can add even more layers of complexity to the last mile delivery, which is why it can be such a nightmare.
Still, having these options available to your customers is a must, particularly if you wish to inspire brand loyalty and keep them returning for more. In any case, with a free tracking app with GPS and smart-routing software like Transportify's, your customers can have greater visibility and control over their deliveries.
Do Better Last Mile With Transportify
All in all, last mile delivery is worksome. However, it doesn't have to be. It's not all doom and gloom when you outsource these requirements to an established logistics and delivery service like Transportify who have cracked the last mile and has an efficient infrastructure in place.
So, rather than establish a fleet of vehicles yourself, train drivers, invest in new software and technology, and deal with the plethora of challenges that come with handling the logistics process yourself, you can pass it on to the experts instead.
Not only can we save you money, but a great deal of time as well. Time can be better spent focusing on growing your business, increasing your sales, and interacting with your customers. If this is something that you would like to explore further, then please do not hesitate to chat with customer service or visit Transportify's website.
| | | |
| --- | --- | --- |
| | or | |
Frequently Asked Questions:
Why should businesses not take last mile deliveries lightly?
🏢Last mile delivery is the most crucial step in businesses' supply chain operations because it is at this point that products are being handed to the customers. With that said, deliveries should be on time and businesses must ensure that their customers will experience a smooth transaction. Remember that unsatisfied customer may affect your overall sales in the long run.
How can a business improve its supply chain operations?
🏢 Business owners should be keen to spot what part of their operations needs optimization. Regular monitoring will definitely benefit the business because it would always give you insights into gaps. Moreover, do not be afraid to outsource logistics services that can help you achieve your business goals. An example is with last mile delivery, if you want customers to have an excellent experience, you can hire a third-party logistics provider to help with that.