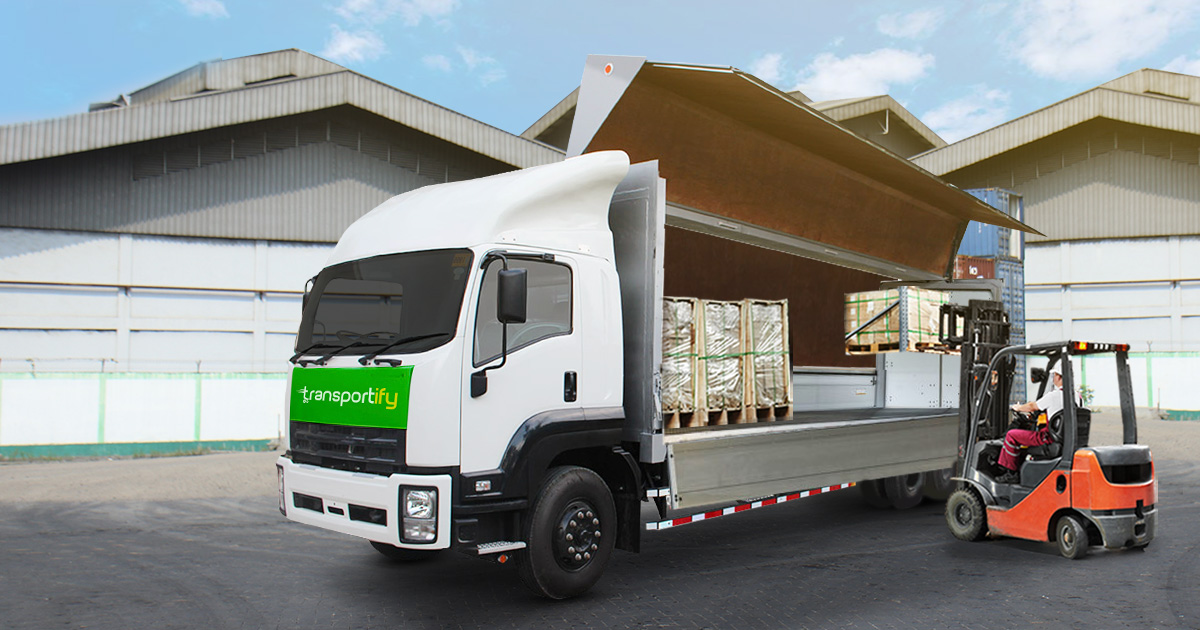 The supply chain in freight and logistics companies consists of six main elements: logistics, making, sourcing, planning, returning, and enabling. In this article, you'll get to know the logistics component of the supply chain logistics and its essential role that plays in this.
As a matter of fact, there are hundreds of ways you can deliver shipments and goods. A large volume of cargos and shipments, cross-continent from truck freight companies, and container ships from 10 wheeler trucks are the ideal option. If you're a local business owner and prefer to minimize your emissions this 2023, it could be that you ship on foot.
One of the most commonly used modes of truck transport companies in the wing van trucks, with no more than 80% inland cargo carried on the road. Just like that, the screen and smartphones you are using right now were delivered via wing van or closed van.
Even the bigger freight and logistics companies in the world are planning to maximize and expand their inland logistics with wing vans to accommodate more clients that need large-scale shipments. Also, the fact that today's 10 wheeler wing van truck industry is essential in every freight and logistics companies, it opens tons of employment opportunities this 2023 for Filipinos all over the country.
Why Are 10 Wheeler Trucks Essential in Freight and Logistics Companies?
As tackled above, wing vans play a critical component in every logistics company; however, why are these large vehicles so important when it comes to the delivery and transportation of goods?
First, a 10 wheeler truck for hire and other kinds of trucks are a good fit for an enormous variety of usage. From short distance journeys between nearby cities, through to the whole nation, a 10-wheeler truck from truck freight companies can transport goods for any distance.
One of the significant benefits of using wing vans in freight and logistics companies is the convenient door-to-door cargo delivery service offered by most logistics service providers – straight from the manufacturer's warehouse to the consumer's front door.
However, on every good side, there will always be a downside. The only inconvenient factor that a 10 wheeler truck for cargo and freight delivery may bring is limited to what they can transport. Cross-continent or a wider range of distances from one country to another is best left to larger shipping operators that focus on customs-related services.
Here at Transportify, we take great pride in offering our valued clients variety. That means a range of vehicles to choose from, a variety of delivery options, and a variety of ways to streamline your business and ultimately save money. No matter how big or small your business, we have the systems in place to accommodate every logistics need. So, if you need to make a few personal deliveries and only require a smaller vehicle, we can accommodate you. Alternatively, if you've got your hands full and need a wing van, you'll be pleased to learn that we can assist you in that case. Consider us your "wing van."
Refer to the table below for 2023 features for 10 Wheeler Wing Van:
Wing Van Features
Details
Vehicle Type and Rate
Regular 10w (32ft, 12tons): 7000 PHP
Extra Load (32ft, 15tons): 7400 PHP
Extra Load (32ft, 20tons): 9150 PHP
Extra Load (32ft, 25tons): 11200 PHP
Extra Load (40ft, 28tons): 11700 PHP
Booking Lead Time
Wing Van 32ft = 4 Hours
Wing Van 40ft = 12 hours
Extra Helper
1 Extra helper already included



450 PHP for Second Extra Helper

Loading and Unloading
Driver and extra helper must load
and unload within reasonable and
humane expectations.
Toll fees and Parking
The driver may request for
reimbursement of tolls and
parking expenses if your
desired route includes
such expenses.
Road Restrictions
Prohibited from selected roads
in Metro Manila from 6am to 10am
and 5pm to 10pm every day
except Sundays and holidays.
SEE ALSO
Why Book a 10 Wheeler Truck Transport Service at Transportify?
In today's logistics competition between 3PL freight and logistics companies, being different and unique is a must to get the attention of new clients. Here in Transportify, we are ahead of the technology and other freight and logistics companies using our on-demand delivery app, where you can book service of 10 wheeler truck freight companies via smartphones.
You can simply book your cargo transport needs using our on-demand delivery app. From the app, you can choose your preferred vehicles such as 10 wheeler truck, sedan, wing-van, closed-van, etc. Moreover, you can also see the price and rates when you select your desired location. Convenient, isn't it? Unlike the usual and traditional freight and logistics companies, Transportify can give you the innovative logistics solutions that you deserve to have. Why settle for less when you can enjoy the utmost benefits of a reliable logistics service provider?
That's why more and more people are getting hooked on our cargo transport service. Business owners can minimize their shipping expenses by planning and booking ahead of time to us. Moreover, they can also check and monitor shipments and deliveries from time to time, thus giving them peace of mind if the shipments are delivered promptly and safely to their receiver.
Remember, your chosen logistics partner will also represent your business. So selecting the best logistics service provider can make a huge difference in your sales. It could be on the positive or negative side. Whatever services they do will also affect your business reputation. That's why it's imperative to pick only the best logistics service provider who can give your consumers outstanding customer satisfaction.
So, what are you waiting for? Download our on-demand delivery app from your Google Play Store or Apple AppStore and enjoy the benefits of convenient transport service right from your smartphones this 2023.
The Benefits of Truck Transport
Truck transport is an essential part of a large truck freight companies needs. A wing van can not only deliver huge quantities of goods across the country, but they're also incredibly easy to load and unload. As the wings of the vehicle rise, the products can be stacked or unloaded without having to lug everything out the back of the truck. This is just one of the many benefits of truck transport. What are the rest?
Setting you up for last-mile delivery needs
A 10 wheeler truck can carry the majority of your goods to a specific location. There, they can be unloaded, ready for the "last mile" deliveries. This is essentially a group of smaller vehicles and delivery drivers that will disperse the rest of the goods and get them to their final destination quickly and efficiently. Using a wing van for the first part of this delivery process tends to be the most effective way, rather than having a large wing van drive from home to home, unloading individual parcels. Using a third-party company to handle your truck transport goods is the most effective way of handling this.
Cost and energy-efficient
Using a wing van to handle large deliveries is much more cost-effective than having a number of individual vans carry smaller loads over the same distance. Additionally, you'll be significantly reducing your carbon footprint by adopting such an approach. Again, the last mile deliveries can be handled by smaller vehicles over shorter distances, ultimately finding the most efficient way of handling your 2022 delivery logistics.
Straightforward tracking
In addition to all of these other benefits, it's a lot easier to track the one 10 wheeler truck, particularly if you're going through a third-party company like Transportify. We use GPS tracking software that will enable you to keep an eye on your truck transport every step of the way.
Professional drivers
Of course, not just anyone is allowed to get behind the wheel of a large 10 wheel truck. Our drivers undergo rigorous training to ensure that they are exceptionally skilled and able to carry such heavy loads with precision, professionalism, and careful consideration. So, if you are worried about the integrity of your goods and want them to arrive safely at their desired destinations, then using a truck transport service through Transportify this 2023, will almost certainly be the way to go!
Download the Transportify application by scanning the QR code or clicking the button below:
| | | |
| --- | --- | --- |
| | or | |
Frequently Asked Questions:
What is the common use of the 10w Wing Van?
🚚 Because of the massive size of the wing van, it can be used for countless purposes. For Transportify, retail shops are one of the most common users of wing vans. The space available is ideal for businesses with bulk goods. And Transportify is the only platform where you are able to book a 10w wing van using an app.
Where can I find freight and logistics companies available in Manila?
🚚 There are a lot of logistics companies available in Manila. Most trucking services offer closed vans and are reachable through yellow pages and job ads. Bigger and modern logistics services can now be accessed through various means like online or using mobile applications. Transportify is available for use in mobile applications. And most of their operations can be done online.