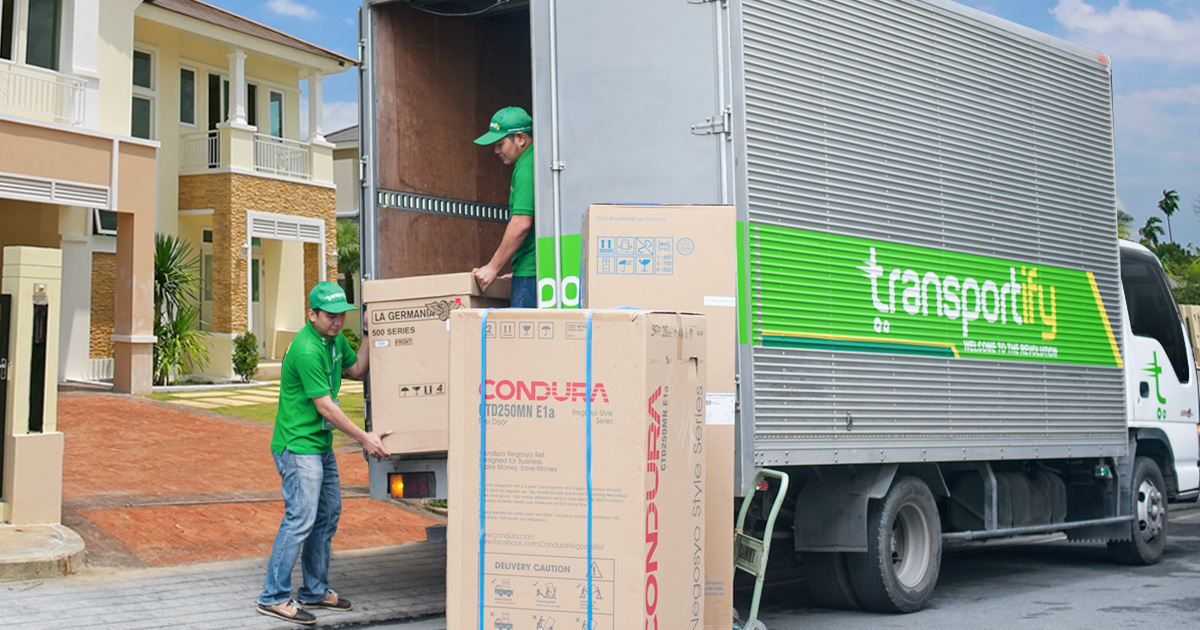 Perhaps your television or your air conditioner unit broke down. Maybe you saw a section of your house that needs some repairs or a wall that needs a new paint job. If you find yourself in a similar situation, you could use the appliance delivery or hardware delivery services of Transportify.
You don't have to worry about driving to the nearest appliance center or hardware store just to get your items. This door to door cargo company will do the heavy lifting for you. Get a price quote from us now.
In these times when we are encouraged to stay and work from home, we rely heavily on delivery companies to bring our everyday necessities like food and medicines. But for larger items like refrigerators, televisions, and cabinets, a motorcycle is definitely not capable of carrying these things. Thus, for appliance delivery and hardware delivery needs, larger vehicles such as L300 vans, closed vans, open trucks, and wing vans are ideal for the operation. Transportify, an app-based door-to-door cargo company has all these vehicles that can deliver your appliances, furniture, and hardware products for you. And our services are exceptional, and we have affordable delivery and trucking rates. The table below shows the starting prices and dimensions of our vehicles for appliance delivery and hardware delivery.
Vehicle Type
Dimensions/
Weight Limits
Base Price


(Metro Manila)

Base Price


(Outside Metro Manila)

Base Price


(Visayas/Mindanao)

Wing Van 

32 to 40 x 7.8 x 7.8 ft




12000kg to 28000kg

7500 PHP

6500 PHP

6500 PHP

6w Fwd Truck

18 x 6 x 7 ft




7000kg

4850 PHP

4850 PHP

4850 PHP
Closed Van

10 to 14 x 6 x 6 ft




2000kg to 4000kg

1800 PHP

1450 PHP

1450 PHP

Open Truck

10 to 21 x 6 ft x open




2000kg and 7000kg

2300 PHP

1950 PHP

N/A

Mini Dump Truck

10 x 6 ft x open




2000kg

1500 PHP

1200 PHP

N/A

L300/Van

8 x 4.5 x 4.5 ft




1000kg

430 PHP

330 PHP

310 PHP

Small Pickup

5 x 5 ft x open




1000kg

310 PHP

250 PHP

220 PHP

Light Van

5.5 x 3.8 x 3.8 ft




600kg

250 PHP

192 PHP

225 PHP

MPV/SUV

5 x 3.2 x 2.8 ft




200kg

160 PHP

130 PHP

140 PHP

Sedan

3.5 x 2 x 2.5 ft




200kg

140 PHP

110 PHP

120 PHP
Door To Door Delivery of Your Appliances and Hardware Products
With social distancing protocols in effect at shopping establishments, one is often led to the idea of purchasing things online and having a door to door cargo company transport those ordered items from the source up to one's doorstep. While it is easy to find delivery companies for small items like food, drinks, and documents, it may not be the case for large products like a washing machine. Obviously, there is no space in a motorcycle for such large items, and although a regular-sized sedan can handle such operations, it can only carry a few items.
The L300 van for delivery can carry multiple small appliances like microwave ovens, toasters, and small television units. Small furniture items like chairs and bedside tables can also fit inside an L300 van. For appliance delivery and hardware delivery of larger items or for high-volume deliveries, the closed van vehicle of this door to door cargo company is perfect for you. For example, you ordered multiple split-type air conditioner units for your newly constructed home. However, the appliance store does not have its own fleet of delivery trucks to transport your aircon units.
All you need to do is open the Transportify web app on your mobile device or laptop, select the closed van option, schedule the pickup and delivery from the appliance store to your home, and take care of the payment details. You can even give instructions to the Transportify driver to coordinate with a representative from the appliance company for an easy pickup and delivery operation. Office equipment express delivery and gym equipment home delivery can also be delivered to your home through the service vehicles of Transportify.
The same scenario can be applied to hardware delivery transactions. Let's say you want to do a home makeover during this quarantine period. You want to repair a section of your house that you have planned to fix for the longest time but did not have the opportunity to do so. Now that you are able to set aside time from work to take care of this "job assignment" you begin to wonder how you can get hardware materials given that there are social distancing protocols in effect. Indeed, you don't expect a motorcycle delivery service to handle your hardware delivery for you. With Transportify, our vehicles and drivers are more than capable of delivering the equipment you need.
Our L300 vans, closed vans and open trucks can take care of your hardware delivery items like windows, doors, metal sheets, and construction tools. If the hardware store does not offer door to door cargo delivery services, you can simply book and Transportify vehicle via our web app, schedule the pick up and delivery from the hardware store to your home and before you know it, a closed van carrying your ordered hardware products is right outside your front gate.
The door to door cargo delivery for appliances and hardware items does not only benefit the customers. Business owners of appliance centers and hardware stores can profit from the third party logistics solutions of Transportify. A business owner does not have to invest in a fleet of large trucks to handle the appliance delivery or hardware delivery operations of his business.
Usually, purchasing trucks for door to door cargo delivery operations entails a huge investment not only of money but also of your time. Besides coming up with the capital to purchase multiple trucks in order to meet customer expectations of a speedy delivery, you also need to process papers from government regulatory agencies, train drivers, plan delivery routes, and handle problems related to logistics, such as a broken vehicle and heavy traffic.
With the situation presented above, wouldn't it be better to let a well known trucking company handle your appliance delivery and hardware delivery operations? By doing so, you don't have to release capital to finance your procurement of vehicles, you don't have to worry about training drivers and planning delivery routes. All you have to do is schedule deliveries with this door to door cargo company.
In fact, you can even be assisted by our 24/7 customer service personnel for any questions you may have when it comes to your booking. When you partner up with a 3PL (third party logistics) company like Transportify, you can have access to large vehicles like a 10 wheeler wing van for high volume deliveries. Furthermore, partnering up with big door to door cargo companies like Transportify gives you the capability to transport your goods throughout Luzon, Visayas, and Mindanao.
What Are The Service Features  of Transportify?
Track and Trace
The Track and Trace feature of our web app gives you realtime information on the progress of your delivery. This is helpful for both the sender and receiver since both parties are given live information on the progress of their delivery. Because they can see information such as estimated time of arrival, the receiver of the package can prepare properly to receive the package, especially if it is appliance delivery or hardware delivery, when the driver is close by.
Chat with Driver
For any urgent messages from the driver to the customer and vice versa, the chat with driver feature of the Transportify app is there to meet this need. With the chat with driver feature, the driver can easily ask for directions if he finds himself lost while navigating your home. The customer can also ask important questions like "What is your estimated time of arrival." Features such as this are really helpful for appliance delivery and hardware delivery services.
Business Program
We can consider the Micro, Small, and Medium Enterprises (MSMEs) as the "bread and butter" of the Philippine economy. Providing 63% of the country's total employment, MSMEs play a crucial role in our beloved country. Industries where there are plenty of MSMEs, are the appliance and hardware sectors.
Business Program
Services
Program Features
Live Support

Open 24/7

Prepay

Available

Postpay with Monthly Invoicing

Available

Destinations

A total of 16 destinations can be added in every booking

COD/POD
COD + POD
2.50% of invoice
Min of 80 PHP
(Flat Fee/Booking)
POD Only
80 PHP for ≤ 3 destinations
160 PHP for ≤ 10 destinations
200 PHP for ≤ 15 destinations
Insurance and Warranty

Up to 3 million PHP coverage from OONA Insurance

Nationwide Service Area

Available




Interisland and Same Day Trucking in Luzon, Visayas, and Mindanao

Business Web Dashboard

Team Account Management Customized Reports
| | | |
| --- | --- | --- |
| | | |
The appliance industry is a growing business here in the Philippines. According to statista.com, revenue in this sector is projected to reach USD 115 million in 2020. Although the construction industry has taken a dip due to inactivity caused by the pandemic, experts say it will bounce back rapidly in the following years. Thus, if you are a businessman engaged in these sectors, you would anticipate a rise in customers in the following years. A rise in customers would translate to an increase in delivery requirements.
Fortunately, Transportify has the solution you need. Our Business Program provides you with numerous benefits such as a warranty of up to Php 3 million for damaged or stolen goods during your booking, special handling of your packages, and having your own account manager and dashboard to facilitate your bookings.
Please visit the Transportify website or email business@transportify.com.ph to know more about our Business Program.
| | | |
| --- | --- | --- |
| | or | |
Frequently Asked Questions:
What stores offer Appliance delivery services?
🚚 In Metro Manila, most of the major appliance centers offer home or office delivery services. Robinsons appliances can deliver your appliances 3 to 4 days after you have purchased it online. You can also return your appliance if it has a factory defect through their delivery services. Abenson offers next day delivery service for orders made before 2pm at their retail stores. SM appliance is another appliance company with quick home delivery service. The Transportify app can be used to book deliveries for items purchased at selected SM appliance centers.
Where can I avail Hardware delivery services?
🚚 With current restrictions in travel, customers resort to home delivery services. When it comes to hardware delivery services in Manila, True Value hardware items can be bought using their online order form. Transportify can then deliver those items to your doorstep. Ace hardware also offers home delivery of the products you bought online.
What are other Door to door cargo companies?
🚚 Because of the current situation where people are working from home, door to door cargo companies are needed to deliver purchased items to customer's homes. MrSpeedy can fulfill your door to door cargo requirements. They have motorcycles for small items and sedans for larger and more delicate items. JRS Express is another company with these services. They can handle large cargo and small parcels for your delivery needs.Lastly, Transportify, a truck booking app, has a wide range of vehicles from sedans to 10 wheeler wing vans at an affordable rate. This company can definitely handle your door to door cargo needs.