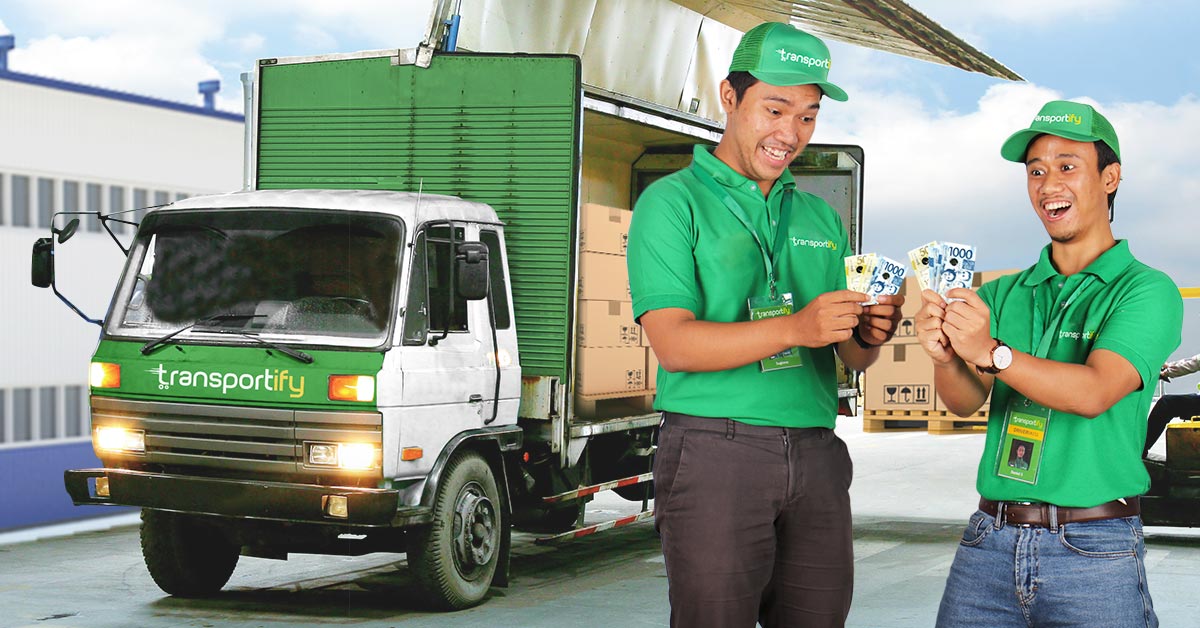 Backload delivery is a type of delivery service that transports cargo or 'backload' on a return journey. This service increases truck utilization, raises company and driver revenue, and reduces or delays the addition of trucks. Most customers nowadays often use this type of service also to reduce their distribution costs. They find other goods that they could carry on the return trips to make two deliveries become one.
Taking backload delivery is an essential trucking business opportunity for drivers or vehicle operators to get extra revenue rather than to run back at an empty cost. Coming back with empty loads would be inefficient to a trucking business and a waste of a chance to save gasoline to cater to only one delivery in one trip, since the fuel can take a portion of 30-40% of total operating costs.
Backload delivery allows you to save money on fuel costs by covering the mileage on your return trip, which is often a considerable distance away from your service area. For example, if you are moving cargoes from Manila to Baguio City this 2023, returning home with an empty load will cause higher expenses than going back with full backloads. This improves your vehicle and driver's productivity instead of consuming unnecessary fuel usage.
Nowadays, logistics services such as backloading are beginning to grow but is still constrained by the communication and information available to truck drivers or operators in need. There are a lot of truck drivers on the road looking for trucking business opportunity that offers flexible backload delivery options. The use of social media platforms, search engines, and other tools may be an easy way to offer your service and find backloads. However, it is still challenging to get delivery service with offers that best fits the schedule of drivers and can provide them daily customers.
A presence of a platform for a 2023 trucking business opportunity that will help to fill in empty or unused truckload capacity when returning from destination city to your standard area will play a significant role.
Transportify, the best delivery platform for drivers in the Philippines, opens great trucking business opportunity by connecting these clients to drivers to have a secured delivery service this 2023. Transportify is here to help truck owners to supply unfilled truckload capacity efficiently when returning to base location. Our service sets the right pricing standard that is a substantial component of a trucking business opportunity. You can check your driver earnings income instantly with our earning estimator to assure your earnings.
Leverage Of Transportify Driver App For Your Backload Delivery
Transportify operates through an app, especially for drivers. Utilizing the Transportify driver app will allow the drivers to receive and organize their bookings to be more efficient.
1Assured Daily Bookings
A large number of small to medium enterprises creates a considerable amount of trucking business opportunity in the logistics industry, especially in fulfilling their delivery needs.
As Transportify expands its service area coverage, it reaches more customers that provide more daily bookings to drivers looking for trucking business opportunity for backload delivery. With a high volume of delivery requests due to in-demand quality service, you are assured of receiving regular delivery this 2023 without the need to post ads or banners on social media.
2Control On Your Bookings
You are your own boss at Transportify. We allow drivers to accept bookings on your preferred time and location. You will be able to see details that can't be access instantly if you are doing a traditional logistics style. The app will provide you the delivery specifics like the date, time, exact locations, and other customer special requirements that will help you identify whether to accept or decline a booking request.
3Optimize Your Bookings
With the use of the Transportify Driver app for 2023 deliveries, you will have the chance to plan out for your round trip hauls based on your location as well as your delivery destination. This will enable you to manage the sequence of your trips correctly and strategically, ensuring a higher trucking business opportunity.
Moreover, all your deliveries and your profits are recorded on the driver app so you can quickly evaluate and analyze your trucking business's progress.
4Reliable Customer Service Support
Transportify has an available 24/7 customer service representatives that are ready to assist drivers anytime they experience difficulties with bookings. Through Transportify in-app chat, driver-partners can communicate with our customer service representatives to adequately address all the issues they encounter during deliveries and resolve them as soon as possible.
FAQs are also provided and available in the Driver Info Center for your guidance and reference in this trucking business opportunity.
Backload Items Mostly Delivered By Transportify Based On Vehicle Type
Our platform is catering to different types of customers, from small businesses to big companies, from typical bookers to our treasured VIPs. Each client demands to deliver certain items with strict requirements to meet, such as vehicle size or type. Transportify accepts a variety of vehicles.
Vehicle Class
Accepted Make and Models
Vehicle Class
Accepted Make and Models

Sedan

Toyota - Vios
Ford - Fusion
Honda - Civic
Mitsubishi - Mirage
Mazda - 3
And other hatchbacks variants

Year model is 2004 or newer

MPV/SUV

Honda - CRV, BRV, HRV
Mitsubishi - Adventure
Suzuki - Ertiga
Toyota - Innova
And other MPV/SUV variant

Year model is 2004 or newer

Light Van

Haima Fstar
Mitsubishi L200 FB
Suzuki APV FB

Toyota Hilux (FB)

And other Light Van variants

Year model is 2004 or newer

L300/Van

Mitsubishi L300FB (All variants)

Kia K2700

Hyundai H100

Isuzu NHR

Urvan (all Variants)

Hiace (all Variants)

Starex

Transvan

View Traveller

Golden Dragon Vans

Year model is 2004 or newer


Small Pickup

Kia Bongo
Ford Ranger
Mazda BT50
Mitsubishi Strada
Toyota Hilux
And other Small Pickup Variants

Year model is 2004 or newer

Closed Van

All 4-wheel light commercial trucks with Closed Van body that have 2000kg - 4000kg weight capacity.

Year model is 2004 or newer

6W FWD Truck

All 6-wheel light commercial trucks with 18 feet in length and has 7 tons capacity.

You may contact us to know more.


Open Truck

All 6-wheel light commercial trucks with pickup body

Gross-Vehicle-Weight (GVW) of 2000kg - 7000kg

Pickup body length of 10ft - 21ft

You may contact us to know more.

10W Wing Van
- Trucks 32 - 40 feet long and have 12000kg - 28000kg capacity.
You may contact us to know more.

Mini Dump Truck

Truck with payload capacity of 3500kg

Year 2000 or newer

You may contact us to know more.
| | | |
| --- | --- | --- |
| | | |
Here are some backload items that we mostly deliver per vehicle class:
Sedan and MPV/SUV
Small vehicles such as sedans, hatchbacks, MPVs, and SUVs fall under this category.
Customers usually use larger type of vehicles for backload delivery service. But there are also times that smaller size items or goods are delivered for backload, such as baked goods, pastries, and cakes. These items might be smaller in size and quantity but considered backload due to its long-distance delivery.
L300/Van
Mitsubishi, Hyundai H100, Hiace, Urvan, and the likes composes the L300/Van Class.
Using this type of vehicle class, customers commonly deliver fast-moving consumer goods such as medicines, boxes of office supplies, store supplies, food supplies, cleaning products, cosmetics, and toiletries. In addition to that, L300/Van is also an ideal vehicle for long trips. And with the size and capacity of the L300/Van class, it perfectly fits the customer's requirements.
Closed Van
Light commercial 4-wheeler to 6-wheeler trucks like Elf or Canter are included in the Closed Van category. Closed van drivers or operators are mainly to gain great trucking business opportunity since these vehicles type is the most recommended vehicle for backloading.
Business companies mostly demand these types of vehicles, larger trucks with wide spaces to fulfill a bigger distribution. This vehicle type is known for delivering items for lipat-bahay or purchasing larger items. With a capacity of up to 1900kg, a closed van has the right size for regular business customers booking for bigger deliveries.
Items for 2023 backload delivery are usually from the houses, warehouses or stores such as refrigerator, television, washing machine, furniture, and other household items.
Open Trucks
This category consists of light-duty trucks like drop-down gates with the edge of a platform. Vehicles under this category are elf, dropside, forward, and the likes do not have a cover, unlike closed vans.
Clients usually use these types of vehicles for taller items. These are usually construction materials such as woods, metals, coco-lumbers, cement, metal bars, etc.
Wing Van
Transportify also has trucks with 32 feet in length and has 15 tons capacity. These kinds of trucks fall under the wing van category.
Businesses like furniture and storage services, appliances, and chemicals mostly benefit from this vehicle class. Manufacturing companies who do not have their in-house trucking transportation also use this vehicle for backload delivery.
Mostly, backload delivery items under the 10-wheeler wing van category were from business clients. These different types of cargo are usually from factories or warehouses.
Frequently Asked Questions:
What are the other trucking business opportunity you can start?
🚚 Trucking businesses are the fastest growing industry today. This is because a lot of goods are transported from different places in the country on a daily basis. Some business opportunities in the trucking industry include:
Quarry or quarry delivery – carrying of sand, gravel, cement, and other raw supply materials to construction companies.
Oil companies – distributing petroleum products on behalf of oil companies.
Manufacturing – pick up and distribution of their goods from warehouse to warehouse.
These are some of the several opportunities available in the trucking industry, but most of these businesses have contracts that limit your possibilities and might be too risky. These contracts might also limit extra earnings since your salary is fixed, even reaching more than your quota.
Are there any apps that do backload delivery?
🚚 There are a few logistics platforms that also cater to backload delivery. Some of these are Mober Philippines, Lalamove, and one of the newly launched app called "Carga." Carga seeks to provide the first backload transport solution for shippers and truckers. The app also enables small and medium enterprises to connect to a pool of truckers. But most of their truck units are company-owned and from their corporate partners. So far, they are not accepting driver applications from individual drivers or truck operators and have no registration published or announced online.
Unlike Transportify, with a wide variety of vehicles, they offer to their customers, they also accept a wide range of vehicle types. Individual drivers and operators can register online and get activated the same day they apply.