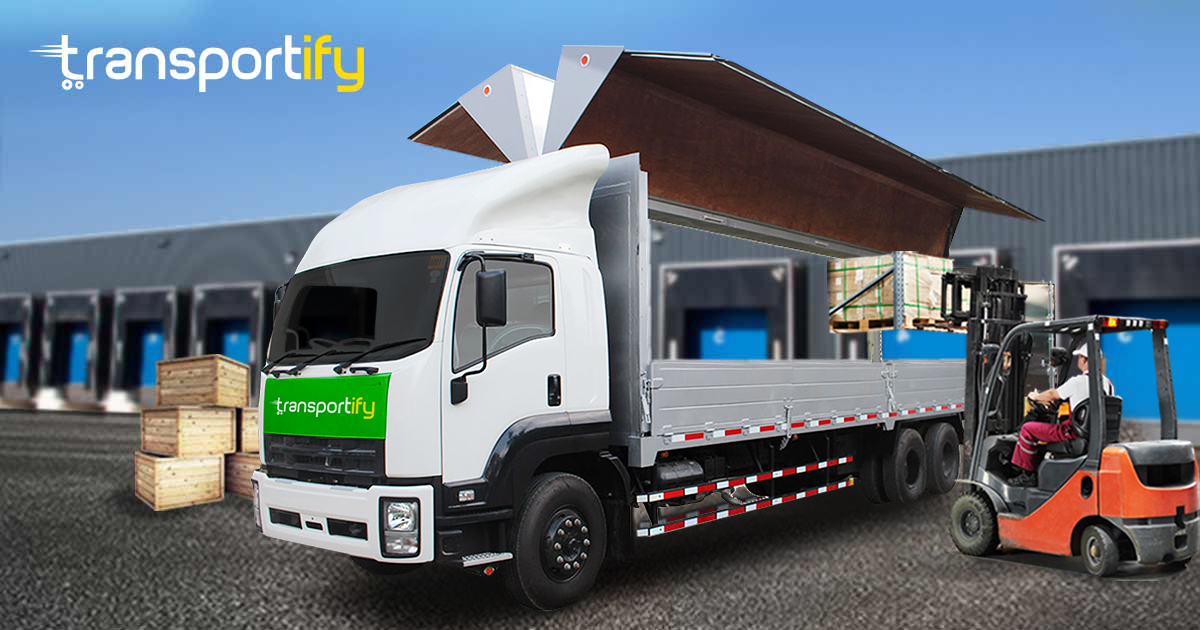 Here at Transportify, we take great pride in offering our valued clients variety. That means, a variety of vehicles to choose from, a variety of delivery options, and a variety of ways to streamline your business and ultimately save money. No matter how big or small your business, we have the systems in place to accommodate your every logistics need. So, if you need to make a few personal deliveries and only require a smaller vehicle; we can assist you. Alternatively, if you've got your hands full and need a 10-wheeler truck, then you'll be pleased to learn that we can accommodate you as well. Consider us your "wing van."
The benefits of high-tech truck transport
Truck transport is an essential part of a large company's logistics needs. A 10-wheeler truck wing van can not only deliver huge quantities of goods across the Luzon, but they're also incredibly easy to load and unload. As the wings of the vehicle rise, the goods can be stacked or unloaded without having to lug everything out the back of the truck. This is just one of the many benefits of truck transport. What are the rest?
1Cost and energy-efficient
Using a 10-wheeler truck to handle large deliveries is much more cost-effective, than having several private vans carry smaller loads over the same distance. Additionally, you'll be significantly reducing your carbon footprint by adopting such an approach. Again, the last mile deliveries can be handled by smaller vehicles over shorter distances, ultimately finding the most efficient way of handling your delivery logistics.
Capacity and Pricing
Rates
Standard Rate
₱8,000
+ ₱85/km (Less than 60kms total distance)
+ ₱65/km (60kms or more total distance)
Dimension
Length: 32 ft
Width: 7.8 ft
Height: 7.8 ft
Capacity
15,000 kg
2nd Extra Helper
₱400 per booking
Additional Destination
₱100 per drop-off
POD Return Service
₱80 (1st-3rd drops)
₱160 (4th-10th drops)
₱200 (11th-15th drops)
The rate for 10-wheeler wing van includes one Extra Helper, driver's fee, vehicle use, fuel, and full-service (loading and unloading). Parking and tolls are extra and will be subject to reimbursement.
2Straightforward tracking
In addition to all of these other benefits, it's a lot easier to track the one 10-wheeler truck, particularly if you're going through a third-party delivery company like Transportify. We use GPS tracking software that will enable you to keep an eye on your truck transport every step of the way.
3Professional drivers
Of course, not just anyone is allowed to get behind the wheel of a sizeable 10-wheel wing van truck. Our drivers go through rigorous training to ensure that they are exceptionally skilled and able to carry such heavy loads with precision, professionalism, and careful consideration. If you are worried about the integrity of your goods and want them to arrive safely at their desired destinations, using a wing van truck transport service through Transportify is undoubtedly the way to go!
4Setting you up for last-mile deliveries
10-wheeler trucks like wing van can carry the majority of your goods to a specified location or warehouse. There, they can unload and prepare for the "last mile" deliveries. This is essentially a group of smaller vehicles and delivery drivers that will then disperse the rest of the goods and get them to their final destination quickly and efficiently. Using a third-party logistics company that offers a wide range of delivery truck transport choices is the most effective way of handling your supply chain process.
Our wing van truck transport caters to all deliveries in Mega Manila to any point in Luzon. To book, schedule your deliveries 24 hours before the pick-up time or up to two weeks in advance using Transportify mobile and web app.