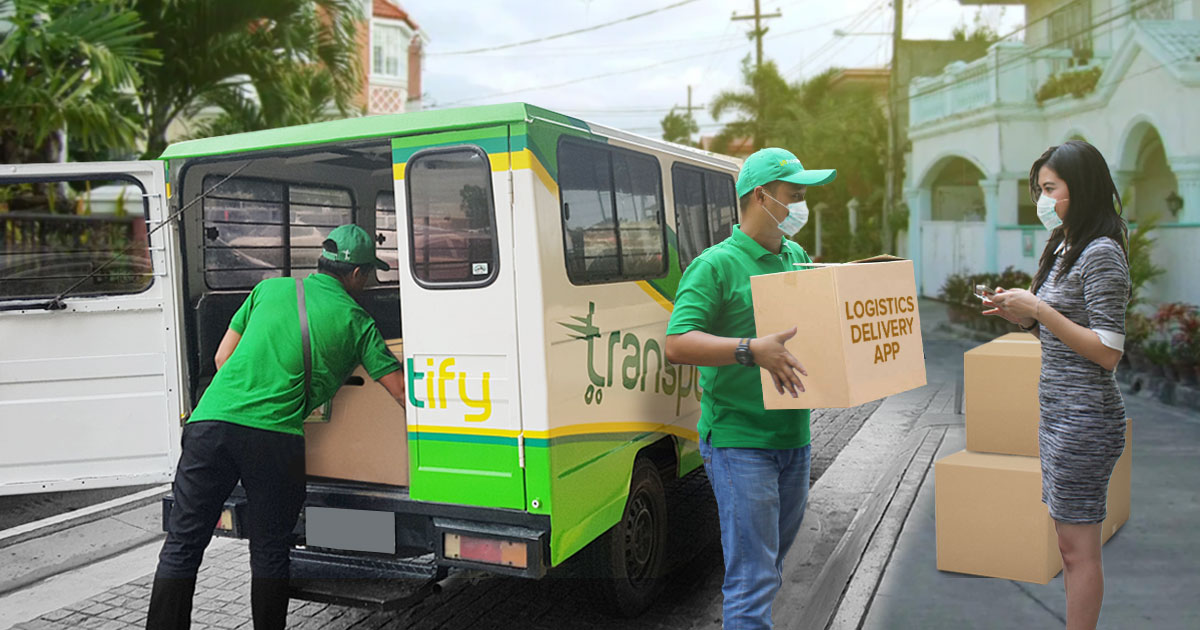 In the Philippines, online shopping has become a new and common way of purchasing new items. From shoes and clothes to laptops and small appliances, buying things via online selling platforms provide a convenient way of getting the items you want. As this new consumer behavior rises, the need for last mile delivery providers is also high. Online sellers must meet their client's demands of fast deliveries.
An ecommerce logistics company like Transportify can surely provide transportation services from your pick up point up to your customer's home. Get an instant quote to check our affordable delivery service rates.
Experts predict that the online retail industry in the Philippines will only experience an upward trend in the coming years. Global Web, a market research company, says that roughly 48% of Filipinos plan to continue online shopping even after the pandemic is over.
In fact, a report from Google and Temasek states that the size of the ecommerce market in the Philippines will grow to about 12 billion US dollars by 2025. Thus, businesses engaged in selling their products online must be ready to accommodate the growing demand of the Filipino people. They should include last mile delivery services as part of their ecommerce logistics solution.
Understanding Last Mile Delivery
Most of the time, an online transaction ends with the seller asking for the home address of the buyer so that the purchased items can be transported to the buyer's home. At this point, the buyer eagerly waits for the products to arrive. This part of the transaction is crucial for customer retention because if deliveries arrive late, then chances are that customer will not buy from that seller again.
This is where last mile delivery comes into the picture. Last mile delivery is simply the transportation of goods from a seller's distribution hub up to the final destination which is usually the customer's place of residence.
The B2B last mile delivery service is needed in every ecommerce logistics operation because it enables the transportation of purchased goods to the customer's home. From the point of view of an online seller, last mile delivery is extremely important because if the infrastructure is not set up properly, then it will be difficult to meet customer demands which can lead to unfulfilled orders and ultimately, loss of customers.
The table below shows some vehicles of Transportify perfect for last mile deliveries.
Vehicle Type
Base Price


(Metro Manila)

Base Price


(Everywhere Else in Luzon)

Base Price


(Visayas/Mindanao)

6w Fwd Truck


18 x 6 x 7 ft




7000kg

4850 PHP
4850 PHP
4850 PHP
Closed Van
Extra Load 4000kg


10 to 14 x 6 x 6 ft




4000kg

2700 PHP
2550 PHP
2550 PHP
Closed Van
Extra Load 3000kg


10 to 14 x 6 x 6 ft




3000kg

2400 PHP
2120 PHP
1950 PHP
Closed Van
Regular 2000kg


10 to 14 x 6 x 6 ft




2000kg

1800 PHP
1450 PHP
1450 PHP
SEE ALSO
What Are The Challenges of Last Mile Delivery
One can easily agree that fulfilling customer demands of prompt delivery to their doorsteps is not an easy feat. There are many factors and challenges that ecommerce logistics providers must face. Furthermore, the logistics landscape in the Philippines is not an easy field to navigate due to numerous factors such as frequent weather disturbances, fluctuating demand, and the fact that it is a country made up of more than 7,000 islands. Here are some of the major difficulties of last mile delivery operations.
1Achieving routing efficiency
Efficiency in making deliveries is a major factor to consider for any last mile delivery service provider. Surely, it is always the best decision to deliver more while spending less. Routing efficiency, therefore, is important since it allows logistics companies to optimize their transportation of goods which enables them to fulfill more deliveries while minimizing operational costs. Usually, a technology-based solution is implemented to achieve routing efficiency. A fast cargo logistics company like Transportify has a built-in route optimization feature designed to calculate the shortest path possible so that you can save time and money while making multiple deliveries.
2Managing delivery volumes
The rise and fall of consumer demand in the Philippines can happen anytime of the year. For example, when a new product is launched, demand for that item is high and last mile deliveries are hard to fulfill. An online seller can choose to procure more vehicles and hire drivers in order to meet delivery needs. However, as the months pass by, less and less people are availing that product and so the owner now faces a surplus of delivery vehicles and drivers.
A good way to avoid this problem is by availing the services of on-demand logistics companies like Transportify. An online seller just has to book the vehicles he needs for that particular moment and there are no other obligations such as monthly fees and minimum number of bookings. In short, an on demand logistics provider can just supply you with the right number of vehicles you need for that particular time. Thus, you can book more vehicles during peak seasons while booking only a few during months when demand is low.
3Unpredictable variables
Factors such as inclement weather and urban traffic can make ecommerce logistics difficult in the Philippines, particularly in Metro Manila which accounts for about 38% of all ecommerce transactions according to BusinessWorld. In order to fulfill last mile delivery requirements, an online seller should look to ecommerce logistics providers who are available anytime. Transportify has such capabilities because the app allows users to make bookings at any time of the day.
Why Is Transportify Considered as a Solution for Ecommerce Logistics?
Transportify, a third party logistics provider, offers numerous delivery and freight services to users, both corporate and individual bookers. These trucking services are aimed at providing the best delivery experience to clients. The ecommerce business in the Philippines can greatly benefit from the many delivery options provided by Transportify.
Variety of vehicles
Transportify has a wide range of vehicles from sedans all the way to 10 wheeler wing vans. For last mile delivery however, the sedan and the L300 van are perfect for such operations. Because there are many drivers operating these vehicle types, you can be assured that there is any available sedan or L300 near your area. Furthermore, the closed van delivery truck can accommodate large volumes of last mile deliveries. This vehicle type is perfect for transporting items like appliances, furniture and even gym equipment. This ecommerce logistics company has all the necessary vehicle types of last mile delivery.
Delivery Nationwide
There are many cases wherein an online seller has to deliver to the other side of the region. In such cases, the seller needs a logistics company that can cover the whole area of Luzon. With Transportify, last mile deliveries can be fulfilled anywhere within the service areas.  An online seller does not have to worry about how to fulfill delivery requirements to far-flung areas. This logistics and delivery app allows you to pick up in Luzon, Visayas, and Mindanao.
24/7 Availability
One of the advantages in using this on-demand delivery app is that it can service delivery requirements anytime of the day. As mentioned earlier, an ecommerce company needs a logistics company that can easily adapt to various circumstances. By being available anytime for bookings, Transportify assures online business owners that it is the solution to ecommerce logistics operations. Furthermore, the customer service operations of Transportify are also available 24/7. In that way, concerns related to the book can be addressed right away.
Transportify Business Program
If your business is in need of regular delivery services, then you can greatly benefit from the Transportify business program. This program offers many services that are tailored to the requirements of a business. Among these services are insurance up to Php 3 million for stolen, damaged or lost goods while in transit, flexible payment options and your very own account manager to assist you in all your logistics concerns. Click on the button below to learn more about our business program.
Business Program
Services
Program Features
Live Support

Open 24/7

Prepay

Available

Postpay with Monthly Invoicing

Available

Destinations

A total of 16 destinations can be added in every booking

COD/POD
COD + POD
2.50% of invoice
Min of 80 PHP
(Flat Fee/Booking)
POD Only
80 PHP for ≤ 3 destinations
160 PHP for ≤ 10 destinations
200 PHP for ≤ 15 destinations
Insurance and Warranty

Up to 3 million PHP coverage from OONA Insurance

Nationwide Service Area

Available




Interisland and Same Day Trucking in Luzon, Visayas, and Mindanao

Business Web Dashboard

Team Account Management Customized Reports
An online selling company need not worry about the logistics side of their business. They do not have to go through the hassle of planning transportation routes and doing the deliveries themselves. With Transportify, they can leave the logistics operations with the experts. Download Transportify by scanning the QR Code or clicking the button below:
| | | |
| --- | --- | --- |
| | or | |
Frequently Asked Questions
Why is Last Mile delivery important?
🚚 Last mile delivery refers to the movement of goods from the retailer's warehouse or distribution center up to the final destination which is usually the home or office of the buyer. Last mile delivery is important because it enables an online seller to distribute purchased items to buyers. Unlike setting up pickup points for ordered goods, last mile deliveries provide a convenient way for buyers to receive their items. Transportify, an app based logistics company, provides last mile delivery services at affordable prices.
What are some challenges of ecommerce logistics?
🚚 There are many challenges in the field of ecommerce logistics. One of these challenges is the ability to adapt to the fluctuating demand of the consumers. Another challenge is the inclement weather that is often experienced in the Philippines. Lastly, there is the problem of delivering to areas which can not be reached by other logistics companies. Fortunately, all these problems can be avoided when using an on-demand logistics app like Transportify.