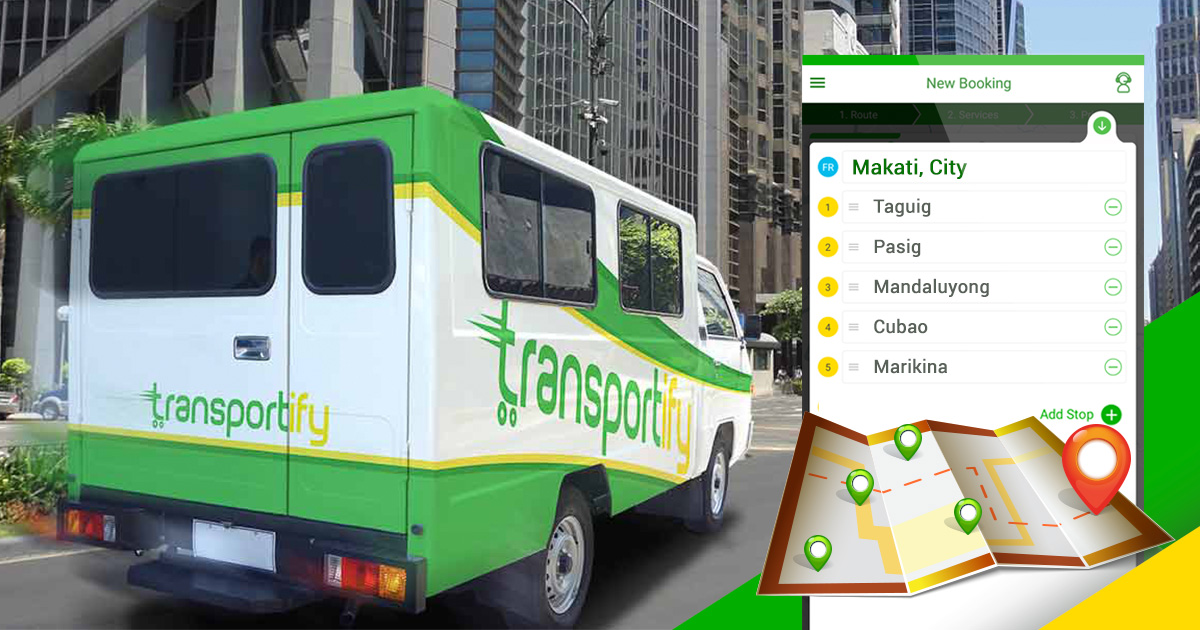 These days, it is hard for people to get high-quality services without spending too much money. Fortunately, Transportify offers a logistics service that is both sophisticated and affordable. As Manila's 2023 smartest logistics provider, Transportify's user-experience design itself is what allows clients to have inexpensive delivery costs. Besides our customizable services, we also have an advanced logistics feature that can reduce a client's expenses on delivery distance.
What Are The Advantages Of Using Cargo Logistics Apps?
1Multiple drops with one transaction
Unlike traditional courier service providers, Transportify, as one of the best in fast cargo logistics services Philippines, allows clients to send more than one package with just one transaction. Instead of creating a new transaction for every package you send and charging you a new bill every time you make an original booking, you can select multiple drop-off points, one for each of the packages you need to send on that same day. Transportify as your fast Pilipinas cargo logistics even allows clients a maximum of 15 drop-off points with one transaction, making Transportify a very suitable third-party SME logistics needs who want to minimize logistics costs this.
2Customizable chronological order
Not only can clients customize the services they want and the number of drop-off points they need, but they can also decide which destination the Transportify delivery driver partner should make on the first drop-off. This, in turn, enables our optimized route service. With the drag and drop technology present in the Transportify app for delivery service, clients can arrange the drop-off points' sequence according to their desire. You can arrange the chronological order of delivery so that the first drop-off could be the nearest one from the pickup point. The last drop-off could be the farthest one, reducing the number of kilometers you need to pay for by preventing the driver from going in circles.
Additionally, the customizable delivery chronological order feature can also be used to deliver packages to prioritize customers first, which makes Transportify one of the best fast cargo logistics services Philippines.
3Cost-efficient suggestions
Because we only want the best of convenience for our clients, the Transportify app is designed to make intelligent delivery route suggestions for your deliveries. Both the Transportify web app and the mobile app can optimize your delivery route to help you have a cost-efficient delivery. Our app automatically calculates the shortest path that the Transportify delivery driver partner could take so you can save both time and money when making a transaction with multiple destinations, making Transportify one of the fast cargo logistics services Philippines affordable rates in the country.
The Transportify app may be sophisticated and advanced. Still, unlike other modern apps that use high quality to charge their clients higher, we use our app's intelligent design to further serve clients by reducing their logistic expenses. You may refer to the table below for our standard fleet types and services.
Vehicle Type
Dimensions/
Weight Limits
Base Price
(Metro Manila)
Base Price
(Outside Metro Manila)
Base Price
(Visayas/Mindanao)
Wing Van 
32 to 40 x 7.8 x 7.8 ft
12000kg to 28000kg
7500 PHP
6500 PHP
6500 PHP
6w Fwd Truck
18 x 6 x 7 ft
7000kg
4850 PHP
4850 PHP
4850 PHP
Closed Van
10 to 14 x 6 x 6 ft
2000kg to 4000kg
1800 PHP
1450 PHP
1450 PHP
Open Truck
10 to 21 x 6 ft x open
2000kg and 7000kg
2300 PHP
1950 PHP
N/A
Mini Dump Truck
10 x 6 ft x open
2000kg
1500 PHP
1200 PHP
N/A
L300/Van
8 x 4.5 x 4.5 ft
1000kg
430 PHP
330 PHP
310 PHP
Small Pickup
5 x 5 ft x open
1000kg
310 PHP
250 PHP
220 PHP
Light Van
5.5 x 3.8 x 3.8 ft
600kg
250 PHP
192 PHP
225 PHP
MPV/SUV
5 x 3.2 x 2.8 ft
200kg
160 PHP
130 PHP
140 PHP
Sedan
3.5 x 2 x 2.5 ft
200kg
140 PHP
110 PHP
120 PHP
How Fast Cargo Logistics Services Philippines Helps Your Business
Gone are the days when the logistics services the Philippines used to experience significant losses due to drivers' unavailability, high transit time, lack of infrastructure, low turnaround times of vehicles due to multiple checkpoints, and expensive fuel costs.
Most leading logistics services Philippines are now successfully using their transportation optimize routes and schedules to assist clients' short notice requirements, the continuously rising cost of gas and fuels, and the problem that lies in the unavailability of vehicles.
Well, hail to route optimization, these problems can be solved instantly this 2023!
However, what could be the importance of the optimized route features for your business and the logistics services Philippines?
Advanced logistics solutions aid drivers and your business, and fast Pilipinas cargo logistics, to select the best optimize the route to transfer and deliver cargo to ensure the cheapest cost of transportation.
Also, it lessens the issues that most logistics Philippines had faced due to vehicles and drivers' unavailability while meeting the client's short notice of services. Also, using optimized routes in fast cargo logistics handles real-time events like traffic conditions, availability of drivers or vehicles for the unloading and loading of cargo, etc.
Name any mishaps and inconveniences that may arise during the transport; this advanced logistics feature can quickly respond to them.
To make it simple, this aids in giving solutions to different challenges that most transportation and logistics companies usually face. Thus, more logistics Philippines like Transportify, offer customers user-friendly mobile apps for improving their services by adding route optimization as an additional feature for outstanding benefits.
The Benefits of Fast Cargo Logistics
Why do you think a logistics company should use a route optimization feature to their services? Transportify offers the fastest route feature to help businesses and individuals meet the receiver's demands for quicker and more accurate deliveries. Besides, the optimized route feature streamlines different processes, reducing fuel expenses and improving overall efficiency. To optimize route is an essential contributor to shipping and logistics companies' overall success and, ultimately, businesses.
1Saves You Time
Using route optimization features in a particular fast Pilipinas cargo logistics is a huge benefit to time and resources. Not only it improves the overall fleet productivity of a specific freight forwarding service, but it also allows jobs to be finished quicker. Drivers will deliver cargo logically and in a timely and accurate manner without experiencing backtracking from the job to the task.
These technologies are essential for same-day cargo delivery services, which are often needed by most small businesses and individuals. Efficient and cost-effective responsibilities can produce happier drivers and satisfied customers, as well.
2Less Expensive
Handling fuel and gas expenses is a huge benefit of having advanced fast Pilipinas cargo logistics features. Fuel expenses are drastically rising, so optimizing all routes is the answer to reducing particular costs in the shipping industry. When shipping industries save a lot from fuel expenses, they will also offer low-cost services to their customers.
Instead of using and wasting fuel in most of the congested traffic routes, or backtracking for delivery orders, route optimization on the other side will show the most cost-efficient path to each job responsibility and prioritize which direction is the best for the drivers.
With the help of logistics technology, job, and route dispatching is being done for you instead of having someone do the relay jobs for each driver manually. This helps to minimize and lessen the administrative overhead. It enables employees to focus more on top-priority tasks.
3Customer Service
Customer expectation is one of the primary goals of every logistics service these days. Not only it helps to build your reputation among other competitive companies, but it can also make your customers loyal to your brand. When choosing a shipping delivery partner, the ability to give efficient and quick delivery services is vital. Most retailers not providing expedited shipping options will usually experience abandoned orders and lessen revenues.
Having to optimize routes will enable organizations and shipping companies to increase shopper requests, which can improve service levels and create a competitive advantage against competitors. Moreover, this kind of golden feature for shipping companies should be highly sought after and regarded. To be able to optimize your logistics features will surely bring shipping expectations to a different level. It can ultimately save your business investment, as well as satisfy your consumer expectations.
Transportify, as your fast cargo logistics services, offers a useful additional optimization feature for its customers and provides many business owners to take their service to the next level with this outstanding feature.
When choosing a cargo shipping delivery partner, the ability to give efficient and quick delivery services is vital. Most retailers not providing expedited shipping options will usually experience abandoned orders and lessen revenues. This will enable organizations and shipping companies to increase shopper requests, improve service levels, and create a competitive advantage against competitors. To know more about our updated service offerings, refer to our website and explore the benefits of choosing Transportify as your go-to logistics provider.
| | | |
| --- | --- | --- |
| | or | |
Frequently Asked Questions:
How can a fast cargo logistics provider help businesses?
✅ In logistics, it is imperative to have successful movements from any point. The more efficient it is the lesser costs that deliveries will incur. Fast cargo logistics providers enable businesses to deliver their goods in the shortest time possible. This is possible with high tech devices and advanced logistics features like route optimization and GPS technology. Google has made it possible to track the traffic situation in real-time. So that users can monitor immediately if the route to take is busy or not. Route optimized services allow users to take the shortest path possible. This helps drivers maximize the sequencing of deliveries and minimize the use of resources.
What is the best choice for a fast cargo delivery service in Manila?
✅ LBC is still the biggest and most reliable parcel delivery service in Manila and the entire country. Their presence is widely seen everywhere in the Philippines, making small packages and documents reach even the most remote places. In Manila, there are faster ways to deliver your cargo within the city. The advantage of a mobile app removes the process of going to a delivery store. Grab express, and Lalamove has motorcycle fleets that can deliver your packages almost instantly. Transportify offers similar service but the use of larger vehicles, from sedans to 10 wheel trucks. The best choice boils down to the size of the load and space needed for deliveries. This ensures that your delivery is fast and your goods are safe.