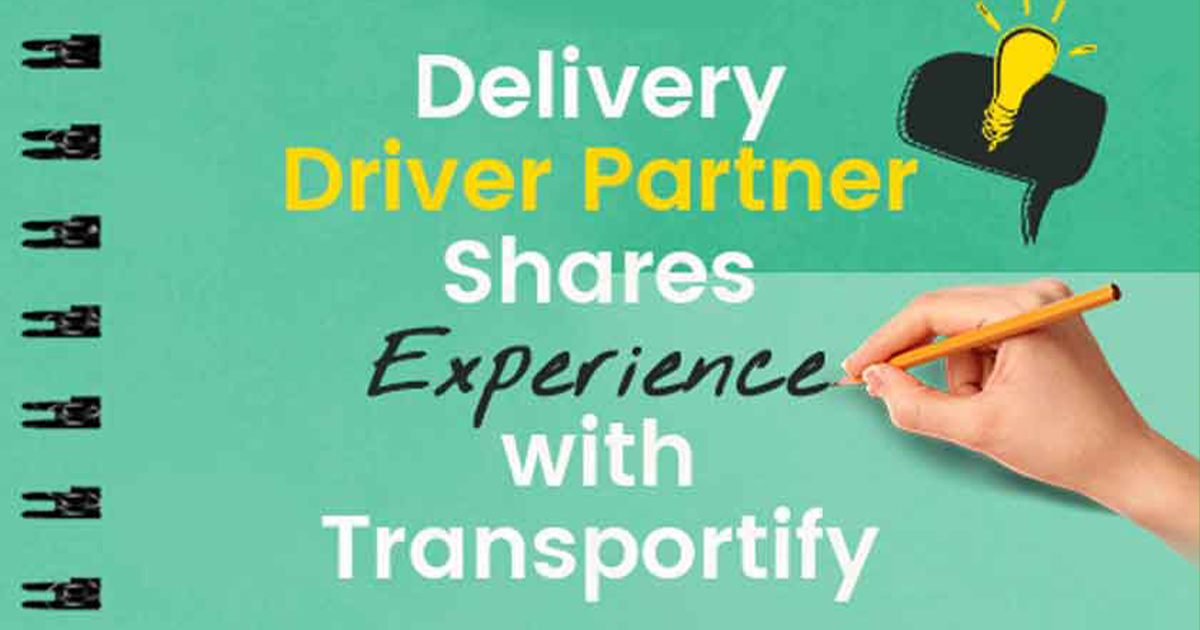 In an interview, Transportify Delivery Driver Partner Zosimo Halibay Jr. shared how much he enjoys his work experience and benefits since he joined the Transportify delivery company last August 16, 2016.
According to Halibay, there are many benefits in applying and being a Transportify delivery driver partner. For one, the driver earnings reached as much as P50, 000 each month with just 3 delivery trips a day. For a 53-year-old retired policeman with only his pension to rely on for his children's tuition and his family's daily expenses, that kind of income is a great help. Additionally, he is not always tired from working since he can decide his own schedule. Moreover, being a Transportify delivery driver partner became a way for Halibay to meet new people and find new friends.
Flexible Schedule
One of the benefits of being a Transportify driver partner is having a flexible schedule. With the Transportify Driver Partner Program, many car owners like Halibay are able to earn income by accepting delivery bookings whenever they want and wherever they want. Drivers can choose to accept bookings with the time and date that fit their personal schedule. Accepting a full day booking request is not required but is based on their decision and availability. This makes the Transportify Driver Partner Program a good part-time job for people looking for extra income or for a productive thing to do during their free time.
Build Bridges
In his testimony, Halibay expressed how happy he is to interact with new and existing clients every day when driving around with his Transportify van for rent. Clients have the ability to take note a satisfactory delivery driver and choose to book them for their future delivery services. Halibay also discussed how grateful he is for his clients' positive feedback towards Transportify's on demand delivery app.
Fellow Drivers
Halibay also mentioned how glad he is to have such nice and kind fellow Transportify delivery drivers to work with.
"Maganda naman po ang experience ko sa Transportify kasi marami akong nakikilalang mga kaibigan, mga bagong kasamahan, at yung mga tao sa opisina na mababait, at mga customer na nagtiwala sa akin (My experience at Transportify has been great because I am able to meet new friends, new colleagues, and the office employees are nice, as well as the customers who have put their trust in me)," Halibay stated.
Above all, Halibay is grateful to be a part of Transportify and to all the help and happiness he has received ever since he joined the team. He also encourages others to try and apply as a Transportify driver partner. Halibay is one of our thousands of growing delivery driver that all of our customers love.
You can also watch Halibay's testimony as a reliable Transportify driver partner in YouTube.
Check out the business program benefits that you will get when working with Transportify.
Business Program
Services
Program Features
Live Support

Open 24/7

Prepay

Available

Postpay with Monthly Invoicing

Available

Destinations

A total of 16 destinations can be added in every booking

COD/POD
COD + POD
2.50% of invoice
Min of 80 PHP
(Flat Fee/Booking)
POD Only
80 PHP for ≤ 3 destinations
160 PHP for ≤ 10 destinations
200 PHP for ≤ 15 destinations
Insurance and Warranty

Up to 3 million PHP coverage from OONA Insurance

Nationwide Service Area

Available




Interisland and Same Day Trucking in Luzon, Visayas, and Mindanao

Business Web Dashboard

Team Account Management Customized Reports
Top Benefit of Working as a Delivery Driver
The increase in the use of mobile applications as a business platform has not only helped millions of companies gain considerable profit, but it also gave thousands of Filipinos a job.
In 2019, the Land Transportation Office has reported that there are more than 7 million drivers around the Philippines and over 3 millions of those are professional drivers. These professionals consist of not only drivers who works on public utilities, but it also covers those that works as a delivery driver.
Today, thousands of Filipinos earn a living by being couriers. The rise of e-commerce industry has provided a means of income that will help households around the Philippines. In the country, Transportify driver earnings provide a sustainable income for couriers.
If you are planning to be a delivery driver, here are several benefits that you can get.
1Make a profitable use out of your vehicle
Private vehicles are not allowed for public transportation. However, this does not preclude its use on other works that could be a nice hustle for an income. This is very beneficial for you if you are a househusband/wife who owns a car that is not often used.
With the increasingly growing delivery mobile applications, the need for more delivery driver has risen. In the industry, Transportify driver earnings are one of the most promising sources of income as a delivery driver. As such, you can make use of your vehicle not only for limited private transportation, but for monetary use as well.
Both you and your time can be converted into a profitable livelihood and contrary to most situations, your car becomes a profit generating asset.
2Work according to your time
Working as a delivery driver is beneficial especially if you dread going to an office at an 8 to 5 time. In fact, research provides that more than 75% of employees consider having a flexible time one of the most important factors that affects their productivity and work satisfaction. As such, if you are the type who cannot last long in a clockwork routine, being a delivery driver is totally one of the best ways for you to earn an income. You can start whenever you want and the time you end entirely depends on you.
Not only does Transportify driver earnings help you provide an adequate means to make a decent living, it also allows you to work according to your preferred time. You do not have to dread waking up in the early mornings to prepare yourself because you can work according to when you are comfortable.
3Profit as hard as you work
With the scope of today's economy, sometimes, hard work just does not match the pay slip. Many fall into an endless loop of having a disproportional work input and salary. This is also the reason why employees tend to be burned out easily and some companies have high turn- over rates.
To break this dilemma, being a delivery driver creates a perfect balance between your work input and your income. It follows the simple tenet that if you work hard, you earn more. Certainly, with Transportify driver earnings, you get to see the results of your hard work. And if you love driving, what else can you ask for? Make your love for driving and passion for delivering smiles to people your profession.
Now, you do not have to toil twice as hard just so you could earn an extra income. Being a courier is one of the rising jobs in the Philippines due to the increase of usage of the e-commerce industry. And with the growing users of mobile app for delivery, being a delivery driver will provide you more opportunities.
4Work with Transportify
If you are now enticed to work as a delivery man, then make sure that you get to enjoy the best income rate. In the Philippines, Transportify driver earnings are sustainable and it allows you to have a daily income that is sustainable. Working with us means that there is a team that works with you. Making sure that you are not alone in every delivery you make.
In addition, you can start gaining Transportify driver earnings even if you have a truck. The company not only does delivery services, but it also supports moving, hauling, and trucking services. Transportify won't be successful without our passionate delivery drivers. Contact us now to know more about the opportunities that are waiting for you.
Frequently Asked Questions:
What is the definition of a delivery driver?
?‍♂️ As the name suggests, it is a job in charge of loading, transporting, and delivering the packages to the customer. However, in Transportify, our delivery drivers are more than that. We make sure that our driver partners will provide you the service more than you expect. Our driver partners are known to be courteous and helpful in every delivery they do. Backed up with a high tech mobile app, and a support team, the safety of your package will be the least of your concerns.
How to become a Transportify driver partner?
?‍♂️ Becoming our driver partner is simple! You'll be needing a smartphone (with at least an android OS of 5.0), driver's license, TIN, NBI Clearance, OR/CR invoice number, and cash of ₱500. You can consult with our customer service to know if your vehicle is fit for Transportify. Just come to our offices Pasig, Alabang, or Pampanga, every Monday to Friday from 9 am to 5 pm in, attend the training, and pass the exam.