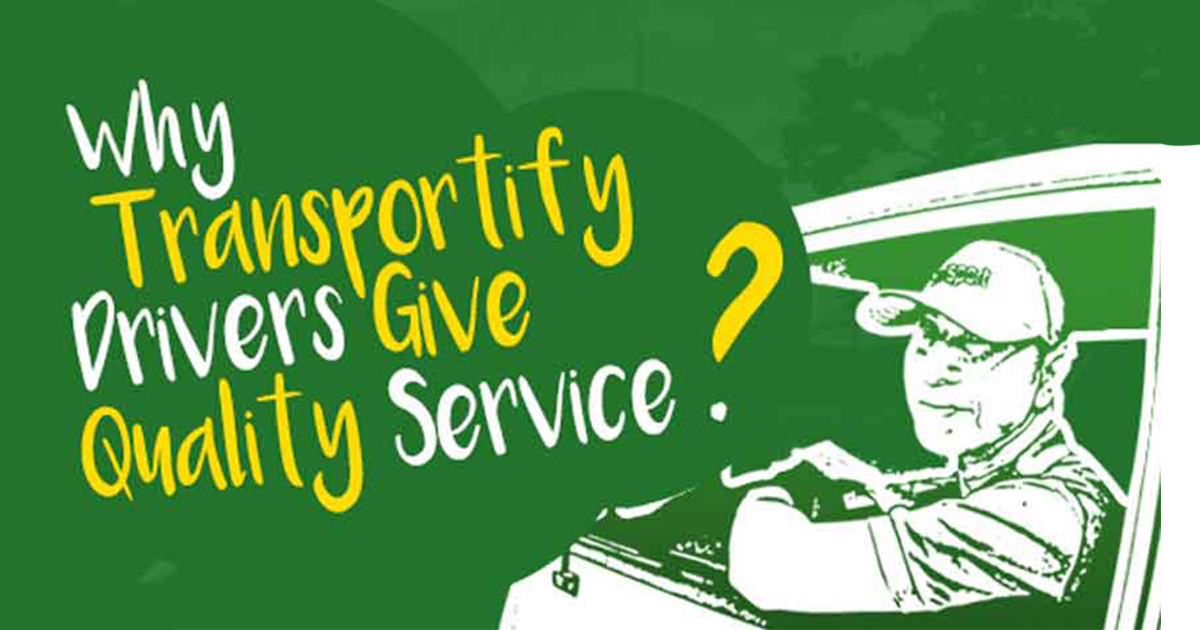 From our service reviews, it is apparent that our delivery driver partners can give quality services that other drivers of logistics service providers do not have. While other courier companies were reported to have impolite and unpunctual drivers, Transportify drivers are known for their pleasing personalities and reliability. Here are the reasons why!
Our drivers are prim and proper
Transportify delivery driver partners need to dress appropriately. Our drivers interact with several different clients each day, so they must be presentable. Each driver partner is required to wear the standard attire, which is composed of a Transportify collared shirt or any plain collared shirt, a Transportify cap, the Transportify ID with a picture, long pants, and closed shoes. This standard attire can also help clients determine legit Transportify driver partners.
Our drivers can be monitored
Based on customer reviews, it was reported that a driver from one of our on-demand delivery app competitors never reached the booked destination. In Transportify, we can guarantee that clients will never have to worry about such an incident. The Transportify app, both web and mobile, has Track and Trace feature, which allows you to track packages you sent in real-time. You can monitor not only the routes and roads our driver is taking, but also information about your package's estimated time of arrival at the destination. Aside from the notification confirming your package's successful arrival, senders will also receive a digital copy of the recipient's signature, validating that he received the package. The table below sums up the services we offer and the corresponding pricing:
Vehicle Type
Dimensions/
Weight Limits
Base Price


(Metro Manila)

Base Price


(Outside Metro Manila)

Base Price


(Visayas/Mindanao)

Wing Van 

32 to 40 x 7.8 x 7.8 ft




12000kg to 28000kg

7500 PHP

6500 PHP

6500 PHP

6w Fwd Truck

18 x 6 x 7 ft




7000kg

4850 PHP

4850 PHP

4850 PHP
Closed Van

10 to 14 x 6 x 6 ft




2000kg to 4000kg

1800 PHP

1450 PHP

1450 PHP

Open Truck

10 to 21 x 6 ft x open




2000kg and 7000kg

2300 PHP

1950 PHP

N/A

Mini Dump Truck

10 x 6 ft x open




2000kg

1500 PHP

1200 PHP

N/A

L300/Van

8 x 4.5 x 4.5 ft




1000kg

430 PHP

330 PHP

310 PHP

Small Pickup

5 x 5 ft x open




1000kg

310 PHP

250 PHP

220 PHP

Light Van

5.5 x 3.8 x 3.8 ft




600kg

250 PHP

192 PHP

225 PHP

MPV/SUV

5 x 3.2 x 2.8 ft




200kg

160 PHP

130 PHP

140 PHP

Sedan

3.5 x 2 x 2.5 ft




200kg

140 PHP

110 PHP

120 PHP
Our drivers are well-trained
In an interview with Bloomberg TV Philippines' show Bright Ideas, Transportify Philippines' Head of Operations Paulo Bengson and Head of Sales and Marketing Noel Abelardo shared how we hire delivery driver partners.
Bengson and Abelardo explained that each driver applicant is required to attend seminars and trainings provided by the company. Afterward, the applicants will undergo a test that they must pass to qualify as best delivery driver partners. If the applicant did not pass the test, he must retake all the seminars and training, then retake the test. They cannot qualify as a delivery driver partner until they passed the test. When the company is sure that they can give quality service to clients, only then can they start to drive Transportify vehicles.
Transportify the Philippines is not only concerned with providing clients with a fast courier service. We also prioritize our clients' experiences with our delivery driver partners. For this reason, we make sure that our drivers are all very well-trained before we let them drive, make transactions, and interact with our customers.
Must-Have Qualities of Trucking Service Delivery Driver
For a logistics company to serve high-quality trucking service when it comes to transportation and order fulfillment, they should look for the most reliable and trustworthy delivery driver. But aside from those basic traits that you have read above, what qualities do you think a delivery driver should have in Transportify?
As one of the best trucking service providers in the Philippines, here in Transportify, we know that there's a particular skill set needed to succeed in this competitive market. Even though several skills are inborn, many driving skills can be thought and embraced to enhance the overall driving performance – and that includes capabilities for logistics.
Being a delivery driver for a logistics provider like Transportify must uphold an efficient and work ethic to accomplish the company goals in all the parties involved. Here's what our delivery driver is doing to excel in this industry, and how our customers benefit from these qualities:
Traits of an Excellent Trucking Service Delivery Driver
Talent and skills will accelerate our delivery driver's performance to provide excellent cargo trucking service to our customers. The following characteristics and qualities are traits of an exceptional delivery driver that you can get once you choose to be partnered with us:
1A Smooth Driving Record
You can rest assured that our delivery driver has a clean driving record, primarily if she or he is assigned for trucking service. Driving a truck is not an easy task compared to other vehicles; it requires good judging and driving skills to prevent any possible mishaps along the road.
Here in Transportify, we ensure that we only hire the most appropriate and deserved drivers who can ride our trucks to fulfill our customer's delivery needs. As much as possible, we prevent hiring inefficient delivery driver, because our reputation will be at risk.
Like what was mentioned before, for a logistics company to be successful and to maintain a functional status in the logistics industry, it is a must that a delivery driver should have all the possible good trucking service qualities. Not only for our business reputation but for the safety of both employees and shipments.
Transportify wants to give the utmost trust in our partner-drivers, and having an excellent driving record will provide us with a sense of relief, not only for us and for our customers as well. Moreover, a trucking service company with clean driving records only shows that we uphold professionalism, reliability, and poise.
Moreover, a driving record without any past mishaps is an excellent choice for making us a respective and reliable logistics company compared to other logistics giants.
2Outstanding Communication Skills
This skillset serves an individual's people skills and how well a delivery and truck driver can communicate with other people. Our partner-driver is our representative on behalf of our company, so we ensure that we only hire the most courteous and well-mannered individual who can give us an excellent reputation for our customers.
These customer service qualities are needed to have positive customer relationships. This face-to-face interaction with the customers is an extension of our business reputation. So rest assured that our delivery driver, especially for our trucking service, we only choose the best of among the rest.
3Excellent Level of Alertness and Awareness
Our trucking service delivery driver is well-engaged on the open road, that's why a constant awareness and alertness is needed at all times. Our partner-drivers are well prepared when it comes to possible accidents, and such, they are trained to drive outstandingly. Meaning, their eyes are always on the road, measures, and judgment is prioritized to prevent dozing off.
As much as possible, we prevent road mishaps, that's why we only hire qualified and well-trained drivers who can handle such a situation professionally. With our trucking service, we always deliver large and bulk items, so an additional level of cautiousness is our number one priority. We ensure that our customer's packages will be delivered on time and in good condition.
However, accidents are accidents. No matter how cautious a driver can be, there will be times that an accident may happen. Because of this, we provide insurance for the packages as well. To find out more about the coverage that we offer to our business partners, you may call our customer service for more information.
4Stress Management
Being a trucking service delivery driver is not an easy task. This job is stressful because usually, our trucks are loaded with heavy loads, and our drivers must make sure that it will be delivered safely.
But don't worry! Our partner drivers are well-trained to handle such stress; we provide necessary training programs so they can handle the situation well. You can rest assured that your packages are safe with us. Moreover, our number one priority is to make our customers happy with our trucking service.
That's why we only hire the most reliable and efficient drivers in the Philippines. So what are you waiting for? Contact us now to know more about logistics services. Or you can download our on-demand delivery app to place your booking online.
Frequently Asked Questions:
How are the qualities of delivery drivers of Transportify?
? Transportify makes sure that the drivers are carefully trained, physically fit, and can provide all the necessary documents. This results in drivers that the company can trust to fulfill any bookings. More than that, drivers are carefully monitored. In the event, there are new features in the app that the drivers need to learn; there is a dedicated app and team that will provide them tutorials. This team is everyday stationed in the head office to handle complaints and concerns both by drivers and the customers.
What are the latest trends in trucking service in the Philippines?
? Since Transportify and Lalamove launched in 2016, Filipinos have seen the progression in the logistics industry. No one knew the possibility of booking a trucking service using a mobile app. These apps revolutionized how we perceive logistics. It has now become a trend in the Philippines to hire trucking services online. The use of mobile app has made the service more reliable and efficient.