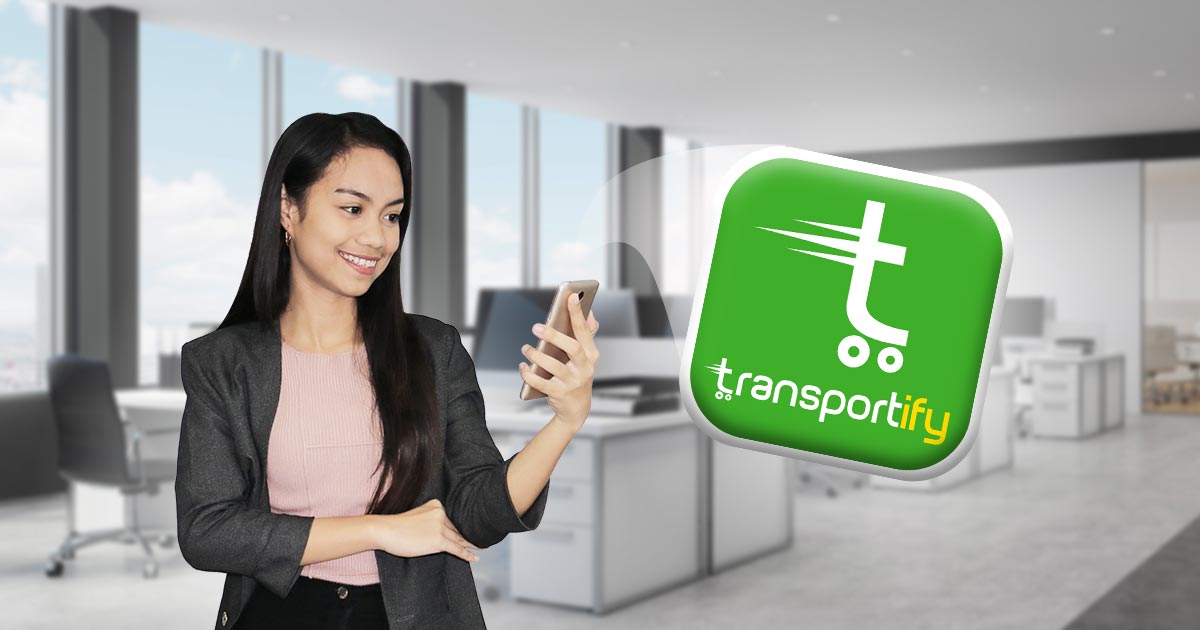 Transportify for Business is catered for professionals and business owners who are always in need of efficient intracity third party logistics provider. The program offers a broad suite of features tailor-made for the corporate client, including pre/post-payment options, additional warranties, and unique opt-in perks. Our program's customer base includes corporates, SMEs, merchants and shop owners, retailers and sellers, restaurants, individuals, and even logistics companies and supply chain management companies, and even other providers of 3PL in the Philippines since 2016 and even up to now, 2020. You can view the different vehicles we offer for your logistics needs.
Column 1
Column 5
Column 4
Vehicle Type
Cargo Dimension
Capacity

Economy

L: 3.5 ft
W: 2 ft
H: 2.5 ft

200 kg

Economy+

L: 5 ft
W: 3.2 ft
H: 2.8 ft

300 kg

L300/Van

L: 7 ft
W: 4 ft
H: 4 ft

1000 kg

Closed Van

L: 10 ft
W: 5 ft
H: 5.5 ft

2000 kg

10-W Wing Van

L: 32 ft
W: 7.8 ft
H: 7.8 ft

15,000 kg
For businesses in need of third party logistics (3PL) in the Philippines.
In this year, 2020, in the Philippines where development continues to rise different small-to-medium business entrepreneurs (SMEs) emerge. Such businesses would require a trusted third party logistics to distribute their products effectively and to better serve their customers, so they need to find an experienced 3PL or third-party logistics provider in the Philippines. Transportify for Business is catered for professionals and business owners who are always in need of efficient supply chain logistics. Our Program provides full end-to-end ground logistics support with additional benefits that's unique compared to other 3PL in the Philippines.
Below are offers of the program that's tailored-suit for the corporate client:
Enrollment isn't just fast but also free. Just sign-up on our website or contact us.
Customer support of 24 hours 7 days a week.
Flexible Payment Terms. Clients can pay either through the postpay or prepay method. Clients can also pay through bank transfer or check. Prepay credits also never expire.
Avail our POD/COD service since we know how vital it is for your business.
Warranty per booking to show how much we value your products. This warranty applies to the customer's insured items that were lost, stolen, missing, or damaged during pick-up, transportation or shipping, and delivery during a Transportify booking.
Select trained drivers that underwent extra training for the handling of cash, check, and delivery receipt.
Clients are provided with their own business web dashboard, a bonus referral, and your very own account manager.
Our program's customer base includes enterprise clients, such as other 3PL / third party logistics provider and delivery company that utilizes Transportify as its fourth-party logistics provider for on-demand situations, last-minute client orders, or when traditional fleet resources are occupied by busy end-of-month and holiday periods. Sign-up your business now this 2020 and take advantage of our benefits for either Metro Manila, Pampanga or Baguio. You can also view our news to know the latest updates about Transportify, the best solution to 3PL in the Philippines.