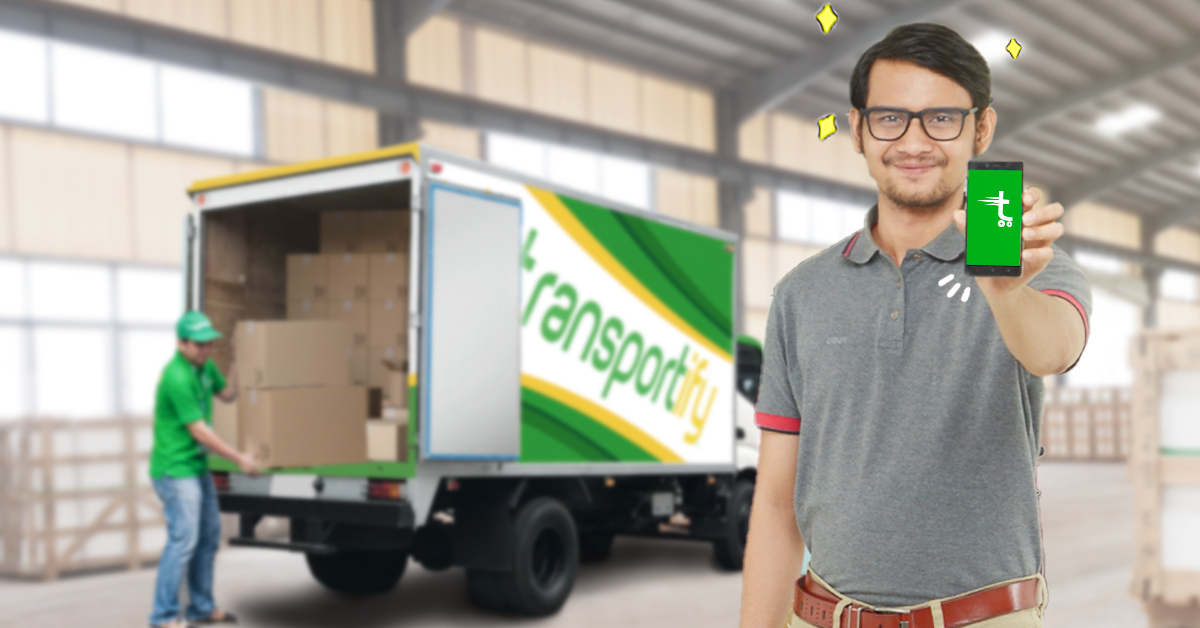 Transportify's Corporate Account for Business is catered to professionals and business owners who need efficient third party logistics providers in Luzon, Visayas, and Mindanao. The program offers a broad suite of features tailor-made for the corporate client, including pre/post-payment options, additional warranties, and unique opt-in perks.
Our program's customer base includes corporates, SMEs, merchants and shop owners, retailers and sellers, restaurants, individuals, even logistics companies, supply chain management companies, and even other providers of 3PL Philippines from 2016 up to now, 2023. You can view the different vehicles we offer for your logistics needs.
How Can a Third Party Logistics Provider Help New Businesses?
Setting up and managing a small business is not an easy task. First, a business owner must have the capital to start the business. Then, he should study the market to see how he can penetrate and make his products known to the people. After that, there is a tireless saga of marketing and sales campaigns to win clients. The business's finance, accounting, and human resources are also to attend to.
On top of that, a business owner must also study his product and find ways to innovate. It can be seen from this brief narrative that a businessman has more than enough activities to keep him busy. In addition, satisfying customers is an undertaking that requires sustained effort and excellent service.
One of the ways to keep your customers satisfied is by providing them with prompt delivery of the goods they purchased from your store. However, with the numerous tasks a business owner has to take care of, is it still possible for him to attend to the delivery requirements of his business?
The answer would be to partner with a third party logistics company like Transportify. Delivering products to customers can often be viewed as a "double or nothing" activity. If you do well, the customers are happy with your services and will likely buy again from your company. But if they are unsatisfied with the delivery, then there is a large probability that they will look at other options. Furthermore, it becomes increasingly difficult to keep up with the volume of deliveries when peak seasons such as Christmas and New Year 2023 draw near.
With a third party logistics provider, you don't have to worry about not meeting customer deadlines. You don't have to spend time creating your fleet of delivery vehicles and training your drivers. A 2023 3PL in the Philippines, such as Transportify is a sure way of keeping your customers happy by providing prompt delivery. The table below shows the affordable rates of this third-party logistics company.
Vehicle Type
Dimensions/
Weight Limits
Base Price
(Metro Manila)
Base Price
(Outside Metro Manila)
Base Price
(Visayas/Mindanao)
Wing Van 
32 to 40 x 7.8 x 7.8 ft
12000kg to 28000kg
7500 PHP
6500 PHP
6500 PHP
6w Fwd Truck
18 x 6 x 7 ft
7000kg
4850 PHP
4850 PHP
4850 PHP
Closed Van
10 to 14 x 6 x 6 ft
2000kg to 4000kg
1800 PHP
1450 PHP
1450 PHP
Open Truck
10 to 21 x 6 ft x open
2000kg and 7000kg
2300 PHP
1950 PHP
N/A
L300/Van
8 x 4.5 x 4.5 ft
1000kg
430 PHP
330 PHP
310 PHP
Small Pickup
5 x 5 ft x open
1000kg
310 PHP
250 PHP
220 PHP
Light Van
5.5 x 3.8 x 3.8 ft
600kg
250 PHP
192 PHP
225 PHP
MPV/SUV
5 x 3.2 x 2.8 ft
200kg
160 PHP
130 PHP
140 PHP
Sedan
3.5 x 2 x 2.5 ft
200kg
140 PHP
110 PHP
120 PHP
SEE ALSO:
What Makes Transportify a Good Third Party Logistics Provider?
24/7 Customer Service
Transportify is devoted to providing the best quality of service to its customers. With Transportify, your queries and concerns are addressed thanks to our hardworking 24/7 customer service personnel immediately. This 3PL Philippines only wants the best for its clients this 2023.
Monitor the progress of your delivery
Transportify, a third party logistics company, highlights the "track and trace feature" of the app that utilizes a Global Positioning System (GPS) so that customers can keep an eye on their package. The sender of the package can choose to share the driver's location with the receiver so that both parties know where the driver is located.
Numerous Vehicle Options
A major advantage of this 3PL Philippines company is the wide range of vehicle classes for delivery. Transportify has sedans, MPV/SUVs,  L300/Vans, Open Trucks, Closed Vans, and 10-wheeler Wing Vans. Smaller vehicles like sedans and MPV/SUVs are the vehicle of choice for delivering food products, grocery items, and some small appliances. L300 vans are mainly used for furniture products, IT equipment, medium-sized appliances, and large grocery items. This third-party logistics provider has a variety of trucks for heavy-duty delivery. Open Trucks are the right choice for "Lipat Bahay" operations, agricultural products, and construction materials. Closed vans can carry home appliances, furniture, gym equipment, and other merchandise products. 10-wheeler wing vans are ideal for large volumes of merchandise.
Professional Drivers
Like in any service, a customer looks at the level of competency the personnel rendering the service offers. Transportify, a top third party logistics company, has drivers who are professionals when it comes to handling your goods and products. Just as you put extra care when manufacturing or storing your product, so do we when we deliver it. You will not need to worry when you let this 3PL Philippine company take care of your delivery requirements.
Route Optimization and Multiple Drops Feature
You don't have to book multiple vehicles when you want your products delivered to different locations. With Transportify, customers can book a cargo truck or L300 rental service with as many as 15 drop-off points. This third-party logistics company has a "Route Optimization" feature in the app that identifies the shortest route to save time and costs for your 2023 deliveries. However, customers are also free to list down the order of destinations that they prefer.
Transportify: The ideal 3PL provider for Businesses
In the Philippines, Micro, Small and Medium Enterprises (MSMEs) are essential to the economy. According to the Philippine Statistics Authority, 99% of the Philippines' businesses are MSMEs, accounting for 63% of the country's total employment.
The top activities of these companies are wholesale and retail trade, manufacturing and food service activities. Such businesses would require trusted third-party logistics to distribute their products effectively to their customers. They need an experienced 3PL or third party logistics provider in the Philippines with excellent service and capable of handling diverse delivery requirements.
Transportify's Corporate Account for Business Program is for professionals and business owners who are always in need of efficient supply chain logistics. The program provides full end-to-end ground logistics support with additional benefits that are unique compared to other 3PL Philippine companies.
Below are offers of the program that are tailored-suit for the corporate client:
 Enrollment isn't just fast but also free. Just sign-up on our website or contact us.
 Customer support of 24 hours, 7 days a week.
 Flexible Payment Terms. Clients can pay either through the postpay or prepay method. Clients can also pay through bank transfer or check. Prepay credits also never expire.
 Avail of our POD and COD service since we know how vital it is for your business.
 Warranty per booking to show how much we value your products. This warranty applies to the customer's insured items lost, stolen, missing, or damaged during a pick-up, transportation or shipping, and delivery during a Transportify booking.
 Select trained drivers that underwent extra training for handling cash, check, and delivery receipts.
 Clients are provided with their business web dashboard, a bonus referral, and your very own account manager.
 An operations process team is available to document specific steps in loading and unloading precious cargo to instruct Transportify drivers who will deliver your products.
Our program's customer base includes enterprise clients, such as other 3PL / third party logistics providers and delivery companies that utilize Transportify as its fourth-party logistics provider for on-demand situations, last-minute client orders, or when traditional fleet resources are occupied by busy end-of-month and holiday periods. Enroll your business now and expand your reach nationwide.  Take your business to greater heights this 2023 with the best 3PL Philippines company.
Scan the QR code or click the button below to download our app.
| | | |
| --- | --- | --- |
| | or | |
To learn more about enrolling in our corporate account, please visit this link or email business@transportify.com.ph.
Frequently Asked Questions:
What is a third party logistics?
🚚 Third party logistics refers to the setup wherein an organization outsources its delivery activities to a logistics company like Transportify. Because of the growing volume of deliveries and wide coverage area, businesses may find it difficult to handle the logistics side of the business. Thus, they would partner up with a logistics company to outsource their delivery activities to that logistics company.
In what area can Transportify deliver?
🚚 Transportify is a third party logistics provider always ready to support mainland Luzon, Visayas, and Mindanao. Transportify also has an interisland trucking service that can transport goods from Luzon and Cebu to other islands nationwide. Some of these locations are Samar, Boracay, Leyte, Mindoro, General Santos City, Bacolod, Iloilo and much more.