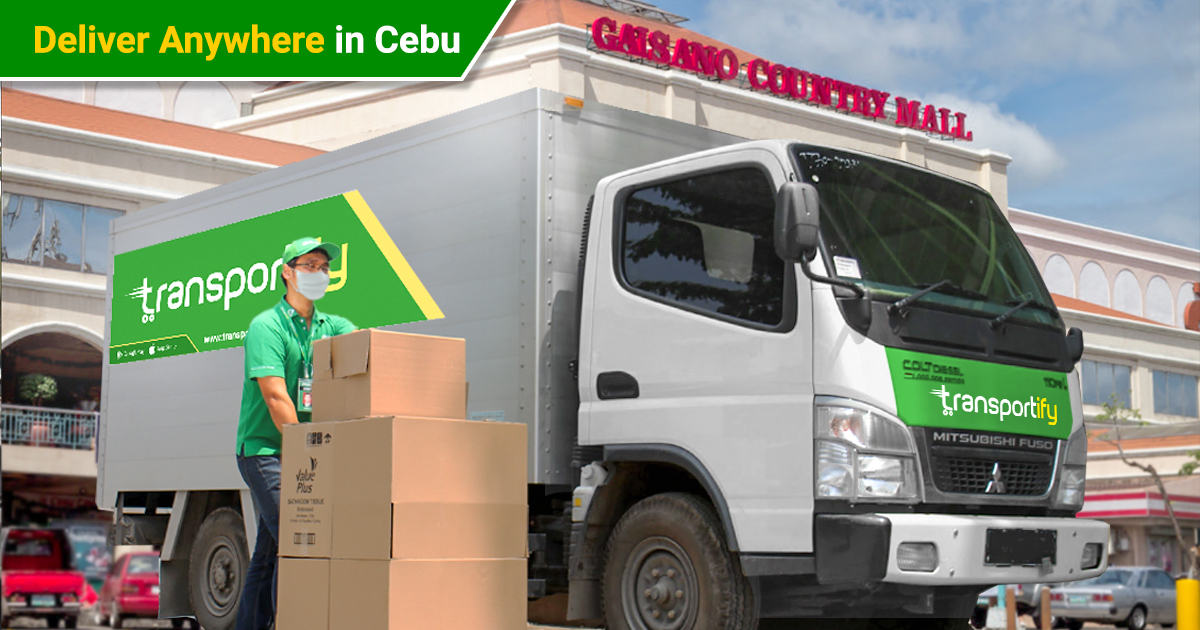 Trucking is now made easy in Cebu through Transportify. With our on-demand logistics app, businesses can now hire sedans, L300/Van, Closed Van, 6w Fwd truck, and 10 wheeler wing van to anywhere on the island. The province of Cebu is the main center of trade and commerce in Central Visayas. As the province's trade increases, businesses need to have options for a steady and reliable business logistics and trucking company in Cebu for their operations. Read and learn more about how Transportify can support the logistics fulfillment of your business.
What Are the Industries That Commonly Use Business Logistics Services in Cebu?
Cebu is now a global hub for a variety of industries. In recent years, business process outsourcing, furniture retail, manufacturing, and tourism have all been major economic drivers in Cebu. Mactan Cebu International Airport and Port of Cebu are two notable infrastructures in the province that serve as the entry and exit points for goods. Both are essential in passenger and freight traffic from Cebu to other local and international destinations and vice versa. This part of the article will give you a clearer insight into the importance of these industries.
1Business Process Outsourcing (BPO)
In 2013, Cebu ranked 8th worldwide in the Top 100 BPO Destinations Report of Tholons. Since then, the province thrived in becoming an information and communications technology hub in Asia. They built Cebu IT Park to host business operations of industries related to information technology like business process outsourcing, telecommunications, and software development. Some of the biggest BPO companies operating in Cebu are Sitel, Sutherland Global, Concentrix, and Teleperformance. These BPO companies use third party logistics to transport equipment to their employees now that working from home is common. Transportify is an on-demand business logistics and trucking company in Cebu that you can use at your convenience with your mobile device or computer once the need arises.
2Furniture Retail
Mandaue, Cebu is the furniture capital of the Philippines. Big firms that export and distribute furniture locally critically need a dependable trucking company in Cebu to transport things securely and on schedule to warehouses, ports, and even houses. Transportify has a wide selection of trucks in Cebu that can fit and transport multiple pieces of furniture, saving you time and money.
3Manufacturing
Cebu is a growing manufacturer of fashion, local food delicacies, watches, housewares, and electronics. Most of these manufacturing companies usually engage in local and international distribution. To meet the day to day demands of these manufacturer's clients, they partner with business logistics providers like Transportify to support fast distribution within the province of Cebu and nearby islands.
4Real Estate
Real estate is a rising driver of the economy in Cebu, aside from BPOs. Investors come to Cebu to invest heavily in real estate and mixed developments. Malls, residential areas, and business hubs are what these investors are establishing in Cebu. With the expansion of commerce and trade areas in the province, transactions are everywhere, and goods are moving faster to support the demand of many people. Thus, businesses need a supply chain process that can sustain the ongoing demand. They need a trucking company that can distribute to multiple branches in the shortest time possible. Transportify has same day delivery throughout the entire island province of Cebu.
The Benefits of Partnering With Transportify
Transportify has served over a million customers since 2015. A big chunk of this number is with our business partners from different industries. We are known to provide end to end business logistics solutions for our partners' better operational efficiency. We offer a Corporate Account for Business with exclusive benefits like Cash on Delivery (COD), Proof of Delivery (POD), process mapping for the correct loading and unloading of the goods, up to 3 Million Insurance for every booking, and flexible payment methods. Below is a table for more detailed information:
Business Program
Services
Program Features
Live Support

Open 24/7

Prepay

Available

Postpay with Monthly Invoicing

Available

Destinations

A total of 16 destinations can be added in every booking

COD/POD
COD + POD
2.50% of invoice
Min of 80 PHP
(Flat Fee/Booking)
POD Only
80 PHP for ≤ 3 destinations
160 PHP for ≤ 10 destinations
200 PHP for ≤ 15 destinations
Insurance and Warranty

Up to 3 million PHP coverage from OONA Insurance

Nationwide Service Area

Available




Interisland and Same Day Trucking in Luzon, Visayas, and Mindanao

Business Web Dashboard

Team Account Management Customized Reports
SEE ALSO:
Affordable prices
Partnering with traditional trucking companies entails binding rules and regulations that add upfront cost for your business. Differing from what is usual, Transportify doesn't ask for these fees. This service offering allows big or small companies to start their distribution without worrying about too much expense.
For all vehicles and service areas, we compute our price based on vehicle and total distance. As a booker, you have control over your bookings allowing you to customize the price based on your dedicated budget.
Simplified operational workflows cut costs
To partner with a trucking company in Cebu like Transportify, will help you optimize your operations. Since Transportify is an on-demand business logistics service provider, you can always plan your bookings at the time of the arrival of your goods. This practice will eliminate warehousing costs and other expenses that come with it. Demand is seasonal. Maintaining in-house business logistics operations can be difficult and time-consuming, especially if this is not your area of expertise. Hiring a third party logistics company like Transportify can easily help you scale up or down your deliveries without incurring any losses or additional logistics costs.
Advanced delivery management
Transportify is an on-demand logistics and trucking company in Cebu. We adopt modern technology to give our clients innovative end to end business logistics solutions. Upon booking, the person in charge needs to provide essential details such as the pick up address, destination, and contact numbers. For business, you can also add a "Job Number" to every booking for easier recording. While the booking is ongoing, clients can easily track progress via GPS tracking. This feature can assist you in better planning, especially if you need to keep an eye on multiple deliveries in a single day. Lastly, if you need to look back to past deliveries, your app can serve as your reliable record-keeping tool with pictures and signatures in every booking.
Increased customer loyalty
Partnering with a trucking company in Cebu like Transportfiy can yield you improved customer satisfaction. Our deliveries are faster and within the same day having a higher chance to meet your clients cut-off time. Customers who are happy with your service are most likely to become loyal and repeat transactions with you.
Manage Your Business Logistics With Transportify
Transportify is your on-demand, fast, and reliable trucking company in Cebu. The need for business logistics management is indeed more important than ever because it gives your business a competitive edge among others. With our expertise in business logistics and trucking, we can consistently support you in meeting consumer demands on time, expanding customer reach, and avoiding loss due to inefficient operations. Transportify also has an interisland trucking service from Cebu to other key cities of Visayas and Mindando. You may book an L300/Van, Closed Van, 6w Fwd Truck, and 10w Wing Van for your interisland transport needs.  mayIf you want more details of our service, you can always send us an email at business@transportify.com.ph.
| | | |
| --- | --- | --- |
| | or | |
Frequently Asked Questions:
Can I add more than one user to my Transportify Corporate Account for Business?
✅ Yes. You can add more than one employee to use the app. Especially for BPOs, different branches in Cebu will have more than one person in charge. We know that managing business logistics is a team effort, so we have created a feature for this on the app. You can always discuss this with your account manager so they can assist you with the initial setup. Also, you can always chat with our Customer Service for any other concerns.
Is it possible for Transportify to provide multiple trucks at once?
✅ Yes. We have a batch booking feature that will allow bookers to create up to more than ten bookings at one. If you need multiple vehicles and trucks in one batch, you can always use the feature on the app. The batch booking feature is a good tool for managing and planning your bookings.