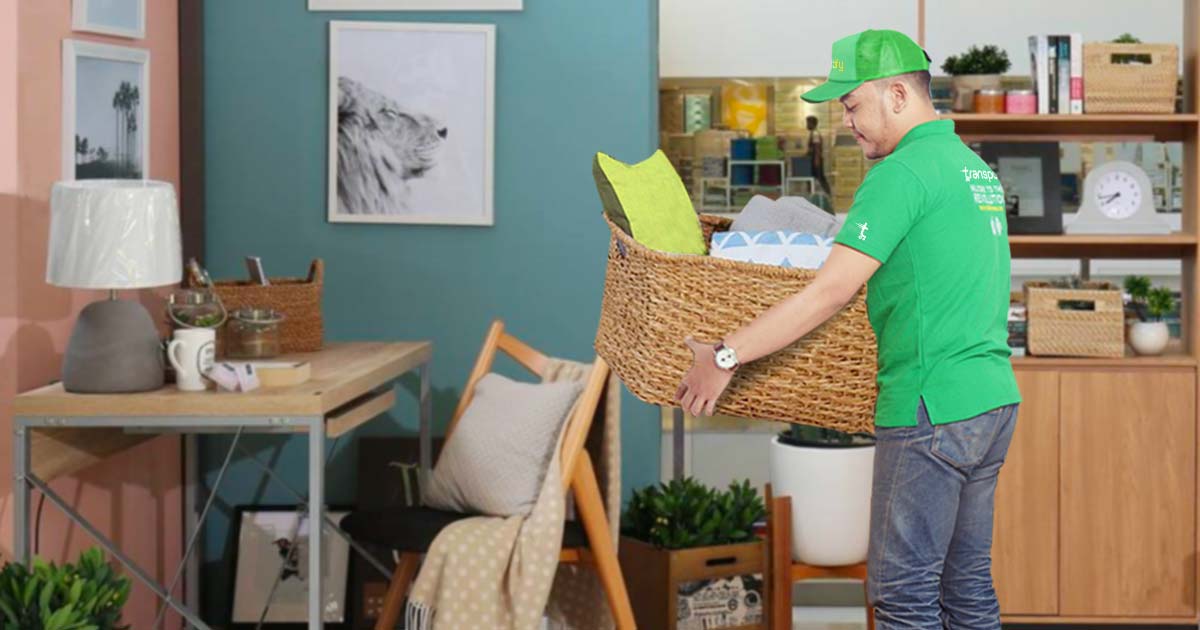 There is a noticeable increase in condominiums around the city. This makes it possible to live in the same area where you work or study. People from the province can now live in Manila. You might be one of these new movers that are planning to get a unit for yourself. For DIY moving, keep in mind the following things:
OUR SERVICE
Ensure the safety of your deliveries
Assists you in loading and unloading of your furniture
Load your stuff on the truck
OUR LIMITATIONS
Box and prepare your deliveries
Unbox and assemble your furniture upon arrival
Wrap and tape to secure your furniture

The SM Home Turnover Fair was the first-ever turnover event. Its main goal is to assist homeowners—especially new SMDC condo owners—in making their houses feel more like home through a series of interior design-related activities. These activities will include design seminars, design consultations, do-it-yourself (DIY) and home improvement activities, inspirational vignettes, and a special trade fair.
Transportify's presence in the event was because of the 5-star app for moving furniture's desire to help new homeowners have a smoother house moving and furniture-buying experience. With Transportify's on-demand delivery app, new homeowners can book a closed van for furniture delivery services to fetch the furniture and household items they bought at the fair and deliver them to their homes. Homeowners attending the fair can also book a door-to-door delivery of their household items from their old homes to their new ones since Transportify is a door-to-door courier in the Philippines and not just an app for moving furniture.
If you are planning to move anytime or need a furniture delivery service, you can download the app on your mobile phone and book with a few taps. You can check out the table below to see the preferred vehicle list available to book for house moving:
Vehicle Type
Dimensions/
Weight Limits
Base Price
(Metro Manila)
Base Price
(Outside Metro Manila)
Base Price
(Visayas/Mindanao)
Wing Van 
32 to 40 x 7.8 x 7.8 ft
12000kg to 28000kg
7500 PHP
6500 PHP
6500 PHP
6w Fwd Truck
18 x 6 x 7 ft
7000kg
4850 PHP
4850 PHP
4850 PHP
Closed Van
10 to 14 x 6 x 6 ft
2000kg to 4000kg
1800 PHP
1450 PHP
1450 PHP
Open Truck
10 to 21 x 6 ft x open
2000kg and 7000kg
2300 PHP
1950 PHP
N/A
Mini Dump Truck
10 x 6 ft x open
2000kg
1500 PHP
1200 PHP
N/A
L300/Van
8 x 4.5 x 4.5 ft
1000kg
430 PHP
330 PHP
310 PHP
Small Pickup
5 x 5 ft x open
1000kg
310 PHP
250 PHP
220 PHP
Light Van
5.5 x 3.8 x 3.8 ft
600kg
250 PHP
192 PHP
225 PHP
MPV/SUV
5 x 3.2 x 2.8 ft
200kg
160 PHP
130 PHP
140 PHP
Sedan
3.5 x 2 x 2.5 ft
200kg
140 PHP
110 PHP
120 PHP
Design-related seminars include workshops such as First Home Basics, What's Your Style, and Small Space Solutions. Design consultation activities will allow interior design professionals and students to provide one-on-one consultations with prospective clients. DIY and home improvement workshops include chalkboard art or typography lessons and paint project guides.
There will be inspirational house vignettes throughout the event area, showing design and layout suggestions for living rooms, dining rooms, bedrooms, home offices, kitchens, and bathrooms. There will also be booths offering home-related services like consultations with financial institutions and real estate property amortization.
Logistics companies like Transportify that offer affordable but quality online furniture delivery services in the Philippines and moving trucks for rent for lipat-bahay tasks are also present. SM Home Products will also conduct a sale at the event venue, giving new homeowners a chance to buy new furniture and decorations to fill their new homes at a discounted price.
With various home-related lessons to learn and affordable household items to see, several new homeowners will surely enjoy the first-ever turnover fair by SM Home.
SM Home is the affiliate of SM Malls and a section in The SM Store that centers on home furniture and household products. Their products range from small kitchen utensils to medium-sized home decorations, up to large queen-sized beds. Transportify's 5-star furniture delivery services can help you anytime.
How On Demand App for Moving Furniture Can Help Your Business
Most retailing businesses, both large and small, make use of third-party logistics services to increase their profit and their scope of reach with regards to their customers' locations.
One of the many benefits of hiring a furniture delivery service provider like Transportify is that the partner business can focus more on other business operations such as sales, product storage, and customer service.
3PL's allow companies to get a strategic advantage through:
Cost reduction in terms of storage and equipment
Scaling-up in terms of customer reach
Gaining mutual knowledge on dedicated service providers' systems
Mitigating risk in terms of the outsourced company's position
With our partnership with SM Home, we've split the workload in two as they handle the product management and customer service as we coordinate the furniture delivery service for them on our end.
Transportify's valuable partnerships
In being the contributing partner SM Appliances' dedicated third-party logistics provider, we've managed to secure partnerships that will benefit both of our clients in terms of servicing them to the fullest. Transportify described as a trusty dedicated app for moving furniture and other heavy logistical equipment.
With our dedication to being one of the go-to apps for furniture delivery service, we've secured partnerships with SM appliances and Handyman hardware stores to bring an unmatched quality of service to our customers.
Hardware equipment is a common ingredient when it comes to handling home improvement projects. Contractors usually prefer their tools and materials to be delivered on-site, but sometimes emergencies and miscalculations could call for an emergency supply run. With Handyman's vast array of hardware tools and materials, we've managed to cover the crafting side of home renovations for our customers' convenience.
Our partnership with SM Home allows us a same-day delivery service so that your home refurnishing projects can start as soon as possible without going beyond your intended schedule.
Transportify's mobility and same-day delivery
Furniture delivery service in the Philippines is usually handled by hiring contractors to handle bulky appliances and furniture to be delivered to the buyer's doorstep a few days after purchase. One of the many reasons why we at Transportify can handle the massive influx of package deliveries is because unlike a traditional courier delivery service, we go beyond just having our drivers stationed at a dedicated warehouse. We at Transportify no longer have to go through the rigorous process of form submissions and approvals to get our vehicles out on the road because they already are on the way!
Because we have a broader scope when it comes to reaching our clients, our same-day delivery services have become our top-notch guarantee to our clients. With our wide selection of mobile van operators, depending on the van type, each one can reach your destination the fastest to offer you the lipat bahay services that you need.
Quality service through security and trust
To make sure that the products purchased at the store are in safe hands, we allow our customers to make use of our app's Track and Trace feature. This enables the customers to pinpoint when and where their purchases are from the moment they leave the mall's premises up to receiving it to their doorstep. If ever unexpected issues may occur, such as an internal vehicle issue or an external traffic issue, our dedicated customer service hotline is available 24/7 to respond to our customer's needs.
Beyond the furniture delivery service, also comes the need to set-up and unload these materials. Refurbishing one's home should never be a one-person job. Getting help to bring new furniture from the store to your home can require multiple trips, and might need the assistance of a few friends or relatives.
As we are not new to long distance and bulky equipment delivery, we've ensured that our customers will have the convenience of asking for an additional helper with the delivery of their package if ever they need further assistance in loading and unloading your purchases.
Make Your Lipat Bahay Easier and Hire a Modern Trucking Company
Everyone needs a helping hand when it comes to home refurbishing. That's why, together with SM Home, Transportify's delivery app rates for moving furniture and appliances aims to make the best of the best of our services to provide a comfortable furniture delivery service to our customers.
Very important reminder: We highly encourage our customers to safekeep their furnitures and appliances especially with large pieces of glass. It should be well packed and fully bubble-wrapped to avoid unwanted damages during the delivery.
We have the best quality lipat bahay services to ensure that our customers will have a hassle free moving. We're here to make sure that no lipat-bahay delivery is handled by just yourself.
| | | |
| --- | --- | --- |
| | or | |
Frequently Asked Questions:
Is there an app for moving furniture?
🚚 What's great about our modern time is that there's an app for everything and yes, including an app for moving furniture. Apps you can download are MyKuya or Gawin, which are both odd jobs platform where you book for different services, including furniture moving. Transportify and mober, on the other hand, are delivery apps that offer vans and trucks with the Transportify offering larger vehicles like six wheelers and ten-wheeler trucks.
How much does an app for moving furniture charge?
🚚 Odd job apps like MyKuya charge ₱49 per hour since you're paying for the time of "helper" while Gawin cost ₱900+. Delivery apps like Transportify you pay only for the vehicle you booked and the distance of the drop-off from the pick-up with price starting at ₱430 for their L300 / Vans.