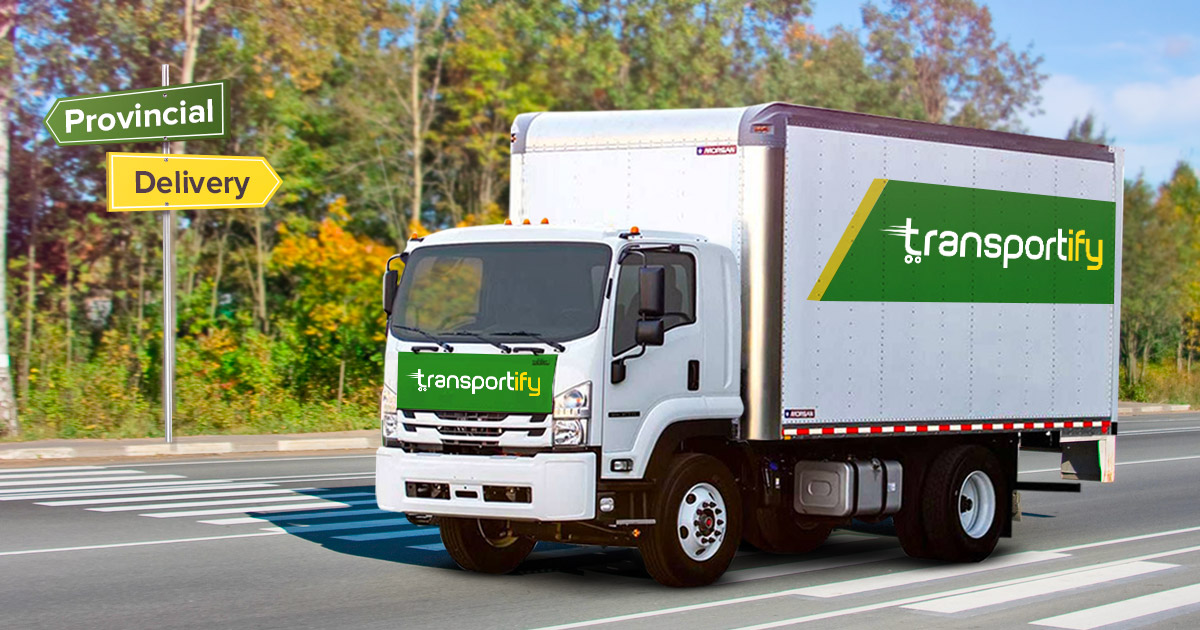 The Philippine business market continues to grow significantly in the outskirts of Metro Manila. The Filipino mindset starts to recalibrate towards establishing their business venture to help satisfy the country's growing needs. As a continuously improving logistics company for freight delivery, Transportify values businesses' demand to get quality delivery from the best long distance delivery providers.
In fact, Transportify launched a 6w Forward Truck to make freight delivery more possible to different parts of their ever-growing service area. 6w Forward Truck fits the right amount of goods for both small and medium enterprises (SMEs) and FMCG companies, which gives them the best vehicle option for long distance delivery.
This article will discuss how a 6w Forward truck can provide seamless possibilities for long-distance delivery to different provinces in the Philippines.
Efficient and Effortless Long Distance Freight Delivery Services
The shipping and freight delivery industry, particularly in the Philippines, can be rather complex. When dealing with shipments on your own and without proper guidance, you may end up having to pay more than is necessary or even lose your shipments. Thus, it is useful to have an experienced freight delivery company to back you up.
Long distance delivery services entail more effort in terms of overall logistics management. Since it covers different logistics stages, the company or business should ensure that all necessary aspects of freight delivery are well handled for greater efficiency.
In the Philippines, Transportify is considered an industry leader in on-demand logistics, freight forwarding and cargo delivery, and long distance delivery services. Transportify can move your shipments on your behalf so that you never have to deal with various transportation companies to ensure that your goods arrive without issue. Your business will only have to go through their sophisticated platform for express delivery services, and that makes the entire process far more straightforward.
This company puts absolutely everything into making the best delivery experience for their customers. They offer flexible shipping options from their large variety of fleet and service areas covering the whole island of Luzon and continuously expanding. To know more about their fleet and pricing for long distance delivery, you may explore the table below:
Vehicle Type
Dimensions/
Weight Limits
Base Price


(Metro Manila)

Base Price


(Outside Metro Manila)

Base Price


(Visayas/Mindanao)

Wing Van 

32 to 40 x 7.8 x 7.8 ft




12000kg to 28000kg

7500 PHP

6500 PHP

6500 PHP

6w Fwd Truck

18 x 6 x 7 ft




7000kg

4850 PHP

4850 PHP

4850 PHP
Closed Van

10 to 14 x 6 x 6 ft




2000kg to 4000kg

1800 PHP

1450 PHP

1450 PHP

Open Truck

10 to 21 x 6 ft x open




2000kg and 7000kg

2300 PHP

1950 PHP

N/A

Mini Dump Truck

10 x 6 ft x open




2000kg

1500 PHP

1200 PHP

N/A

L300/Van

8 x 4.5 x 4.5 ft




1000kg

430 PHP

330 PHP

310 PHP

Small Pickup

5 x 5 ft x open




1000kg

310 PHP

250 PHP

220 PHP

Light Van

5.5 x 3.8 x 3.8 ft




600kg

250 PHP

192 PHP

225 PHP

MPV/SUV

5 x 3.2 x 2.8 ft




200kg

160 PHP

130 PHP

140 PHP

Sedan

3.5 x 2 x 2.5 ft




200kg

140 PHP

110 PHP

120 PHP
The variety of fleet available for freight delivery makes Transportify a well-known brand in heavy freight shipping and long distance delivery. It makes a big difference in freight delivery, primarily when businesses use the right vehicle size like a 6w Forward Truck.
SEE ALSO
What Are the Benefits of 6w Forward Truck for Long Distance Delivery?
The 6w Forward truck is more commonly known as a "Forward Truck or Forward Wing Van" in the freight industry. 6w Forward trucks are now made possible to be accessed using a mobile application. Deliveries to different provinces are now made possible by on-demand delivery companies like Transportify. Explore the benefits of 6w Forward trucks for heavy truck forwarding and large scale local delivery.
1Low Cost
Logistics can get rather expensive when not managed properly. Fortunately, the 6w Forward Trucks of Transportify can get you the lowest rates for express provincial delivery services. The cost of availing the standard service for this type of vehicle already includes the driver, one extra helper, the vehicle, fuel, and loading/unloading. You may also request extra services like a second helper or pahinante, spare waiting time, and toll or parking fees that can be expedited for specific deliveries. Transportify was able to negotiate the best prices on your behalf, so you don't have to worry about high pricing for long distance delivery service.
2Shipment Supervision
Customers are also in the loop and are updated in real-time regarding the status of their freight delivery. Paperworks can also be added as an extra service for provincial business clients if they require proof of delivery for every customer purchase. It comes with a minimal cost, but it provides the company with a smoother flow of the delivery process.
Partner clients can also request invoices from 6w Forward truck freight delivery to Transportify to ensure proper documentation. Partnering with a reliable logistics provider will surely give you freedom in supervising your shipment.
3Round the Clock Assistance
Sudden changes in delivery details are inevitable. It is best to have a logistics partner that can cater to your requests at any time of the day. Another benefit of hiring a 6w Forward Truck in Transportify is their customer service support. It is available 24/7, 365 days a year, to address all your concerns about deliveries. You don't have to worry about delivery cut off times since you may easily reach out to these dedicated contacts to make necessary changes to your freight delivery schedule.
4Smooth Network with Efficient Delivery
Transportify has developed many solid relationships over the years in the Philippines. This means that they can provide a smooth and seamless delivery process for long distance delivery services using 6w Forward Trucks, allowing you to meet your deadlines and preserve your brand image.
The network of partner freight providers makes everything possible for Transportify. Provincial customers will surely get their packages delivered on-time and get updated with the latest status using their application.
Transportify Will Do Whatever It Takes to Serve You
Transportify takes great pride in going above and beyond to provide the finest level of service for their valued clients. Their excellent services like same-day delivery, long distance delivery, lipat bahay services, construction hauling, and trucking solutions highlight the importance of having a versatile logistics partner for the business.
The freight delivery provider's job is to take the stress out of freight forwarding and ultimately make the process as smooth and effortless as possible for you, the client. With Transportify, you will still retain full control over your shipments while being able to track them in real-time with a simple and easy to use application that you can access for free. It's all part of the service.
If you are a business interested in availing of excellent logistics services, you may explore the perks of the Transportify Corporate Account for Business. It includes postpay and prepay options, process mapping, custom service and equipment, dedicated fleet management, and goods insurance.
To download and explore the Transportify application, you may scan the QR code or click the button below:
| | | |
| --- | --- | --- |
| | or | |
If you'd like to find out more about what a revolutionary on-demand logistics partner can do for you or your business, then please do not hesitate to reach out today. There is a dedicated customer support team at your disposal, ready and waiting to make your logistics requirements a breeze.
Frequently Asked Questions:
Who is the leading provider for long distance delivery service?
🚚 Some large players provide long distance delivery services like Maersk, DHL, and LF Logistics. The quality of service depends on the requirements of your business service. If you are looking for an affordable yet high-quality logistics service, you may explore the services of Transportify. They provide on-demand long distance delivery services that are best for various types of business, especially those that require flexibility and reliability.
What is freight delivery?
🚚 Freight delivery mostly involves moving products in bulk from one destination to another. It is defined as the process of transporting goods or commodities by air, sea, or land. Since most products are in large quantities, most businesses have this logistics service as part of the core of their business operations.
Where can I find the best price for a 6w Forward Truck rental?
🚚 Most logistics companies do not disclose the actual pricing of their services. The cost of hiring a 6w Forward truck for delivery depends on the distance of the delivery and seasonality. Peak season pushes for high prices. If you'd like to get actual quotations for deliveries, you may explore the prize wizard option of Transportify. It gives you instant calculations of deliveries based on the location and vehicle. Customers can try this feature even before creating an official booking.