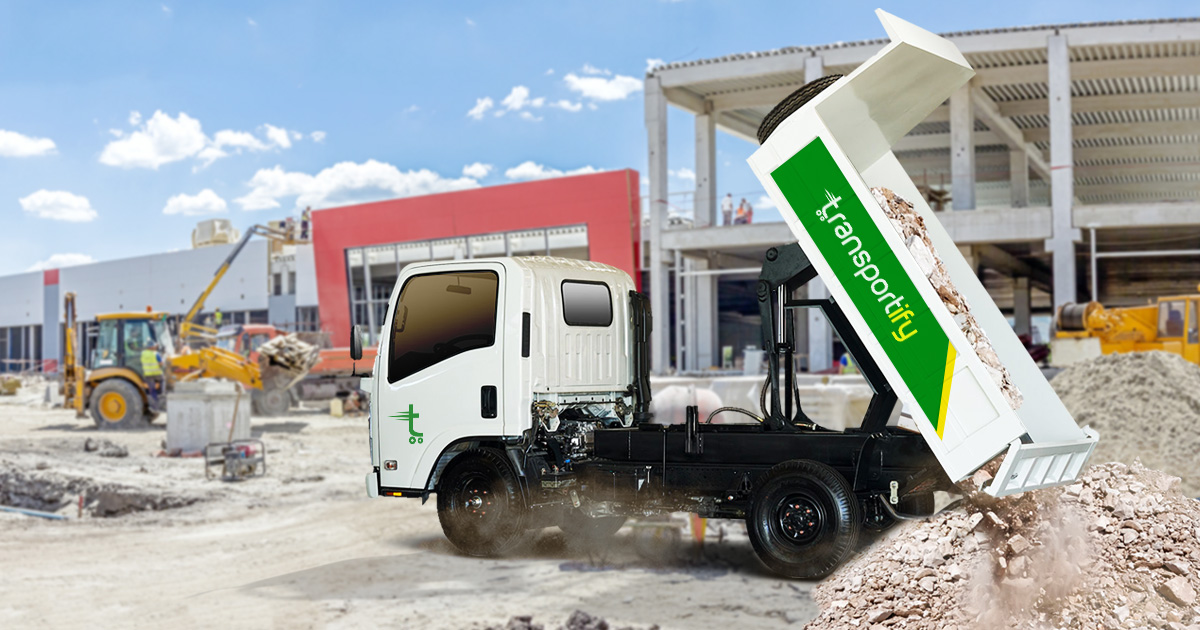 If you are in the construction business, there is a big chance that you are wondering how to get rid of loose materials such as debris and scrap from your construction site. You are probably thinking of doing the heavy lifting yourself by procuring many trucks to transport those debris. However, the cost of purchasing heavy duty vehicles and maintaining them is too high. Transportify, a trucking logistics app, provides affordable construction debris hauling services. A construction company owner need not worry about where to get the vehicles, our mini dump truck rental service is excellent at hauling construction debris. Get a price check now!
Mini dump trucks are reliable, heavy duty vehicles used for a variety of purposes. Primarily, they are used for construction materials delivery due to its large cargo capacity. Furthermore, its open dump body which can be raised by a hydraulic cylinder makes it ideal for hauling loose materials such as debris and dumping them on a specified dump site.
In the Philippines, the construction industry is still a fast growing and robust industry despite a contraction due to the lockdowns caused by Covid-19. It is projected that in the year 2024, the industry's output value will hit 75.1 billion US dollars. Therefore, it can be said that the construction business is still a booming business here in our country.
It is typical for a construction project to generate plenty of debris as a result of demolition, clearing the area and even renovation. These solid wastes are usually lumber, wood flooring, roofing debris and some metals. These wastes must be removed from the construction site properly and quickly in order to make enough room for the current project. If you are a project engineer, construction debris hauling is one of the operations you should take good care of because mishandling construction wastes could have consequences for the environment and could even delay your project timeline.
Since construction waste materials are usually bulkier and heavier, a heavy duty vehicle must be used for such operations. Mini dump trucks are commonly used for construction debris hauling services because of its ideal features like a load capacity of up to 3 tons and a hydraulic cylinder body which allows it to "dump" its contents quickly and safely.
Who Is the Leading Trucking Logistics App for Construction Hauling?
Transportify, a leading trucking logistics app, offers mini dump truck rental to take care of your construction debris hauling services. A construction company does not need to invest in multiple mini dump trucks in order to carry out its debris hauling operations. Such a decision entails a huge investment in resources. Instead, a construction company can simply partner up with Transportify and let the trucking logistics app provide the construction debris hauling services. Such a set up liberates the project engineer from worrying about how to transport construction wastes. Furthermore, Transportify offers plenty of useful features such as advance booking and 24/7 customer service support.
Vehicle Type
Dimensions/
Weight Limits
Base Price


(Metro Manila)

Base Price


(Outside Metro Manila)

Base Price


(Visayas/Mindanao)

Wing Van 

32 to 40 x 7.8 x 7.8 ft




12000kg to 28000kg

7500 PHP

6500 PHP

6500 PHP

6w Fwd Truck

18 x 6 x 7 ft




7000kg

4850 PHP

4850 PHP

4850 PHP
Closed Van

10 to 14 x 6 x 6 ft




2000kg to 4000kg

1800 PHP

1450 PHP

1450 PHP

Open Truck

10 to 21 x 6 ft x open




2000kg and 7000kg

2300 PHP

1950 PHP

N/A

Mini Dump Truck

10 x 6 ft x open




2000kg

1500 PHP

1200 PHP

N/A

L300/Van

8 x 4.5 x 4.5 ft




1000kg

430 PHP

330 PHP

310 PHP

Small Pickup

5 x 5 ft x open




1000kg

310 PHP

250 PHP

220 PHP

Light Van

5.5 x 3.8 x 3.8 ft




600kg

250 PHP

192 PHP

225 PHP

MPV/SUV

5 x 3.2 x 2.8 ft




200kg

160 PHP

130 PHP

140 PHP

Sedan

3.5 x 2 x 2.5 ft




200kg

140 PHP

110 PHP

120 PHP
SEE ALSO
Benefits of Using Transportify in Construction Debris Hauling
There are many benefits that your company can get when you avail Transportify's construction debris hauling services. Find out more by reading the items below:
Low Cost
The mini dump truck rental of Transportify is the most affordable in the market. With a starting price of only Php 2,200 and Php 40 per kilometer travelled, the mini dump truck rental of this trucking logistics app can provide you with excellent service at the best possible price. Furthermore, booking a mini dump truck already includes an extra helper to assist the driver throughout the delivery process. Indeed, with these rates, you can do more construction debris hauling at an affordable rate.
Professional Drivers
This trucking logistics app understands that you want to get your money's worth for your mini dump truck rentals. Furthermore, you would not want an unqualified driver to handle your delivery requirements. Operations such as construction debris hauling services require much attention and care from the drivers who man the vehicle. In Transportify, we make sure that the drivers who are in charge of your construction debris hauling operations have a lot of hauling experience.
24/7 Customer Service
We understand how frustrating it is to wait long hours, a day or even a week to have your queries answered. Fortunately, with Transportify, your questions can be answered immediately thanks to our dedicated 24/7 customer service personnel. Questions or clarifications related to your mini dump truck rental or construction debris hauling services can be resolved quickly.
Chat with driver
For operations like construction debris hauling services, we understand that you want to always be in contact with the driver throughout the process in case there are changes in the plan. You might also want to communicate urgent instructions to the driver and helper. That is why Transportify, the best trucking logistics app, offers an app based In-app chat with driver feature so you can always send and receive messages from the driver throughout the booking process. Furthermore, our app comes with a track and trace feature that enables you to monitor the progress of your delivery.
Transportify Corporate Account for Business
The Philippine economy relies heavily on Micro, Small and Medium Enterprises (MSMEs). In fact, 99% of the business establishments in the country are MSMEs and they account for 63% of the country's total employment. Among the prominent industries under MSMEs is the construction industry which has seen an expansion of up to 9.4% in 2019. The Philippine government aims that by 2030, the industry's contribution to the economy is increased to Php 130 trillion from the 2018 value of Php 2.3 trillion. Furthermore, the construction industry is predicted to bounce back rapidly after the contraction caused by the Covid-19 pandemic. These data show that the construction industry is a booming industry which means that there are more and more construction projects taking place in the Philippines. These activities will only drive up the demand for more construction debris hauling services.
Thus, if you are an owner of a construction company, then perhaps it is time to avail the services of a third party logistics company that provides excellent construction debris hauling services. In doing so, you don't have to worry about investing in multiple mini dump trucks just so you can haul your debris safely and on time. With our trucking logistics app, you can easily avail our mini dump truck rentals to transfer your debris to the appropriate locations or even use a 10 wheeler wing van for transporting large volumes of goods.
Here are some benefits of our Corporate Account for Business:
There is no enrollment fee.
Our hardworking and dedicated 24/7 customer service personnel is ready to assist you.
We offer either prepay and postpay options.
Our Business Program offers the Proof of Delivery (POD) and Cash on Delivery (COD) services for your transactions.
We insure up to Php 3 million for lost, stolen or damaged goods during the booking.
An operations process team is available to help you document the steps for items that need special handling. These steps will then be communicated to the driver who will handle your booking.
With our Business Program, you can have your own account manager, a web dashboard and a bonus referalHave your own account manager, bonus referral and Web dashboard.
Get excellent construction debris hauling services from the best trucking and logistics company. Our mini dump truck rental can also do construction materials delivery work.
Please visit this our website or email business@transportify.com.ph to know more about our Business Program. To download the Transportify application, scan the QR code or click the button below:
| | | |
| --- | --- | --- |
| | or | |
Frequently Asked Questions:
What is construction debris hauling service?
? A construction debris hauling service transports loose materials such as wood, concrete, glass, and metallic waste from a construction site to a designated dump site. As a construction project progresses, more debris is generated. This debris is usually placed in an open area inside the construction site. However, this slows down the project because it occupies space that could have been used to store construction materials and it could prevent smooth vehicle traffic inside the site. Thus, construction debris services are important so that loose materials from construction sites are disposed of properly and quickly.
What are the benefits of availing of mini dump truck rental services?
🚚 A major benefit of availing of mini dump truck rental services is that it frees a business owner from the hassle of purchasing mini dump trucks. These vehicles do not come at a cheap price and procuring these vehicles requires many permits. By availing mini dump truck rental services, an owner can just pay the rental fee and let that trucking company take care of the hauling services. Another benefit is that the owner does not have to worry about vehicle maintenance since it is the trucking company's job of making sure that their vehicles are in good working condition.
What are some trucking logistics apps?
🚚 Trucking logistics app uses a web and mobile app technology where customers can make their bookings through that app. The app connects business or individual customers to qualified drivers who will do the delivery for them. In the Philippines, some top trucking logistics app are Lalamove, MrSpeedy and Transportify. Transportify offers the most varied vehicle classes for your trucking needs. From open trucks to wing vans, Transportify provides excellent services at an affordable rate. Lalamove offers L300 and closed van-type vehicles to fulfill customers' delivery requirements. MrSpeedy, besides their motorcycle delivery services, has closed vans for larger packages.