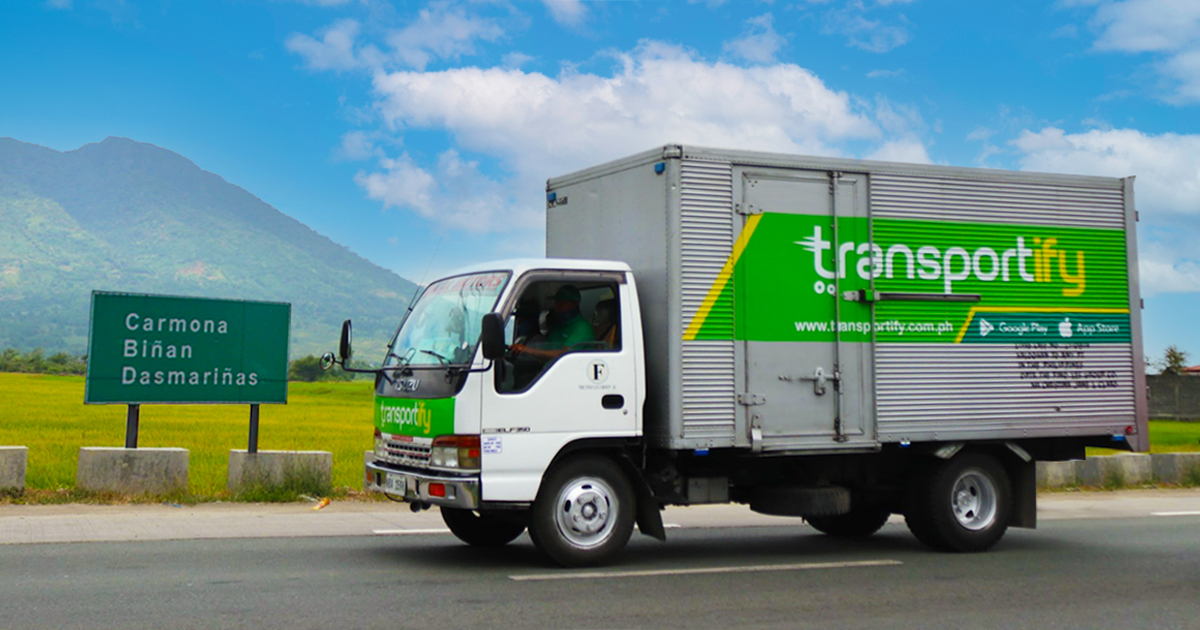 Local business owners can finally expand their business with the help of the best trucking and logistics company in the Philippines. Transportify offers long haul delivery to any point in Luzon at affordable rates and with excellent service. You don't have to worry about the logistics operations of your business, let Transportify handle it! The long distance delivery service of Transportify has some amazing inclusions such as GPS live tracking and goods insurance. Take a look at our affordable Transportify rates now!
Transportify Long Haul Delivery Services
For a business to grow, it needs to expand its base of customers. And this expansion means having to service customers across a wide area of coverage. Transportify's long distance delivery is the perfect choice for those businesses or individuals who need to transport their finished products or raw materials to clients or production plants across long distances. By using the long distance delivery service of the best trucking and logistics company in the Philippines, one can expect exceptional service at a very affordable rate.
Vehicle Type
Dimensions/
Weight Limits
Base Price


(Metro Manila)

Base Price


(Outside Metro Manila)

Base Price


(Visayas/Mindanao)

Wing Van 

32 to 40 x 7.8 x 7.8 ft




12000kg to 28000kg

7500 PHP

6500 PHP

6500 PHP

6w Fwd Truck

18 x 6 x 7 ft




7000kg

4850 PHP

4850 PHP

4850 PHP
Closed Van

10 to 14 x 6 x 6 ft




2000kg to 4000kg

1800 PHP

1450 PHP

1450 PHP

Open Truck

10 to 21 x 6 ft x open




2000kg and 7000kg

2300 PHP

1950 PHP

N/A

Mini Dump Truck

10 x 6 ft x open




2000kg

1500 PHP

1200 PHP

N/A

L300/Van

8 x 4.5 x 4.5 ft




1000kg

430 PHP

330 PHP

310 PHP

Small Pickup

5 x 5 ft x open




1000kg

310 PHP

250 PHP

220 PHP

Light Van

5.5 x 3.8 x 3.8 ft




600kg

250 PHP

192 PHP

225 PHP

MPV/SUV

5 x 3.2 x 2.8 ft




200kg

160 PHP

130 PHP

140 PHP

Sedan

3.5 x 2 x 2.5 ft




200kg

140 PHP

110 PHP

120 PHP
SEE ALSO:
Transportify's long haul delivery includes a number of services that make it the ideal logistics partner for businesses and individuals. Not only are we committed to delivering your products on time, we also want to make sure that your long haul delivery experience is convenient and hassle free by including these services.
GPS Live Tracking
Transportify, a trucking and logistics company, makes use of a web and mobile app based Global Positioning System (GPS) that enables you to know the current location of your package. This allows the sender to know in real time the progress of his delivery. Furthermore, the sender can also share the tracking details with the receiver of the package. By doing so, both the sender and receiver are able to closely monitor the vehicle transporting their cargo. This feature eliminates the hassle of having to write down a tracking number and also gives security to both sender and receiver by providing them the real time location of their transported goods. This Track and Trace feature from Transportify is one reason why it is a leading logistics company. 
24/7 Customer Service Support
In Transportify, we want to address your questions and concerns effectively and swiftly. We know that part of excellent service means answering your queries right away. Thus, the 24/7 customer service support of the best trucking and logistics company is a great help to customers who may have any questions during the course of the long haul delivery. With this feature, we promise to provide the best solution to your queries or concerns right away.
Goods Insurance
Every Transportify booking includes a complimentary incidental goods insurance in the event of a stolen, lost or damaged during pick-up, transportation or delivery of cargo. For Business Program customers, the liability limit amounts to ₱3 Million. In the case of regular bookings, the liability limit differs for each vehicle class.
Stops En Route
The long distance delivery service of Transportify gives the customers the option to add extra stops along the way. This feature is especially useful if you have to deliver many items to multiple customers across different places. For example, a long haul delivery truck going to Baguio City from Metro Manila can make stops in Angeles city and Tarlac city. With this option, one can economize by just having to pay an affordable amount for each stop over compared to making multiple bookings to different destinations.
Parking and Toll Fee
Using highways and expressways will always entail toll fees. With Transportify's long distance delivery, parking and toll fees are already incorporated into the payment. There is no need to provide the driver with a budget to be used to pay for whatever toll and parking fees he may incur. Features such as this make your long haul delivery convenient and worry free.
Loading and Unloading
The best trucking and logistics company knows that delivering packages involves the loading and unloading processes. Fortunately with Transportify, our professional drivers are ready to make your long distance delivery worry free by providing assistance when you load and unload your cargo. Moreover, the app includes the option to add an extra helper. This option is helpful especially when the cargoes being transported are heavy or would require special handling.
How Can Businesses Benefit From Transportify's Long Distance Delivery?
More clients served would often translate to a growth in the business. However, reaching more clients would require expanding your area of coverage. A business owner may choose to create his own fleet of long haul delivery vehicles to move his goods. However, making your own logistics department for long distance delivery entails a large amount of investment on delivery vehicles and a lot of time consumed in making route preparations, scheduling deliveries and training drivers.
Transportify, a trucking and logistics company, offers long distance delivery service to clients at an affordable rate. Partnering with Transportify saves you the expenditure of setting up your own fleet of delivery vehicles for operations like freight trucking and same day delivery. On top of that, you don't have to worry about making preparations or scheduling deliveries. Transportify is ready to accommodate your delivery requirements at any time of the day.
There are many advantages when you outsource the delivery of your products to Transportify. Below are some benefits when you avail the long haul trucking service of the best trucking and logistics company in the Philippines.
Choose the right type of vehicle
Different industries and businesses require different kinds of trucks and vehicles for long distance delivery. In Transportify, the vehicle types are sedans, MPV/SUVs, L300 Vans, closed vans, pick up trucks, and wing vans. Smalle vehicles such as sedans and MPV/SUVs can handle deliveries of groceries and food products. L300 vans can take care of transporting small appliances, IT products and grocery items. A closed van can deliver your home appliances, furniture and gym equipment. A pick up truck is great for Lipat bahay requirements and can also carry construction materials and agricultural products. 10 wheeler wing vans can handle large volumes of merchandise.
Cost-Efficient
Most business operations require transportation of their finished products or raw materials to customers, distribution centers or manufacturing facilities. Delivery trucks are needed to enable the transportation of these items. However, when you buy a truck, you also have to pay for additional costs like parking spaces, insurance, maintenance, as well as the drivers. This will only increase your business expenses.
As your business continues to grow and expand, so does the need to acquire more trucks and get more insurance and hire more drivers. In this situation, it is becoming increasingly difficult for the business owner to lower his business expenses.
Thus, outsourcing the logistics operations of your company to third-party logistics (3PL) providers like Transportify is a sure way of cutting expenses. When you partner with Transportify, you don't have to worry about buying more trucks or planning delivery routes. Transportify's long distance delivery is ready to provide you with an affordable and convenient service.
Low Probability of Damage
Here in Transportify, we make sure that the process of transporting your products goes as smoothly as possible. You don't need to worry about your products getting damaged during the transport because we have reliable and professional partner-drivers who can provide outstanding delivery services.
They are also experienced in driving vehicles with heavy loads and we make sure that they comply with the standard weight measurements. These kinds of measures ensure the safety of your products while in transit.
Transportify's Business Program
The Philippine Statistics Authority reports that MSMEs (Micro, Small and Medium Enterprises) account for 63% of the country's total employment. These establishments have food service, retail trade and manufacturing as their top activities. Such businesses need third party logistics companies to satisfy their delivery requirements. Transportify offers a business program for owners whose business delivery requirements need plenty of vehicles to satisfy customer demand. 
Below are benefits of the program that's tailored for the corporate client:
Free Enrollment, just sign-up on our website.
24/7 Customer support.
Flexible Payment Terms. We offer postpay or prepay options.
Proof Of Delivery/Cash On Delivery service.
Insurance of up to 3 million pesos per booking.
Have your own business web dashboard, a bonus referral, and an account manager.
For specific instructions on handling cargo, an operations process team is available to document it and instruct the driver.
Expand your business to reach the whole of Luzon and take it to greater heights with the best trucking and logistics company in the Philippines. To know more about how to enroll on our corporate account, please visit this link or email business@transportify.com.ph.
Download the app now by scanning the QR code or clicking on the buttons below.
| | | |
| --- | --- | --- |
| | or | |
Frequently Asked Questions:
What are trucking and logistics companies?
🚚 Trucking and logistics companies transport goods or products of customers to a specified location. These companies make use of various delivery vehicles and a network of drivers to transport various items. They handle the movement of goods from different points in order to support the entire supply chain. Transportify, a logistics marketplace powered by web and mobile app technology, is among the best trucking and logistics companies in the Philippines. LF Logistics is another company that offers various services such as transport management and freight forwarding. Lastly, F2 logistics is another leading logistics company that provides domestic and international forwarding as well as land transportation services.
Do I need long haul delivery services?
🚚 Long haul delivery services refer to the process of delivering goods and products across wide distances. An individual or a company would avail long haul delivery services if they need to regularly transport their goods over long distances like Manila to Baguio. Usually, Fast Moving Consumer Goods (FMCGs) require long haul delivery services in order to transport their products across different warehouses or distribution centers. Construction companies with projects in different areas also use long haul delivery services to bring construction materials to different construction sites. Manufacturing companies make use of long haul delivery services to move their finished products like semiconductors and electronic components from the production facility to distribution centers.
What are some things to consider when planning long distance deliveries?
🚚 Long distance deliveries are more expensive compared to deliveries within a certain area. Thus, it is good to economize in the number of long distance deliveries that one makes. First, it's important to make use of the right vehicle to transport your goods. In Transportify, the customer can choose a wide range of vehicle classes from sedans to 10 wheeler wing vans. Studying the various routes should be done when planning long distance deliveries. In this step, it is good to take into account factors like rush hours and times during the day when there are truck bans. Lastly, one can make use of route optimization softwares to ensure a cost efficient route for the delivery vehicle.