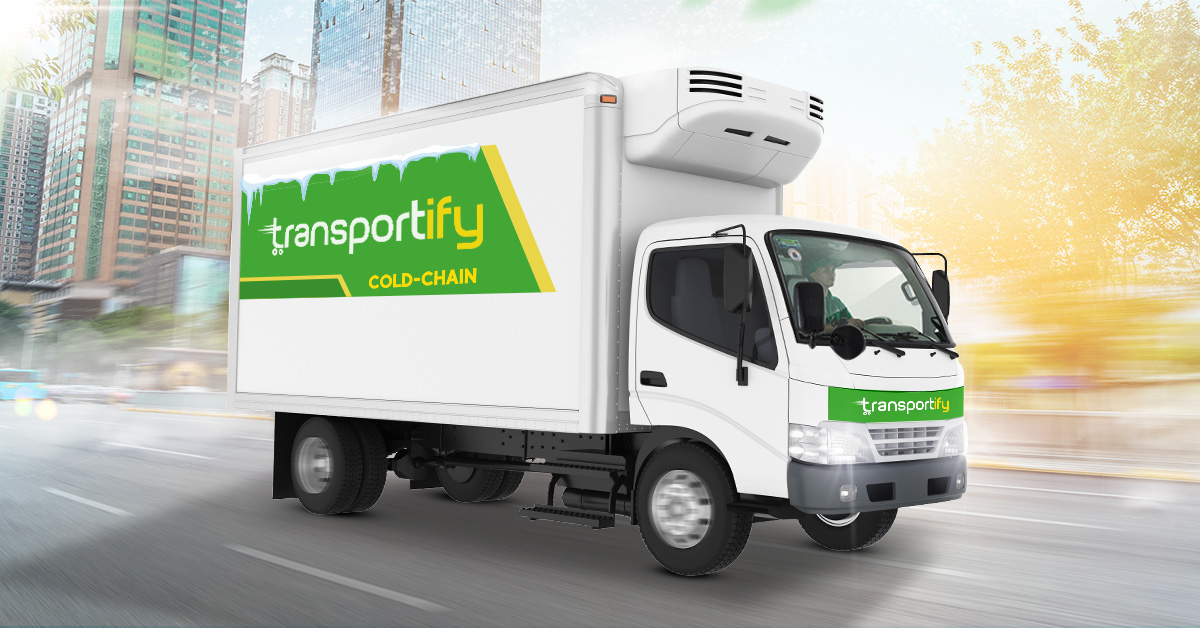 Reefer trucks or refrigerated trucks are vehicles used to transport temperature sensitive goods. Some of these goods are pharmaceuticals, frozen meat, and fresh fruits and vegetables. Refrigerated trucks are important to any industry because as customers, we want the best quality of products handed to us. Before refrigerated trucks were widely used, freight transport services had styrofoam in their vehicles to maintain the freshness. But that can't be the case forever. Refrigerated trucks are innovative and will ensure the quality and freshness of your product especially on its transit to the destination. The affordable refrigerated truck truck rentals with excellent service from Transportify is the perfect solution. Get a price check now!
Why Refrigerated Trucks are Important for Businesses?
With the growing availability of refrigerated trucks, this opens opportunities for businesses to expand. You might have had ideas before that were far fetched since you'll be investing in temperature-controlled vehicles. Now with refrigerated trucks as one of the features of Transportify, why not give that dream of yours a try?
A number of industries are highly dependent on refrigerated trucks. It is important that these goods are maintained in temperatures to ensure that the quality will be the same from the moment it was harvested/manufactured to the place where it will be processed or sold. Below are some of the products that benefits from freight transport services of refrigerated truck:
Pharmaceuticals
Frozen meat
Frozen dairy products
Frozen food products for distribution
Fruits and vegetables
Flowers
Cosmetics
Valuable items (e.g. valued paintings for transport)
We are well aware of some of these products, while a few from the list were items that we might not think are affected by temperature. That is why it is important for our readers to know these kinds of freight transport services information that can help with businesses. Other purposes of refrigerated trucks is to avoid contamination when transporting frozen food. You have to keep in mind that fresh fruits and vegetables should not be transported alongside with frozen meat. As both items have different temperature needs and might cause cross contamination. Freight transport services are important for any business to operate. And it is as important to know that your goods will be transported by a trusted logistics company. For businesses that are just starting out, it is wise to outsource your freight transport needs. And there is only one company we can recommend. None other than Transportify.
Capacity and Pricing
Rates
Standard Rate
₱2,700
+ ₱50/km


Dimension
Length: 14 ft
Width: 6 ft
Height: 6 ft
Capacity
2,000 kg
Additional Destination
₱100 per drop-off
POD Return Service
₱80 (1st-3rd drops)
₱160 (4th-10th drops)
₱200 (11th-15th drops)
3 Irrefutable Reasons to Outsource Your Freight transport Needs to Transportify
Transport is a major part of any business that deals with selling high volumes of goods to customers both nationally and internationally. Of course, managing a branch of transport and delivery personnel is a huge responsibility that can fast become complicated and confusing.
Rather than focus your attention on growing an entire department to handle your requirements, why don't you think about outsourcing these needs instead? This will instantly remove any of the challenges that you will face if trying to go it alone. Instead, you can focus your valuable time on other important revenue generating areas of your business.
The fact is, running in-house logistics is expensive. Outsourcing it on the other hand, to a reputable and reliable 3PL such as Transportify, can save you an awful lot of money in the long run.
Understandably, you may have some reservations about handing such an important aspect of your business over to another company. However, you can rest assured that dealing with a dedicated freight transport service & logistics company might just be the best decision you ever make for your business. Let's explore 3 irrefutable reasons why you should strongly consider giving it a go:
1Reduce Your Running Costs & Save Time
A 3PL company can simplify the entire process for you, making your supply chain solid, consistent, and above all: unified. A reputable third-party logistics company like Transportify have a wide network of carriers that we have been working with for a long time. This means that we can offer you lower rates and subsequently, faster transit times.
We are always thinking of ways to innovate and improve our services and these great changes will benefit you.
2Flawless transport Processes
OK, so perhaps flawless is a bit of a stretch, but we certainly work tirelessly to streamline our transport processes for the benefit of you, the client, and your valued customers.
With integrated systems and state-of-the-art technology, we can provide complete and utter transparency throughout the transport process. In addition to that, you will receive regular reporting and valuable analysis to help you keep tracking of every aspect of your transport management requirements.
3You Don't Have to Invest in Software & Technology (it's already paid for)!
Managing your own transport department will be costly enough as it is, without having to invest in state-of-the-art technology and systems to help you improve the overall efficiency of your in-house delivery service. Without these systems in place, you will invariably fall behind and delivery subpar services, which is why it is in your best interest to outsource these requirements to a 3PL. This is because they will already have these amazing technological innovations in place, and they will be at your disposal.
Instead, you can save your budget to invest in other important areas, whilst receiving the many benefits that come with working alongside a 3PL that can regularly report back to you with valuable and actionable data.
Download the app now by scanning the QR code below or by clicking on the buttons.
| | | |
| --- | --- | --- |
| | or | |
Conclusion
The fact is, working alongside a 3PL can be a huge benefit for both your operational efficiency, and your budget! You don't have to learn an entire industry just to get your products to your customers. Instead, you can stick to doing what you do best and outsource those logistics requirements to the dedicated professionals that work around the clock tirelessly the streamline their services to be the best that they possibly can be.
If this is something that is of interest you, and you'd like to explore Transportify as a potential 3PL provider, then please do not hesitate to contact us today. Let's take your business to the next level!
Frequently Asked Questions:
What is a reefer truck?
? Reefer is a derived term of refrigerated truck. From the name itself, it is a truck capable of controlling its temperature to maintain quality and freshness of the goods to transport. Reefer trucks are becoming more and more on-demand with its ability to transport goods while maintaining freshness. Transportify is one of the first freight transport services to offer reefer trucks that is easy to book. Combined with the high-tech application and 24/7 customer support, the freshness of your goods will be the least of your concerns. Thanks to Transportify.
Where can I find a reefer truck for rent?
? Hiring a reefer truck is easier than you think. Freight transport services for reefer trucks can be found on websites such as OLX and carousell. Hiring through these platforms is secured but most of the time it will take time before a freight transport service provider replies. Another common concern for these platforms is the pricing standard. Currently, there is no standard price that reefer trucks follow. If you want a fast, reliable, and affordable freight transport service for reefer trucks, you should choose Transportify. Our experience with different sizes of trucks for our clients and business partners, ensures your goods will be delivered as fresh as possible.