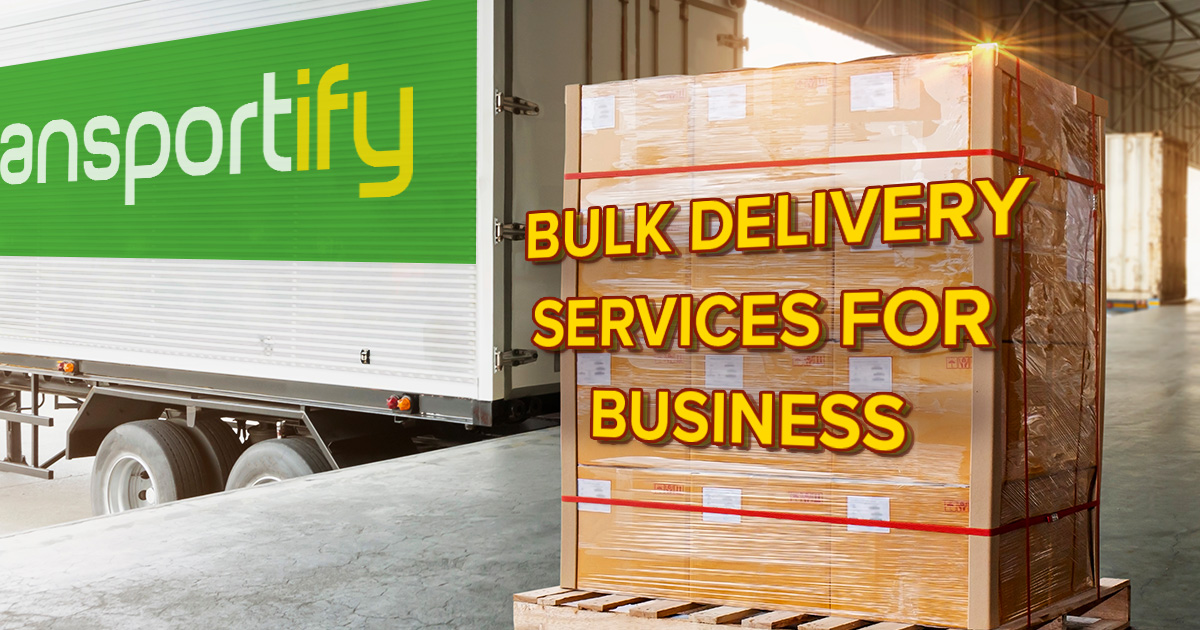 For any business, particularly SMEs and e-commerce businesses branching into delivery, managing the supply chain efficiently is a nightmare. Finding the ideal solution that is both time-efficient and cost-effective is no simple task and something that even the most established businesses struggle with.
In this article, we're going to look at bulk delivery services for businesses, more specifically, and highlight how leveraging the established networks of others can help you to get ahead of the completion with very little investment at all.
What Are the Biggest Logistical Issues That Businesses Face Today?
Before we delve into bulk delivery services and how leveraging them can help you get ahead of the competition, let's look at some of the biggest challenges businesses face in logistics today.
In the last mile alone, it accounts for up to 53% of the total delivery costs involved with moving a single product from A to B. That is a huge challenge in itself. However, there are so many more challenges involved, which we will cover shortly.
Once we've outlined the common problems, we're going to talk about how something like bulk delivery services can help you overcome many of the challenges that follow.
Meeting Increasingly High Customer Service Expectations
One of the greatest challenges SMEs face today within the supply chain is meeting increasingly high customer-service expectations. As more and more e-commerce businesses are offering same-day, next-day, and express delivery services for business, other, less established companies are under a significant amount more pressure to measure up and compete.
Of course, unless you have an established fleet of vehicles and drivers and a network that enables you to facilitate such fast deliveries, it can be challenging to meet these expectations, not to mention expensive.
In order to really measure up to your competitors and get ahead of the curve, you'll need to be able to meet these expectations, which means facilitating express delivery services for business and being able to deliver on promised times.
Keeping Control of Costs, Especially Those Related to Transportation
Another challenge is keeping control of the costs involved with logistics and the transportation of your goods from the manufacturing facilities and warehouses to the final distribution hubs and then onward to the very last mile, your customers' doorsteps.
In order to keep these costs in check and ensure that you aren't paying far more than is necessary, there is much in the way of optimization that is required (which we will cover shortly). In any case, if you can find an efficient way of maintaining control over the costs involved with transportation, you'll be on the right path.
Here is the complete list of Transportify's vehicles and trucks you can use for your local cargo delivery:
Vehicle Type
Dimensions/
Weight Limits
Base Price
(Metro Manila)
Base Price
(Outside Metro Manila)
Base Price
(Visayas/Mindanao)
Wing Van 
32 to 40 x 7.8 x 7.8 ft
12000kg to 28000kg
7500 PHP
6500 PHP
6500 PHP
6w Fwd Truck
18 x 6 x 7 ft
7000kg
4850 PHP
4850 PHP
4850 PHP
Closed Van
10 to 14 x 6 x 6 ft
2000kg to 4000kg
1800 PHP
1450 PHP
1450 PHP
Open Truck
10 to 21 x 6 ft x open
2000kg and 7000kg
2300 PHP
1950 PHP
N/A
L300/Van
8 x 4.5 x 4.5 ft
1000kg
430 PHP
330 PHP
310 PHP
Small Pickup
5 x 5 ft x open
1000kg
310 PHP
250 PHP
220 PHP
Light Van
5.5 x 3.8 x 3.8 ft
600kg
250 PHP
192 PHP
225 PHP
MPV/SUV
5 x 3.2 x 2.8 ft
200kg
160 PHP
130 PHP
140 PHP
Sedan
3.5 x 2 x 2.5 ft
200kg
140 PHP
110 PHP
120 PHP
Risk Identification and Mitigation
Risk identification and mitigation is a huge challenge that many SMEs face. Without the proper logistical infrastructure in place, and unless you can successfully gather, read and interpret the relevant data, identifying any potential risks and preventing them from interfering with your day-to-day operations can be tricky.
Achieving Supply Chain Visibility
And of course, there are few things quite as important as achieving supply chain visibility. This is essentially being able to track a particular order at every step of the way as it travels throughout your supply chain. Having supply chain visibility, and indeed, being able to share that visibility with your customers, will go a long way toward keeping your promises and bolstering brand loyalty, something which is much easier said than done.
Building and Maintaining Supplier and Partner Relationships
One other big challenge that SMEs face in logistics is building and maintaining supplier and partner relationships. No matter how big or small your enterprise, it is crucial to earning your suppliers' trust with open and honest communication. When they are more involved in your processes and listen to their concerns, it will be easier to keep them as a genuine vested partner in your business.
Keeping Up-to-Date With Technology Developments
There is nothing more important in business today than keeping up-to-date with technological developments. For example, take the recent surge in the digitization of the logistics industry today. Those companies that embraced the change and innovated accordingly are currently thriving despite the global setbacks created by the recent (and ongoing) COVID-19 pandemic. On the other hand, those companies who remained rigid in their operations and decided to put off digitization at all costs are struggling.
The fact is, digitization is an eventuality. It's not something that you can decide to opt in or out of. If you truly want to succeed in the future, then this is a reality that you not only have to embrace but put into action.
It's time to start integrating your operating systems, automating where possible, and using all of the data available to take cost-efficient action.
Targeting Wider Markets
And finally, targeting wider markets, particularly in the current climate with the ongoing pandemic, has proven difficult for some SMEs looking to branch out further. Here are just a few of the challenges faced when considering foreign markets:
Language differences;
Travel costs to create business relationships;
Product/packaging redesign;
And limited, or no, experience in running a smooth operation at large volumes of business
Indeed, there is much work involved, but that's not to say that it isn't worth the time and investment. Opening your brand and business to a wider market can be exceptionally profitable when executed properly.
With all of that said, let's look at how bulk delivery services can help you gain an advantage over your competitors.
SEE ALSO:
How Can Leveraging Bulk Delivery Services Propel You Ahead of the Competition?
So, how can bulk delivery services for business help you overcome many of these challenges and get ahead of the competition?
Let's look at LTL delivery (less than truckload). You see, you may not always have enough orders to justify a single truckload for delivery. For example, let's say you've sold 20 products that need moving from A to B. What do you do? Having a single truck make this delivery will be a waste of money. Indeed there's a more cost-effective solution available?
There is, and it's called LTL (less than truckload). This form of bulk delivery allows you to combine your smaller orders with other businesses to fill a truck. Think of it as sharing a car-pool service where you take turns driving and split the fuel costs.
A bulk delivery service like this can save you a significant amount of money, particularly during the slower seasons and the more difficult periods. Rather than manage your fleet of vehicles and have them drive trucks that aren't filled to the brim with orders, you combine yours with other businesses and make the most of every square inch available, thus saving a significant amount on your logistics. But, how does it relate to the challenges listed above?
Keeping control of costs: When streamlining smaller deliveries by utilizing LTL, you can keep your costs down and maintain better control over them.
Risk identification and mitigation: When utilizing an established bulk delivery service with seasoned logistics companies, you can rely on them to identify and mitigate any potential risks by simply outsourcing the requirements.
Achieving supply chain visibility: Transportify maintains supply chain visibility through its GPS tracking software, state-of-the-art applications, and seamless APIs. Plugging into these existing networks can help you better maintain supply chain visibility and know precisely where your packages are in real-time.
Building & maintaining supplier and partner relationships: Your mutual success will be intertwined when you outsource your delivery requirements to a third-party logistics partner like Transportify. It is upon their reputation that the success of each delivery rests.
Keeping up-to-date with technological advancements: Investing in new and emerging technology is expensive, particularly for an SME. When you partner with a third-party logistics company that is already leading the charge with digitization, you can leverage the benefits without having to make any significant changes or investments yourself.
Targeting global markets: Utilizing bulk delivery services for business, even if you cannot fulfill large orders, makes targeting the wider market more accessible to a smaller enterprise like yourself.
Conclusion
The fact is, the world of logistics is a complicated place and as a small business owner with plenty of responsibility on your plate, setting up, maintaining, and managing a fleet of vehicles and drivers, including logistical relationships with various customs institutions both nationally and internationally is both expensive and time-consuming. Instead, you can leverage a third-party logistics company's existing network and relationships and fast-forward to reaping the rewards without any of the red tape.
If you'd like to know more about how leveraging our bulk delivery services for business can benefit and give you that competitive edge, please do not hesitate to download our app, visit our website or send us an email at business@transportify.com.ph.
| | | |
| --- | --- | --- |
| | or | |
Frequently Asked Questions:
Why are bulky items harder to manage and transport?
🚚 Bulk delivery services are fit for cargo that are odd in size and weight. Bulky items are harder to transport compared to normal because of their unconventional dimensions. In this case, when transporting bulky items, the delivery service provider must offer not only the right vehicle or truck but also a professional driver that can spearhead the transport smoothly.
What are examples of bulky items that do not fit conventional delivery motorcycles or sedans?
🚚 Bulky items can be all sorts of things, so as it does not fit a regular motorcycle or sedans. A few examples of these are furniture, home and office fixtures, appliances, a pile or boxes of books, lipat bahay boxes, and supplies and stocks of businesses which often are delivered to stored from warehouses.