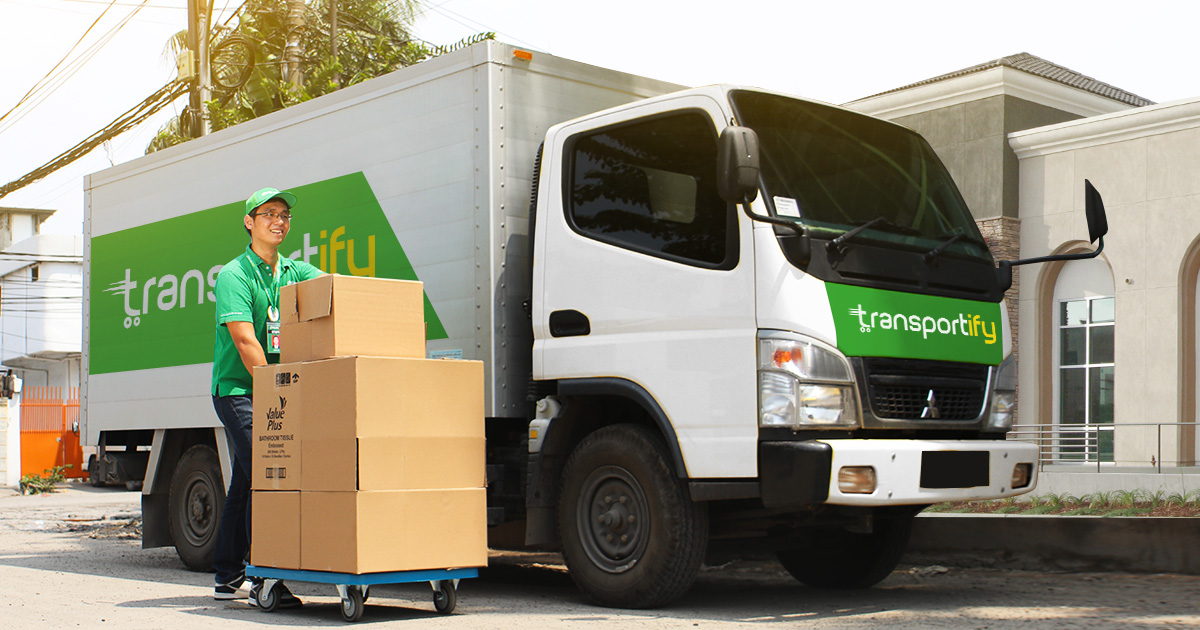 There are cargo delivery services situations that can make a person frustrated. Whether the delivery is for personal use or business. Below are delivery situations that cargo senders might find problematic and the corresponding solutions that Transportify can provide.
What Are The Common Problems In Cargo Delivery Services?
Problem #1: Bulky Orders
Online selling is a booming business trade nowadays—we see international and local online shops here and there selling products of different shapes and sizes. Those who sell smaller products like perfumes or hand-made notebooks might seem like they are having a more manageable task delivering the product through meetups compared to those who sell larger items. Some buyers purchase small items but do order in bulk, like ordering 200 hand-made notebooks as a wedding souvenir. Yet, the seller could not possibly deliver so many packages at once.
If you ever encounter this problem as an online seller, remember that you can rent a van here in the Philippines from Transportify. You can send your buyer's orders through our courier service instead of exhausting yourself by carrying heavy and bulky orders. You may check the base prices of our services on the table below:
Vehicle Type
Dimensions/
Weight Limits
Base Price


(Metro Manila)

Base Price


(Outside Metro Manila)

Base Price


(Visayas/Mindanao)

Wing Van 

32 to 40 x 7.8 x 7.8 ft




12000kg to 28000kg

7500 PHP

6500 PHP

6500 PHP

6w Fwd Truck

18 x 6 x 7 ft




7000kg

4850 PHP

4850 PHP

4850 PHP

Closed Van

10 to 14 x 6 x 6 ft




2000kg to 4000kg

1800 PHP

1450 PHP

1450 PHP

Open Truck

10 to 21 x 6 ft x open




2000kg and 7000kg

2300 PHP

1950 PHP

N/A

L300/Van

8 x 4.5 x 4.5 ft




1000kg

430 PHP

330 PHP

310 PHP

Small Pickup

5 x 5 ft x open




1000kg

310 PHP

250 PHP

220 PHP

Light Van

5.5 x 3.8 x 3.8 ft




600kg

250 PHP

192 PHP

225 PHP

MPV/SUV

5 x 3.2 x 2.8 ft




200kg

160 PHP

130 PHP

140 PHP

Sedan

3.5 x 2 x 2.5 ft




200kg

140 PHP

110 PHP

120 PHP
Problem #2: Item Does Not Fit
There are several Filipinos who have lots of experience in house-moving, buying appliances, or moving furniture from one relative's house to another. They know what it is like to be told by the courier staff, "Sir/Ma'am, 'di po kasya (Sir/Ma'am, your item does not fit)." For years, traditional trucks for hire would often tell their customers (at the last minute) that particular furniture or appliance does not fit in the delivery vehicle. Which is a problem that happens because the logistics company failed to be transparent about the size capacity of their delivery vehicles. Here's an article on packaging tips for a more organized and planned delivery.
Transportify tries to give a solution to this common issue by showing the size capacities of their delivery vehicles, so there would be no last-minute inconvenience while loading packages. Thus, making Transportify the go-to app for online appliance delivery service Manila in the Philippines. We are also a reliable online furniture delivery in the Philippines for leading furniture stores.
Problem #3: Rushed Orders
 Rush IDs, rush t-shirt printing, speed passport delivery, and more. When it comes to delivery options, Filipino customers usually prefer to "rush" the order. This is worrisome to small-to-medium entrepreneurs who are running a business by themselves or with just a few crew members to handle all the work and deliveries.
Luckily, when such problems arise, business owners can use Transpotify's same-day delivery service Manila capability. After all, the Transportify app is made for urgent deliveries for items that need to be delivered right away.
To find out more ways of solving your delivery service Manila problems with Transportify, feel free to browse through our blogs.
SEE ALSO
The Difference Between Parcel and Cargo Delivery Service
After reading the above scenarios, you probably want to know more about parcel and cargo companies in Manila. Perhaps, you're in the middle of confusion, about which delivery service Manila applies to your business shipping needs. Well, it depends.
First, let me give you a short but distinct explanation about these two delivery services:
Cargo delivery services: cargo or freight refers to large and bulk shipments of goods that can be transported through the land, water, and air (other logistics companies offer this mode of transportation). There are tons of classifications of a cargo delivery service which include LTL and FTL (full truckload).
Parcel delivery service: it generally refers to the transport of goods by land, water, or air, the same with cargo delivery service as well. This can be done either commercial or non-commercial deliveries with a smaller size of the shipment.
What is Parcel Shipping?
Parcel shipping is generally focused on packages and shipments that could be lifted without the assistance of another person. In short, these are packages with a weight of fewer than 150 pounds, which usually have the lowest shipping charges because of maneuverability. However, pricing models for smaller packages are evolving to give aid to maintaining competitive benefits in keeping this kind of service alive in today's market.
Several criteria can be identified for when to consider parcel shipping:
Packages that weigh less than the smaller space are regarded as parcel shipping. To put it, these kinds of packages are less dense than others. For example, sending a pillow versus sending a laptop. Both may have the same weight (if the pillow is bulk), but the pillow will require you more space;
Packages of less than 150 pounds;
Items that have a height of 108 inches and below. If the length is 108 inches, then the girth should not exceed 67 inches;
And items of less than 165 inches combined of both length and width.
The aspect of reaping the most valuable return from using parcel delivery service will depend on each package. But generally, it is only applicable for small packages not totally in bulk, but as long as it fits the vehicle with the required volume of parcels, then it's okay.
However, small parcel shipments have a higher risk compared to cargo delivery service. Because usually, small parcels are prone to get damaged, lost, or delayed.
Now that you have an idea about parcel shipping let's jump to the cargo delivery service.
What is Cargo Delivery Service?
If you're a business owner or an individual that needs to ship large items or bulk shipments, then cargo delivery service Manila will fit you so well. Unlike parcel shipping with a limited amount of space and volume, a cargo delivery service can give you more than what you wish for.
Cargo delivery service offers a bigger space when it comes to shipments. Mostly, medium up to large scale businesses here in NCR are fond of using this delivery service Manila which also extends to cargo shipping from Manila to Mindanao. Moreover, they can customize their shipping needs by also availing Cebu to Iloilo cargo delivery service.
Transportify, as one of the best courier and delivery service Manila, can customize and even personalize your business shipping needs by booking using our on-demand delivery app. You can choose the vehicle you want that will serve as a shipping vehicle for your products. Moreover, you can easily track the current status of your order while in transit. Not only that, our cargo delivery service Manila can provide a bigger space, so you don't have to worry about sudden bulk and rush orders that you need to fulfill.
As mentioned above, the typical delivery inconvenient scenarios are not having an ample amount of space for orders, and usually, it doesn't fit with the supposed vehicle (from parcel shipping).
With cargo delivery service Manila, you don't need to worry about that. Because you have paid and rent for the whole vehicle for your shipping needs, that's why it is recommended for retailers, suppliers, and big businesses that have a large volume of orders.
However, if you're an individual or small business owner, you don't need to frown because you can still avail of this convenient cargo delivery service. It is perfect if you're going to send a large piece of equipment to your loved ones, it could be a gift (e.g., sofa, entertainment appliances). Also, if you're going to send a personalized massive cake for your partner or parents, the cargo delivery service will be beneficial for catering to your shipping needs. Not only that, but it is also perfect for Lipat-Bahay needs since you'll be able to rent a van to lift all of your appliances at one blow.
Unlike with limited parcel shipping, our cargo delivery service Manila won't disappoint you in every way. You can ensure that your items will be delivered on time and safely. So what are you waiting for? Call Transportify now for more information.
Delivery Service Meant For Packages
While it is true that parcels and other smaller cargo can be delivered via full truckload service, Transportify offers Send Load (LTL)  service to accommodate these parcels. If you are required to pay for the whole truck in our Full Truckload service, Send Load will only have you pay for the size and weight your cargo will occupy in the vehicle. The Send Load can be more affordable and cost-effective, especially if you transport packages too small to occupy the whole vehicle.
To download the Transportify application, scan the QR code or click the button below:
| | | |
| --- | --- | --- |
| | or | |
Frequently Asked Questions:
How do I choose the right cargo delivery service for my business?
🚚 There are factors to consider in selecting the right cargo delivery service for any business. First, you have to know the frequency of your delivery in a week. Another thing that you have to consider is how fast the goods should arrive at the drop off point. Additionally, the number of dropoff points can cost you a lot if you are not able to strategically set your logistics efficiently. For companies with bigger items or has more items to deliver, Transportify is an ideal choice for you. Their service covers any point in  Luzon and Cebu, helping almost all SMEs. However, several products may need special equipment that these cargo delivery services do not have yet.
What is the fastest company for delivery service Manila?
🚚 Several delivery services are trusted for their efficiency and ability to deliver on time. However, given the vehicles, some constraints make it challenging to determine who among us is the fastest company for delivery service in Manila. Transportify has Sedan and offers services as extensive as Closed Trucks and 10-wheeler wing vans. Making Transportify the best choice for businesses and companies that have bulk orders or deliveries that are needed the entire day. Grab Express and Lalamove have motorcycle fleets that make them reliable for the quickest delivery in the city. Despite being relatively fast, the capacity of their delivery is small, making it only ideal for special deliveries.