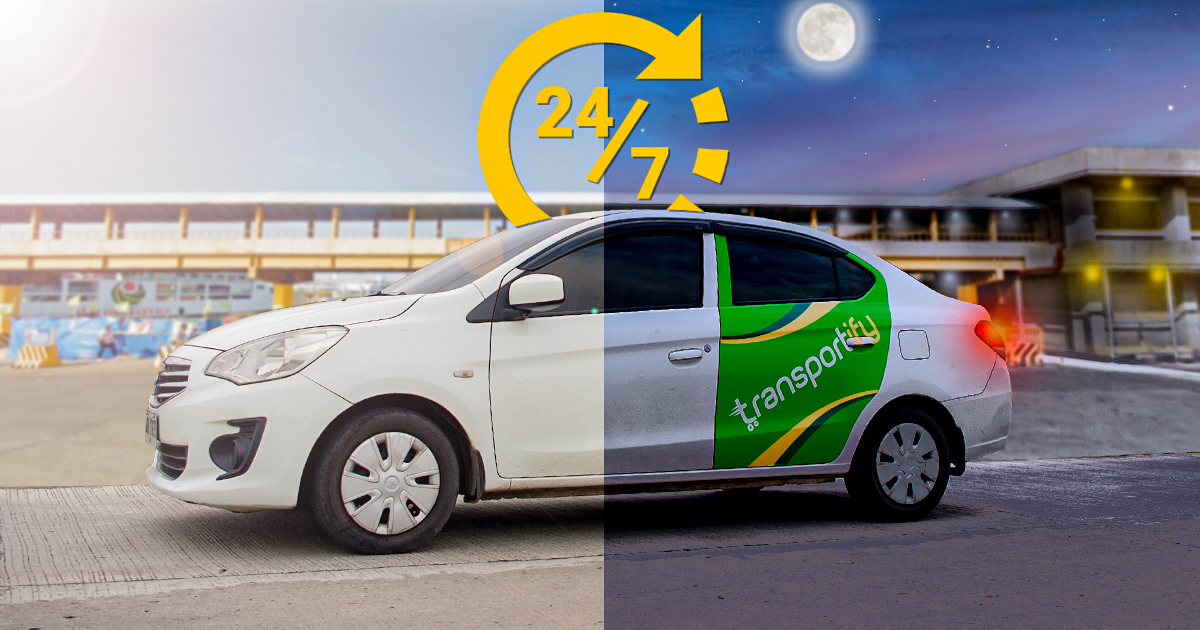 Back then, people had to bring their packages to their local delivery service centers and wait hours to deliver them. Imagine bringing a bulky and heavy package from home to the courier center; people with private cars might have a slight advantage in the situation, but those who do not have one have to endure carrying their package from home by public transportation. Same day delivery service in the Philippines was unheard of.
Out With the Old, In With the New
Fortunately, the times and things have changed as they should be—old problems were given new-found solutions, and old systems encountered respective revolutions. And for the inconvenient delivery system in the Philippines, Transportify's same day delivery Manila app redefines delivery service. Follow their booking steps, and Transportify will do the rest.
There's no more carrying packages out to courier service centers! Transportify can pick up your parcel or package right at your doorstep. Say goodbye to waiting for hours in line! Booking can be made in minutes via the Transportify web or mobile app. No more worrying about your package and wondering why it has not arrived yet!
The Transportify app lets you track your express cargo/package delivery in real time and gives you an instant notification once it has reached its destination. No more counting days after sending your package! Transportify is a same day delivery Manila service in the Philippines.
Back then, logistics vans and trucks must be full before they start delivering. This is one of the main reasons packages—even small parcels—take a long time to reach their destination. Transportify decided to make a difference in package delivery.
Instead of wasting time parked in garages, some of their vehicles roam the roads of Luzon, Visayas, and Mindanao, delivering and picking up packages 24/7 while also waiting for incoming booking transactions. This method is an excellent way to utilize most of the allowable time in a day while maximizing productivity. Because of this, Transportify enables same day delivery to possible nearby customers.
Advantages of Using Same Day Delivery Service To Different Industries
Express same day delivery services are a game changer for businesses and individuals in Manila. The ability to quickly and efficiently transport goods and products to their intended destinations is essential for many daily duties. Below are some examples of how same day delivery in Manila can benefit businesses in different industries:
E-commerce/Online
With the rise of e-commerce, customers expect fast and reliable delivery of their purchases. Same day express delivery helps online businesses meet these expectations and stay competitive. For instance, a clothing store that offers same day delivery can provide an excellent customer experience, leading to customer loyalty and repeat business. Business owners can schedule full day delivery services to deliver everything all at once to many customers who are close to one another.
Healthcare
Medical institutions such as hospitals, clinics, and pharmacies often require urgent delivery of medicine, lab results, or medical equipment. Same day delivery ensures that these items are delivered promptly, providing critical and timely medical care.
Retail
Same day delivery is a valuable service that can greatly benefit retail businesses, particularly during peak shopping seasons such as Christmas or Valentine's Day. Providing same day delivery can increase sales and customer satisfaction, as customers appreciate the convenience of receiving their purchases on the same day.
For instance, customers may want to surprise their loved ones with fresh flowers and cakes during special occasions like Valentine's Day or Mother's Day. Same day delivery can help flower shops and gift shops fulfill these orders quickly, enabling them to capitalize on peak demand and increase sales.
Agriculture
Agriculture logistics involve the transportation of crops and livestock, which are time-sensitive and perishable. With same day delivery, farmers can ensure that their fresh produce is transported to the market quickly and efficiently.
This helps to preserve the quality of the crops and ensures that they reach the market when they are at their freshest. Same day delivery also helps to reduce waste and spoilage, which is important for farmers' profitability and sustainability.
Wholesale
Wholesale businesses often deal with large volumes of goods that must be delivered to customers. They can meet tight deadlines and guarantee their customers receive their orders on time thanks to express same day delivery. This helps with upholding positive customer relationships and boosting customer loyalty. It also makes it easier for wholesale businesses to manage their inventory because they can receive and ship goods on the same day.
Personal Deliveries
Same day delivery could be useful for personal needs, such as sending a last-minute gift or document to a family member or friend. It can also be used in emergency or unexpected scenarios, such as when a person forgets an important item at home and wants it delivered to them at work.
Express same day delivery services provide businesses and individuals in Manila with an efficient and reliable way to fulfill their daily duties. From online to agriculture, same day delivery can benefit various industries and needs. It's no wonder many people prefer express same day delivery services as they provide quick and convenient solutions to their time-sensitive needs.
Send Cargo/Packages Within Hours Using Transportify
Forgot an important document at home that you need for a work meeting, but your housemate cannot leave the house unattended? No need to panic. Transportify can handle express delivery service that tracks packages!
You can tell your housemate at home to use Transportify and book your document for delivery to your office as fast as possible. Transportify is an app-based same day delivery service, as long as it's no less than 60 minutes. Using Transportify can save the day—your house is safe, your document is secure, and your meeting presentation is reliable.
Urgent and express deliveries do not only apply to individuals. Transportify has helped other businesses escape sticky situations with their 24/7 online delivery service in the Philippines.
Vehicle Type
Dimensions/
Weight Limits
Base Price


(Metro Manila)

Base Price


(Outside Metro Manila)

Base Price


(Visayas/Mindanao)

Wing Van 

32 to 40 x 7.8 x 7.8 ft




12000kg to 28000kg

7500 PHP

6500 PHP

6500 PHP

6w Fwd Truck

18 x 6 x 7 ft




7000kg

4850 PHP

4850 PHP

4850 PHP
Closed Van

10 to 14 x 6 x 6 ft




2000kg to 4000kg

1800 PHP

1450 PHP

1450 PHP

Open Truck

10 to 21 x 6 ft x open




2000kg and 7000kg

2300 PHP

1950 PHP

N/A

Mini Dump Truck

10 x 6 ft x open




2000kg

1500 PHP

1200 PHP

N/A

L300/Van

8 x 4.5 x 4.5 ft




1000kg

430 PHP

330 PHP

310 PHP

Small Pickup

5 x 5 ft x open




1000kg

310 PHP

250 PHP

220 PHP

Light Van

5.5 x 3.8 x 3.8 ft




600kg

250 PHP

192 PHP

225 PHP

MPV/SUV

5 x 3.2 x 2.8 ft




200kg

160 PHP

130 PHP

140 PHP

Sedan

3.5 x 2 x 2.5 ft




200kg

140 PHP

110 PHP

120 PHP
No longer waiting time
Customers usually have to wait for a couple of days or more before they can enjoy using the furniture or appliance they purchased if they do not have a car or a vehicle big enough to take their purchased item with them. They would have to wait until the store can deliver the furniture or appliance to their doorstep, and it's already considered an "express delivery service" when it arrives within the week. Worse, unexpected circumstances could make the delivery delay last for more days.
That was then, and this is now: Now, there's Transportify's mobile app that buyers can use to see if there's a nearby Transportify vehicle capable of picking up their purchased item from their store and delivering it home immediately. Instead of waiting for days for your furniture or appliance to arrive, Transportify can help you look at your washing machine or LED TV as soon as you get home from buying them. Express delivery service indeed!
SEE ALSO:
How Is Transportify Redefining Express Delivery?
Reliable, convenient, affordable—and most of all, fast. Transportify is flexible enough to adapt to the needs of a fast-paced post-modern society. The word "express" used to be something that cargo company pick up delivery services attached to their names even if their fastest delivery time took them more than a day to deliver packages. Transportify did not attach the word "express" to its name—instead, Transportify performed what the word meant.
Opening opportunities for SMEs
Surviving in today's competitive market can be nearly impossible without asking for a helping hand from a competent same day on demand delivery app in the Philippines. That's what we do here at Transportify, to help businesses get on their feet to reach their full potential. Small to Medium Enterprises can find it challenging to into their chosen industry when working with a limited budget and a small staff. Outsourcing business operations is a common practice that allows us to help these growing businesses cut down on their business expenses of storage, human resources, and truck rental by providing express delivery services at all times to their clients.
In terms of scale, besides working with local business owners, we have also partnered up with big-name industries. Our partnership with SM appliances as a delivery service allows us to make our customers' lives easier when it comes to delivering their purchased products safely to their doorstep without the usual lengthy wait of one to two weeks of delivery cut to being carried on the same day.
Our services are open to willing business owners who wish to avail of our services in helping them expand their brand's reach. Interested parties who want to partner up with us may check out the Transportify Business Program.
Helpful for any hectic event
Our express delivery service excels on various occasions, from lipat-bahay services to emergency pick-ups and deliveries for work and school events. Hosting an event can be painful before, during, and after. From small events such as birthdays and debuts to more grand celebrations such as weddings and concerts, you're bound to need that extra helping hand in getting anything from our cheap courier service for cake delivery to gifts to sound systems. Those who are fully prepared may book our trucking services as soon as two weeks before the date for pick-up and delivery.
But you'll most likely have difficulty managing both the time and human resources to spare for emergencies. With our same day delivery service, you'll be sure to have your event ingress and egresses going smoothly in times of a crisis, even on the day itself. No event is too big, and no package is too small for us to handle.
More than just a 24/7 express delivery service
Transportify has been casually dubbed as the 'Uber' of same-day delivery service in the Philippines, but it's so much more than that. Besides dedicated customer service and unloading and loading services for heavy packages, the Transportify app is also equipped with features such as a track and trace feature, which allows both the recipient and the sender to the time and location of the product. Its users will feel at ease knowing when and where to receive their package.
With plans to expand its reach in South East Asia from Indonesia, Thailand, and recently the Philippines, more and more business owners are looking to us as a viable alternative to having a dependable in-house delivery service to help them grow their business.
| | | |
| --- | --- | --- |
| | or | |
Frequently Asked Questions:
What types of goods can be shipped using express same day delivery service?
⏰ The express same-day delivery service can ship almost any item, including documents, perishable goods, electronics, and medical supplies. For items that require immediate delivery, the service is especially helpful.
Does Transportify provide same-day delivery?
⏰ Yes. Transportify operates 24/7 365 days a year to provide same-day delivery, and yes, even during holidays. Just access our app and you can also book your shipments for up to 14 days in advance or within the next few hours.