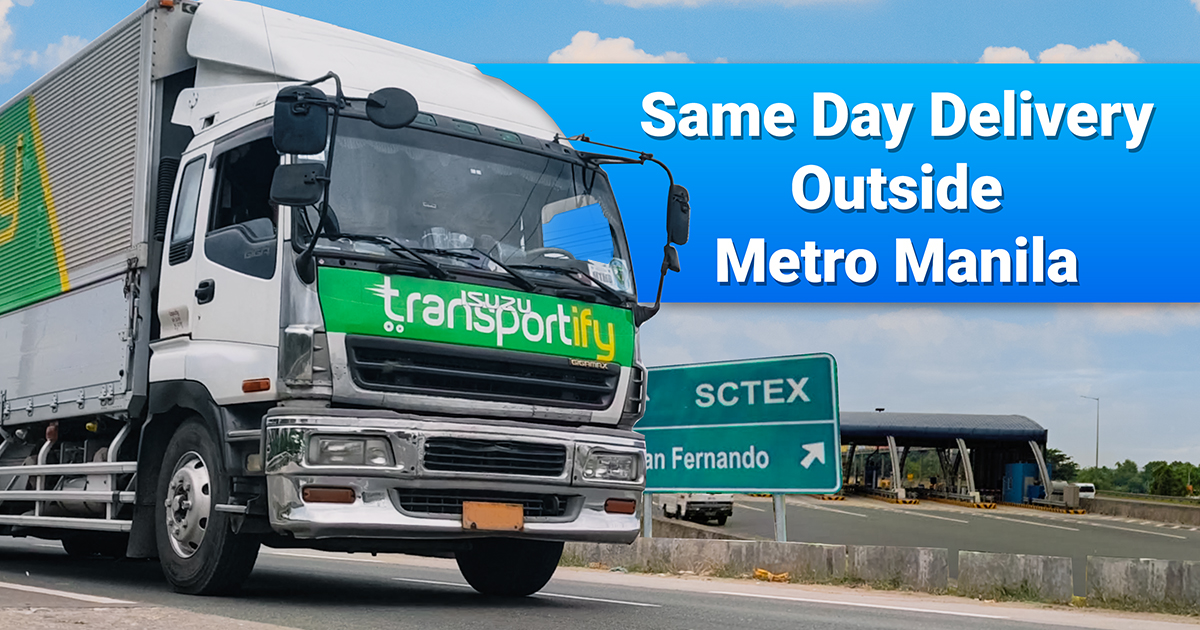 Transactions determine the movement of items. There will always be trade, which means that items/products move from one location to another. Aside from Manila, the Philippines has numerous highly urbanized cities and towns across its islands.  Pampanga, Baguio, Bicol, Cebu, and Davao are some of the major development areas in their regions. In these fast-paced areas, there is a growing need for delivery and logistics services. To ensure that goods can be moved between major cities regularly, an on-the-go third-party logistics service provider must be accessible.
Whether your goods are heading anywhere in Luzon, Cebu island, or Davao, Transportify can help you find the quickest, most cost-effective way to get them delivered. Our wide coverage for inland transport and combined capabilities with our trusted drivers and fleet partners make our service for same day delivery outside Metro Manila ideal for businesses.
How Does Inland Transport Work?
Logistics typically require a variety of transport alternatives in order to be efficient, often referred to as intermodal transportation. Inland transportation includes all kinds of transportation that travel on land. Inland freight transportation is considered the most stable and cost-effective transport alternative because it poses fewer risks. As a result, it is well used by businesses and individuals who need to transport cargo from city to city, whether in long or short distances.
Inland Transport Services in Luzon
In a major region like Luzon, land freight has advantages in terms of inland transit efficiency and prices. As a result, Transportify leveraged this opportunity to provide efficient service and same day delivery outside Metro Manila while lowering operating expenses.
Fortunately, the Philippines' constant demand for a dependable and cost-effective freight logistics solution has paved the way for Transportify to expand area converge anywhere in Luzon. Clients can now plan a pick-up in Baguio, Pampanga, Quezon, Bicol, and drop-off to other North Luzon, South Luzon, and Central Luzon provinces. The Transportify base rates of available vehicles are listed in the table below.
Vehicle Type
Dimensions/
Weight Limits
Base Price


(Metro Manila)

Base Price


(Outside Metro Manila)

Base Price


(Visayas/Mindanao)

Wing Van 

32 to 40 x 7.8 x 7.8 ft




12000kg to 28000kg

7500 PHP

6500 PHP

6500 PHP

6w Fwd Truck

18 x 6 x 7 ft




7000kg

4850 PHP

4850 PHP

4850 PHP
Closed Van

10 to 14 x 6 x 6 ft




2000kg to 4000kg

1800 PHP

1450 PHP

1450 PHP

Open Truck

10 to 21 x 6 ft x open




2000kg and 7000kg

2300 PHP

1950 PHP

N/A

Mini Dump Truck

10 x 6 ft x open




2000kg

1500 PHP

1200 PHP

N/A

L300/Van

8 x 4.5 x 4.5 ft




1000kg

430 PHP

330 PHP

310 PHP

Small Pickup

5 x 5 ft x open




1000kg

310 PHP

250 PHP

220 PHP

Light Van

5.5 x 3.8 x 3.8 ft




600kg

250 PHP

192 PHP

225 PHP

MPV/SUV

5 x 3.2 x 2.8 ft




200kg

160 PHP

130 PHP

140 PHP

Sedan

3.5 x 2 x 2.5 ft




200kg

140 PHP

110 PHP

120 PHP
In Luzon, the lumbering and agriculture industry is significant. To be able to manage their business effectively and live with the cost of completing their logistics, owners must choose a logistics service provider that meets their requirements. Last mile deliveries, long distance provincial deliveries, API and system interface capabilities, full truckload and send load service, same day delivery outside Metro Manila, and interisland trucking service are all offered in Transportify.
Having a diverse range of services and same day delivery outside Metro Manila, particularly in inland transport, will attract more consumers and supply them with products that will aid in their business growth and achieve their objectives.
Same Day Delivery Outside Metro Manila for Every Business Need
Products may come in various sizes and shapes. Customers come from different industries, yet Transportify ranks as their top option for inland transport needs. Here are some industries in Luzon that use Transportify for same day delivery outside Metro Manila:
Business Process Outsourcing (BPO):
Pampanga, Laguna, and Baguio are three important BPO hubs in the Philippines. With the volume of employees they hire daily and the current work from home set up, these companies need a trucking and logistics company that can handle their equipment delivery from respective offices to their employees' homes as quickly as possible.
Healthcare:
Healthcare facilities are scattered across Luzon, located in rural and urban areas. Maintaining enough supplies for regular use is crucial, especially if the location is far away. In addition, if deliveries are for time-sensitive cargoes, a logistics provider that can do same day delivery outside Metro Manila will give the most benefits to you.
Construction:
Building materials delivery is highly demanded because of the ongoing efforts of the government for Build Build Build. Constructions are now heavy in CALABARZON, Aurora, Zambales, Tarlac and Bataan. Aside from government projects, private townships are also slowly building their presence. Building materials delivery can be pretty tricky because of the odd sizes and heaviness, but with the right logistics provider that can provide trucks fit for construction materials, operations would be a lot smoother and hassle-free.
SEE ALSO:
Other Service Areas of Transportify for Inland Transport
1
Cebu
Sending products to Cebu's major provincial cities has become more convenient since Transportify started its fixed-price route delivery service. Transportify's fixed pricing route for full day booking and same day delivery outside Metro Manila is expanding its logistics operation to cities in Cebu to provide easier access to quality delivery service. Furthermore, to further solve first to last mile logistics demands of SMEs and big companies. By shipping your goods and cargo from any point in Cebu at an economical fixed pricing route delivery service, your customers and receivers can have a better experience.
Cebu is a bustling port city in the Visayas known as the "Queen City of the South." It is home to several multinational institutions as well as BPO (business process outsourcing) companies. Moreover, Cebu city is home to a plethora of small and medium-sized businesses. Entrepreneurs and logistics managers in Cebu do not have to worry about their Cebu delivery operations if they use inland transport for same day delivery outside Metro Manila. There's no need to buy many trucks, train different drivers, or map out delivery routes. The Transportify app can be your primary tool to plan and manage your regular business deliveries effectively.
2
Davao
Davao has developed into a lively and vital metropolis in the Philippines' southern regions in recent years. In fact, it is regarded as the economic engine of the entire Mindanao region, attracting both domestic and international investors. The demand for faster same day delivery outside Metro Manila is increasing as the city develops. It is an undisputed reality that logistics operations play a critical part in any city's development.
Davao is a vast market with many people to cater to. Therefore, business owners must keep a constant eye on demand fluctuations. When consumer demand fluctuates, businesses must be able to react swiftly and alter operations. Partnering with an on-demand logistics company like Transportify that offers inland transport for same day delivery outside Metro Manila is one of the greatest ways to prepare for this.
Experts of Same Day Delivery
We value our consumers at Transportify by providing them with service that is honest and trustworthy. We are continuously mindful of our aim to offer outstanding same day delivery services to consumers in various areas throughout mainland Luzon, Cebu, and Davao. By combining technology with traditional logistics processes, we have exhibited innovative logistics solutions to make trucking and delivery easier for everyone. In addition, Transportify is reliable in providing professional drivers to ensure that your goods are handled in the most efficient and cost-effective manner.
| | | |
| --- | --- | --- |
| | or | |
Frequently Asked Questions:
Is it possible to do advance booking for same day delivery outside Metro Manila?
⛅ Yes. The Transportify app has three time types that customers can choose from. The time type aims to widen the options of customers whether they need a vehicle within an hour or within the week. If you need a vehicle or truck within the next few hours, you can choose Immediate in the first part of the booking process. On the other hand, if you want to secure a booking and its pick-up day is still a week away, you can choose Schedule in the Transportify app.
Is there a way I can deliver to many locations outside Metro Manila within the same day?
⛅ Transportify app has a multidrop off feature that you can use. The app feature will allow you to add up to 15 drop-offs. The feature would be a great solution if you plan to deliver to multiple recipients within the day. This is greatly advisable if you have multiple delivery fulfillment within a specific area, to save time and money. Everything will be done with just one booking.