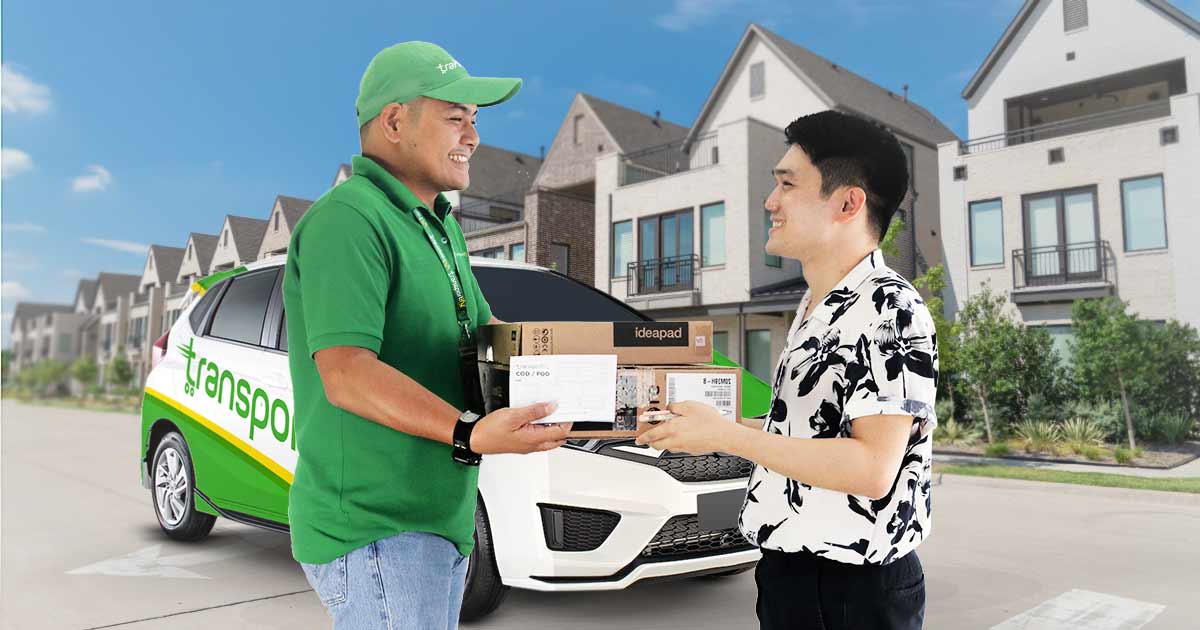 Some people are used to the traditional delivery service of local logistics providers, where packages take days, sometimes even weeks, to reach their destinations. But times changed and so did the ways of delivery. With technology, local same day delivery is now possible through a cargo delivery service app like Transportify that's made to make life easier when it comes to deliveries.
Transportify is a web / mobile delivery & movers app that allows you to book on the spot a wide selection of vehicles, depending on your need to pick-up and deliver on the same day your goods. Take a closer look at the available vehicle options and affordable prices below.
Vehicle type
Cargo Dimension
Capacity
Starting Price
Vehicle Type
Capacity
Price Starts At

Economy (Sedan/Hatchback)

L: 3.5 ft
W: 2 ft
H: 2.5 ft

200 kg

₱120

Light Van
L: 5.5 ft
W: 3.8 ft
H: 3.8 ft

600 kg

₱250

L300/Van

L: 7 ft
W: 4 ft
H: 4 ft

1000 kg

₱430

Small Pickup
L: 5 ft
W: 5 ft
H: Open

1000 kg

₱310

Pickup Truck

L: 10 ft
W: 6 ft
H: Open

2000 kg

₱2300

Pickup Truck Extra Space

L: 14 ft
W: 6 ft
H: Open

2000 kg

₱2350

Closed Van (4W)

L: 10 ft
W: 6 ft
H: 6 ft

2000 kg

₱1800

Closed Van Extra Space (6W)

L: 14 ft
W: 6 ft
H: 6 ft

2000 kg

₱2100
For those who think there is no urgent need for express delivery of packages and cargo in our life, here are the different uses for this kind of logistics service:
Urgent Matters
Have you ever experienced instances when a loved one forgot something important at home? Let's say the important item is something that your loved one needs to have that day, like a medicine prescribed to take on time, a lunchbox, or documents for a business presentation. But due to some circumstances, you can't leave home to give him or her the important item, and there's no one else available to deliver the item. What can you do?
You can use the on demand delivery service app available on the website and mobile like Transportify to contact a logistics provider who can fetch the item from your house and deliver it to your loved one. No need to leave the house and no need to go to courier service centers because your problem can be solved while staying at home!
For Small Businesses
With the advantages made from social media, several Filipinos were able to brave the world of online business, selling different products on the Internet. Most of these small entrepreneurs are too busy with their lives at home to schedule meetups, especially those who sell personalized handcrafted products, so they often hire third-party logistics (3PL) partners to deliver their items.
However, not all 3PL partners accept express same day delivery services without additional charges as these logistics providers mostly started as traditional courier services. Fortunately, there are now delivery service apps made like Transportify that specialize in express same-day delivery of packages 10x more than the usual motorcycles. For rush orders when a small home-based business entrepreneur needs affordable same day delivery services, his or her client can receive the product within the day.
SEE ALSO:
Saving Time
Same day delivery service is not limited to packages at Transportify. We also accept same-day delivery transactions for furniture and appliance pick up and delivery. As most malls and appliance centers don't always have available vehicles to transport the furniture or appliances from their store to your home, you usually have to wait days before the item you bought can be delivered at your door. This means you have to wait for a while before you can use your new furniture or appliance.
With the Transportify delivery service app, It's now 10X easier to get your furniture. You can bring your sofa or refrigerator home on the same day you bought it! Just make sure that your phone has the Transportify mobile app and internet connection, and you will be able to see if there are any preferred Transportify delivery vehicles near you.
Same-day deliveries can solve many life problems and even emergencies. They also don't have to be expensive as Transportify offers a cheaper alternative but still 10x better when it comes to same-day delivery. You can try the Transportify app by downloading it now. You can also know more information by contacting our customer service representatives on live chat for easier access to our products.
| | | |
| --- | --- | --- |
| | or | |
What are the Benefits of Same Day Delivery Service?
In servicing not just emergency errands but also regular business clients, we've made a brand over our quality services. As a well-known courier delivery service in the Philippines, we've managed to make a name for ourselves. Not just in the various applications that a same day delivery service can provide, but also in terms of our unique perks and benefits for our business partners and regular customers.
Offering security and quality service
One of the top options for downloading our delivery service app is our same day delivery service. The primary reason why the Transportify delivery service app has a competitive edge over traditional courier and delivery services in the Philippines is that our drivers aren't located strictly in one warehouse awaiting deployment. Since a number of our drivers are scattered around the metro, they'll be able to offer a quick response to any nearby requests with ease, which makes it easy for us to guarantee a same day delivery service to our customers.
When it comes to delivering packages that are more than one person can haul, adding an extra helper option for the service is also a valid request for quick and secure transfer of your products. Beyond allowing additional workforce, through the use of GPS technology, our customers can track the progress of their inbound packages through a Track and Trace feature, which shows a live feed of the product's travel from its pick-up point till its final destination of delivery.
Openings for business and job opportunities
Partnering up with Transportify is one of the most straightforward choices that you can make as a business owner and comes with several perks and bonuses that any Small to Medium Enterprises(SME) or local van owner would wish to be a part of. With our early beginnings of around 450 active drivers, we've managed to grow to incredible heights and reach with now over 60,000 van operators online to match the 1,000,000 customer installs of our delivery service app. As our pool of operators grows, so do our partnerships that require dedicated drivers to perform hauls and deliveries for various business operations.
SMEs can enjoy the benefit of partnering up with Transportify to help them in their courier service needs. Here are just some of the benefits that business partners can enjoy by signing up with us:
We give our business partners an option to request for customized SOPs in handling their products.
Besides the quality of service, we're also allowing them goods insurance to ensure that their products are well-handled and maintained throughout the deliveries.
Dedicated fleets of vans can be provided to SMEs, depending on their delivery needs.
Besides being a partner as a business, Transportify also allows for van drivers to be a part of our pool of operators, through convenient seminar sessions that will help them learn how to deliver products and goods the 'Transportify way.'
With our continuous efforts to expand our reach to provincial areas, we hope to reach customers in the places beyond metro manila and also to serve as business partners to local SMEs in those areas while providing job opportunities to eligible van operators in those areas as well.
Reinventing the same day delivery service
With delivery service apps evolving to meet the modern-day needs of same day delivery service, that's all the rage with online retailers and eCommerce businesses in selling their products. We've dedicated ourselves to continuously commit our services to be the best fit for the modern masses in addressing not just their one-time emergency concerns but also in making sure that we are a regular and trusted service for repeat customers.
Frequently Asked Questions:
How much does same-day delivery cost in Manila?
?If you need to deliver on the same day parcel or small packages, you can book motorbike couriers like Grab Express, which usually prices around ₱150-₱250. When you need to deliver large and multiple items, you can book Transportify, where the price starts at ₱120 +₱20/km. You just need to access their app to discover the fleet variety available for delivery in Manila.
Who offers a same-day delivery service?
?If you need to deliver packages or anything on the same day, you can download Apps like Grab Express & Transportify. What's great about these apps is that they operate 24/7, and even during the holidays so you'll be sure you have someone to count on to deliver your goods on the same day.